UPDATE: New Details on Samsung's First Foldable Smartphone Have Surfaced
The device doubles as both a phone and a "tablet."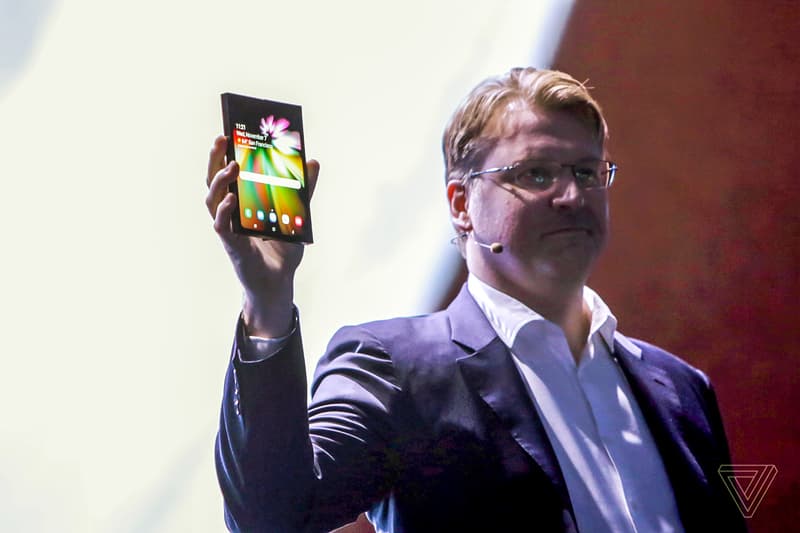 UPDATE: More information on Samsung's foldable phone has surfaced. The upcoming device is rumored to be called the Galaxy X or Galaxy F. The "F" may stand for "fold" or "flex," and the "X" might mean "extra" or "10," alluding to the company's 9 Galaxy S phones.
Samsung's model has a 4.5-inch display that you'll use when it's closed that'll automatically transfer the app or screen you're looking at when it opens and closes to the appropriate display. Many also speculate a $1500 USD price point for the handheld device when compared to previous Samsung flagship phones and the current price for Royole's FlexPai.
The phone showed off at the event was a prototype, and many do not expect Samsung's new phone to remain the same in appearance. Android also mentioned it will streamline apps in support of foldable phones by utilizing a concept called screen continuity.
We just announced support for foldables at #AndroidDevSummit, a new form factor coming next year from Android partners.

Android apps run seamlessly as the device folds, achieving this form factor's chief feature: screen continuity. pic.twitter.com/NAfOmCOY26

— Android Developers (@AndroidDev) November 7, 2018
After more than a few hints toward its possible reveal, Samsung has finally introduced its first foldable smartphone. Entitled the Infinity Flex Display, the Korean technologies company revealed the foldable technology behind its tablet-sized smartphone, and its folding capabilities to make it fit inside a pocket.
Samsung demonstrated the device at its developer conference today, at first hiding its compact design to then reveal it folds out into a 7.3-inch tablet display. The device will utilize a feature called "multi-active window" that'll allow three apps to operate at the same time. Mass production of its Infinity Flex Display will begin in "a matter of months," according to SVP of mobile product marketing Justin Denison.
Google has stated it will support these new foldable Android handhelds and that it'll work closely with Samsung for the launch of these phones next year. It'll also offer guidance for developers to support these displays.
See the phone in action below, courtesy of CNET. Earlier it was reported the first ever commercial foldable smartphone is available from Royole.