Snoop Dogg Sends a Message on "Make America Crip Again"
The other, positive side of "crippin."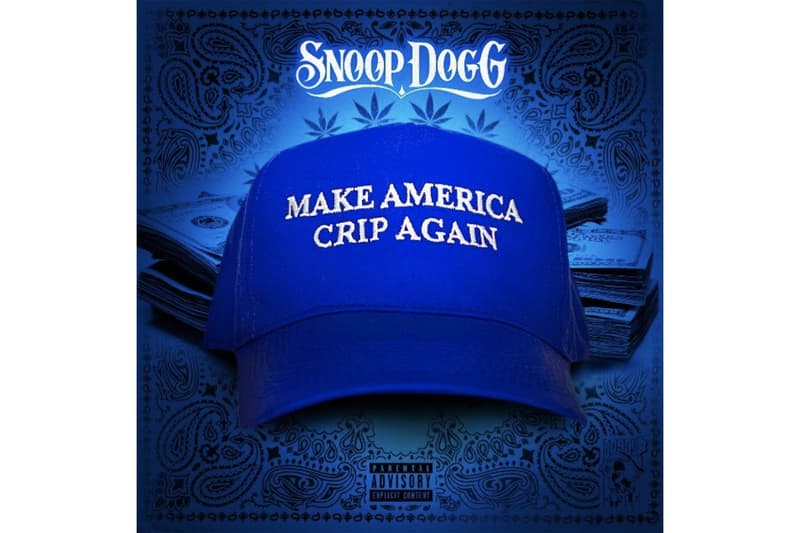 Snoop Dogg is incapable of slowing down; with fifteen studio albums and decades of work under his belt, the West Coast icon already has plans for yet another project. This time around, Snoop Dogg sets his sights on swiftly putting together a new EP known as Make America Crip Again.
To promote his latest major release, Snoop Dogg has liberated the project's title track and composed a brief press statement to explain his new sounds. "It's not a statement or a political act: it's just good music," Snoop explains. "Certain people feel like we should make America 'great again,' but that time they're referring to always takes me back to separation and segregation so I'd rather Make America Crip Again." Instead of the guns-and-drugs gangbanging we usually think of when the word "crip" comes to mind, Snoop Dogg wants us to focus on "young black men in impoverished areas" who organize for positive, progressive socio-political change and community building.
"A lot of people glorify the gang banging and violence but forget that in the beginning, the Crip's main and sole purpose was to be the reflection of the Black Panthers," Snoop says. "They looked after kids, provided after school activities, fed them and stepped in as role models and father figures."
As Snoop himself reminds us, his discography features a mix of "conscious" and "party" records; Make America Crip Again is his way of continuing and reinforcing that approach. "I'm taking it back to the era of being for ourselves and for everyone else. I'm for the evolution of people coming together and being one as opposed to being separate. Music is the best way to heal."
You can aid in Snoop Dogg's quest to "Make America Crip Again" by checking out his new single, which is available for streaming below — the actual EP is set to drop on October 27.
Back in August, Snoop dropped a new single known as "Dis Finna Be A Breeze." His last full-length, Neva Left, dropped this past May.