Kevin Durant Is Being Recruited by the Knicks With Giant Billboard
"Can you make NY sports great again?"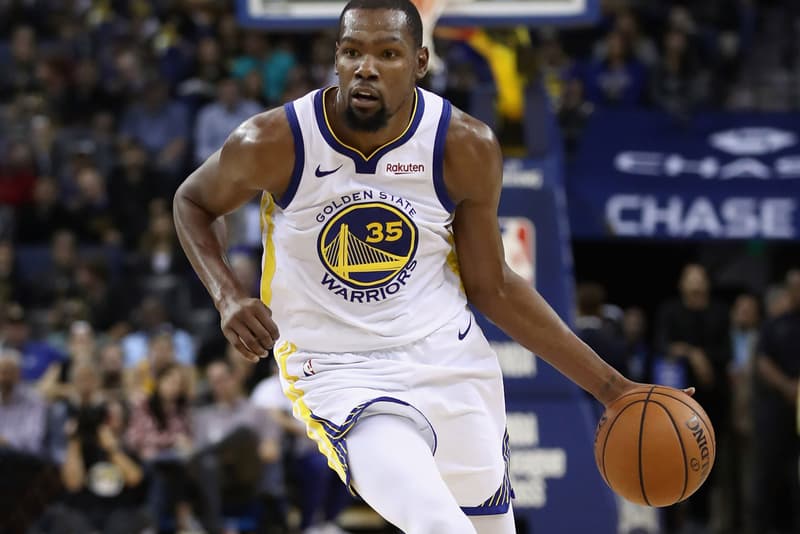 Two-time NBA champion Kevin Durant has played an integral part of the Golden State Warriors' current domination in the NBA, so it's no wonder teams from both conferences are looking to snatch up the 30-year-old star including the New York Knicks.
Recently popping up on the streets of New York City, a large billboard trying to recruit Durant was placed near Madison Square Garden. The billboard features Durant in a road Knicks jersey next to Kristaps Porzingis with the question, "Can you make NY sports great again?" tagged with Durant's Instagram handle, @easymoneysniper, and the hashtag #KDNY2019. Also featured in the cartoon depiction of Durant is the Larry O'Brien Trophy, a trophy that the Knicks have not won since 1973.
Durant, who caught a glimpse of the billboard stated:
"It's the time the NBA is in. We look forward to free agency as fans, and your guys' job is to kind of look towards the future a little bit. And the fans love it. So I understand.

To be honest, I don't know how I feel about that type of stuff. It's cool. No disrespect, but I'm not really impressed with that type of stuff. I just really like playing basketball…I know all of that stuff is a part of it, but for me I don't really get up for that stuff."
Back in June, Durant announced his expected retirement age.
The Kevin Durant recruiting has begun https://t.co/rMqlbewBiL pic.twitter.com/xZdaNKcxen

— SportsNet New York (@SNYtv) 2018年10月25日