Balenciaga is Being Sued for Ripping Off Tree Car Freshner Design
The luxury is in hot water once again.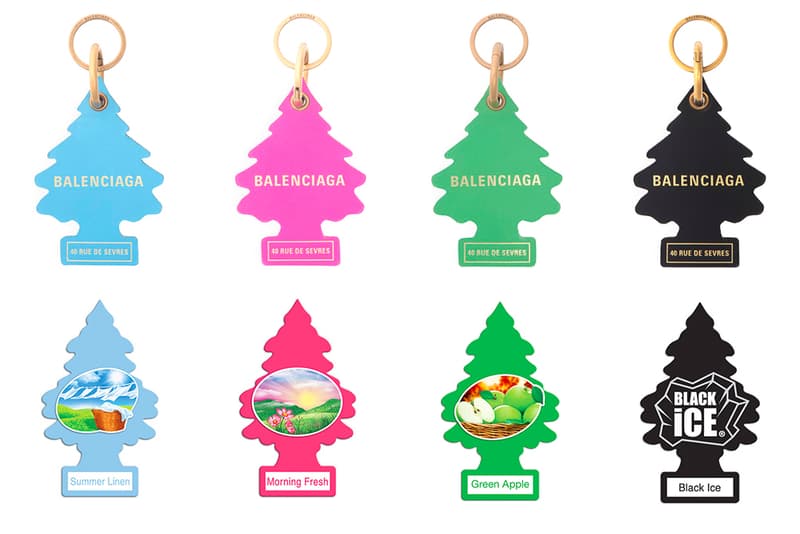 UPDATE: As of Tuesday March 19, both Balenciaga and CAR FRESHNER Corporation have settled the suit and "agreed to voluntarily dismiss their claims." After just one mediation session on the matter, the two brands agreed to end the case, which the courts will review before it is formally dismissed. While the settlement terms are confidential, The Fashion Law suggests that it could potentially encompass "an agreement that Balenciaga will not reintroduce the keychains without licensing the design from CAR-FRESHNER, a retroactive licensing fee paid by Balenciaga for the keychains it sold without a license, and a share of the profits that Balenciaga made in connection with the sale of the allegedly infringing products."
ORIGINAL STORY: After being sued by a New York souvenir company, Balenciaga is in hot water once again. According to reports, the luxury fashion is now being sued by The CAR-FRESHNER Corporation for copying its iconic tree-shaped car accessory.
The lawsuit claims that Balenciaga's "air freshener-inspired" Pine Tree Keychains are infringing on a trademark secured back in 1952. Legal documents for the case argues that Balenciaga's keychain design could confuse consumers despite the pricing difference. Noting the steps other companies have taken to avoid infringing on the trademark, The CAR-FRESHNER Corporation is looking to receive all profits from keychain sales so far.
No word from Balenciaga on the lawsuit, but stay tuned for more details as the story develops.
For more Balenciaga, the luxury fashion house's Retro "Speedhunters" Hoodie pays homage to '90s boy bands.