How Luxury Italian Fashion Became the Face of British Rave Culture
Investigating the link between Versace, Moschino and the UK Garage scene.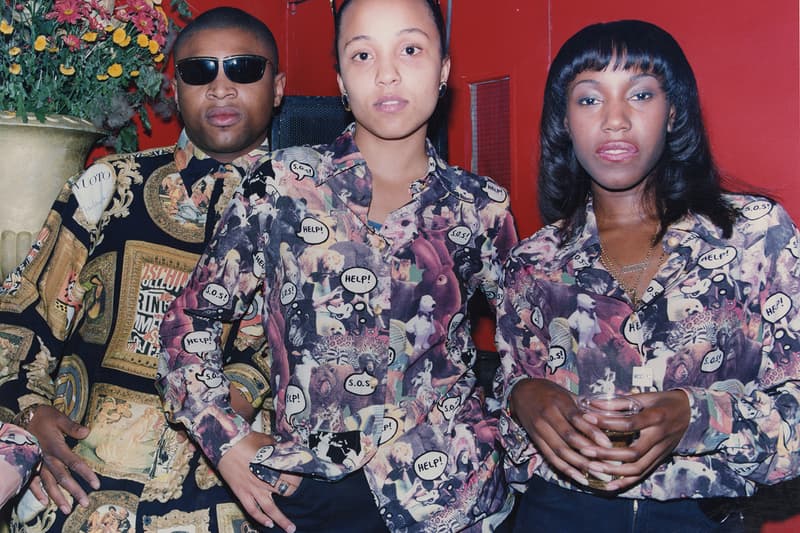 Sometime around the early 1990s, a new musical style began to gain popularity in Britain: a new genre borne from conflicting influences — with rave culture and reggae seen as the biggest driving forces — quickly spreading across London and the rest of the country. Dubbed "Jungle," the style has come to be seen as one of the most influential British subcultures in recent memory.
With the fashion side set to be the subject of a new exhibition in London, a key element of Jungle was undoubtedly its accompanying aesthetic: Super Sharp, then, will examine how Jungle and UK Garage — two genres intricately linked — reappropriated luxury Italian fashion labels to make them rave staples. The exhibition has been partly conceived by British DJ and producer Saul Milton, and is set to feature pieces from his extensive Moschino archive.
Despite the links, however, there were notable differences between the two cultures. "Jungle was a bit faster and darker," explains Andres Branco, founder of Wavey Garms, a Facebook group for buying and selling clothes which has moved into everything from stages at festivals to running the creative direction on two Nike campaigns and producing a film with The Rig Out. This musical difference was also reflected in the scene's aesthetics: "Jungle was way more sporty," Branco adds, "loads of big tick Nike everywhere, as well as thick gold necklaces and designer sweaters with massive logos."
Whereas sportswear was an integral element of Jungle, UK Garage was more focused on the designer brands with labels such as Moschino and Versace becoming key to the scene. For Branco — who says he was more of a Junglist — this was a reflection of an important part of the culture, explaining that "Garage was all about showing off."
It's a view also shared by Tory Turk, co-curator of Super Sharp (alongside Saul Milton). "The head-to-toe designer look was adopted by — and has now become synonymous with — the garage scene," Turk explains, "Garage style was all about extravagance and the designer garments complemented the sexier dance styles and choice of drink, champagne, perfectly."
"Personally, I'd rather starve than not look my best."
Nina Manandhar is a photographer and organiser of the project and book What We Wore, a style history of Britain and its subcultures, and for Manandhar the luxury element was key to UK Garage. "The abiding style code of UK Garage was pure, hard cash. Spending it and looking and feeling as expensive as the clothes on your back," she says, recalling the "beg, steal and borrow attitude to designer labels." Manandhar illustrates this point with an example: ""Personally, I'd rather starve than not look my best," one girl told me when I was collecting images for What We Wore."
There were a number of reasons why these high-end brands became so popular in this culture and one of the key factors for Turk was the political situation in the country: "People rebelled against austerity, and started to wear expensive designer labels." Turk goes on to add that these brands became popular as signifiers of wealth, even if it may be false. "The brands were popular because they were expensive and they looked expensive. Wearing a label across your chest was sartorial code, it showed people you had money." As well as the financial consideration, another potential reason was the venues themselves. "Garage club culture was even stricter," Turk explains, "there were 'no hats, no trainers' policies."
Unsurprisingly this led to a strange scenario, with luxury, high-fashion brands becoming the face of a predominantly working class subculture based in British nightclubs and raves. "The Garage fashion always confused me," adds Branco, "I could never work out how the very camp Moschino two-piece outfits from the catwalks of Milan were being worn by the most gangster geezer from Hackney."
Nowadays, the Jungle and UK Garage aesthetics are gaining popularity again. In part this ties in with a wider trend of '90s revivalism and an increasing interest in rave culture. Manandhar puts the culture's ascendancy partly down to the "natural cycle of nostalgia in culture and fashion," which is in turn driven on by the people who were young in the '90s becoming increasingly nostalgic for their youth. "As people who are now in positions of influence in the creative industries move away further into adulthood," Manandhar explains, "they start looking back with rose tinted glasses about their youth. This comes at the same time that today's 18-year-olds who don't remember the '90s find it super exotic."
Manandhar describes how "UK Garage looks really embodied the phrase 'dressing up for the weekend,' while the rest of the nation walked around in beige," and, for Branco, it's this rebellion against boredom and monotony that lies behind the culture's resurgence: "I think we brought back what London was missing: the bright colors, the culture, and the attitude."
Super Sharp is the first installment in the RTRN II JUNGLE series of exhibitions, and runs from February 1 to April 21.
Fashion Space Gallery
London College of Fashion
20 John Prince's Street
W1G 0BJ