Best New Art: OSGEMEOS Solo Exhibit, Bootleg Artworks, Digital-Only Museum & More
Including an upcoming exhibit of legendary street art photographer, Martha Cooper.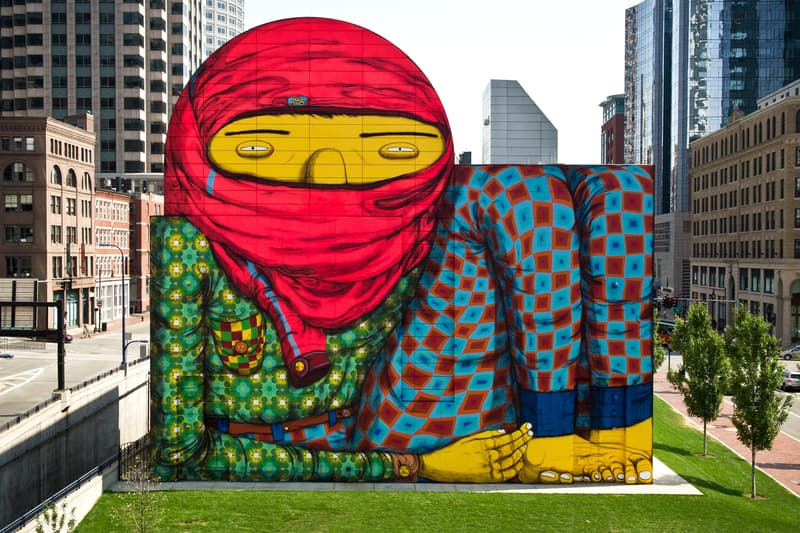 Immersive art installations offer a momentous escape from reality. The essence of time, location and your sense of self are thrown out the window once you step inside a fully-transformed space. Perhaps, no one is better at creating these experiences than teamLab. The Japan-based collective is one of the leading purveyors of immersive experiences, and now, it has plans to open up a permanent flagship in Tokyo that will contain only digital artworks. On a smaller scale is street art duo OSGEMEOS's upcoming solo exhibit in Hong Kong s Lehmann Maupin Gallery. The showcase will offer a multi-sensory experience that fuses graffiti with hip-hop alongside physical pieces such as sculptural boomboxes, paintings and other installations.
Check out our highlights of current and upcoming art shows below.
OSGEMEOS to Launch First Solo Exhibit at Hong Kong's Lehmann Maupin Gallery
Celebrated Brazilian street art duo, OSGEMEOS, are preparing new pieces for an upcoming solo exhibit at Hong Kong's Lehmann Maupin gallery. Titled "Déjà Vu," the presentation aims to highlight the best of pop culture, hip-hop music, as well as folk art via vivid paintings, sculptures, and sound installations. Their signature yellow characters with red outlining will also be prevalent amongst the new works. Déjà Vu will run through March 26 to May 12. Visit Lehmann Maupin's official website for more information.
Lehmann Maupin
407 Pedder Building 12
Pedder Street, Hong Kong
CB Hoyo Trolls Iconic Artworks in "Keeping It Real" Solo Exhibit
22-year-old Cuban artist CB Hoyo recently made news headlines for his "fake art." The young and unruly creative targets artworks made by famous artists such as Cy Twombly, Rene Magritte, Andy Warhol, Takashi Murakami, Henri Matisse and Pablo Picasso. For example, his Fake Hypebeast piece portrays Murakami's ubiquitous flowers motifs with painted letters laid on top relaying "FAKE SUPREME, FAKE YEEZYS, FAKE MURAKAMI, IM BALLIN." Hoyo is now producing new pieces for a solo exhibit at London's Imitate London aptly entitled Keeping It Real. The show will be open to the public starting February 8 up until February 28.
Visit Imitate Modern's official website and let us know your thoughts.
Imitate Modern
19 Shepherd Market
Mayfair, London W1J 7PJ, UK
Martha Cooper's Legendary Graffiti & Hip Hop Photos to Be Displayed at Atlanta Show
Seasoned street art photographer Martha Cooper will display rare photos at an upcoming exhibit at Wish ATL Gallery in Atlanta, Georgia. Titled "Then and Now," the solo show will spotlight 40 new editions of Cooper's vibrant 1970s and 1980s graffiti and hip-hop images from her books Subway Art and Hip Hop Files. Additionally, her famous black-and-white images from New York State of Mind, Street Play and Tokyo Tattoo will be displayed as well. "Then and Now" will be open to the public starting February 10. Visit Wish ATL's official website to learn more.
Wish ATL
447 Moreland Ave NE
Atlanta, GA 30307
teamlab to Build a Massive Digital-Only Museum in Tokyo
teamLab is set to build a humongous digital-only museum in Tokyo, Japan called MORI Building DIGITAL ART MUSEUM: teamLab Borderless. The establishment provided by Mori Building will spotlight a slew of digital artworks alongside immersive experiences. Not to mention, the space itself will span a whopping 10,000 square meters of floor space. "The word 'Borderless' expresses the museum's aim to tear down the borders between 'one art and another,' 'art and visitors' and 'oneself and others' by allowing visitors to melt into the art and become part of it," said the collective in a statement. The museum is expected to open sometime in Summer 2018. Visit teamLab's official website to learn more.
Collective Design To Spotlight Immersive Presentations During Armory Arts Week
Collective Design will launch its sixth fair at New York City's Skylight Clarkson North event space during Armory Arts Week. The company will spotlight immersive presentations comprised of vintage pieces, modern art and contemporary furniture by leading international designers. Galerie Michael Bargo, Chesterfield Gallery, Culture Object, Fort Gansevoort, Toronto's Caviar20, Miami's Nina Johnson and Southern California's Peter Blake Gallery will be presenting their latest designs at the fair. The showcase will launch on March 9 up until March 11. Visit Collective Design's official website to learn more.
Skylight Clarkson North
550 Washington St.
New York, NY 10014