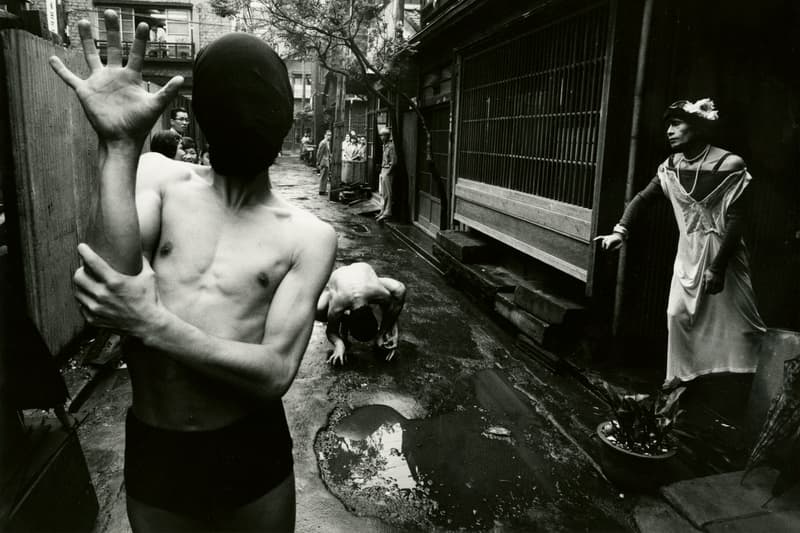 Best New Art: Pictures On Walls, Daidō Moriyama, Parra & More
Fashion collabs, group shows and new works.
---
Decades ago, street artists garnered huge fanbases by spreading their signature artworks on public walls, train cars and more. Now, this underground movement isn't so underground at all with artists promoting their pieces via digital mediums like social media sites.
London-based Pictures On Walls is a pioneer in trading and selling street art pieces online. Founded in 2001, the company was formed by a group of graffiti artists and illustrators who produced and distributed their own works alongside the first print releases of the ever-elusive Banksy. They've become a stronghold in purveying works from the subculture, culling an extensive portfolio of dealing with both acclaimed and emerging street artists. Now, POW is set to close its shop this January 22, 2018.
"POW has proved unwilling or unable to become the sort of professional retail outlet that services a demand whether our hearts are in it or not. It's time to call it quits," said the company in a statement. Read on to learn more about Pictures On Walls, alongside current and upcoming shows from across the globe.
Legendary Pictures On Walls to Close up Shop This January 2018
Street art distributor Pictures On Walls is set to close up shop after nearly two decades of business. The East London company has launched a closing down sale that includes special edition artwork, unreleased prints, and substantial markdowns on select pieces. One of the unreleased prints includes a full edition of 500 signed prints by Banksy, aptly titled "Sale Ends." Visit Pictures On Wall's official website to see all discounted items.
WACKO MARIA & Japanese Street Photographer Daidō Moriyama's Latest Collaboration
WACKO MARIA recently announced its brand new collaboration with acclaimed Japanese street photographer, Daidō Moriyama. The partnered-offering is comprised of an apparel capsule alongside anniversary editions of his renowned photograph collections spanning Nippon Theater Photo Book, Sayyo Picture and Yashi. Moriyama is widely-recognized for being one of the first contributors to street art photography in the '60s and '70s. His work encapsulates candid, monochromatic visuals of everyday life in Japan.
The capsule is available for purchase now at WACKO MARIA's official website.
Parra to Show New Paintings at Joshua Liner Gallery Group Show
To celebrate its 10th anniversary, Joshua Liner Gallery in New York City is set to host a group show. The extensive showcase will feature new pieces by celebrated contemporary artists, including Parra, Sam Friedman, Geoff McFetridge, Riusuke Fukahori, Aaron Johnson and more. The "10 Years" exhibit will officially launch January 6; visit Joshua Liner Gallery's official website for more information.
Joshua Liner Gallery
540 W 28th St
New York, NY 10001
Ukrainian Artist Aec Interesni Kazki Opens Solo Show at Mirus Gallery
Ukrainian artist Aec Interesni Kazki is set to launch a new solo exhibit titled "The Earth Is Flat" at the Mirus Gallery in San Francisco, California. Kazki is celebrated for his surrealist artwork that references science, religion, mythology and cosmology. His latest paintings "are packed with surreal scenes and otherworldly surprises," as per HiFructose. The exhibit will commence on January 19 up until February 10. Visit Mirus Gallery's website to learn more.
Mirus Gallery
540 Howard Street, 3rd Fl
San Francisco, CA 94105
Spoke Art Hosts Large Exhibit Featuring Works by Leading Contemporary Artists
Renowned collective Spoke Art is currently working on its seventh annual Supersonic Invitational that will feature works by over 50 of the world's leading contemporary artists. The group exhibition will put on a grand display of new artworks by Scott Listfield, Brett Armory, Sam Wolfe, Sarah Joncas, Dorian Vallejo, Roos Van Der Vliet, So Youn Lee and more. The exhibit will be open to the public starting January 6 at Spoke Art's New York City location.
Spoke Art NYC
210 Rivington St
New York, NY 10002