Bianca Chandôn's Upcoming T-Shirt Is Dedicated to Supporting Refugees
Raising awareness for the global migrant crisis.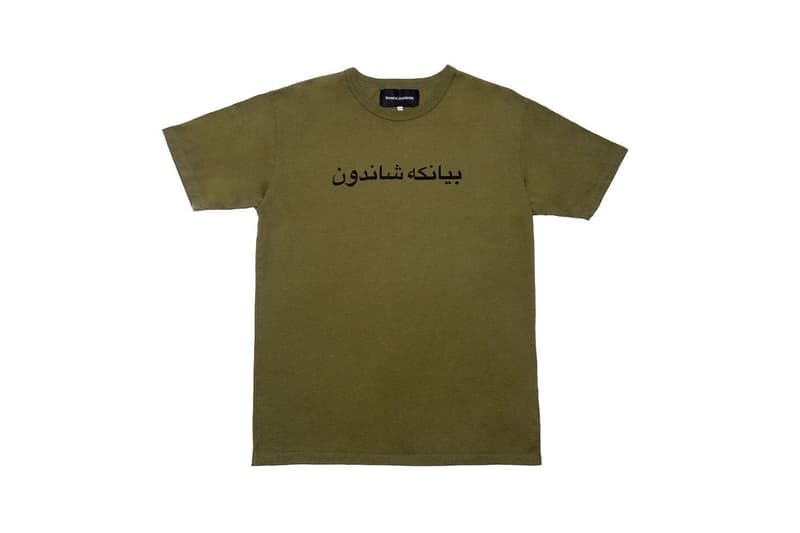 Alex Olson of Bianca Chandôn continues to raise awareness of socio-political issues with this forthcoming drop. Following its "Lover" capsule, which was aimed at supporting Planned Parenthood, the label releases a new T-shirt – which boasts an army green colorway and the brand's logo in Arabic text across the front – to raise proceeds for refugees.
The global migrant crisis dates back to 2015, when over a million refugees made their way to Europe due to the conflict in Syria and ongoing violence in Afghanistan and Iraq.
"The legendary house of Bianca was established to create a dialogue with our customers to raise awareness, ignite conversation and raise funds to support non-profit organizations," said the brand in an Instagram post. "Bianca Chandôn was created to celebrate diversity and celebrate differences; regardless of gender, race, sexual preference, religion, or nationality. Previous beneficiaries include Housing Works, The Trevor Project, and Planned Parenthood. This season, a portion of proceeds will be donated to support refugees."
Bianca Chandôn is set to launch the refugee T-shirt on September 22 at its online shop.