Ballantine's Teams Up With Reeps One to Launch the True Music Series
The multi-disciplinary artist gives his artistic interpretation of the brand's whisky.
To launch its "True Music Series," whisky brand Ballantine's has worked with Reeps One — a London-born multi-disciplinary artist and producer. The series gives artists a platform to share and visualise their music and give their artistic interpretation of Ballantine's whisky. For this collaboration, Reeps One produced a track, titled "Surfaces", subsequently played through an audio visualiser containing Ballantine's whisky, producing in a Series of sonic patterns that were then shot in macro.
The resulting images show a range of different patterns, created as the whisky moved to the sound of Reeps' music. These images were then used on sleeves for Ballantine's bottles, with smooth, circular ripples appearing on the Ballantine's Finest sleeve and the more intricate patterns featuring on the Ballantine's 12 Year Old tin. Explaining the artworks, Reeps One said that "whisky has a different viscosity to water so, when I added Ballantine's to the audio visualiser, it behaved in a totally unique way, creating these beautifully complex and chaotic patterns, which made the creation process all the more exciting." The video for "Surfaces" is made up of original and fan-filmed footage from the track's first ever performance at London's Printworks. The video features the largest audio visualiser Reeps One has ever used, turning his music into a fully immersive 360 ̊artwork.
To mark the launch of the Series — and of the "Surfaces" video — we caught up with Reeps One to talk about his work with Ballantine's and how he mixes the human voice with multi-sensory artwork.
1 of 3
2 of 3
3 of 3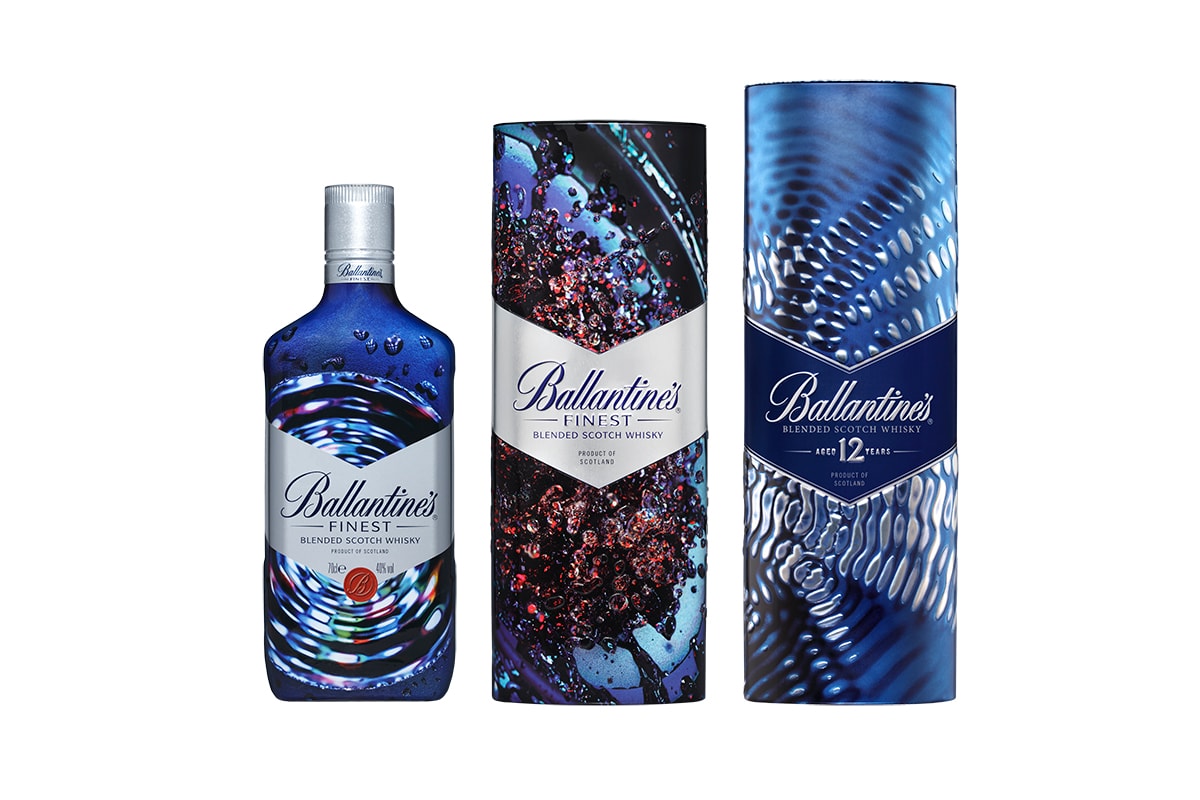 What were your intentions going into this project with Ballantine's?
"To make something that's never happened before, combining elements that have never been combined. In 2017 I think artists should be going above and beyond to be multi-disciplinary. To immerse people these days you have to create experiences, not just play shows."
How can visuals enhance an audio experience and vice versa?
"I've always found ways of visualising my voice. When people are experiencing something multi-sensory, they stop thinking and start just being present. In this case, I worked with Ballantine's to create a giant audio visualiser that uses vibration to transform sound to visuals. I know nothing else in the world is quite like what we've designed."
What is it about the human voice and your style that lends itself to a multi-sensory experience?
"The human voice is the ultimate instrument; it's insane what you can do with it and there's still so much to discover. My sound is UK, early grime instrumentals and producers like Aphex Twin raised my style; creating music like that with just your voice makes it human again. That surprise opens up audience's minds anywhere in the world."
How does Ballantine's whisky fit into a project like this?
"Supporting my vision and connecting people is at the heart of Ballantine's. They want to inspire people and we've made three Limited Editions that are unique works of art and a gift, all at the same time. People are going to be enjoying what we've made and connecting all around the world. That's inspiring."
The Ballantine's True Music Series Limited Edition gift packs are set to drop globally in September, while Reeps One's Surfaces is available to download now. For more information, head to the Ballantine's site.