Founder of WTAPS Calls in Military Tactics for New Project
The designer speaks out on his latest collaboration with Herschel Supply Co.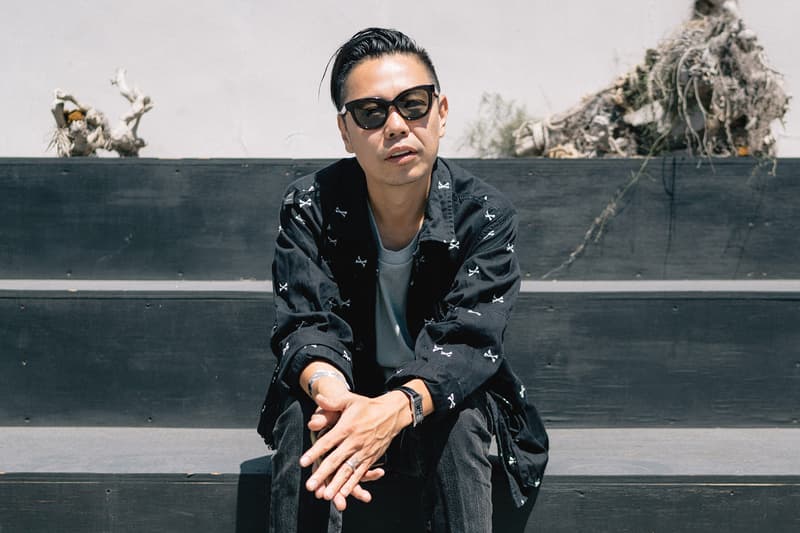 Japanese streetwear staple WTAPS recently partnered with Herschel Supply Co. on a full line of travel goods. Like many brand partnerships, this one can be traced back to the personal relationships of the people behind the brands. In this case, it's the streetwear OG Tetsu "TET" Nishiyama of WTAPS and Herschel's design director Jon Warren. The two became friends a decade past, working together on brand collaborations at Jon's previous position with Vans. With mutual trust already built, it wasn't too much of a stretch for these friends to reconnect over a new project.
The finished designs merge WTAPS' utilitarian military detailing with the inherent functionality of Herschel's bags. The collaborative range, two years in the making, features some new silhouettes and materials, with items varying from the RP backpack down to the Penny coin pouch.
To learn more about the collection and this partnership, we caught up with TET, Jon and Herschel's co-founder Jamie Cormack at their release event at UNION LA. Check out the discussion below and be sure to check global stockists for availability of this limited collaborative release.
1 of 3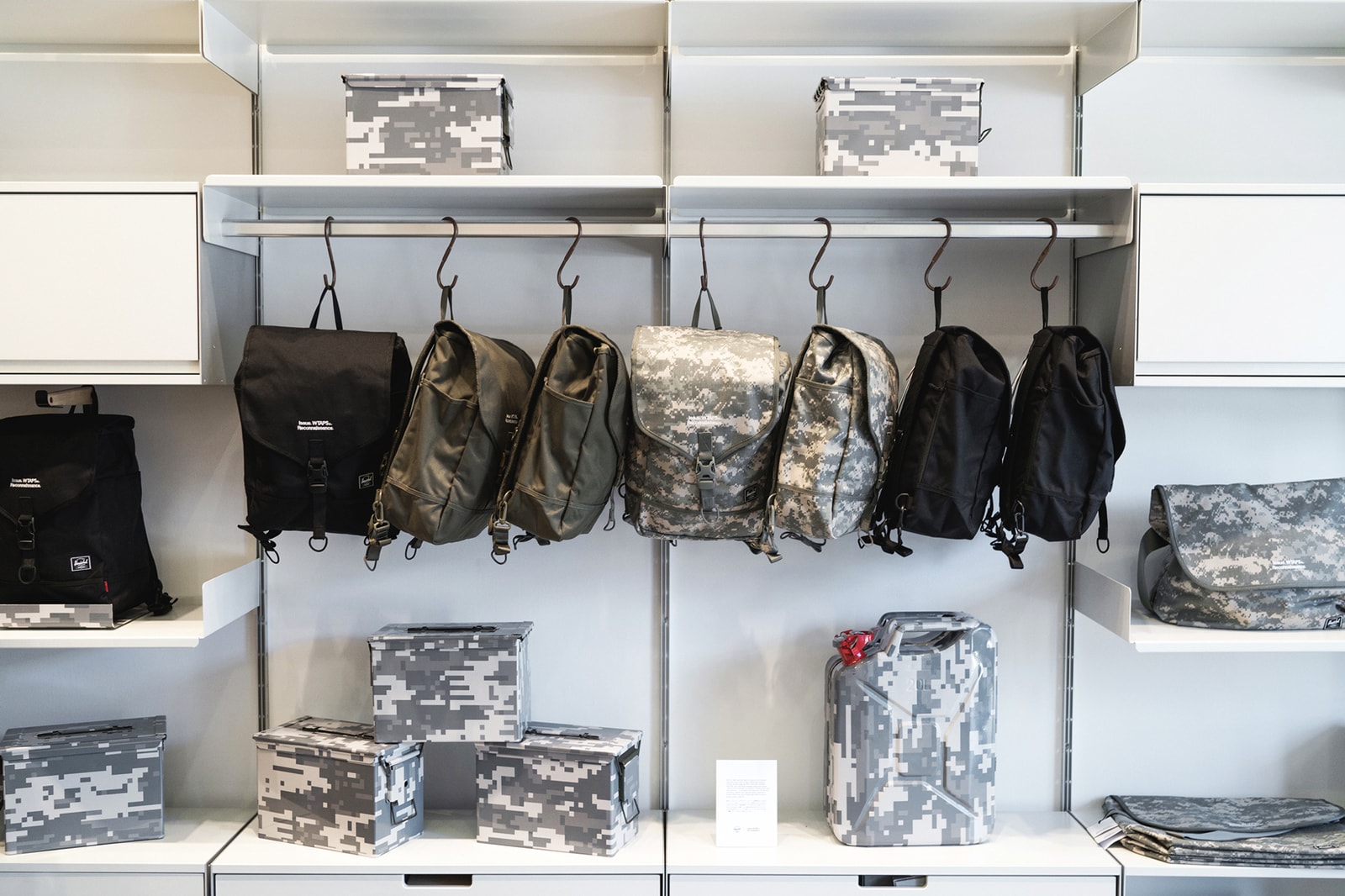 2 of 3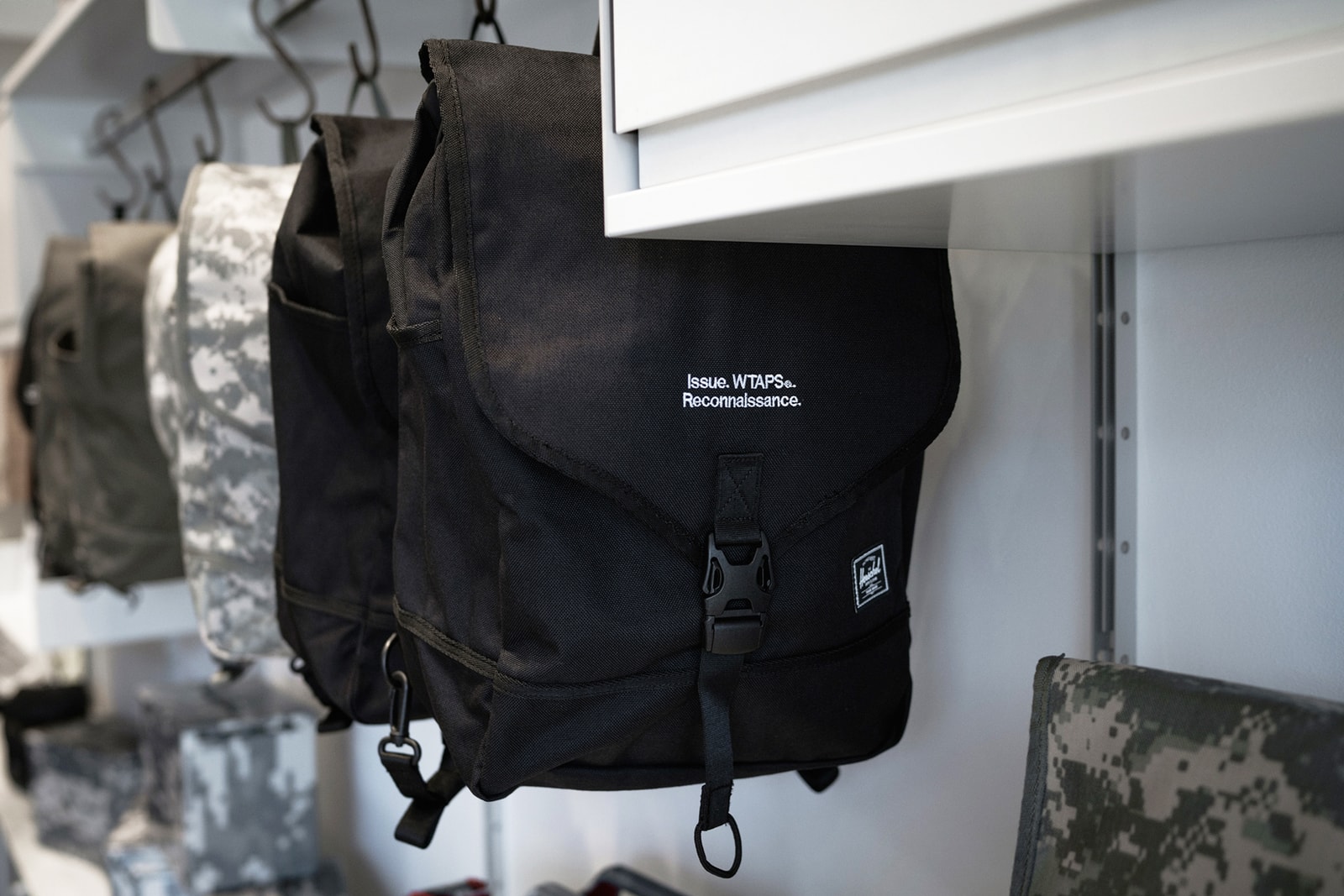 3 of 3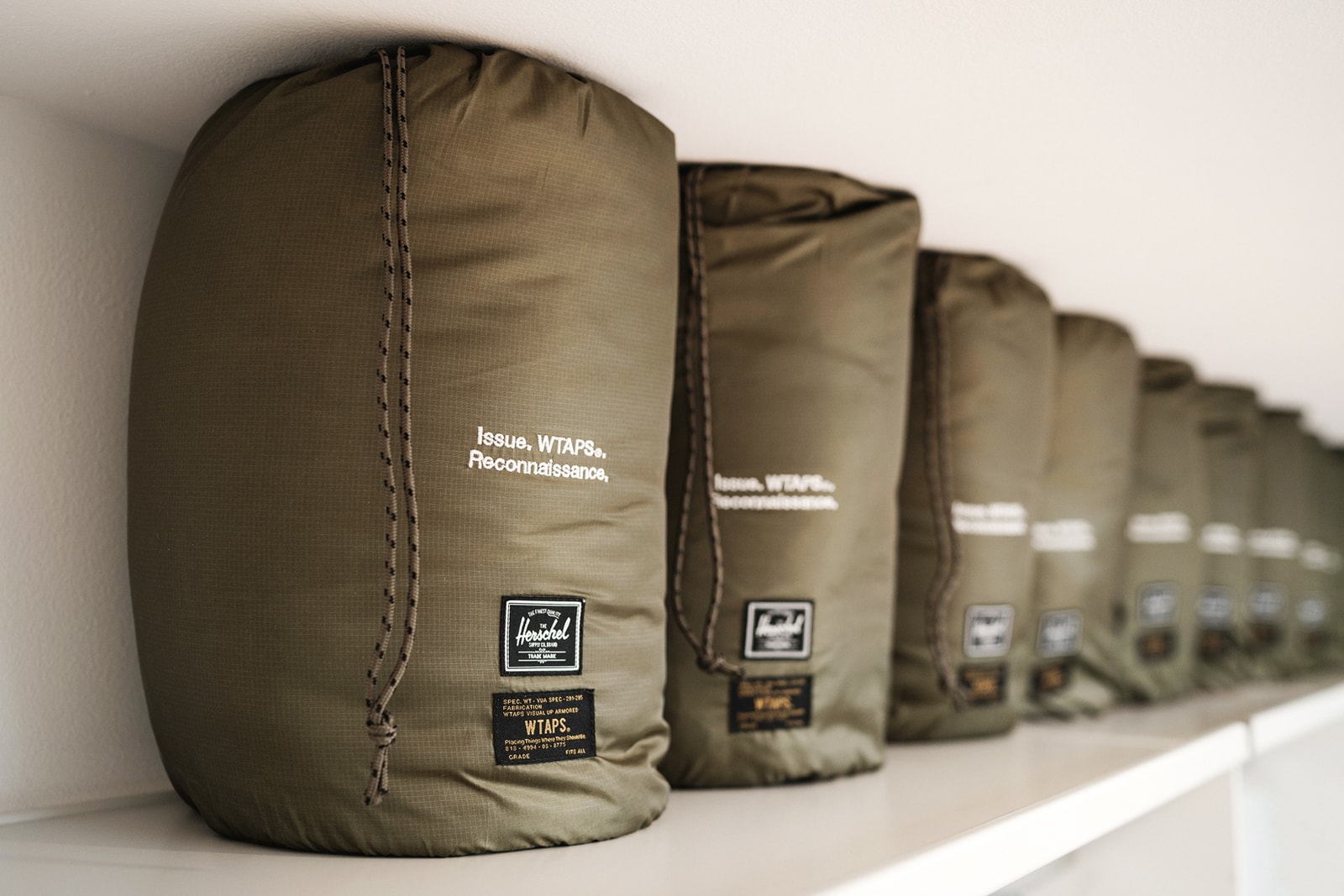 Jon, did your previous work experience with TET play a part in this WTAPS and Herschel collaboration coming about?
Jon Warren: I think all good collaborations start from natural connections and TET and my relationship as friends goes back a long time. When Jamie and I started working together that was a new endeavor for me. The same way that TET has this love affair with military and military detailing, Jamie and I share the same interest in all of those details so it felt like a natural fit.
Can you describe why partnering with Herschel makes sense for WTAPS?
Tetsu Nishiyama: I decided that I wanted to produce shoes with shoe brands. Along the same lines, I decided I want to produce bags with a bag brand and that's why this partnership makes sense.
You've produced bags in the past for your own brand WTAPS; how does that experience inform your decision to partner with Herschel?
TET: Rather than the experiences with WTAPS, I felt that I embodied ideas from actual experiences that Herschel has executed and is known for. Backpacks were a symbol of American casual style for myself as a teen. Jon who actually grew up using the backpack as part of the American culture that I had perceived and imagined in such movies, magazines and as a student, was able to give us ideas and details that we never grew up with in Japan. It was a very meaningful experience to be able to produce something together, as partners with such meaning.
What is the significance of the word "reconnaissance" to this collection?
TET: Herschel and WTAPS philosophies intersected through the word reconnaissance because when people go traveling they do their own reconnaissance for their trip. So I chose this word for our collection theme with the meaning.
Jon: Yeah, it's the reason that Tet came from Japan to be here and why Jamie and I came from Canada. We all met in Los Angeles for this release; it's built on that same philosophy of reconnaissance and going somewhere together and checking out a spot.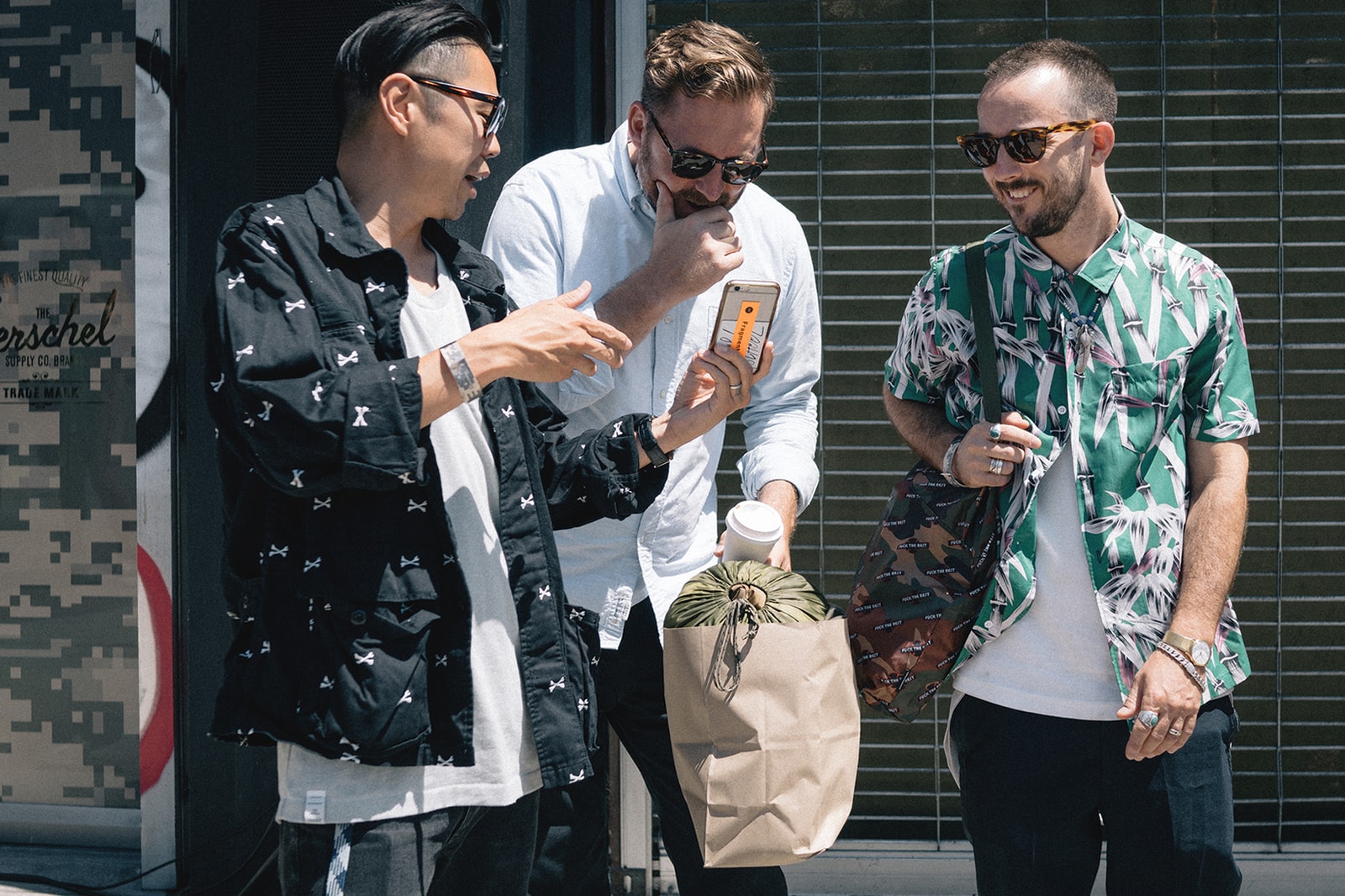 How important is it for brand ethos' to align when deciding on a partnership like this?
Jamie Cormack: I think it's key. Right off the start you talked about relationships and I think that was how this came together. I think TET and Jon had such a great relationship from the past, both friends and working relationships. I think through that respect and through those years working together it was really seamless and felt really natural. When you get together to do partnerships I think you need that respect and I think you saw that right off the bat.
We met two years ago to start talking about a collaboration. Seeing it all come together, although maybe the timing was a little long, but the collection feels right and it feels like exactly what I would want to see it become. I have so much respect for TET and his team and his brand. For us, we don't partner with a ton of people. This was one, when Jon brought up the idea, to see it all come together is just truly exciting because it takes a while and more than anything you want to make sure the companies align right off the bat before you start because it's a lot of work to get a project like this done.
Jon: You gotta think, you always learn new things and [TET and I] go back a long time, but this is a new kind of project for us. There's a lot of learning for TET and a lot of learning for us, but at the end of the day it's a fun project for us and we got to push what Herschel was and see TET's angle on our brand. It's a lot of fun to be able to work with a friend and make a new collection.
Can you discuss the design approach for this collection?
TET: I've done a bag collection with Porter back in 2001. That collection was pretty big and I designed everything from the large luggage to the small pouches. So I brought that past design experience to this new collection.
Jon: On our side what was fun, everything was Mil-Spec. So one of the things that we explored was yarn dyed thousand denier CORDURA®. So our sourcing guy Justin, he started digging in and going all over the globe to find these fabrics and we realized because we wanted to do a custom color that in order to hit a minimum we would have to actually build enough camo to supply an entire army. It was something like 20 or 30,000 yards of custom weaved fabric. It's fun when you start to explore all the different things that we put together here from the thousand denier CORDURA® to the thicker stitching to all the different little details; it was a fun exercise to explore how far we could take it.
To dig in and start getting on the phones with these American mills that make Mil-Spec CORDURA® and having them tell you, "we'll do it for you, but you can have an actual entire army wearing this stuff." It's always interesting when you start off on this adventure and then seeing where you land because I think you call these people up and try to explain, "Hey we're these kind of weird designers and we're looking to do this cool project" and they're used to getting government contracts. It's fun to push the boundaries of what you can do and we've got a really great team over at Herschel to help us find these [materials], because that's not my specialty. It's fun to see how far you can go because we never say no. We'd rather have someone else tell us no before we get there.
We just did stuff. There's a beauty in that and the idea of military gear and it's based on a utility product; the way it's made and that attention to detail that we learned as kids has kind of carried through our entire lives.
Are there any specific design elements that you think best represents each brand?
TET: There isn't one specific item or detail, but all the items have the detailing that represents WTAPS' philosophy and products. So that's where I hope everyone to see and feel the brand itself.
Jon: For myself and our team, it's the same thing that we start off with every product. It's just try to make it authentic and as real as possible. We treat each project with a lot of love and care and I think it's more the shared philosophy and try to make something and push something as far as we could together. The same thing about trying to track down this rare fabric and the way things were constructed; I think there was like zero compromise on quality and attention to detail.
Jamie: I just think it fit us too. We've always looked at being sort of a modern utility and I think this is a nice take. I mean the backpack is based on a military bag but it's modernized with the different details and the clips and the branding so for us, we're such huge fans of classics. Although it's a unique take on the bag, it feels really right.
Jon: And timeless.
Jamie: It does feel timeless and I think that's key to our brand too.
Yeah and I guess the functionality aspect of the bags and the military theme inherently go hand in hand as well.
Jon: I mean you can't design a bag without some form of function. It's pure function. It's an item to carry things and it serves a purpose. I think there's always a beauty in taking something that's actually a functional piece of equipment and whether that's footwear or apparel or bags, it serves a function and we always come from a function first point of view and we layer our style on top of it. I'm going to sound like a broken record, but it comes from our past. We had all talked earlier today about how in the past we went to army surplus stores because no one else was making the clothing that we wanted.
In the '80s and '90s there was surf gear, but brands weren't making military clothing. So we'd go to an army surplus store and get a pair of Dickies or military pants and a jacket because it was out of necessity and you'd go to thrift stores and you'd dig in and because we were all skateboarders, your equipment had to function so we became obsessive with details like triple stitching, how things were folded, how things were constructed, the fabrics that they were made out of it. You became obsessed.
Jamie: And color palettes.
Jon: Yeah and when you put your skateboard together it was like where the stickers went and how the griptape was cut. When we started out we were strange kids and this wasn't an industry, this was just a passion project. I mean the fact that we're still doing this and we're in our 40s is a blessing, but I didn't think this was even a job growing up. I think kids now think this is a job, but when we did this it was just some f*cking weirdos – a skateboarder that made stuff. We just did stuff. There's a beauty in that and the idea of military gear and it's based on a utility product; the way it's made and that attention to detail that we learned as kids has kind of carried through our entire lives.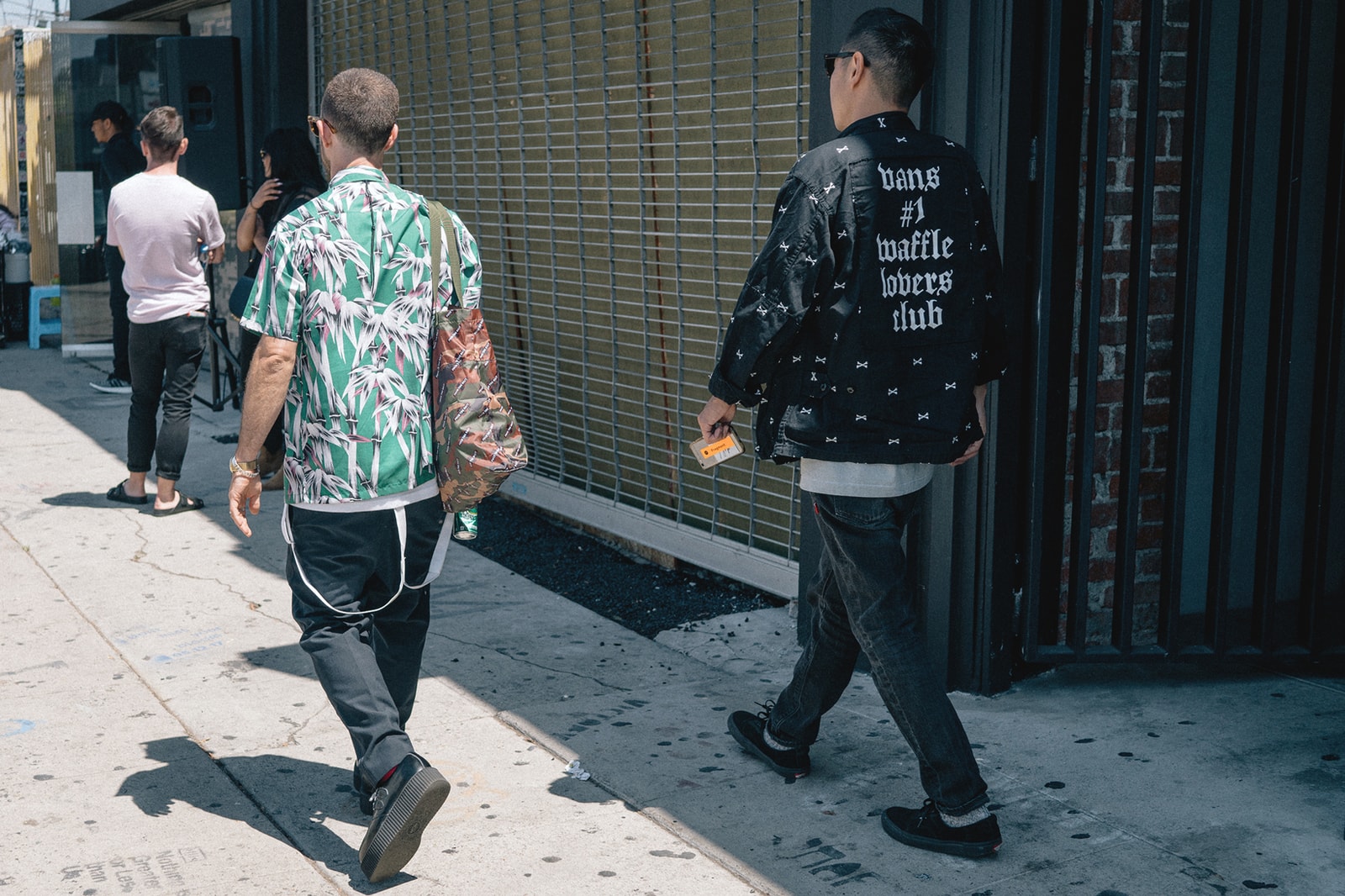 In a collaboration like this, when does price point enter the discussion?
Jamie: I think the main thing for us and TET and his team, it was more about just getting something that felt right. It wasn't about a price point. It's more about things like the challenge that the design involved fabrics that we didn't have in our material library at the time – that kind of thing is exciting. To pull it off, to really get the range to look like these guys' wanted it to look like, I love the challenge and you get the bag and it looks great and the shape is right and the whole vision, it was just us kind of dotting the i's and crossing the t's to see if we could pull it off. With partnerships it's less about the end cost; it was more about making sure the project felt right and that it was all cohesive.
Jon: Ideally I don't think price should dictate great design. That's never been the case, we've always mixed high and low and I think that's the beauty of it. At the end of the day, I love to make something that's accessible to people. So you're getting great design and it's accessible, I think it's super democratic and I've always worked for brands that were democratic in their pricing. The design is more important than the cost.
Is there anything else you'd like people to know about the collaboration?
TET: I just hope that people read the interview and hear the whole story and then come to see the product with a different perspective.