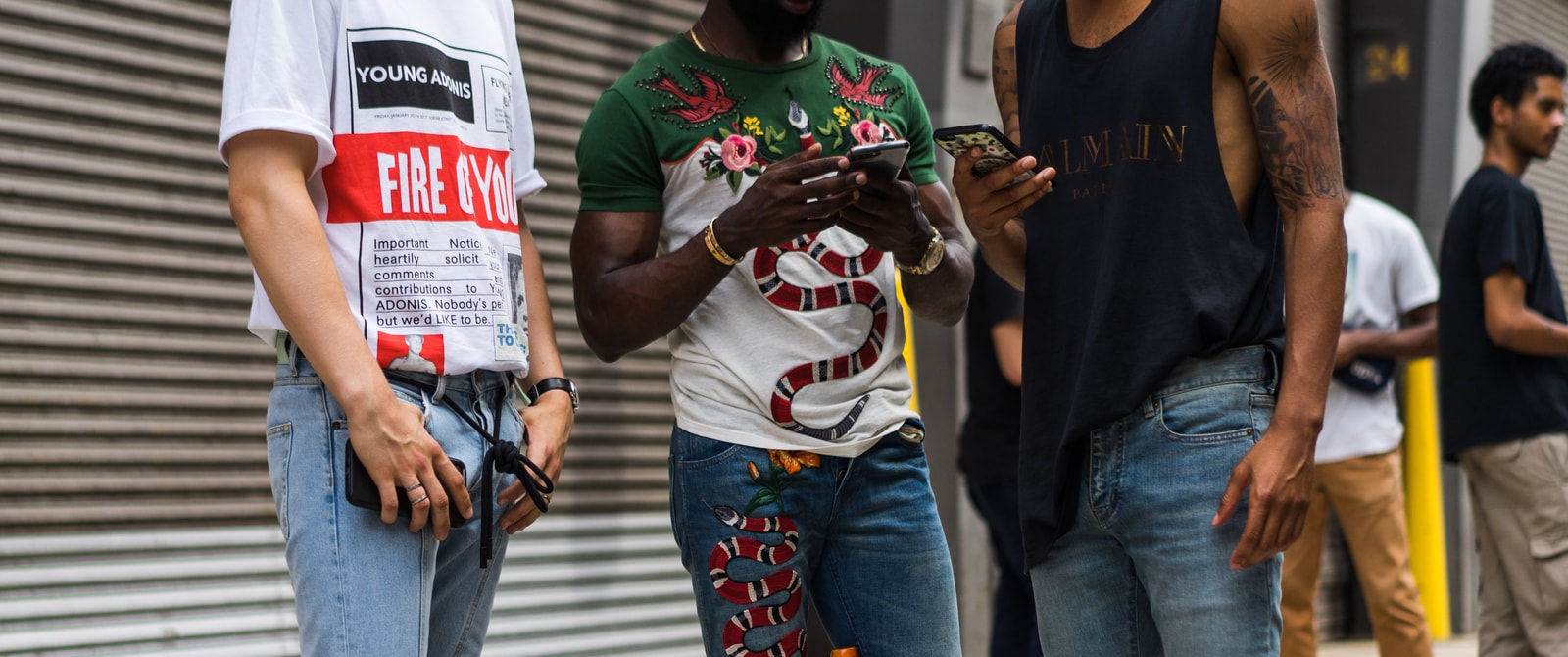 Street Style Photographers Hate Seeing These Trends at Fashion Week
Vetements, Balenciaga and Converse all made the blacklist.
While the Spring/Summer 2018 menswear fashion week circuit is done and dusted, the womenswear sartorial parade is only just beginning. That means another round of overbooked itineraries, ceaseless cab hopping, glitzy after-parties and, of course, unapologetic fit-flexing. Though fashion weeks within the "Big Four" – New York, Paris, London, Milan – are a mainstay for most editors, buyers, stylists, bloggers and publicists in the industry, their attendance isn't mandatory for every specific week that's tacked onto the fashion calendar, including the more niche events.
However, there's one group of industry insiders that hits up just about every recognized fashion week in the business, giving them astute consciousness of the wavering stream of trends that flows in and out of market each season. By capturing, quite literally, the various styles of fashion week attendees through an intimate perspective, street style photographers know a thing or two about what fads and brands are gaining the most global traction.
Now we've all seen looks that've been more than exhausted across social media and the blogosphere over the last few months, but imagine having to shoot said getups months at a time, all over the world?
With New York Fashion Week treading just around the corner, we've asked five of the fashion industry's most notable street style photographers to weigh in on what cities have the best/worst street style, which trends they're sick of seeing and what irks them the most at fashion week. Disagree with them? Let us know in the comments section.
In terms of street style, which city is your least favorite?
Julien Boudet, @bleumode Although this might surprise some people who've never been to New York and/or NYFW (I'm not even talking about New York Men's Week), its fashion week isn't super exciting anymore; it's become super commercial and harder to find cool outfits. Also, in Milan, during womenswear, it tends to be pretty slow sometimes.
Danile Bruno Grandl, @theurbanspotter Milan.
Adam Katz Sinding, @le21eme Milan. 100%. I love the people I've met in Milan. They are all amazing. But I think that Milan lacks a certain sense of authenticity. That being said, Slam Jam, Inner, etc are all great stores and offer amazing pieces, but I think the style is in a sense a mimicking of the rest of the world's streetwear trends. The filter just isn't there in the same way as say, Paris.
Acielle, @styledumonde I don't have a least favorite city. They all have their unique character and there is always something new to discover.
Eva Losada, @eva.al.desnudo Milan, because it's more commercial and colorful. Also, the menswear is quite classic in general.
What overall trend are you sick of seeing at fashion week?
@bleumode Oversized hoodies and extra-long sleeves.
@theurbanspotter Vetements and Balenciaga are just everywhere, therefore I am slightly bored of photographing people that wear those brands.
@le21eme Bloggers wearing Gucci to the Gucci show and then turning up at the Vetements show with long-ass sleeves and Balenciaga knife boots. Who are you supposed to be? Pick your identity. I swear to God if I see you in Rick dunks at Palais de Tokyo I'll fucking flip.
@styledumonde Everything gets oversaturated after a while. I don't really pay attention to things I don't like…I only shoot looks that I love.
@eva.al.desnudo Oversized shirts – we've seen them every possible version already.
What footwear are you sick of seeing?
@bleumode Balenciaga speed trainer.
@theurbanspotter Converse!
@le21eme Hmmmm, I mean…lots. I've never understood NMDs. They, to me, are just everywhere, and thus very watered down. The silhouette also doesn't seem to be perfectly refined. I'm not sure, they just never did it for me.
@styledumonde You get tired of any shoe that too many people are wearing.
@eva.al.desnudo Gucci fluffy slippers, definitely. They were never my favorites though.
When shooting, what's your biggest pet peeve?
@bleumode Honestly, I don't really pay attention to the fashion peacocks. Obviously it can be a bit annoying and harder to shoot for us sometimes when there are too many people in front of a fashion show, but again, this is a public space and everyone is free to come watch/try to get his or her picture taken if they want to. However, when they ask me to take their photo, it's a bit too much.
@theurbanspotter I dislike taking pictures of people where I remember that they have once been rude to me or had an attitude for no reason.
@le21eme People dressing like someone they think is cool. Just be yourself…suck it up. Owning clothes that make you look like 40 different people doesn't make sense. The designers you covet all have a uniform. Find yours. Don't turn up in Heron today and Dolce tomorrow…please.
@styledumonde Fake show-goers pretending to be late for a show when we all know that they were not even invited in the first place.
@eva.al.desnudo Very girly-girls who start moving and walking as if an electric shock happens throughout their body; they are usually wearing colorful flowery dresses and high-heels, which in general I am not very into, so I do not usually shoot them, but it's funny to see. Also, people that ask you to take their photo.
What do you absolutely refuse to shoot?
@bleumode I guess I'm open to shoot anything; it really depends on the outfit and the person wearing it. I feel like some people have the ability to rock any piece/accessory and make it look cool.
@theurbanspotter I refuse to shoot overall outfits that, in my opinion, do not look good…including celebrities.
@le21eme There's no thing I won't shoot (except maybe Uggs, and I thought Crocs until Isaac LaRose fucked us all up at NYFW in a pair). It's more about the way something is worn. If something is donned just to get our attention…get out of here. We are not your pawns. I mean, maybe that works with some people, but those of us who have been around for a while can see right through it. Basically, the tone of all of my answers is: don't try to be someone else. Do you.
@styledumonde Uninspired head-to-toe, one brand looks.
@eva.al.desnudo Although I never shoot peacocks, I have to say that in Pitti, you can see 20 of them sitting in line and each one is wearing a fedora that matches their outfit in the same bold color, like pink, red, blue or yellow.
---