Wrestling Merch & Fashion: A Love-Hate Relationship
Piqued interest in vintage tees has wider implications for the industry.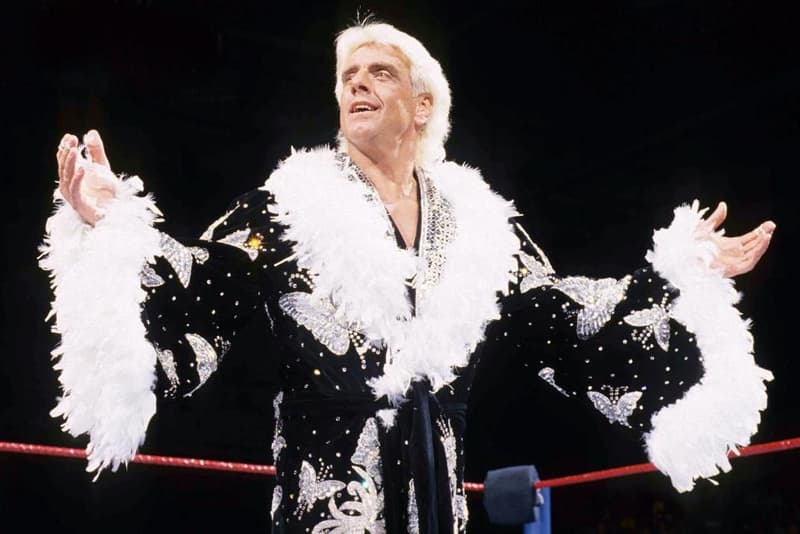 Merchandise, popularly known as "merch," has played a special role in establishing the relationship between musicians and their fans over the years. What's even more special, is the $3.1 billion USD generated in sales for 2016. Indeed, the fashion world's obsession with novelty and reappropriation has managed to bring the legacy of brands like Guns N' Roses, Metallica, Nine Inch Nails and Nirvana to the forefront of a new generation — even if that generation has never heard their music. Yet, musicians aren't the only entertainers that have fashionistas hitting vintage shops and digging through dusty crates for those classic T-shirts. In the past few years, wrestling merchandise has also claimed its fair share of relevance.
Unknown then, wrestling's peak in the '90s would translate into a widespread phenomenon today. Current merch lovers still long for a simple black T-shirt with white block letters reading "Austin 3:16." Superstars such as Stone Cold Steve Austin, The Rock, Triple H, The Undertaker and Kane are only a few among many that have left a substantial imprint.
Recently, the momentum behind wrestling merch has brought the craze to the forefront of a sea of influencers, only adding to its popularity. We've seen LeBron James don an Undertaker tee, Drake rock a Stone Cold Steve Austin piece and even Kendall Jenner sport nWo's classic Wolfpac tee. The demand for wrestling merch has been such that it's filtered its way into mainstream retailers like Urban Outfitters, who sell their own renditions of popular wrestling tees.
While wrestling merchandise's presence in mainstream fashion and culture is prevalent, the world behind wrestling merch has been in place since before the recent surge in popularity. And like anything that becomes mainstream, there's an intricate world behind the superficiality of a Jenner-clad media outburst.
Cult Nostalgia Clashes With Mainstream Fashion
WWE's "Attitude Era" may not have been as popular as the LA Lakers' dynasty run or the New York Yankees' back-to-back championships in the early 2000s to some, but it surely generated a cult following that would spark a sense of passion in a select group of people. This sense of nostalgia — whether in sports, music, or wrestling — is a key element in keeping merch alive.
"Wrestling is a sport, all sports provide nostalgia. You remember where you were and who you were with when a historical moment happened and that's what vintage tees do… allow you to relive that moment in time," says Kirk Tilton, owner of For All to Envy, Vintage Retailer in Los Angeles.
The unique sense of nostalgia that follows wrestling has provided a gateway for fans to connect with wrestling superstars and one another in similar form to fans of musicians. Only, instead of sparking conversations about a particular Guns N' Roses track, wrestling enthusiasts might reminisce about their favorite superstar from Monday Night RAW.
Some wrestling afficionados even claim that the sense of nostalgia brought on by wrestling merch is unequivocal to music. "I have a Mick Foley shirt that has all of his injuries on it and the date they happened. Oh, and he just so happens to be covered in blood. Show me another shirt that is even close to that. Sure you can buy a tour shirt from a band but it can't capture the band's career, like that shirt does for Mick Foley," reminisces Will Wagner, owner of Deep Cover, Vintage Retailer in New York City.
"I have a Mick Foley shirt that has all of his injuries on it and the date they happened. Oh, and he just so happens to be covered in blood."
In their heyday, wrestlers truly have the capability of influencing their fans; as did wrestling legend, 16-time world champion and WWE Hall of Famer, Ric Flair. "More people dressed like me than there were T-shirts. I knew that I was setting a trend, you know. You didn't usually see a group of guys sitting ringside in suits and I felt like I did that," Flair tells HYPEBEAST.
In turn, all the emotion and close ties that exist between fans and wrestling, means not everyone is happy with its introduction into mainstream fashion. As a result, there is a subtle tension between the true fans of wrestling and those who purchase its fashion pieces to fit a desired aesthetic.
"I understand that some people will wear something just because they like it or think it's cool. However, even with the celebrities that have bought them from me they have all been a wrestling fan either in the past or currently. Selling shirts should be strictly by the fans as well," continues Wagner.
The expectation that follows understanding the history of a T-shirt and of a wrestler is integral to the authenticity of the movement. That level of intensity — much akin to the intensity that follows music — has been instrumental to bringing wrestling merch to a mainstream forefront, and will be even more instrumental to keeping it alive once the hype dies down.
The Turbulent Business of Wrestling Merch
Throughout all the ups and downs of what's in style and what isn't, making a business out of merchandise often comes down to the luck of the draw. As for the wrestlers themselves, their influence and connection to fans can often be leveraged to make a nice buck.
Speaking on Stone Cold Steve Austin, retired Flair shares, "Merchandise made him a millionaire. Steve sold merch like no one else. That 3:16 shirt and all his stuff. In my mind, he's the biggest star in the history of the company." Flair himself never saw the same success with merch, although his influence was profound in another way, seeing followers emulate his highly unique style.
But long after wrestlers exit the ring, the business of wrestling merch lives on. Meanwhile, for retailers who consider themselves OGs in this sphere, it can be difficult to maintain consistent throughout a fluctuating market. "Much like every trend, when something becomes popular they flock to it. It makes things more accessible so a lot of shirts are popping up that weren't too common before. At the same time it damages it because the market will be flooded," explains Wagner.
"Merchandise made him a millionaire. Steve sold merch like no one else. That 3:16 shirt and all his stuff. In my mind, he's the biggest star in the history of the company."
Indeed, the change in the market makes it tough for veteran players to grow their business in the long run. Recently, a major influx of wrestling selling pages on Instagram make it difficult for retailers who have long been in this game. The added competition means people want to buy these shirts for as close to retail price as possible, bringing more pressure to people like Wagner.
On the other hand, the spiked obsession with wrestling merch does mean more business. If played right, merch can lead to endless verticals and opportunities. "Seeing how the merch game has become its own market is amazing, but also seeing how it's led to a new market where you can have stuff like another collaboration between PUMA, the WWE and Foot Locker that does so well is cool too," explains Peter Rosenberg, voice of Hot 97 and WWE host and commentator.
Others claim that the real love for the game shouldn't even be driven by money. "If I walk into a vintage shop and see them selling a Daniel Bryan T-shirt, I'm not taking you seriously. That means you're trying to do it for the money; I'm in it for the love and support of the industry," continues Wagner.
As the business and passion of wrestling merchandise collides, it sets the table for each side of the spectrum to find a way to coexist. While the cult following consistently keeps merch afloat, the business and mainstream aspect weaves up and down. The challenge comes in the two sides complimenting each other, while consistently keeping the authenticity that drives wrestling merch alive.