Your Guide to the UK's Best Multi-Brand Fashion Stores Outside of London
The best menswear retailers outside the capital.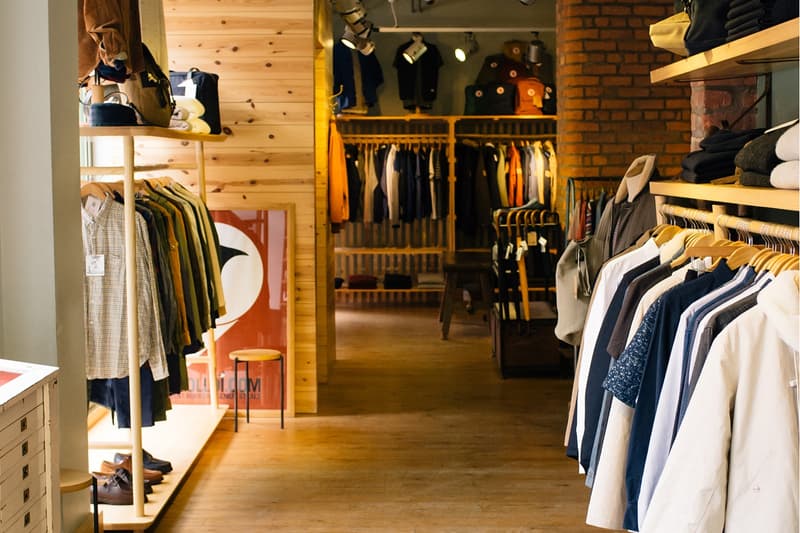 It can be hard to look past London when it comes to stores in the United Kingdom, with the capital being home to stores such as Goodhood and LN-CC, as well as the European outpost of Dover Street Market. Look a bit further afield, though, and Britain's other cities boast a range of stores stocking everything from visvim to Our Legacy, as well as some of their own labels that have been making waves. With that in mind — to lift the scales from your eyes and make it a little easier to find some of the best stores outside London — we put together a list of some places that you can't miss if you're ever in any of the UK's smaller cities.
END. (Newcastle)
A store like END. needs little introduction. The Newcastle-based retailer has a reputation that has spread across the world, having taken part in adidas Originals' sneaker exchange and through a stock list that includes some of the most hyped brands in the world, such as Off-White™, Balenciaga and BAPE. Describing the store's brand selection, Simon Lister from END. explained that the buyers aim to "mix luxury fashion with contemporary streetwear."
The store was founded in Newcastle and, since then, the family has grown to include a second location north of the Scottish border in Glasgow and a ridiculously well-stocked web store. The company also rolled out "END. Launches" back in 2016 — a microsite dedicated purely to the most hyped and exclusive drops. With the carefully curated stock selection, and the two sleek bricks and mortar stores in England and Scotland, it's no surprise that END. has grown to be a respected worldwide retailer.
Address: 133-137 Grainger St., Newcastle upon Tyne, NE1 5AE
Key brands: Off-White™, YEEZY, Balenciaga
MKI (Leeds)
Although it was founded as a multi-brand store in 2010, Leeds's MKI is now arguably best known for its in-house brand. The store initially gained its name as being the only COMME des GARÇONS stockist in the region, before its own products became the focal point. Now that MKI as a brand is stocked in retailers such as HBX and Selfridges, it would be easy for them to close their store and focus solely on expanding the brand itself, but as Georgia from the team behind the store explains, this isn't the MKI philosophy: "I believe that it's really important for customers to have a physical buying experience… You can't beat walking into a stunning designed store interior, feeling the fabric quality of products, chatting to passionate store staff, and walking out with a carrier bag."
Although being based outside of London made starting out tricky for the team, it's paid dividends now. "We didn't initially get the same volume of customers through the door that you would expect in London," says Georgia, "we soon became a 'must visit' for those interested in menswear visiting the city."
Address: C4, Corn Exchange, Call Ln, Leeds, LS1 7BR
Key brands: MKI, COMME des GARÇONS PLAY, COMME des GARÇONS WALLET
Dundee-based CARTOCON opened its doors in January 2016, after beginning life focusing on graphic tees and locally handmade accessories. Since then, the store has gone on to stock brands including Aries, 032c and Soulland. Additionally, CARTOCON stays true to its beginnings with a regular collection of printed T-shirts and socks, as well as NeverHope, a brand launched in 2018 by the Scottish store.
Address: 129 Nethergate, Dundee, DD1 4DP
Key Brands: Aries, mfpen, 032c
W2 (Glasgow)
Glasgow's W2 store is best known for its range of COMME des GARÇONS affiliates, with SHIRT, PLAY, Perfumes and Wallets making up a key section of the stock list. The CdG connection goes back to before W2 even opened its doors, with the store being founded from the ashes of the last ever COMME des GARÇONS Guerrilla Store — the brand's series of pop-ups in the early '00s that took it to cities that weren't normally seen as traditionally fashionable. These auspicious origins, as well as the store's location in an old farm building, means that W2 is what owner David describes as "an atypical shop unit, and the character of the space often establishes conversation with visitors."
The COMME des GARÇONS affiliation probably gives you a pretty good idea of what type of store W2 is: refined, high-end and carefully chosen. The stock list is explained by David as being made up of "brands offering quality fabrics and good design," which has seen W2 expand its selection to include other carefully-curated favorites from brands such as Margaret Howell, Norse Projects and S.N.S. Herning.
Address: 10 Ruthven Lane, Glasgow, G12 9BG
Key brands: Margaret Howell, Norse Projects, COMME des GARÇONS SHIRT
In addition to locations in Glasgow and London, 18montrose opened a space in 2016 in Nottingham's city center. The store — located within an historic Grade 2 Listed building – features a huge mix of brands covering everything from high-end labels including Helmut Lang, Maison Margiela and Y-3 to everyday staples from Norse Projects, The North Face and Gramicci.
Address: 58 Bridlesmith Gate, Nottingham NG1 2GP
Key Brands: Stone Island, Helmut Lang, Maison Margiela
Putting Oi Polloi on this list may be cheating — it opened a London outpost back in 2015 — but it's hard to think of many regional stores that have become as well known and well loved as the Manchester original. Oi Polloi's selection of brands and classic pieces has lead to its earning a reputation that spreads far and wide from its original hometown beginnings. "I think we can transplant what we do to other cities," explains the store's director Steve Sanderson. "If there are good people into clothes and music, we'll fit in just fine."
Steve describes the brand's stock list as "a tight classic selection of menswear staples," although that undersells what the store offers, with everything from New York's Adsum to Scandinavian minimalism from Our Legacy sitting on the shelves. Steve explains the philosophy behind what he's trying to do at Oi Polloi by pointing out the store's name: "The name of our store is Greek for 'the people.' We sell sportswear and casual classic clothes from some of the best brands in the world. It's that simple."
Address: 63 Thomas St., Manchester, M4 1LQ
Key brands: nanamica, Our Legacy, Folk
Brighton-based Peggs & son was founded in 2000, initially stocking a fairly standard menswear offering with brands like Universal Works, A.P.C. and Norse Projects. As the store's popularity grew, though, founder Ian Peggs has been able to branch out and increase the brands on offer. Now stocking everything from Acronym to visvim along with those classics, this probably isn't the type of store you'd expect to find in what Ian describes as "a relatively sleepy city by the sea."
When talking about how he makes his buying decisions, Ian says that he looks for "good product, things done well, items and labels with a history, but we do not shy away from the word 'fashion' and I think our broad brand selection reflects this." The mix of classic with contemporary has obviously done well for Peggs & son, with the store opening its second brick and mortar location in August 2015.
Address: 39 Duke St., Brighton, BN1 1AG
Key brands: Acronym, Stone Island, Porter
Philip Browne Menswear has a long and illustrious history, launching back in 1986 and stocking early collections from legendary names including Alexander McQueen and Jean-Paul Gaultier. The store's brand list includes everything from Moncler, Helmut Lang and Y-3 to Fred Perry, Stone Island and adidas Originals. Additionally, Philip Browne Menswear also boasts a "Vault" section of rare and archival Vivienne Westwood and Levi's Red pieces, as well as a curated selection of art that hangs on the walls.
Address: 3 Guildhall Hill, Norwich, NR12
Key Brands: Helmut Lang, Stone Island, Y-3
Autograph in Birmingham has become a mainstay of the British menswear scene since it opened 29 years ago. Over the course of almost three decades, the store has gained a reputation for its carefully curated selection that spreads over three interconnected units. That selection ranges from staple brands like Acne Studios to legendary designers including Rick Owens and Dries Van Noten, as well as taking in some of the leading contemporary brands such as Cottweiler and Off-White™. Explaining the concept behind the store's extensive stock list, Imraan Ahmed, Autograph's buyer, said that the team "look for pieces that are rare and exciting, this is the DNA of our store."
This approach has been at the base of Autograph's success over the last 30 years. Ahmed also explains that the store was founded because there was a "gap in the market for a niche boutique in Birmingham," with England's second city craving the kind of selection that Autograph has offered. Since then, the store has become one of the UK's most sought-out destinations, something that Ahmed attributes to the team's decision to "stay true to our independent roots and be original. We try hard to do our own thing."
Address: 5-17 Ethel St, Birmingham, B2 4BG
Key brands: Rick Owens, Dries Van Noten, Cottweiler
Hoko (Bristol)
Stoking a mix of men's clothing, unisex accessories, skincare and fragrance alongside independently-published books and zines, Hoko is set over three levels in Bristol's Clifton district. The store's brand mix covers Our Legacy, NEEDLES, Trés Bien and Aries as well as an ongoing edit of emerging brands, homeware from Mellow and print magazines including The New Order and Apartamento.
Address: 24A The Mall, Clifton, Bristol, BS8 4DS
Key Brands: Our Legacy, NEEDLES and Aries
Leicester's The Business Fashion was set up back in 2002 for a simple reason: founder Costas Karageorge "couldn't find the clothes I liked in Leicester at the time." Figuring that there must be more people like him in the Midlands city, Karageorge decided to set up the store and tap into the city's fashion potential, "setting up a store was always the dream, after I dropped out of college I decided to go into business and that was that."
In the 15 years since he made that decision, the store has gone from strength to strength and now boasts an impressive stocklist. "We want to focus on everything and have a product for everybody," says Karageorge, "we have a good mixture of international designers, luxury fashion houses, contemporary brands, sportswear and stretwear." The Business Fashion was founded to satisfy Karageorge's need for high quality fashion in his hometown, and its stuck to what he and the team like ever since: "If we wouldn't wear it, we wouldn't want to sell it to our customers."
Address: 360 Welford Rd, Leicester LE2 6EJ
Key Brands: Off-White™, Saint Laurent, YEEZY
Leed's The Hip Store has been around for more than 30 years, having been originally founded by Everton Campbell and Umberto Annacheni in 1987. In its early years, The Hip Store was known for bringing hard-to-find labels to the UK from across the world, including COMME des GARÇONS and Supreme. Nowadays, the store has branched out to a second location in Nottingham and stocks labels including from Patta, Awake NY and Stüssy.
Address: 49-51 Vicar Lane, Leeds, LS1 6DS
Key Brands: Stüssy, Patta, Awake NY