HIDDEN HYPEBEASTS: Chef Jimmy Ly of Madame Vo Isn't Afraid of the Heat
Six days a week he elevates Vietnamese cuisine. On the seventh, he elevates the culture.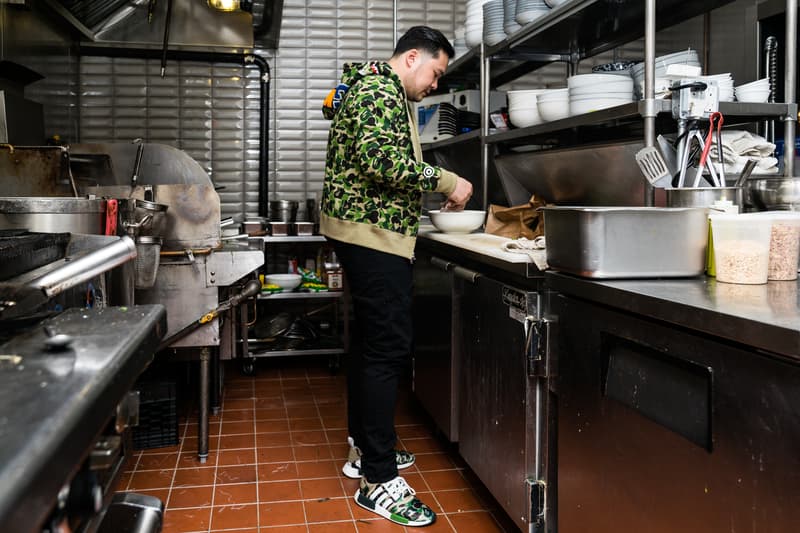 1 of 5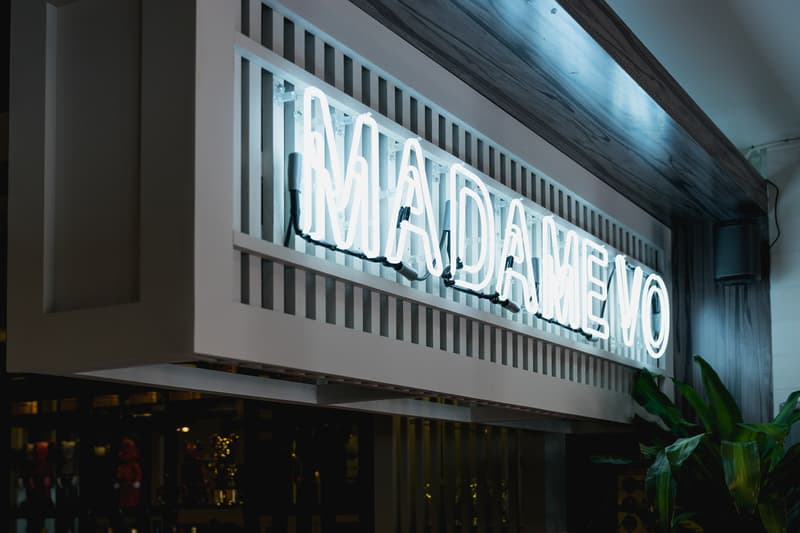 2 of 5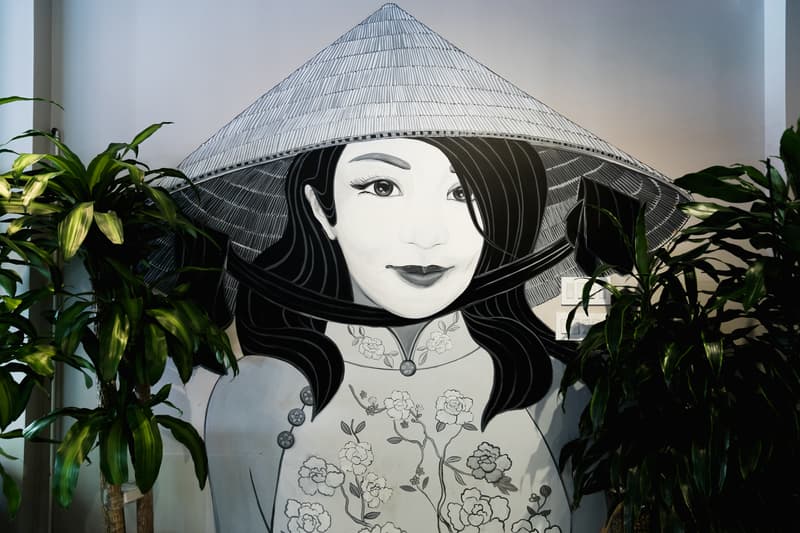 3 of 5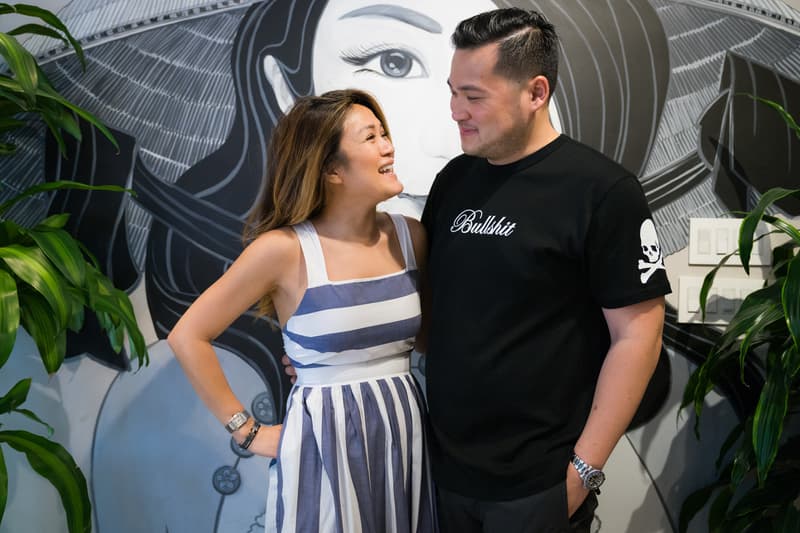 4 of 5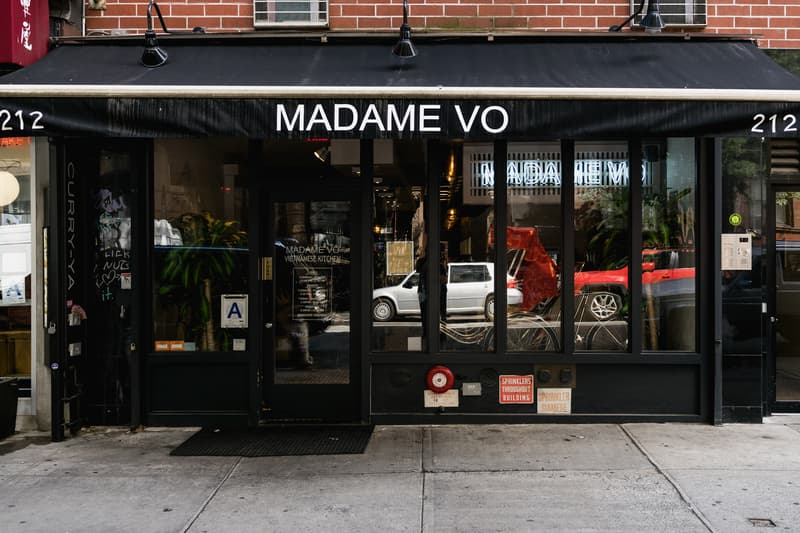 5 of 5
Decades ago before the term hypebeast was even born, a niche group of collectors and fans of sneakers, streetwear and hip-hop culture co-existed and were seemingly a mystery to the rest of the world. These days, it's not hard to find someone who fits that mold in both a positive and negative connotation. What is difficult to find however is someone who works in a profession where stereotypically you wouldn't think of finding someone who fits the mold. And thus, HIDDEN HYPEBEASTS is born, a new series with the goal of seeking out individuals who may not come off as one at first because of their job but truly exemplify the culture once you peel back the initial metaphorical layer. Today we unveil chef and owner of Madame Vo, Jimmy Ly.
Upon entering Jimmy's restaurant, Madame Vo in the East Village of New York City, you'll immediately notice a beautiful mural on your left-hand side (Madame Vo) and a traditional Vietnamese cyclo on the right. Next to that, your eyes will lock onto KAWS Companions and Medicom BE@RBRICKs behind the bar on proud display. As Jimmy greeted me, the first thing that caught my eye was his Supreme x Louis Vuitton crewneck and red Supreme x Nike Air Max 98s — in Chinese tradition red is a color symbolic of luck and joy.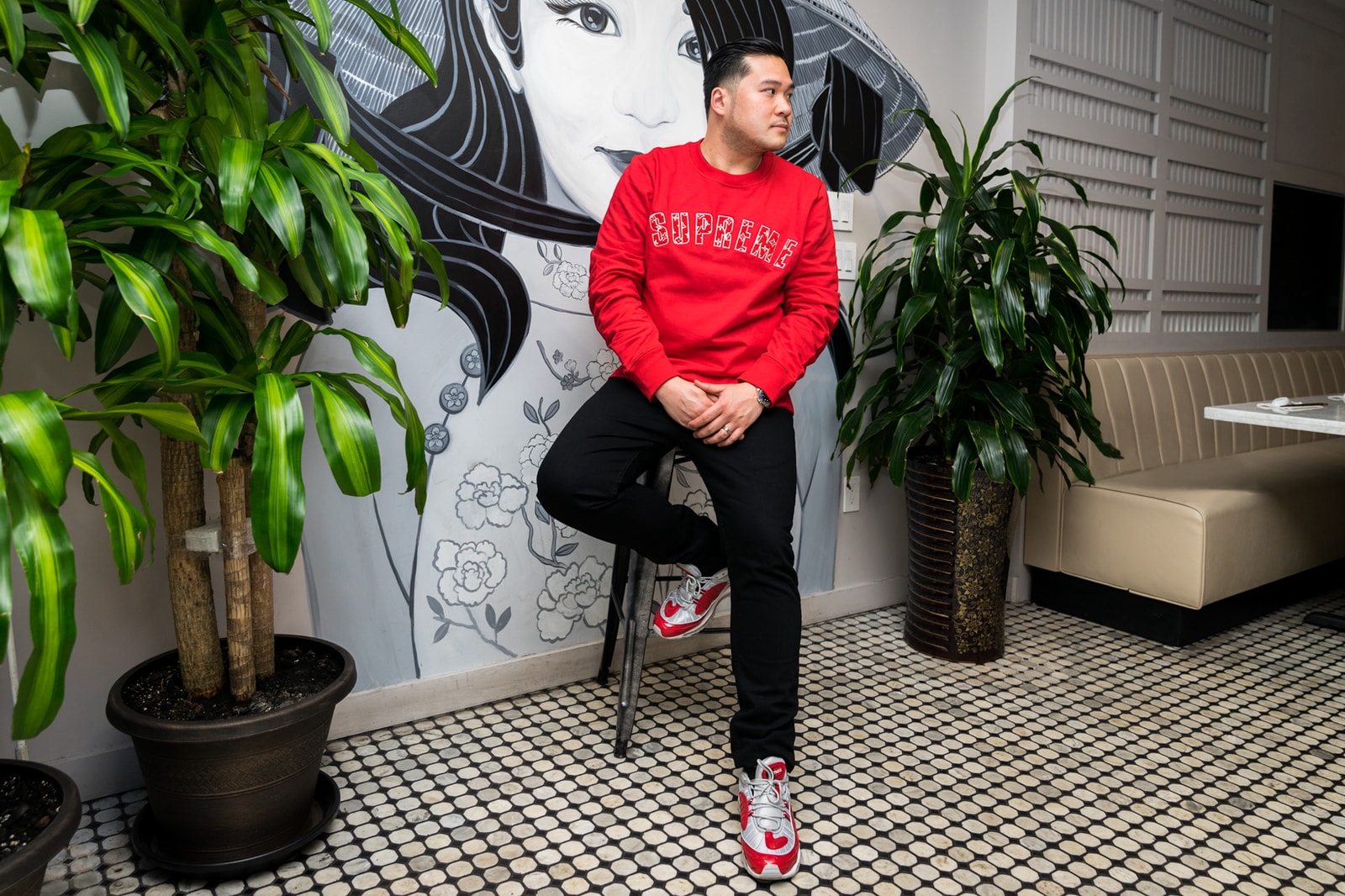 Origin Story
Growing up in the hospitality industry — Jimmy's family runs Paris Sandwich in Chinatown — he started off baking at a young age before learning to cook by watching his mother in the kitchen. Like most, if not all New York kids in the '90s, basketball and hip-hop were huge parts of Jimmy's youth and eventually cemented itself as a part of him into adulthood. With humble beginnings and immigrant parents who weren't willing to spend copious amounts of money on Jordans and other sneakers for him as a kid, Jimmy knew he had to work hard to obtain the kicks he wanted once he was able to. "I cop the stuff I do because once upon a time I couldn't. Something I wanted back then but maybe my parents couldn't get it, that's the stuff I like to buy because of the memories," he says. It's a statement that likely resonates with a lot of people who don't have the means at first to "get into the game."
Speaking of the sneaker game, Jimmy proceeds to thank his boys Steven and Pat along with his plug Kevin — whom he lovingly refers to as his "crack dealer" — for fully entrenching him and teaching him about the culture. He reminisces about the time he saw a 40-something-year-old man at Manhasset Mall wearing a pair of "Forest Green Camo" Foamposites and how that really got him hooked. "I saw that guy and I was like 'WHAT ARE THOSE, I need them!' and the rest is history," he said. Shortly afterwards, Jimmy met his wife Yen, and unbeknownst to him, Madame Vo would be born out of their initial meeting.
1 of 2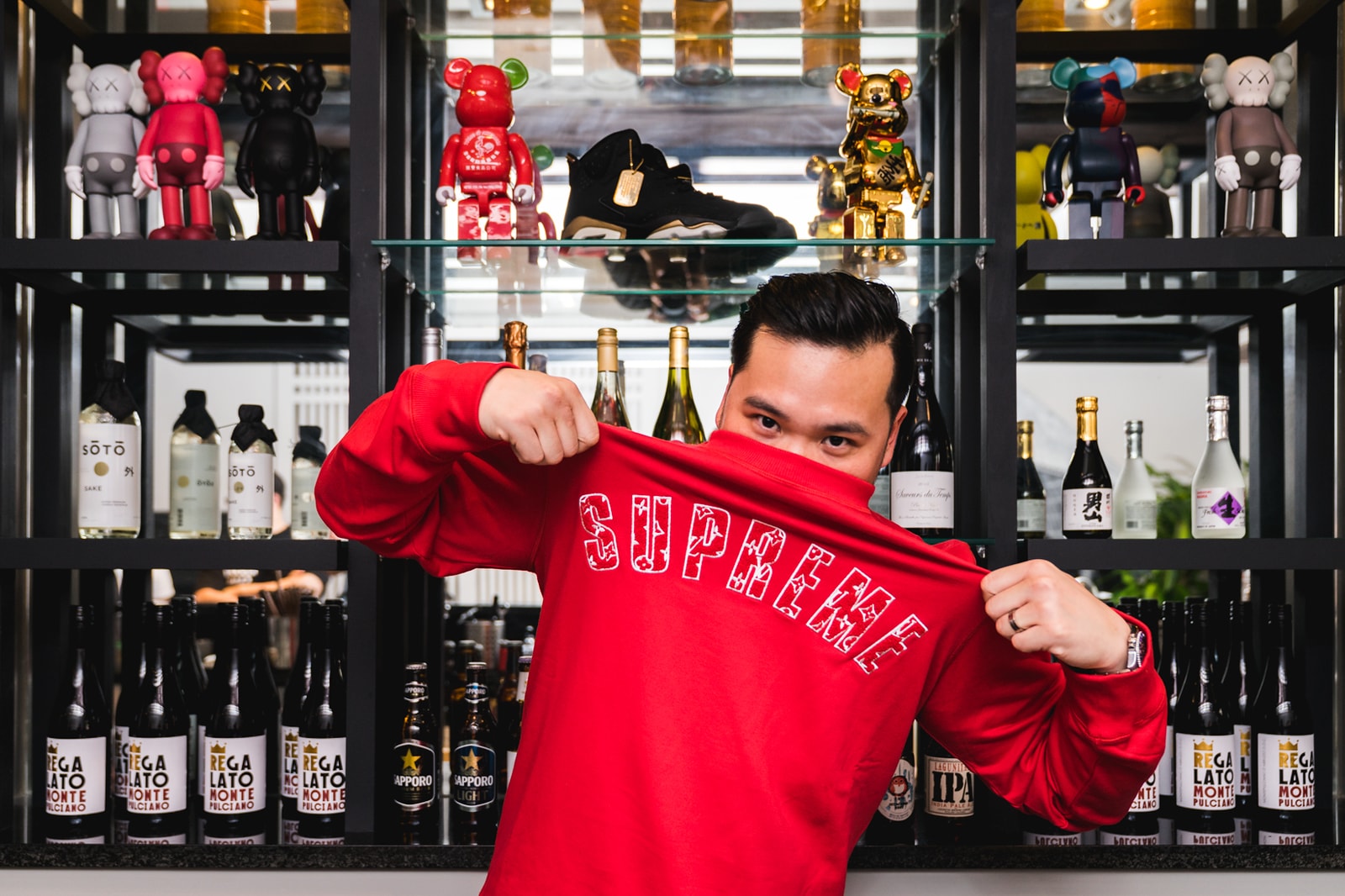 2 of 2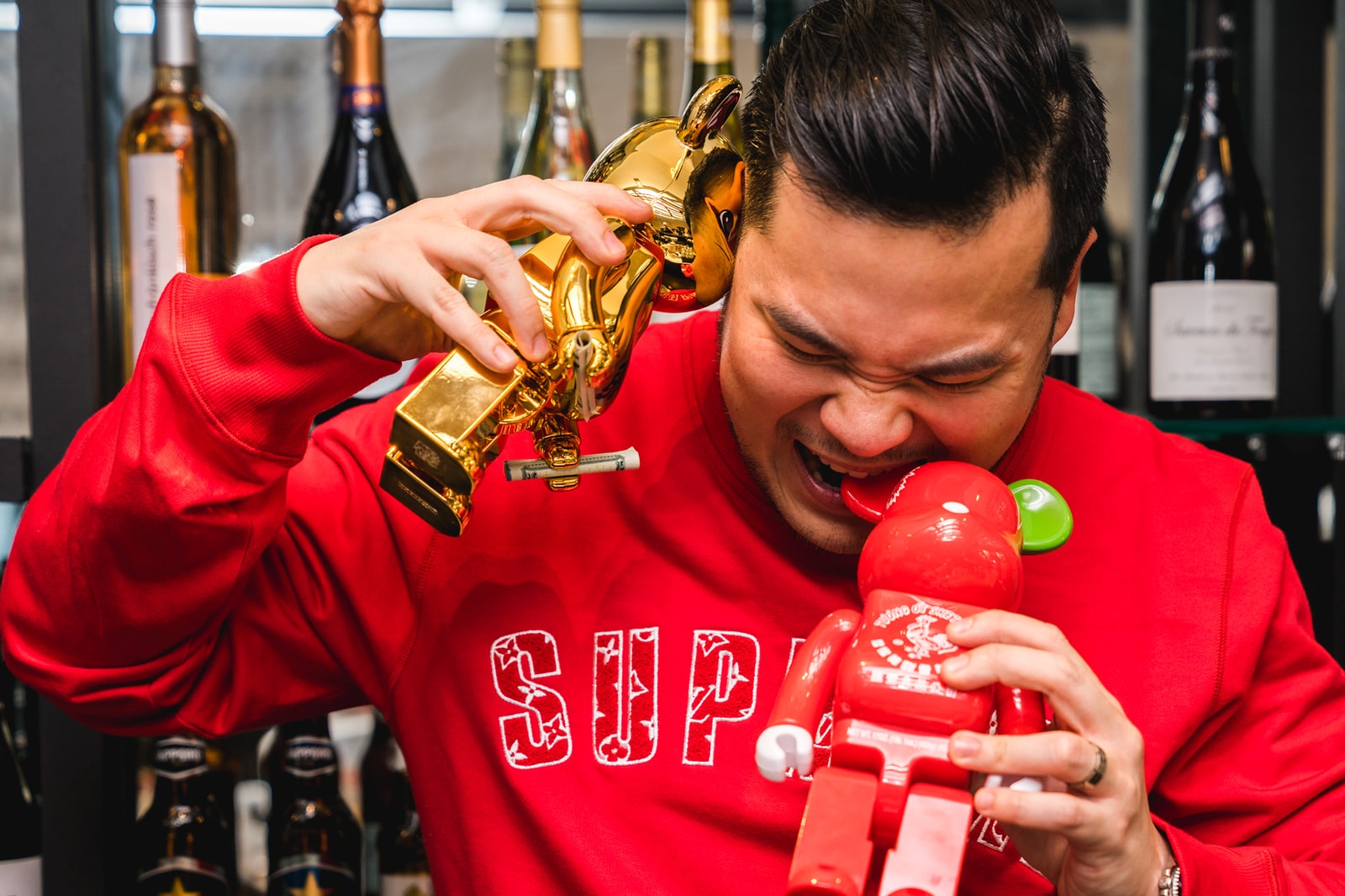 Birth of Madame Vo
Even before Madame Vo opened this year, the research, concept and design were already a large part of Jimmy's life. "Madame Vo probably started two years ago even though we've only been open for seven months. I've been planning it since I met wifey." Naturally, food was the conversation that broke the ice. "She's from Houston where the pho is amazing so when she asked me where she could get good pho in New York I answered 'my house' because the pho here straight up sucked — it was actually one of the very first things we connected over."
After that things took off in the two's relationship, and the restaurant planning and design took shape. Madame Vo is a homage to Yen as Vo is her maiden name and the mural at the front of the restaurant is of her. Jimmy thought of every small detail from the lighting and use of wood — a traditional construction material in Asian design — to the Instagram-friendly setting of the restaurant and finally his menu. The menu and its curation is his way of elevating traditional Vietnamese cuisine, the dishes he grew up cooking and eating.
Elevating Vietnamese Cuisine and Influences
Stressing the disappointing pho in the New York City culinary scene, Jimmy chose to do something about it rather than remain timid and let the mediocrity continue. Armed with recipes from his mom and dad along with a palette containing 30+ years of Vietnamese and Chinese tastes and experiences, he set off on a mission to redefine the meaning of good pho. "I wanted to elevate Vietnamese cuisine. We use certified Angus beef here and the most high quality produce. We don't cut corners, we make it the way our parents used to make it for us, this is home cooking at its finest but elevated for the demanding NYC crowd."
Along with thanking his parents for the strong foundation and proper tools to succeed, Jimmy also told me he has Eddie Huang and David Chang to thank. "You know, if you're an Asian American in our generation, those two paved the way. They set the bar and made us all believe. I gotta give them mad love for all they did for us and the culture they represent. Both of them are my inspiration."
1 of 2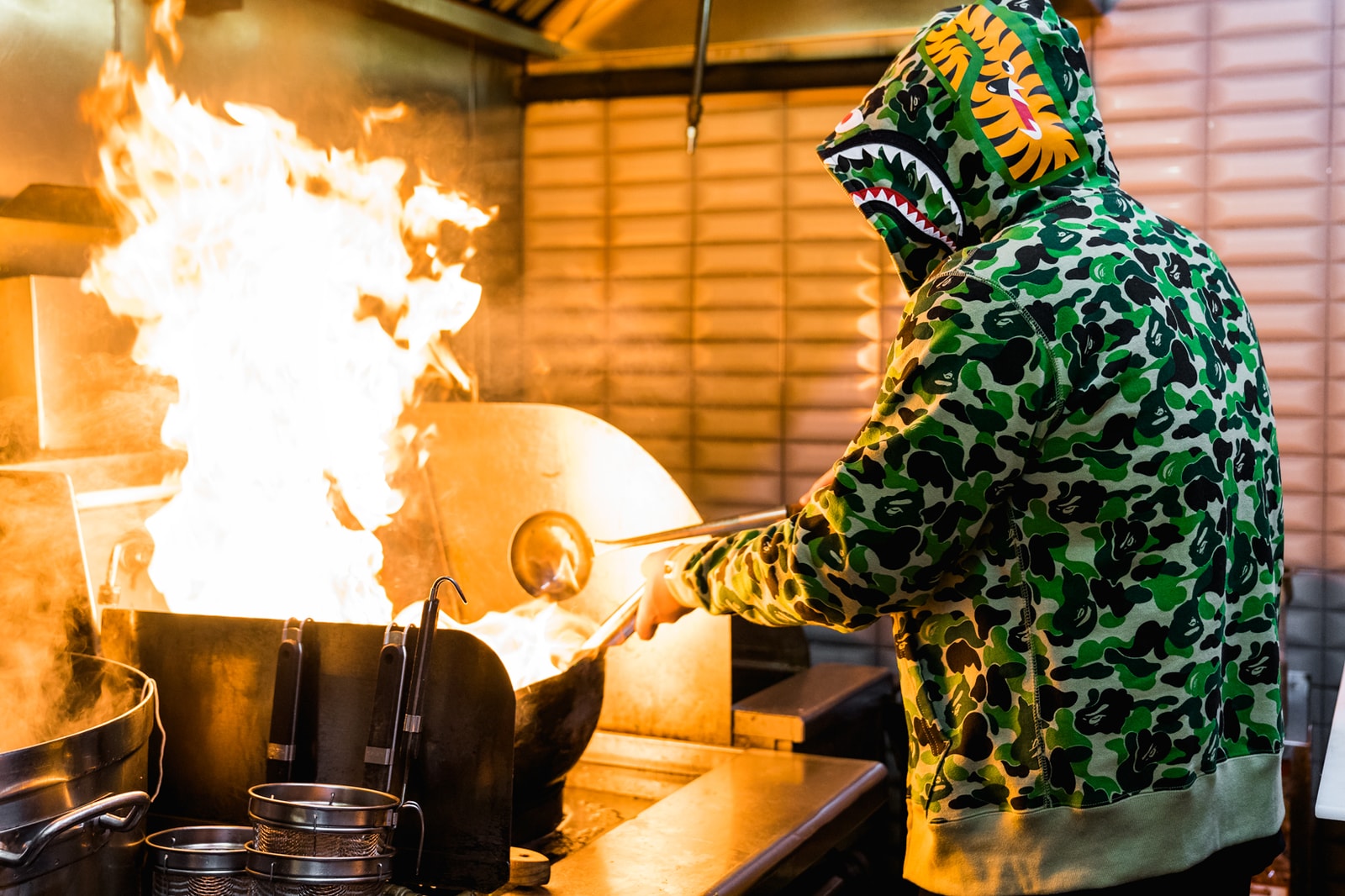 2 of 2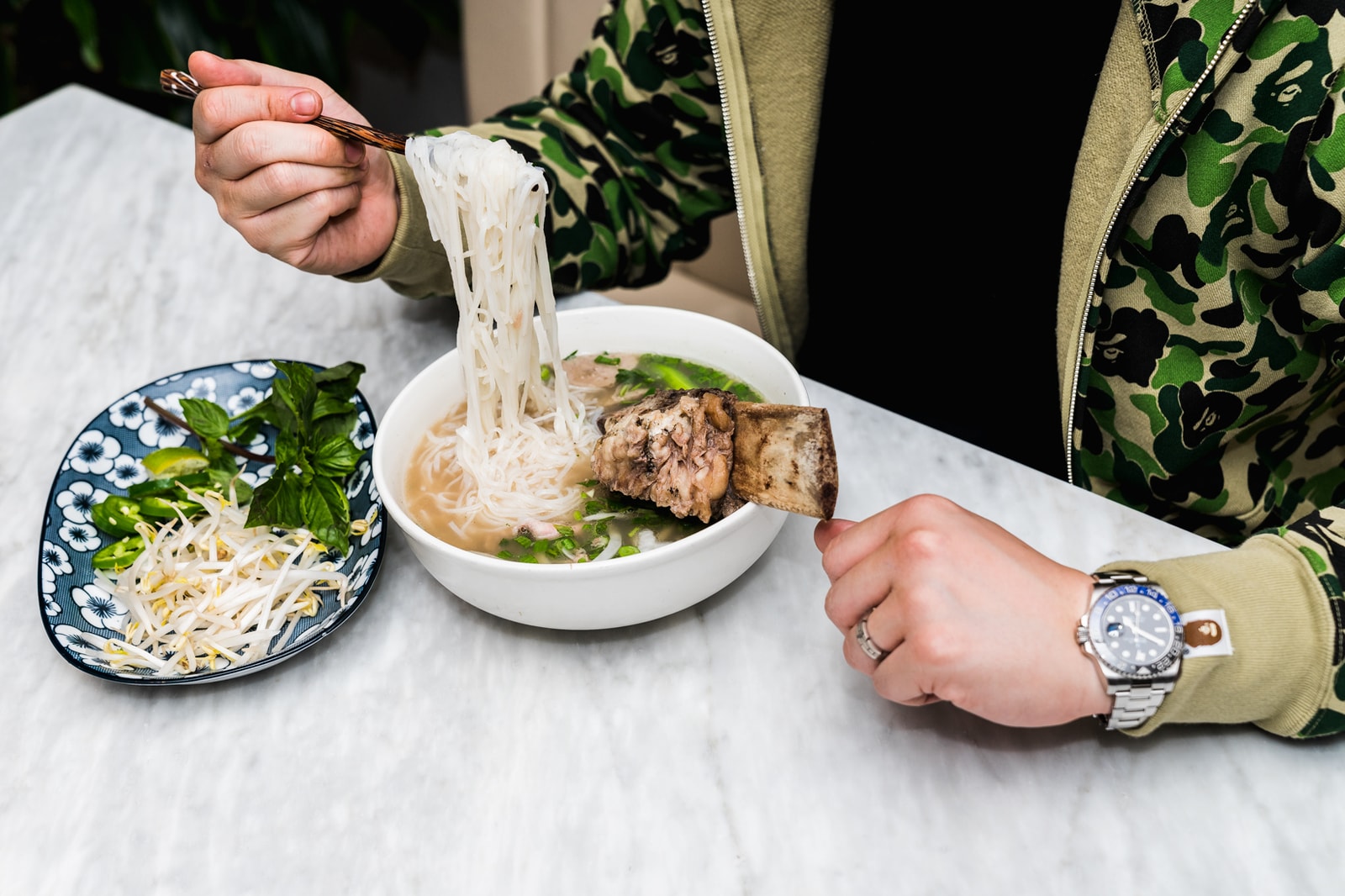 "We don't cut corners, we make it the way our parents used to make it for us, this is home cooking at its finest but elevated for the demanding NYC crowd."
After talking about the influence of David Chang and Eddie Huang, Jimmy changed into some BAPE and headed into the kitchen. It was time for him to show us exactly what elevated and proper NYC pho looked like. Head-to-toe in CAMO, Jimmy cooked up Madame Vo's signature Short Rib Pho. The broth simmers for 24 hours before being served with rice noodles, Angus-certified brisket, eye round, bone marrow, meatballs and a short rib that's the size of your hand. After sitting down to take a bite, he changed sneakers.
The "Triple Cooks"
Prepping for the dinner shift, he broke out and put on his work shoes, a pair of adidas UltraBOOSTs that at one point were all-white. "These are the 'Triple Cooks,'" Jimmy proclaims. "I was a die hard Nike head before I opened but one day I decided to give the BOOST wave a try and my life changed. I've been wearing these every single day since the first day of construction. Every meal, every shift, every day I wear these." Comfort appears to be the main motivation for work time footwear, along with the confidence it brings. "They just feel right, I feel like I have super powers with these on."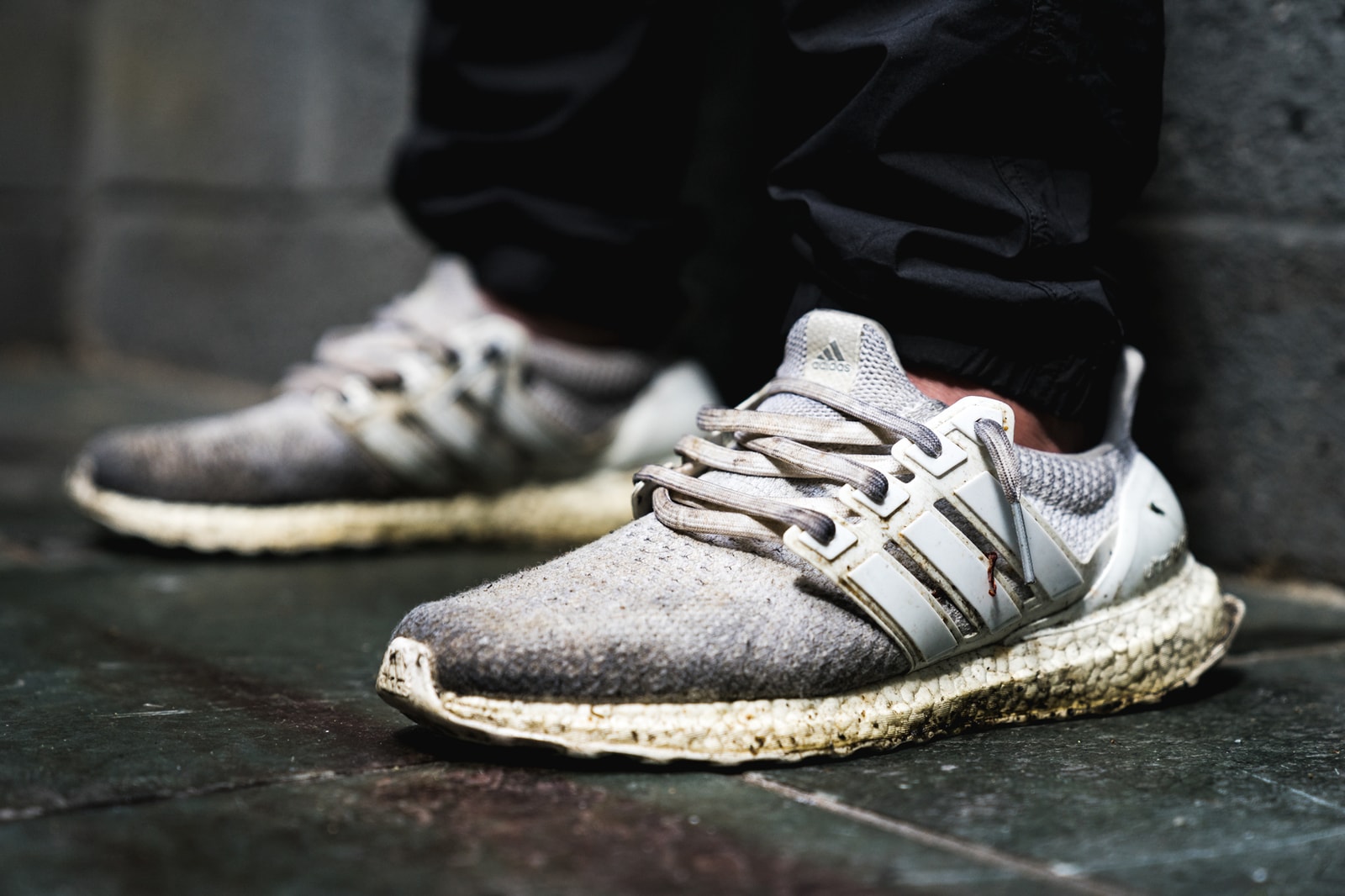 Examining the sneakers, you can physically see the hard work that a kitchen demands, especially when you're cooking everyone's meals from open to close. The white is no longer bright; it's dulled to yellow hues and dirt covers the entire sneaker along with all sorts of kitchen grime. Talking about sneakers with someone who completely shares the passion is any sneakerhead's dream, so the conversation naturally shifts from talking about the restaurant to sneakers and family life.
Work-Life Balance
"Let me tell you man, I've been trying to get my wifey into kicks but she's not about it. She'll like a pair here and there but she usually just goes for the high fashion stuff." That sentiment doesn't extend to every Ly family member, however. "My son on the other hand, he's my son, I dress him head-to-toe like me, he's already a hypebeast in the making." That's how the conversation transitions as we're still sitting at the first table in the restaurant.
"At the end of the day, that's all that matters, happiness. I don't care if others are tight that I'm happy."
Jimmy goes on to explain what he thinks a hypebeast actually means. "A hypebeast is someone who is setting trends, passionate, and buys whatever they like. They don't care about the attention, they do it because it makes them happy." Jimmy continues with a bit of street wisdom. "At the end of the day, that's all that matters, happiness. I don't care if others are tight that I'm happy."
The pinnacle of happiness for Jimmy are the fragment design x Air Jordan 1s he was able to acquire. He proudly goes and retrieves his pair for which he shares a story of how he came to own them for retail. "I was with my wife in Lululemon the day it released and when the time came I was like, 'Honey let me get your phone!' and she gave me her phone and I was dual wielding iPhones trying to check out on both and luckily her phone hit and I felt like a little kid filled with pure joy." It's not surprising that a premium crafted pair of sneakers like the AJ1 "Fragments" are Jimmy's all-time grail seeing as how he hones his craft in the same manner.
Having to wrap up before his 5:30 p.m. dinner opening, I felt like Jimmy was someone I've known my whole life, so the thought of having Jimmy recreate the iconic Michael Jordan "Wings" poster in his own way crossed my mind — after all we both grew up huge MJ fans just like everyone else in the '90s. He agreed and the result speaks for itself.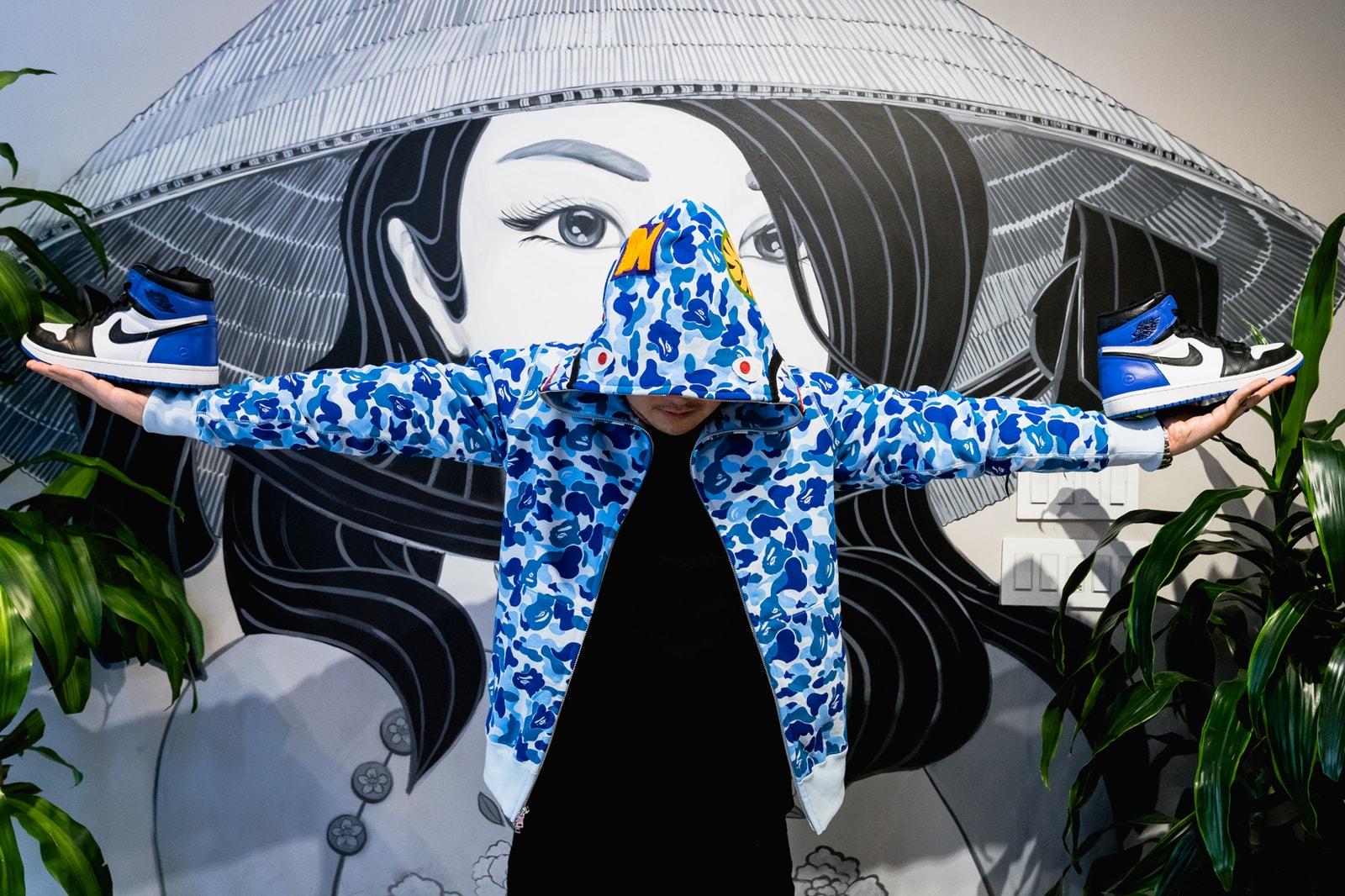 It doesn't matter if you're draped in the latest high-end fashion pieces, a simple minimalistic look, Japanese designers, or head-to-toe in Supreme, someone who is a hypebeast is fully entrenched in the culture with their own unique style, passionate, and unapologetic when it comes to showing it. People like Jimmy Ly who work hard for everything they have deserve to be happy like everyone else because the culture is for everyone. When you work 70+ hours a week and have a family to provide for, it's absolutely okay for you to go out and buy whatever you like and in the words of Jimmy, be "Mega Lit."
Madame Vo
212 E. 10th St.
New York, NY 10003