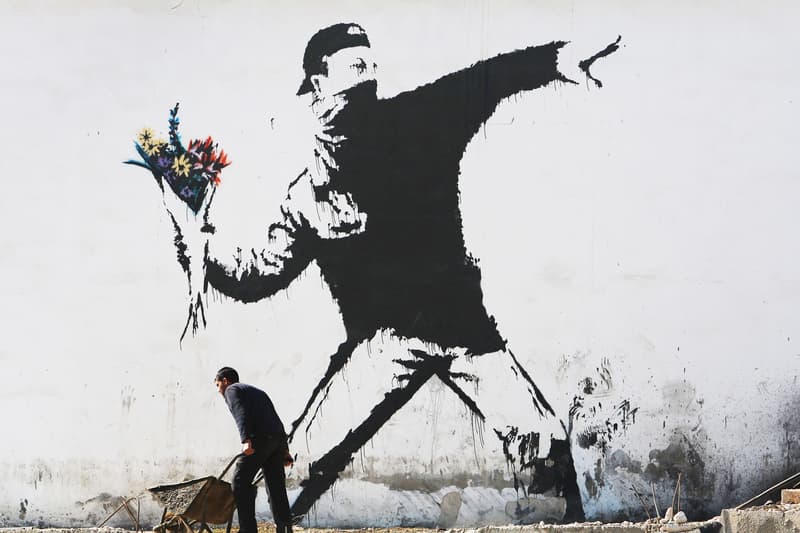 Banksy's Long-Lost Artwork, Jeff Koons' 'Balloon Dog' for JAY-Z & More Art You Need to See
Including a rare collection of vintage Polaroids of Madonna.
---
Art has a way of resurfacing in the most unpredictable occasions. For example, Banksy's decades-old stencil artwork of a cop snorting coke—that was thought to have been lost forever—was discovered by two business owners in England this past weekend. Jeff Koons' Balloon Dog (Orange) sculpture that was sold to an anonymous telephone bidder for $58.4 million at Christie's made its way to a JAY-Z performance this Sunday night. Not to mention, intimate Polaroid photos of Madonna that were taken before her debut album are now for sale at a bookstore in Manhattan. Take a look at this week's art roundup below and let us know your thoughts.
Banksy's Long-Lost Snorting Copper Artwork Has Been Rediscovered
Banksy's iconic Snorting Copper stencil mural has finally been found after ten years. The artwork—which is located in East London's Shoreditch district—"was vandalized, spray-jetted by the local council, boarded up and painted over," as per Dazed. The piece portrays a police officer on his knees while snorting a line of cocaine. Locals Jonathan Ellis and David Kyte recently discovered the mural on an abandoned site they purchased. The pair is planning to restore and return the piece to its original location for public viewing sometime in October. The artwork has been valued at approximately $1,612,262 USD.
Jeff Koons' Balloon Dog (Orange) Appears At Jay-Z's V Festival Performance
Last night, JAY-Z performed at the V Festival in the West Midlands of England. Fans at the show were blessed with a "Numb/Encore" tribute as homage to the late Linkin Park frontman, Chester Bennington. Not to mention, Jeff Koons' monumental Balloon Dog (Orange) sculpture graced the stage as the Brooklyn Rapper performed songs from his latest album, 4:44.
Vintage Polaroid Photos of Madonna Are Up For Sale
A collection of 66 vintage Polaroid photos of Madonna is up for sale at Manhattan Rare Books in New York City. Storied portrait photographer Richard Corman snapped the images approximately six weeks before the singer's debut album. The photo-set is priced at a whopping $350,000 USD. "We are offering these unique Polaroids of Madonna until September 5th," said Michael DiRuggiero owner of Manhattan Rare Books. "After that, if there is no buyer, the set will be dispersed and the images offered individually." Head over to Manhattan Rare Books' official website to learn more.
Manhattan Rare Book Company
1050 2nd Ave # 50F
New York, NY
10022
Paul Insect "Reflective Minds" Exhibit At Allouche Gallery in NYC
Acclaimed UK street artist Paul Insect is set to launch a solo exhibition called "Reflective Minds" at Allouche Gallery in New York City. Insect is widely-known for his stencil and spray-painted artwork that boasts vibrant colors, Victorian-inspired graphics as well as Dada-esque collages. Catch a sneak peek of the exhibit at the slideshow above and head over to Allouche Gallery's official website to learn more. "Reflective Minds" will be open to the public starting September 7.