ASOS CEO Shares Plans For Massive $40 Million U.S. Warehouse
Shipping on those basic T's just got even cheaper.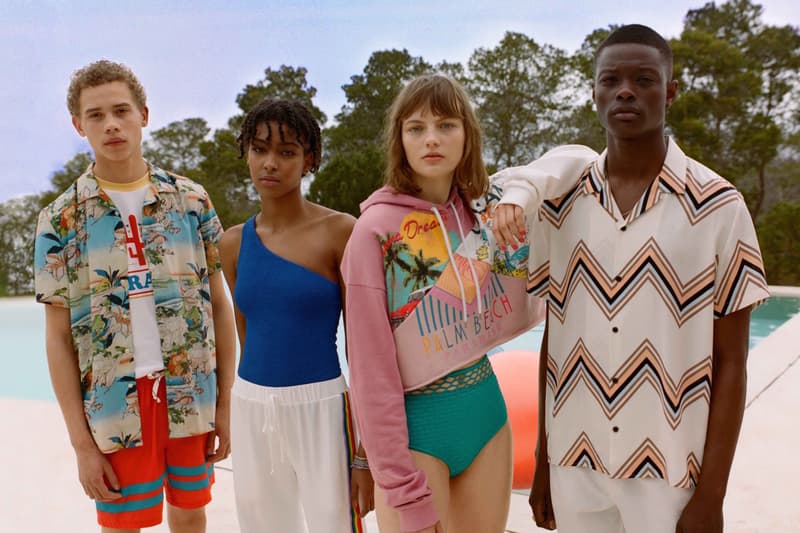 British online fashion retailer, ASOS, is establishing a $40 million USD distribution and fulfillment center in Georgia, HYPEBEAST has learned. The new U.S. warehouse will hold roughly 10 million units and be up and running within the next 12 months.
"It's 10 times greater than anything we've done in the U.S. We've been trading in the U.S. for several years now so it was very natural for us to pursue one of our biggest markets," ASOS CEO Nick Beighton says over the phone.
The heavily invested move into the U.S. follows 38% year-on-year growth for the British fashion giant. With 60% of sales coming from outside of the U.K., the expansion is a natural progression. "The U.S. apparel market is by far the largest and it's no surprise that ASOS wants to be a force there. It will certainly improve service levels for its U.S. customers," says retail analyst Richard Hyman.
 "The lowered cost of shipping won't go to increasing margins, it'll go to improving the proposition for the U.S. customers."
Indeed, ASOS will be aiming to optimize delivery channels and refunds with their U.S. fulfillment center, meanwhile lowering the cost of shipping. This initiative goes hand in hand with improving customer traffic and in turn growing sales, explains Breighton. "The lowered cost of shipping won't go to increasing margins, it'll go to improving the proposition for the U.S. customers. Our approach to these things is every time we make an infrastructure investment, to improve the customer experience," he adds.
While consumer demand for fast and cheap shipping heightens, online retailers like ASOS face the challenge of satisfying their customers. In ASOS's case, that shopper is a 20-something millennial — extremely tech savvy and demanding. As McKinsey & Company reports, "Consumer expectations of convenience are only increasing. The explosion of smartphone-driven shopping, the advent of "show-rooming" (as consumers browse in stores but buy from cheaper competitors online), and the popularity of no-added-cost returns only underscore the pressures retailers face."
ASOS itself is on the right side of the retail evolution, foregoing bricks and mortar all together and largely building its name on a free and flexible return policy. Also at the forefront of this movement is Amazon, offering its Prime subscription service and free standard shipping. Meanwhile, other players like Zara and H&M are focusing on strengthening their ecommerce offering, only adding to the pressure to deliver.
"Although Zara and H&M have been trading in the U.S. for some time, they still have loads to play for. I think Zara in particular is looking to press the growth button in the US rather hard. It's a massive market and actually, I think these three retailers (Zara, H&M, and ASOS) all target different customers. Doesn't mean there is no overlap at all, but I'd say it's relatively small and they can all do very well there, if they get the product right," continues Hyman.
"That'll probably mean there's no such thing as a homepage anymore with a static image or static content."
With over 80,000 products on offer, the ASOS online shopper is spoiled for choice. To help with the task of searching through items online, the company has recently tested the waters with AI and online technology. The soft roll out of a "visual search" has allowed users to upload a photo and find a similar match among the thousands of pieces on sale.
"We launch about 5,000 new products every single week. So we look for technology solutions to help personalize, tailor, edit, and power customers' choices," explains Beighton.
As technology expands and customers develop a more sophisticated online palette, retailers must continuously innovate to meet their needs. On the future of the ASOS experience, Beighton foreshadows, "imagine every time you visit our app or website, the things we present to you get better for you and more relevant based on everything the machine processes. We can then make that experience even better for the person behind you. That'll probably mean there's no such thing as a homepage anymore with a static image or static content."
Although ASOS doesn't currently employ any drones or robotics, Beighton reveals that they have visited the idea in the past, "There's something we were looking at a few months ago, which was a robot delivery with a little pod and eight wheels and nine cameras. You put the item in there and it goes off to find the customer wherever it is and deliver the package. We're watching all of those things and some will really super-charge our consumer experience, some might just be really fun and never get anywhere."
While U.S. based customers can't expect drone shipments quite just yet, faster delivery channels and easier refunds are on the horizon.