'Forza Motorsport 7' Has Its First 167 Cars Revealed by Turn 10 Studios
There's still more than 500 on the way.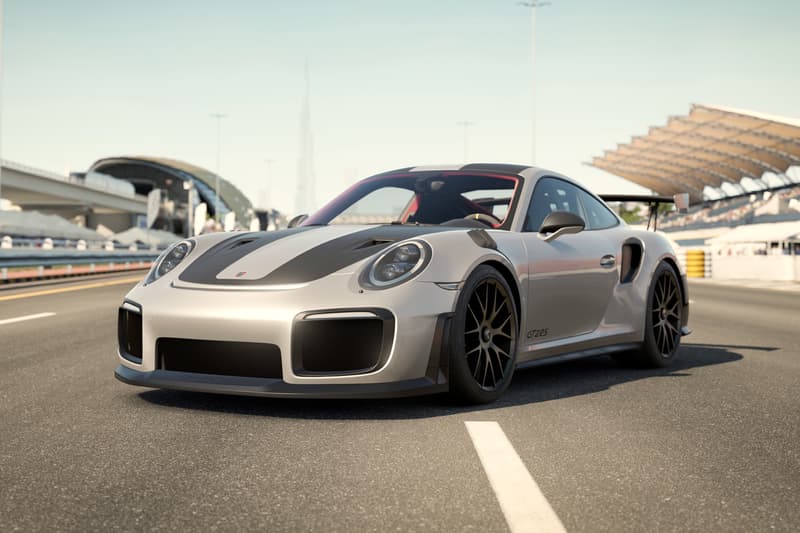 After unveiling the Porsche 911 GT2 RS at E3 earlier this year as its cover car, Forza Motorsport 7, developed by Turn 10 Studios, has just dropped the list for the first 167 cars in its latest title. With over 700 vehicles planned for the new title, this will be the largest collection of track cars, race cars and supercars that Forza has ever put out. Included in the list is the brand new aforementioned Porsche alongside other big name car makers like Ferrari, Lamborghini, Aston Martin, McLaren and Maserati. Smaller manufacturers like Koenigsegg, Pagani and Lotus also make the list.
Check out the full list below and let us know which car you look forward to driving the most. Stay tuned as we'll update the list once more cars are announced. Forza Motorsport 7 is out November 7 exclusively on Xbox One and and Windows 10.
Ariel
2013 Ariel Atom 500 V8
2016 Ariel Nomad
Aston Martin
1958 Aston Martin DBR1
1960 Aston Martin DB4GT Zagato
1964 Aston Martin DB5
1977 Aston Martin V8 Vantage
1998 Aston Martin V8 Vantage V600
2006 Aston Martin #007 Aston Martin Racing DBR9
2008 Aston Martin DBS
2010 Aston Martin One-77
2012 Aston Martin V12 Zagato
2012 Aston Martin Vanquish
2013 Aston Martin V12 Vantage S
2016 Aston Martin Vantage GT12
2016 Aston Martin Vulcan
2017 Aston Martin DB11
BAC
2014 BAC Mono
Bugatti
1992 Bugatti EB110 Super Sport
2011 Bugatti Veyron Super Sport
Donkervoort
2013 Donkervoort D8 GTO
Ferrari
1948 Ferrari 166MM Barchetta
1952 Ferrari 375
1953 Ferrari 500 Mondial
1957 Ferrari 250 California
1957 Ferrari 250 Testa Rossa
1962 Ferrari 250 GT Berlinetta Lusso
1962 Ferrari 250 GTO
1963 Ferrari 250LM
1964 Ferrari F-158 F1
1967 Ferrari #24 Ferrari Spa 330 P4
1968 Ferrari 365 GTB/4
1969 Ferrari Dino 246 GT
1971 Ferrari #2 Ferrari Automobili 312 P
1976 Ferrari #1 Scuderia Ferrari 312T2
1982 Ferrari #71 Ferrari France 512 BB/LM
1982 Ferrari #72 N.A.R.T. 512 BB/LM
1984 Ferrari 288 GTO
1987 Ferrari F40
1989 Ferrari F40 Competizione
1990 Ferrari #1 Scuderia Ferrari 641
1992 Ferrari 512 TR
1994 Ferrari F355 Berlinetta
1995 Ferrari F50
1996 Ferrari F50 GT
1998 Ferrari #12 Risi Competizione F333 SP
1998 Ferrari #30 MOMO Doran Racing F333 SP
2002 Ferrari 575M Maranello
2002 Ferrari Enzo Ferrari
2003 Ferrari 360 Challenge Stradale
2004 Ferrari 612 Scaglietti
2007 Ferrari 430 Scuderia
2008 Ferrari California
2009 Ferrari 458 Italia
2010 Ferrari 599 GTO
2010 Ferrari 599XX
2011 Ferrari #62 Risi Competizione 458 Italia GTC
2011 Ferrari FF
2012 Ferrari F12berlinetta
2013 Ferrari 458 Speciale
2013 Ferrari LaFerrari
2014 Ferrari #51 AF Corse 458 Italia GTE
2014 Ferrari #62 Risi Competizione 458 Italia GTLM
2014 Ferrari California T
2014 Ferrari FXX K
2015 Ferrari 488 GTB
2015 Ferrari F12tdf
Hennessey
2012 Hennessey Venom GT
Koenigsegg
2011 Koenigsegg Agera
2015 Koenigsegg One:1
2016 Koenigsegg Regera
KTM
2013 KTM X-Bow R
Lamborghini
1967 Lamborghini Miura P400
1986 Lamborghini LM 002
1988 Lamborghini Countach LP5000 QV
1988 Lamborghini Jalpa
1997 Lamborghini Diablo SV
2008 Lamborghini Reventón
2010 Lamborghini Murciélago LP 670-4 SV
2011 Lamborghini Gallardo LP 570-4 Superleggera
2011 Lamborghini Sesto Elemento
2012 Lamborghini Aventador LP700-4
2013 Lamborghini Veneno
2014 Lamborghini #14 GMG Racing LP 570-4 Super Trofeo
2014 Lamborghini #18 DragonSpeed Gallardo LP 570-4 Super Trofeo
2014 Lamborghini Huracán LP 610-4
2014 Lamborghini Urus
2015 Lamborghini #63 Squadra Corse Huracán LP620-2 Super Trofeo
2016 Lamborghini Aventador LP750-4 SV
2016 Lamborghini Centenario LP 770-4
Lotus
1956 Lotus Eleven
1966 Ford Lotus Cortina
1967 Lotus Type 49
1971 Lotus Elan Sprint
1976 Lotus #5 Team Lotus 77
1990 Vauxhall Lotus Carlton
1999 Lotus Elise Series 1 Sport 190
2000 Lotus 340R
2002 Lotus Esprit V8
2005 Lotus Elise 111S
2009 Lotus 2-Eleven
2011 Lotus Evora S
2012 Lotus Exige S
2016 Lotus 3-Eleven
Maserati
1939 Maserati 8CTF
1953 Maserati A6GCS/53 Pininfarina Berlinetta
1957 Maserati 300 S
1961 Maserati Tipo 61 Birdcage
1997 Maserati Ghibli Cup
2004 Maserati MC12
2010 Maserati Gran Turismo S
2014 Maserati #35 M.Calamia Swiss Team MC Trofeo
2014 Maserati Ghibli S Q4
McLaren
1966 McLaren M2B
1969 McLaren #4 McLaren Cars M8B
1976 McLaren #11 Team McLaren M23
1988 McLaren #12 Honda McLaren MP4/4
1993 McLaren F1
1997 McLaren F1 GT
2011 McLaren #59 McLaren GT 12C GT3
2011 McLaren 12C
2013 McLaren P1
2014 McLaren #60 Bhaitech 12C GT3
2015 McLaren 570S Coupé
2015 McLaren 650S Coupe
2015 McLaren P1 GTR
Noble
2010 Noble M600
Pagani
2009 Pagani Zonda Cinque Roadster
2010 Pagani Zonda R
2012 Pagani Huayra
2016 Pagani Huayra BC
Porsche
1955 Porsche 550A Spyder
1957 Porsche 356A Speedster
1960 Porsche 718 RS 60
1970 Porsche 914/6
1973 Porsche 911 Carrera RS
1982 Porsche 911 Turbo 3.3
1987 Porsche #17 Porsche AG 962C
1987 Porsche #17 Porsche Dunlop 962C
1987 Porsche 959
1989 Porsche 944 Turbo
1993 Porsche 928 GTS
1995 Porsche 911 GT2
1998 Porsche 911 GT1 Strassenversion
2003 Porsche Carrera GT
2004 Porsche 911 GT3 (996)
2008 Porsche #7 Penske Racing RS Spyder Evo
2011 Porsche #45 Flying Lizard 911 GT3-RSR
2012 Porsche 911 GT2 RS
2012 Porsche 911 GT3 RS 4.0
2012 Porsche Cayenne Turbo
2014 Porsche 911 Turbo S
2014 Porsche 918 Spyder
2015 Porsche #19 Porsche Team 919 Hybrid
2015 Porsche Macan Turbo
2016 Porsche 911 GT3 RS
2016 Porsche Cayman GT4
2017 Porsche #1 Porsche Team 919 Hybrid
2017 Porsche Panamera Turbo
2018 Porsche 911 GT2 RS
Radical
2011 Radical SR8 RX
2015 Radical RXC Turbo
Saleen
2004 Saleen S7
Spania
2016 Spania GTA GTA Spano
TVR
2005 TVR Sagaris
Ultima
2015 Ultima Evolution Coupe 1020
W Motors
2016 W Motors Lykan HyperSport
Zenvo
2016 Zenvo TS1