Chris Bosh Parts Ways With Heat, Miami to Retire His Jersey
LeBron James and Dwyane Wade pay their farewells.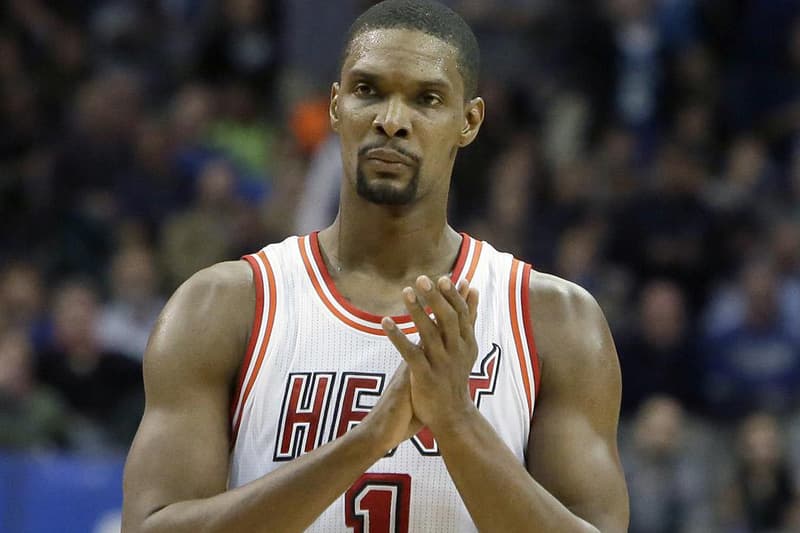 As one of the core members of Miami Heat, Chris Bosh — along with LeBron James and Dwyane Wade — helped to take the team to the NBA Finals four straight times, having won twice, earlier this decade. As both King James and Wade were able to continue their NBA careers since leaving the Heat, Bosh was forced to remain on the sidelines due to health conditions. Though many fans wondered what would become of Bosh's future in the sport, his fate has finally been decided.
On Tuesday, the Heat have officially waived Bosh along with retiring his jersey. With this news, an onslaught of sentiments have flooded social media including words from the original Big Three. Meanwhile, Bosh tweeted a photo of his son enjoying the Fourth of July festivities before thanking James, Wade, Miller and the Heat organization in separate messages.
The 11-time All-Star and 2008 Olympic gold medalist has averaged 19.2 points and 8.5 rebounds per game throughout his NBA career. Team President and basketball lifer Pat Riley states:
"He changed our lives for the better, in a way we never would have imagined, when he joined the Miami Heat. We will forever be indebted to CB for how he changed this team and led us to four trips to the NBA Finals and two NBA Championships. He is, without a doubt, one of the greatest players in the history of the franchise. The number "1" will never be worn by another player and we can't wait to someday hang his jersey in the rafters."
Happy Fourth??? from The #BoshFamily ! #FourthofJuly2017 pic.twitter.com/mffLJSiDx9

— Chris Bosh (@chrisbosh) July 4, 2017
@KingJames @DwyaneWade @MikeMiller_13 Thank you brothers You sure know how to make a young fella feel special #Family #BiggerThanBasketball

— Chris Bosh (@chrisbosh) July 5, 2017
Thank you @MiamiHEAT @MickyArison , Coach Riley, The Heat Staff inside and outside of the arena, #HeatNation Fans, and City of Miami!?? https://t.co/VksDtIR505

— Chris Bosh (@chrisbosh) July 5, 2017
"The number "1" will never be worn by another player and we can't wait to someday hang his jersey in the rafters." – Riley #ThankYouChr1s pic.twitter.com/Vx7dsX2Xdr

— Miami HEAT (@MiamiHEAT) July 4, 2017
#Salute my brother @chrisbosh!! #1Forever ??#StriveForGreatness? https://t.co/ocDhyLAQUZ

— LeBron James (@KingJames) July 4, 2017
???????? https://t.co/z3iZcgYVS5

— DWade (@DwyaneWade) July 4, 2017
An unbelievable teammate and one of the best dudes out there. Thank you for the 2 rings @chrisbosh! #100%HOF https://t.co/A2ACSBQwzY

— Mike Miller (@MikeMiller_13) July 4, 2017
?????? #FirstclassOrganization https://t.co/4l87IYwng3

— Hassan Whiteside (@youngwhiteside) July 4, 2017