Shaquille O'Neal & Alonzo Mourning Speak on Their Draft Day Fits & Offer Advice for the New Class
On the 25th anniversary of the '92 draft, the number one and number two picks reminisce.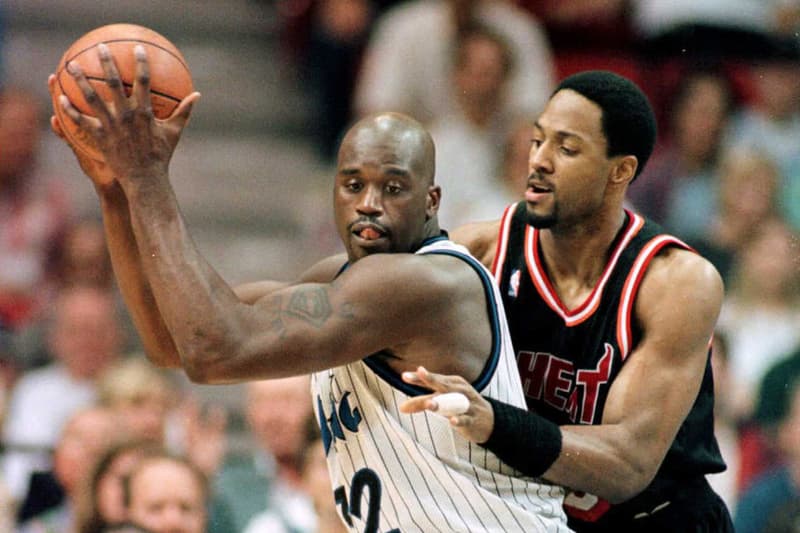 The year was 1992, and the NBA's draft class was top heavy. Michael Jordan and the Chicago Bulls had just won their first championship over the Magic Johnson-led Los Angeles Lakers. The league's second worst team, the Orlando Magic would win the draft lottery and the right to pick first. The Charlotte Hornets would pick second. As for the incoming rookies, the cream of the crop included two centers; a 7-foot 300-pounder from LSU named Shaquille O'Neal and a 6'10" 240-pound, high-top fade wearing Georgetown graduate named Alonzo Mourning. On June 24, their lives would change forever inside of the Veterans Memorial Coliseum in Portland, but first they needed suits.
While Mourning opted for a long black suit, it's his tie that he remembers was a "hideous" choice. "The suit was a Hugo Boss suit and I don't know where that tie came from," Mourning told HYPEBEAST, laughing at the thought of 20-year-old Zo's fashion sense.
O'Neal didn't care what suit brand he wore, he just knew the garbs would have to fit his freakish frame. So, he went to Rochester Big and Tall in Beverly Hills.
"I begged them to let me borrow the suit, well, not borrow… I said 'listen my name is Shaquille O'Neal, I'm going to the draft, I ain't got no money yet but in a couple days I'll have a lot of money'," O'Neal said. "The guy was a basketball fan, so he knew who I was. I walked up to him and I was like 'Sir,' and he was like 'You know what? I believe you,' and we set up this little layaway plan. He gave me two or three suits and when I came back, I paid him." The suit Shaq eventually selected was "just something off the rack."
On the night of the draft, Shaq flew in over 50 family members and friends to watch commissioner David Stern call his name first. Mourning's fan club was a bit smaller. Fate would reunite O'Neal and Mourning over a decade later with the Miami Heat.
25 years later their relationship, playing days, championship season, and the current NBA climate was discussed at an American Express sponsored sit down on Tuesday, June 20 at the Playstation Theater in New York. HYPEBEAST spoke to Zo & Shaq prior to the event.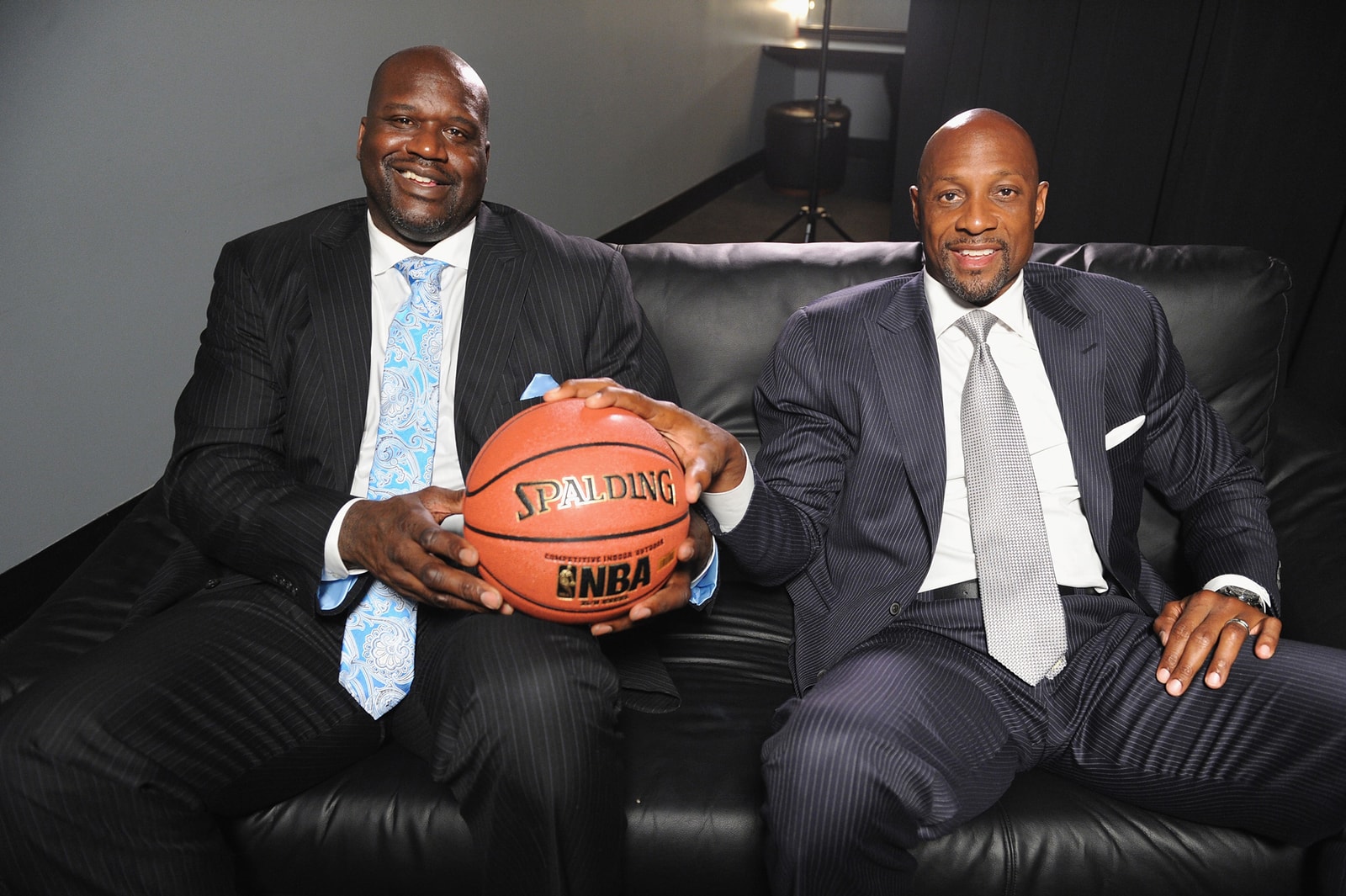 It's the 25th anniversary of the 1992 draft. What do you remember most about that night?
AM: The excitement of knowing that it finally happened. I finally made it to the NBA. Having my name called by David Stern at that particular time was a dream come true. So, that excitement and knowing that you accomplished it… Now, it was my time. I was in the moment and getting over the excitement. But I knew it was time to make my mark in the league.
SO: Prior to that, two-three years before that, because of always being told 'you're not that good,' I knew I could play and make it in the NBA but I was always under the mindset you're not that good, so I'm just going to stay back and chill. But one day, I had a great game against Arizona in college, then Dick Vitale said Shaq should be taken with the first pick. That's when I believed it. When he said it, I believed it then. So, it was a dream come true. It was an honor for a medium level, juvenile delinquent, who was a late bloomer, left Newark, went to Texas, and didn't have a lot of press. Once I heard a big time person say it, then I believed it. That's what I always searched for when I played, a big time person to say something.
Another time, I'm watching TV and the Celtics played before we played and Larry Bird said 'hey, I just got through watching that Shaquille O'Neal, he's going to be the best NBA center ever.' I said 'Oh shit' Bird said it, so now I'm the guy. It was a great feeling. The crazy thing about that '92 draft is any one of those three [O'Neal, Mourning, Laettner] could've went first in the draft.
To Alonzo: Shaq felt like any of the top three could've went number one, you, him, or Christian Laettner. Were you surprised you went number two?
AM: No, I wasn't surprised. If I'm a GM at that particular time, I'd choose Shaq as number one. I mean, I do. I'm a little biased obviously. When you think of a guy his size at that particular time. A guy that was able to move and was agile as he was at his size, that was something that we didn't see too often. He was the obvious choice at number one.
What do you think about what the kids are doing nowadays with their style on Draft Night?
SO: I always hear people say this generation is different. I don't really accept that because even though these guys are young and making decisions sometimes you still have to be taught. I always tell my kids, 'Wear what you would wear if you're going to meet with Ken Chenault — the CEO of American Express. Wear what you would wear if you're going to meet the president of a corporation, that's how you should always dress. When you hear that word business, that's how you should dress. One of my sons is a model for Dolce & Gabbana. He wears all that Kanye-type shit. His mom always says, 'Well that's his style.' I guess you gotta let them live.
It's interesting that the first three picks from the '92 draft ended up on the same Miami Heat team in 2005: you two and Christian Laettner. How did that happen?
AM: Pat Riley, he saw the opportunity. He saw three veteran players who were great in college. Just the thought of all of us playing together and to be able to possibly win a championship together, to get there together would be special. It's no different than Pat acquiring Bob McAdoo at that particular time and they went on and won a championship. You got all these veteran players on one team. That's what it takes sometimes; it takes guys that are battle scarred, that are at the end of their NBA careers, willing to do what it takes to get them one of these [shows his NBA championship ring].
SO: Because of me, I wanted to give those guys an opportunity to win one. Christian left a year after but Alonzo definitely had my back in the 2006 finals. They still had a little bit left in the tank, and I knew they had a lot of knowledge to teach the other guys. I actually thought it'd be a hell of a story, that's why I approached Pat [Riley] to bring them both in.
"One of my sons is a model for Dolce & Gabbana. He wears all that Kanye-type shit. I guess you gotta let them live." — Shaquille O'Neal
Shaq, you broke a record by inviting over 50 family/friends to the draft in '92, what was that about? Did you just want everyone to be there?
SO: One, it wasn't in New York, so if it was in New York, it would've been much cheaper, because I had to fly people into Portland. I knew I was going to be the first, second or third pick, I knew that. I'm the only one in the family to go to college, only one in the family not to go to jail, so it was big for everybody. I was finally breaking that mold. A couple days before that, I came into some money. I had just signed a $2 million USD deal, so I was real big Willy with it, so I sort of grabbed people up and I got 'em on a plane and it was just a great feeling.
Shaq, immediately after you were drafted you said, 'Who me?' Were you really surprised?
SO: I was surprised because I believed it, but I didn't believe it. I learned from an early age, don't celebrate until it happens. Everyone's like you're going to be the first pick and Orlando called me and said 'Yeah, we're going to pick you first'… yeah, but I had seen a lot of stuff happen. That's why when they said my name I said, 'Me?' It kind of hit me.
Do you have any other advice to incoming rookies for draft night specifically?
AM: The only advice is that you'll never get drafted again, so enjoy the moment. Really, this is a dream come true. So, soak it up and enjoy the moment because it'll only happen once.