Instagram Is Testing A "Favorites" Functionality
A new way to share posts with those closest to you.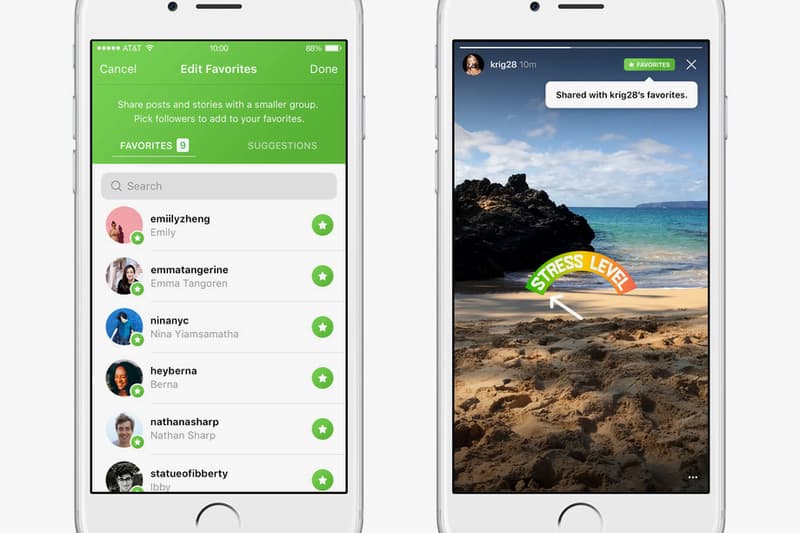 For years, Instagram users have come up with workarounds in order to share posts with just a few select friends, either creating private supplemental accounts or quickly deleting posts once they've been acknowledged. Now it appears that the social media platform may finally be about to introduce a feature that would negate the necessity of either approach: "favorites."
"Favorites" is, ultimately, exactly what it sounds like: a way to share posts with a smaller audience than your entire group of followers. The feature allows users to create a special "favorites" list — which can be updated at any time — and then share both regular and Stories posts with those on the list. When posting, you'll see an option to share the post solely with your favorites and those posts will be denoted by a green badge. Your profile itself will also get a new favorites tab (in the form of a star) that showcases all of your "favorites" posts, though it'll appear empty to anyone not on your list. Says Robby Stein, product lead at Instagram:
People are trying to hack Instagram to create smaller audiences, and we're trying to recognize that… We really want to get this right… The best version of Instagram is one where you feel closer to the people you are connected to because you're on Instagram together than you would on any other product in the world. Even if you live all over the world, you feel like you're with them. That's something we want to drive as the core focus of the product.
The new addition is currently in the testing phase, but could soon be rolled out to all Instagram users.
Source
Image Credit

The Verge