A Recap of Some of the Most Flexin' Moments at This Year's NBA Draft
BBB all over the place.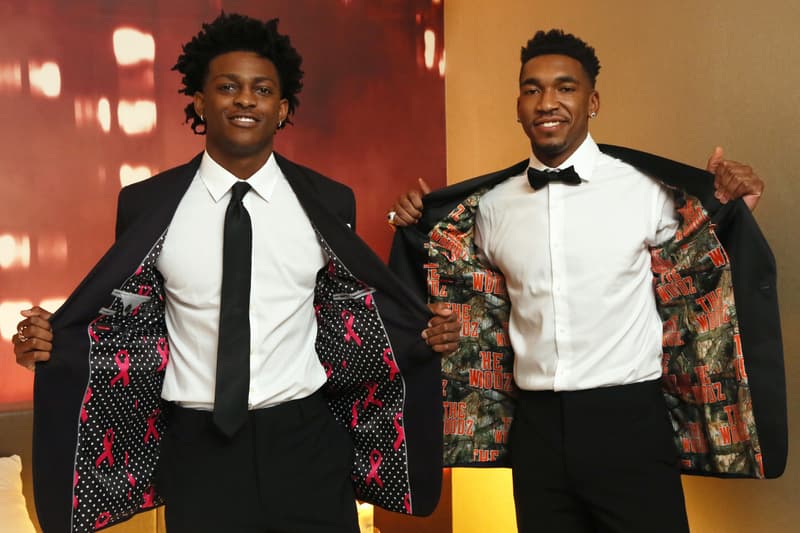 The 2017 NBA Draft was held tonight at the Barclays Center in Brooklyn, and like many that came before it, the night gave way to many style moments and unforgettable events. The Ball Family no doubt took the spotlight with their Big Baller Brand-ed bowties, which paid off as Lonzo Ball was picked overall No. 2 by the Lakers.
With the NBA becoming one of the most fashion-forward sports leagues, going the way of either Russell Westbrook or Kevin Love, here are some of the most flexed out moments.
You knew @Lavarbigballer was going to have "BBB" somewhere tonight (? by @SportsCenter) pic.twitter.com/BCgA5HJjDu

— Darren Rovell (@darrenrovell) June 22, 2017
Zach Collins describes his style choice for tonight… what do you think?? #NBADraft pic.twitter.com/AeU7Aehddk

— NBA Draft (@NBADraft) June 22, 2017
Markelle Fultz wearing shoes tonight that are made out of basketballs. pic.twitter.com/jCjzommlvM

— Darren Rovell (@darrenrovell) June 22, 2017
FIRST LOOK: @MarkelleF's #NBADraft outfit. pic.twitter.com/RpcMhHsaEe

— The Players' Tribune (@PlayersTribune) June 22, 2017
Don't put anything past the Balls. Lonzo Ball wearing a bow tie with the Big Baller Brand logo on it. pic.twitter.com/ecxmJmrB7n

— Darren Rovell (@darrenrovell) June 22, 2017
Lonzo Ball gets suited up for tonight's #NBADraft! (7pm/et on ESPN) pic.twitter.com/HZGXOmHG8E

— NBA Draft (@NBADraft) June 22, 2017
The Ball Family… ready for tonight's #NBADraft! pic.twitter.com/x07VZYduQw

— NBA Draft (@NBADraft) June 22, 2017
Gonzaga's Zach Collins making sure his hometown of Las Vegas is part of his outfit tonight. pic.twitter.com/oKP8hsNG4v

— Darren Rovell (@darrenrovell) June 22, 2017
Confidence is ?. pic.twitter.com/9MCL0dIatz

— SportsCenter (@SportsCenter) June 22, 2017
On the bus to the 2017 #NBADraft with @leafsquad22! pic.twitter.com/Y56ZigMV4A

— NBA Draft (@NBADraft) June 22, 2017
Wake Forest's John Collins wearing Christian Louboutin hi-tops to tonight's draft ($1,295) pic.twitter.com/sBFj7sHwXf

— Darren Rovell (@darrenrovell) June 22, 2017
On the bus to the 2017 #NBADraft with @Dennis4Smith! pic.twitter.com/HzFcstKiNd

— NBA Draft (@NBADraft) June 22, 2017
Josh Jackson's Rolex spotted at tonight's NBA Draft pic.twitter.com/aKkc8yhoKA

— Darren Rovell (@darrenrovell) June 22, 2017
My Top 4 NBA Draft Night Caps ($40) pic.twitter.com/1jKJDBODlT

— Darren Rovell (@darrenrovell) June 22, 2017
De'Aaron Fox with custom made "LOVE" shoes for his night at the NBA Draft. pic.twitter.com/mOoxIeO4UT

— Darren Rovell (@darrenrovell) June 22, 2017