Robert Geller Teams up With Grailed to Launch the IMMIGRANT T-Shirt
Proceeds of the sales will go to benefit the ACLU and will be matched by Grailed.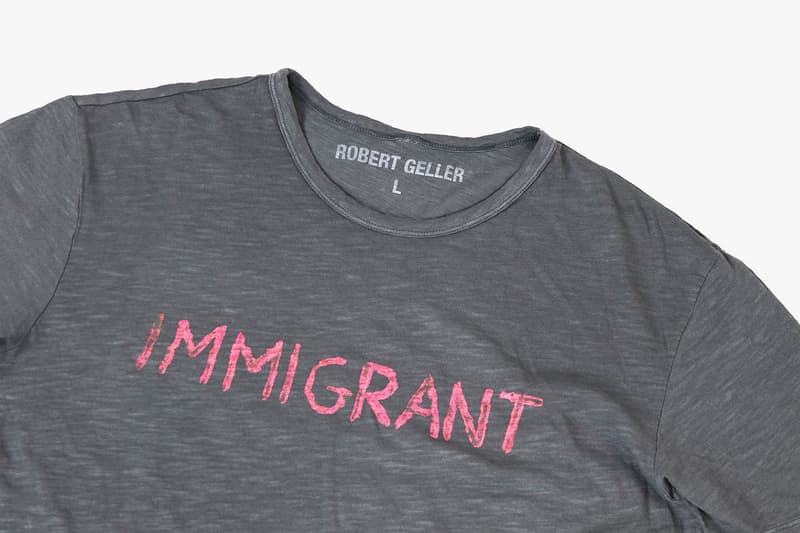 When Robert Geller took his bow following his Fall/Winter 2017 runway show at New York Fashion Week last month, he instantly stole the spotlight with his poignant IMMIGRANT T-shirt. Hand-painted by his wife, Ana Beatriz Lerario Geller, the morning before the show, the tee paid homage to the many "immigrants" in the fashion industry — including the German-born designer himself. Now, after joining forces with Grailed to launch a 10th anniversary hoodie, Geller and the curated men's fashion marketplace have re-teamed to offer a reproduction of the T-shirt. Created for both men and women, the design echoes Geller's original and comes in grey with pink text across the chest. And best of all, proceeds from the sales — which will also be matched by Grailed — will go to benefit the ACLU, which "has worked to defend and preserve the individual rights and liberties guaranteed by the Constitution and laws of the United States" for nearly 100 years. Said Geller himself of the tee:
I saw a chance to use my platform to send a message about unity, love and inclusion. The response has been incredible and I am thankful to have the opportunity to raise some money for the ACLU, an organization that is as important as ever during these times.
Grailed's CEO, Arun Gupta, adds:
There is no denying this is a turbulent time for our nation and it falls to each of us to stand up for the values we believe in. Grailed is proud to team up with Robert Geller on this project and help support the ACLU and everyone fighting for human rights and equality everywhere.
The exclusive IMMIGRANT tee will be available online beginning this Thursday, March 9.