The World's Most Expensive Taco Costs $25,000 USD and Is Made of Gold
A $150,000 USD bottle of tequila is the recommended pairing.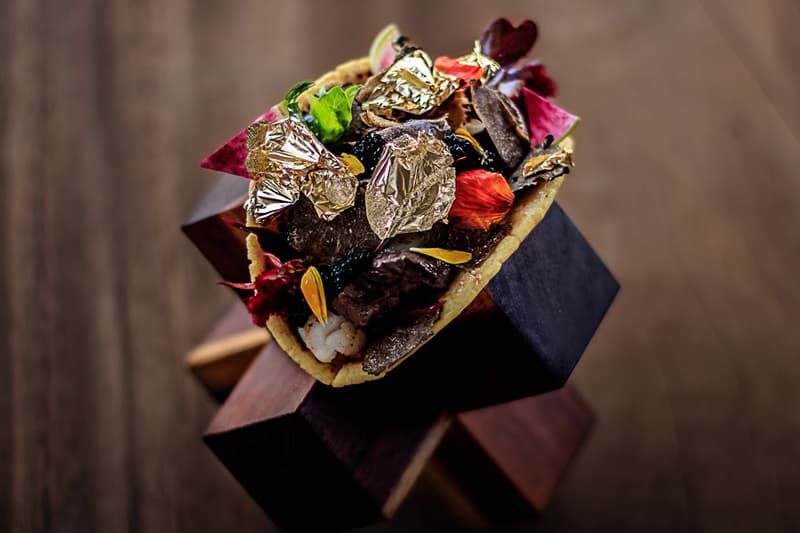 If there were ever a menu item to devour as a final meal, this taco would be it. Infusing gold flakes directly into a soft corn tortilla, the world's most expensive taco, which will run you a cool $25,000 USD for two, is filled with Kobe beef, lobster, black truffle brie cheese and Almas Beluga caviar. Bringing all those luxe ingredients together is a salsa made with dried Morita peppers, Ley .925 Añejo tequila and kopi luwak, the world's rarest coffee. Served at Frida in the Grand Velas Los Cabos, Mexico, the restaurant recommends that diners pair the extravagant taco with an even more outlandish Ley .925 Pasión Azteca Ultra Premium Añejo tequila made from platinum and white gold that puts it at a $150,000 USD per bottle price point.
Frida's executive chef Juan Licerio Alcala says, "Our ultimate goal at Grand Velas Los Cabos is to break the mold of expected, traditional cuisine and go outside of the box for our well-traveled guests. The taco is just the first of such exciting experiences that we plan to roll out in the coming months."
We're excited to see how they top this. Check out the hotel and learn more about the restaurant here.