Meet Streetwear's Favorite Interior Designer
Frequent NIGO collaborator Masamichi Katayama of Wonderwall speaks to HYPEBEAST Magazine in the Projection Issue.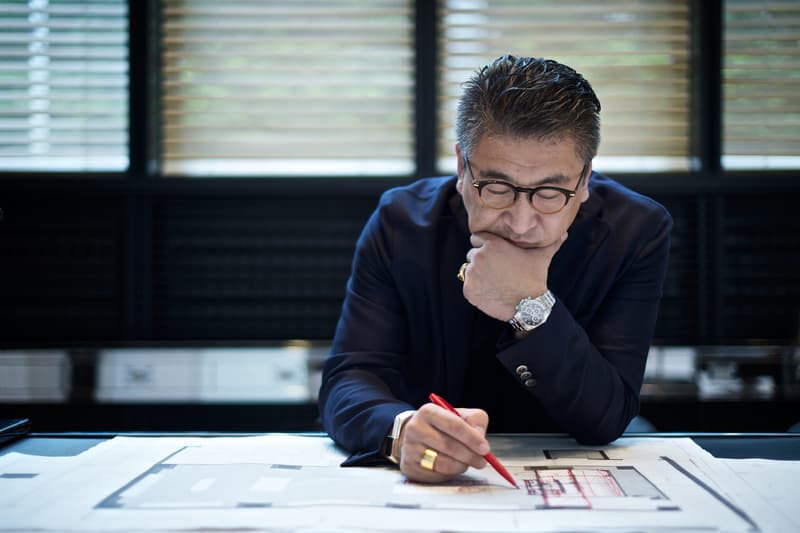 On a perfectly respectable lane in Tokyo's upscale Aoyama district, among rows of designer boutiques bearing names like Alexander Wang, Acne Studios and Marc Jacobs, a monumental stone block breaks the perfect monotony of glass-and-steel storefronts. Delineated from the pavement by a thin strip of light outlining its perimeter, the building's grey marble facade gives nary a clue to its contents, punctuated only by a thin sliver of a door offset to the side. Behind this door is a black marble antechamber – a liminal space of sorts separating 21st-century Tokyo from an ersatz mid-century New York office interior. Beyond, a central stairwell flanked by three storeys of windowless, fluorescent-lit rooms, each sparsely decorated with select pieces of vintage American-designed furniture and racks of designer suits. A quietly unsettling sense of intrigue and surreality pervades the building. But far from a scene in a Murakami novella or a Ballardian dystopia, the imposing structure is the THOM BROWNE. NEW YORK AOYAMA boutique, expertly designed by the prodigious Masamichi Katayama of renowned Tokyo-based interior design firm Wonderwall.
While his name is not immediately recognizable to those outside of design circles, Katayama is somewhat of a maverick within. Chances are you'll already have visited several of his projects: his portfolio extends from mass-market shops like Uniqlo (he's designed over a dozen global flagship stores) and Nike, to one-off but no less influential projects like colette and jewelry designers YOON and VERBAL's recently opened debut flagship store for their AMBUSH label. Simply put, Katayama has firmly established himself as the go-to interior designer for the international fashion community. Though his repertoire is wide-ranging, an undeniable sense of theatricality is the common thread in all of his works. From a refurbished Edo-period machiya teahouse-turned-boutique above a burbling Kyoto brook for thrift store chain Pass The Baton, to the psychedelic, color-infused OZONE lounge at the top of Hong Kong's Ritz-Carlton hotel that claims the title for the world's highest bar, brands turn to Katayama's Wonderwall for the shock and awe treatment.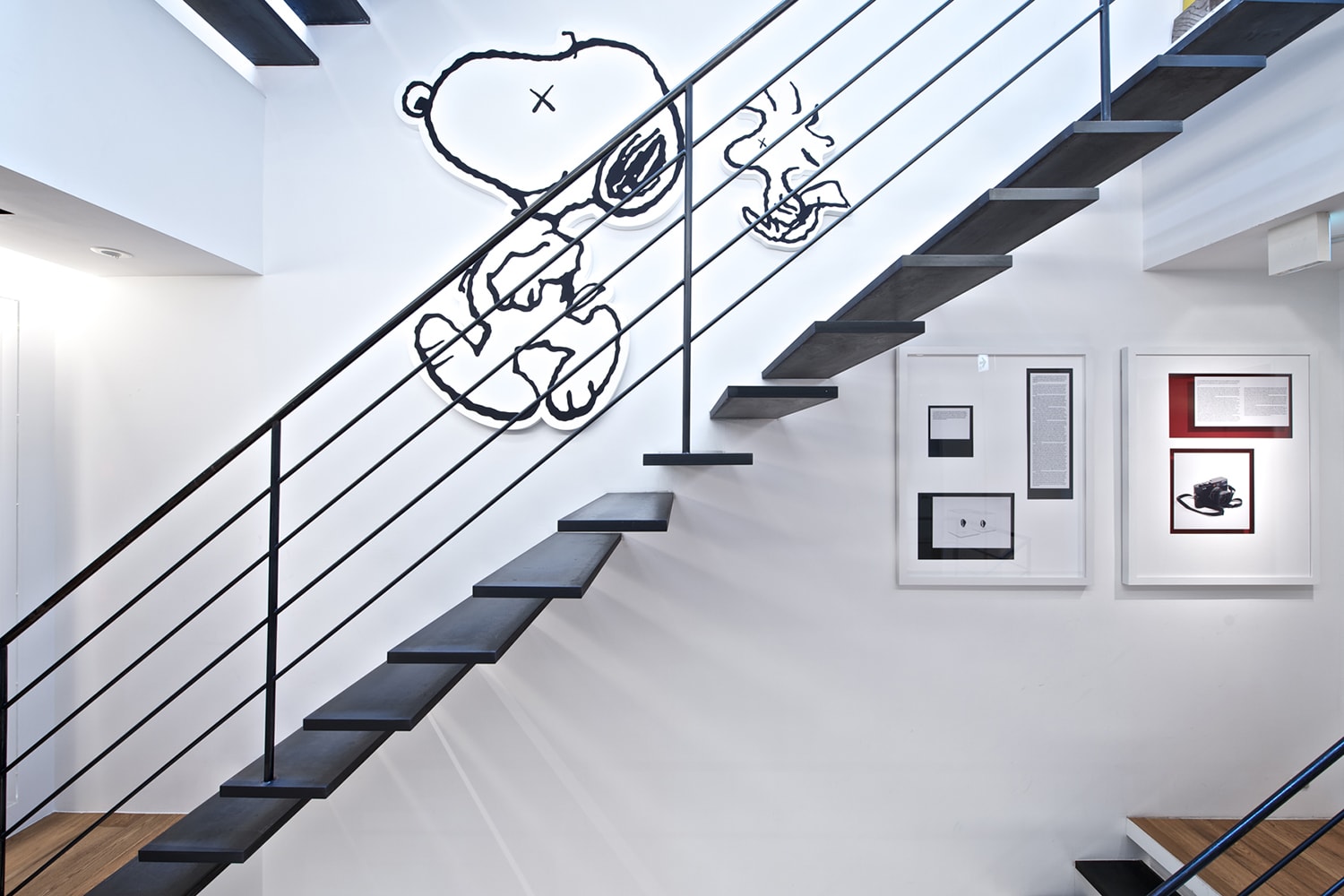 A piece by KAWS hangs above a stairwell at the Wonderwall office.
His close affiliation with fashion stretches back to his birthplace of Okayama, better known as Japan's denim capital. "Being born in Okayama really helped solidify my foundation as a person. I wasn't really exposed to much fashion there. What ended up influencing me more was the fact that I was so far from big cities such as Tokyo, which made me very eager to explore the world outside my hometown." Spurred by his family's furniture trade, Katayama studied interior design in Osaka, but it was his love of punk and rock music and their associated fashions and subcultures that to this day imbues his work with its own soul. After graduating and gaining experience at several interior design firms as well as working freelance jobs, Katayama eventually founded H. Design Associates with two other designers during the '92 post-bubble economy, but the partners decided in 2000 to go their separate ways. Left unfulfilled, the same year Katayama founded Wonderwall, which is a product of his cultural fluency right down to its name. "I thought that it would be interesting to make it sound like a name of a rock band," Katayama explains. "I had a lot of ideas but the name 'Wonder' stuck to me not only because I liked the sound, but also because of Stevie Wonder at first. Of course Oasis' song 'Wonderwall' was a big hit back then, but also George Harrison's 1960s film was also titled Wonderwall which starred Jane Birkin." The 'wall' portion of the name, he says, was directly relevant to the interior design aspect for obvious reasons.
"I was aware that having this freedom was both a blessing and curse."
Despite his abundant design potential, it wasn't until Katayama was introduced to none other than NIGO® in 1998 that his vision was realized in full. "At that point in time I wasn't able to really take on the projects that I wanted to and it was a bit of a stressful time for me," Katayama recalls. Looking for a designer to remodel his influential Ura-Harajuku boutique NOWHERE, NIGO® immediately bonded with Katayama and invited him to redesign the store's interior. "He gave me freedom to do what I liked, but I was also aware that having this freedom was both a blessing and curse." The end result – a streamlined, space-age interior bathed in subdued fluorescent lighting – was a mutual blessing as it not only marked a turning point for NIGO® and Katayama, but also carved out a new aesthetic in Japanese interior design which had become stagnant alongside the faltering economy. It would also spawn one of the more enduring creative relationships of recent memory, with Katayama continuing to design over 60 A Bathing Ape locations for NIGO, alongside other standalone projects such as CURRY UP and STORE by NIGO.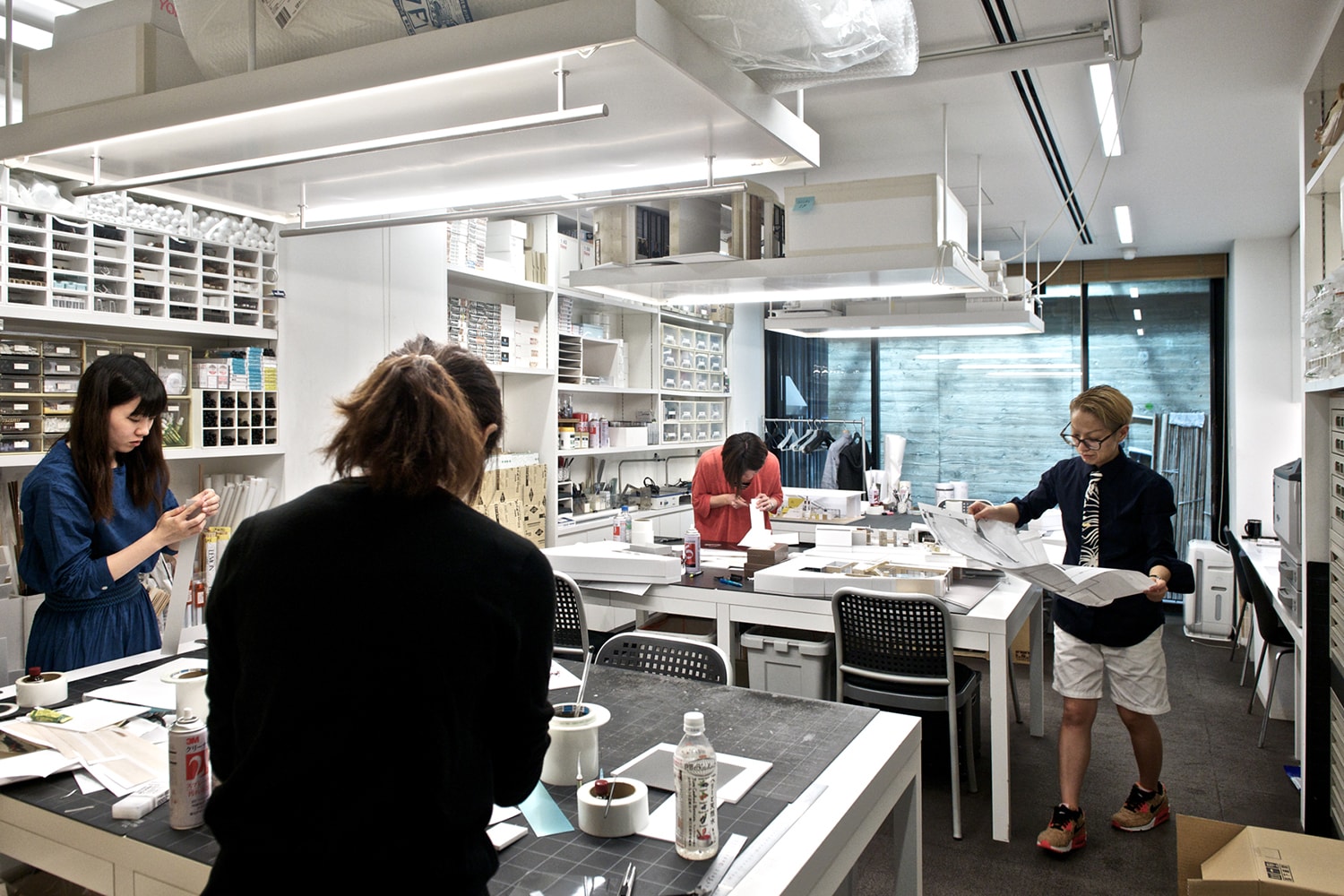 Wonderwall's designers at work.
Surprisingly, contrary to his reputation for showmanship within the world of interior design, Katayama subscribes to the school of thought that the best design is invisible. "I know it's weird for me to say this, but people don't necessarily come to see the designs. They come more to see the goods, or eat food. Design is supposed to support that. If I was an artist, I could probably just express whatever I am thinking at that moment. But I feel with design, it's really an answer to a certain problem that you are trying to solve." This pragmatic approach is rife throughout Katayama's design process, which begins with a thorough analysis of the strengths and weaknesses of the client's brand, the brand's customers, the building location, and surrounding neighborhood, through to grander notions such as current industry trends and the state of the economy. "In general people aren't really aware of those particular characteristics themselves; that even applies to brands. From this, I try to decipher what is, metaphorically speaking, the 'best answer' to meet all of their needs."
This approach has served Katayama well time and again across a breadth of projects internationally, and has reaffirmed his belief that serving clients both big and small only enriches his experience all the more. "BAPE and Uniqlo may be opposites in many ways, but I really have an interest in both. When it comes to smaller brands they put more emphasis on creation and the artistic value, but for mass brands it's more of a business and they place heavy emphasis on the economics, for example how they can best utilize the space to sell more. I feel like because I've tackled both ends of the spectrum I have been able to achieve a certain balance. To put it very simply, I love sophisticated French cuisine with lots of courses, but I also enjoy a simple gyudon beef rice bowl from (Japanese fast food chain) Yoshinoya as well. Keeping an open mind and exploring both styles allows me to get a broader spectrum."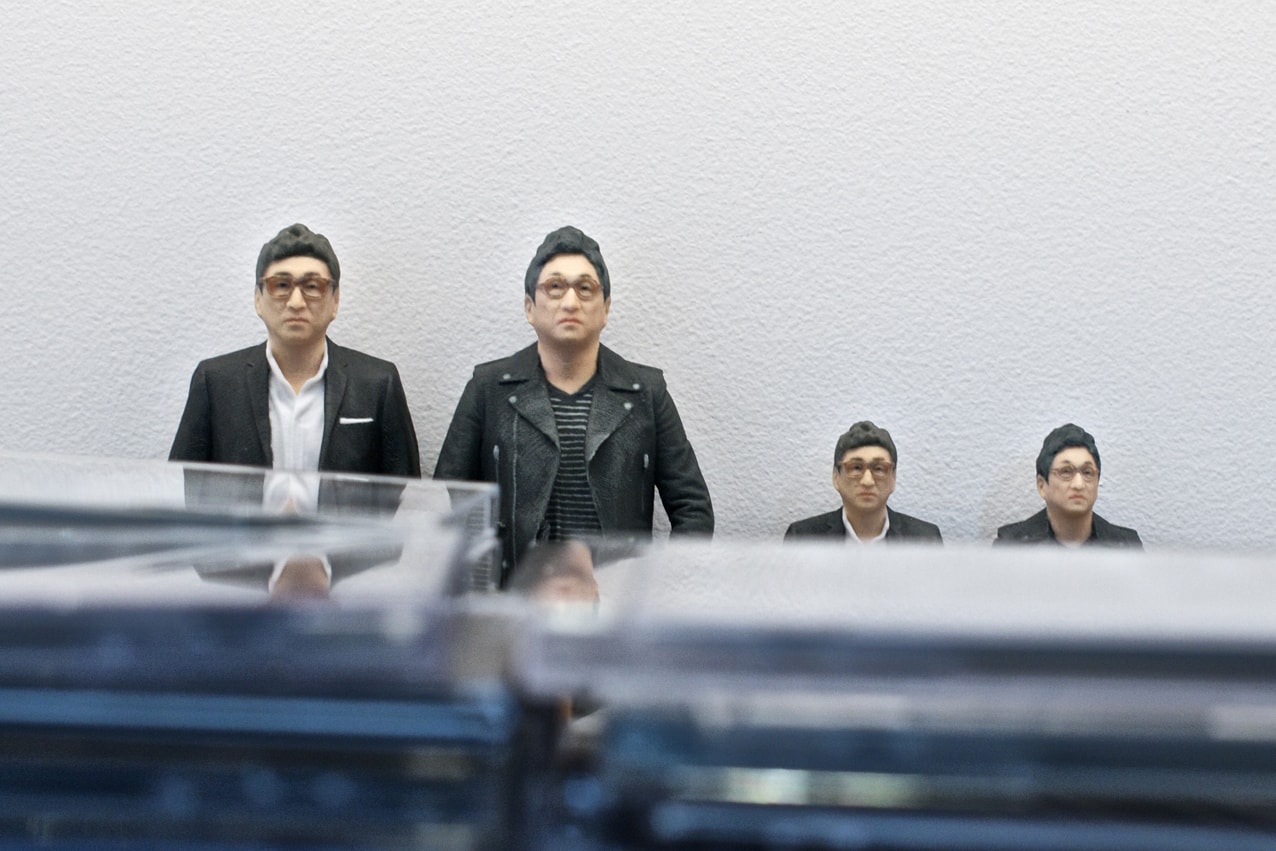 3D-printed figurines of Masamichi Katayama.
Katayama's encyclopedic base of cultural knowledge is reflected in another monolithic concrete box only a brisk half-hour walk from the THOM BROWNE. NEW YORK AOYAMA space. Much like the boutique, the Wonderwall office requires the visitor to break from surrounding reality via a triple-height corridor guarded by an impossibly tall bank vault door. Inside, however, is a different story. Stacks of magazines on the floor, Katayama's personal collection of artifacts exhibited behind glass, and a stuffed polar bear overlooking the cavernous conference room provide a glimpse inside the unbounded mind of man who has accumulated, and draws upon a vast cultural knowledge base to inform each project he takes on. Indeed, the man owns an incomprehensibly extensive music collection of 10,000 CDs, a fraction of which is immaculately arranged on full-height bookshelves flanking the approach to his private office space on the top floor.
In the final word on the paradigm-shifting influence of Katayama's unorthodox vision, German publisher Gestalten has dedicated an entire hardcover tome titled Wonderwall Case Studies to document the firm's milestone projects in honor of the designer's 50th birthday. An extensive retrospective is more than merited – what he has accomplished in the mere 15 years of Wonderwall's existence has already established him as a paragon of the design world, and this particular title will serve as the hors d'oeuvres to a complex, yet much-lauded, banquet of work. For now, we can only hope that Katayama continues to mesh together high cuisine and gyudon alike to create a sensory feast that will last the ages.
This story was featured as part of HYPEBEAST Magazine Issue 16: The Projection Issue. Find out more online here.