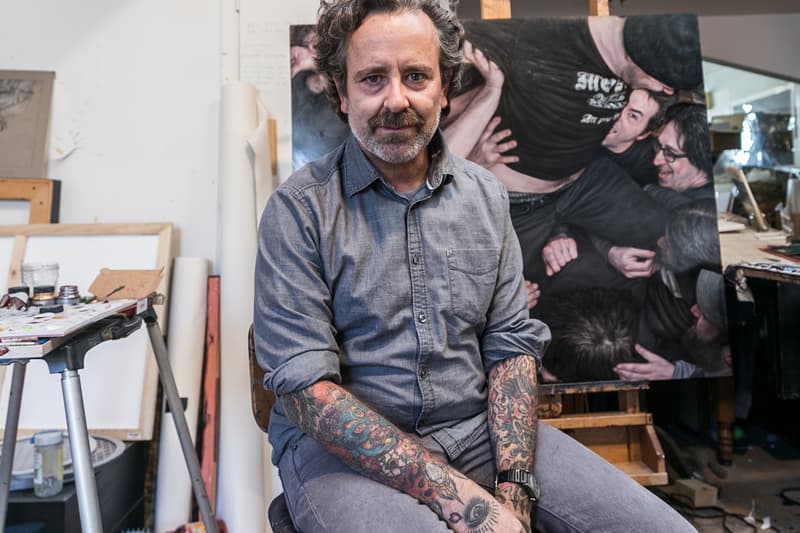 Artist Dan Witz on Street Art and How His Mosh Pit Paintings Made It to Dior's Collection
He also talks about being anti-gallery and meeting A$AP Rocky for the first time.
---
For a community based on anarchic, cacophonous music, punks are usually pretty Zen. Artist Dan Witz has been painting mosh pits from hardcore shows for quite some time now, but he's far from a one-trick pony. An alumnus of both the Cooper Union and lower Manhattan's art-punk and street art scenes, Witz has spent much of his time photographing shows, painting, and teaching as an adjunct professor at his alma mater. Dior creative director Kris Van Assche is such a collector and admirer of Witz's work that he tapped the NY-based creative for permission to use his "Mosh-Pit" paintings as a recurring motif in the high fashion brand's 2017 fall/winter collection.
Witz noted a particular trend amongst his students, explaining a project where the final grade was based on students posting their final projects to Instagram. "Because that is the logical conclusion to all art, right? How art lives on social media. That's what matters in my world," Here Witz taps his chest and gestures around the studio. "And in the world we live in today."
Still, he notes, five students simply refused to post their work online, tanking the project. "It takes me five minutes—they could probably do it in two. They all know how to do it, but they refused. For them, social media is the problem." But those who abstain from using social media are not necessarily a new breed of Outsider Artists: Maybe, Witz muses, "there's some new method or medium of distribution that they're searching for."
As an art school grad himself, Witz can relate to the contrarian. He himself chose to display much of his art in the street, decorating lower Manhattan with anonymous paintings of hummingbirds. One of Witz's longest-running public art projects is a series of dark hooded figures, wheat-pasted around Brooklyn and Manhattan, looming like specters over gentrified blocks.
His studio space is, as all artist's studios are, an act of organized chaos. "There's a system to this," he says, waving in the general direction of a forest of brushes.
1 of 3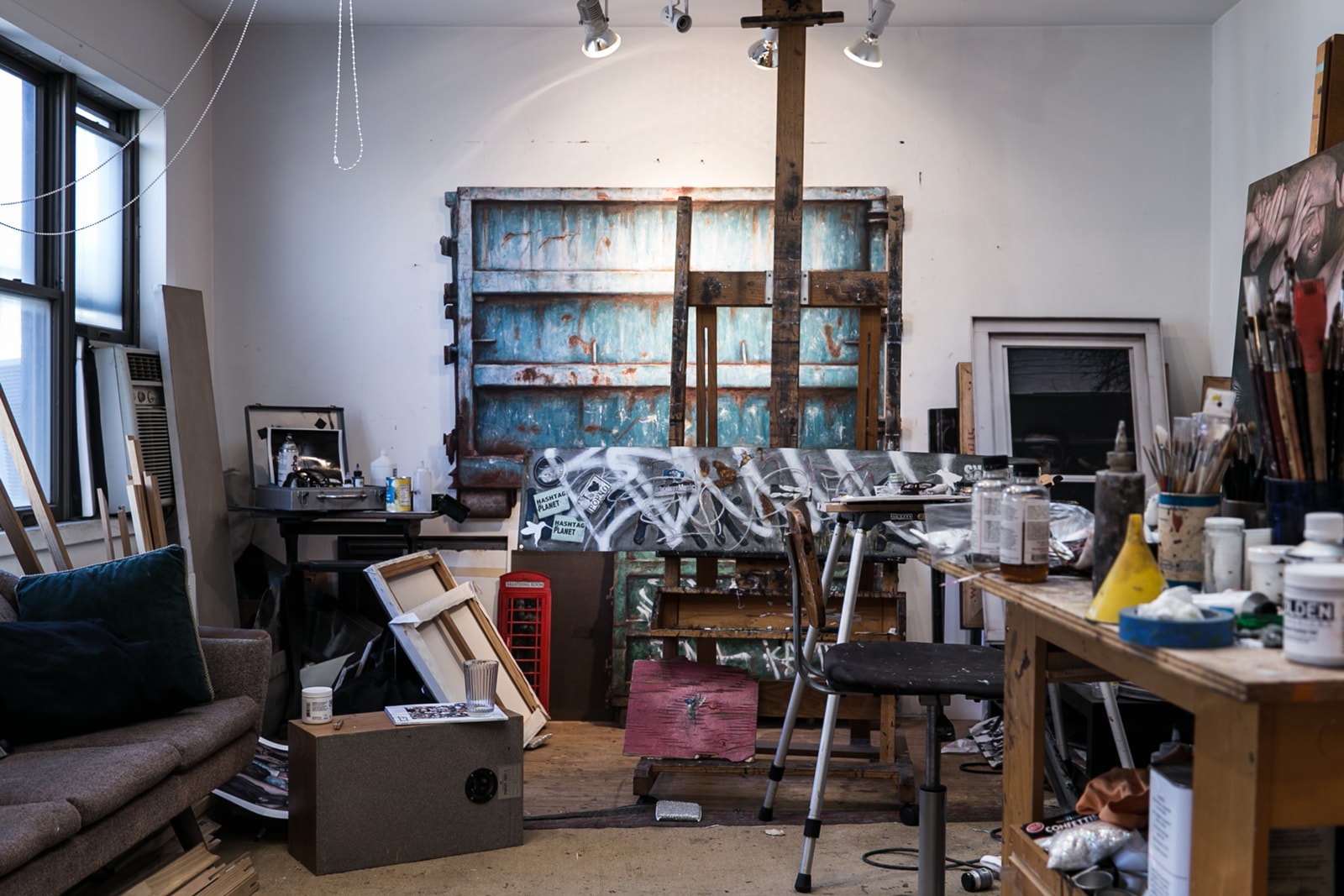 2 of 3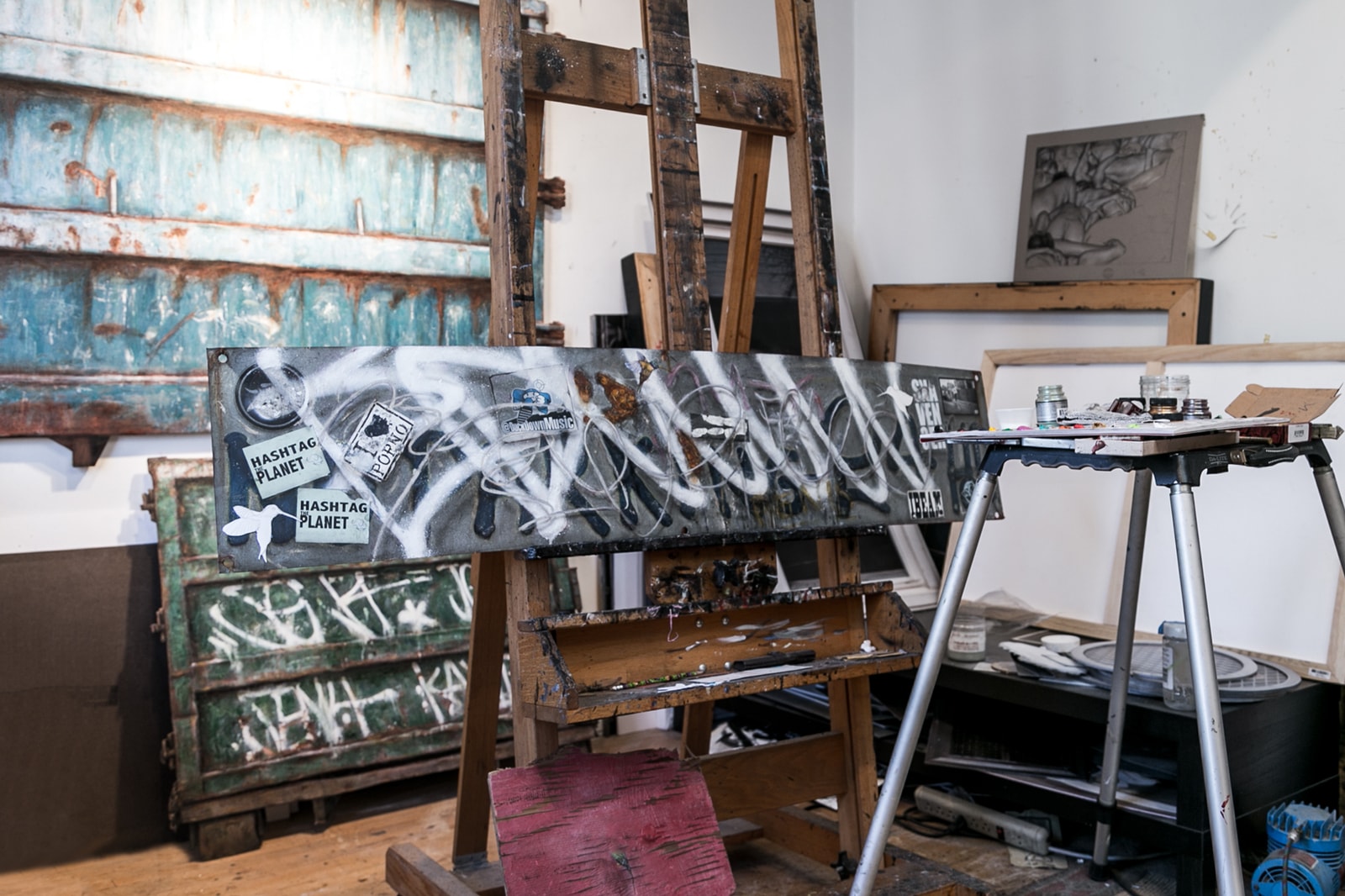 3 of 3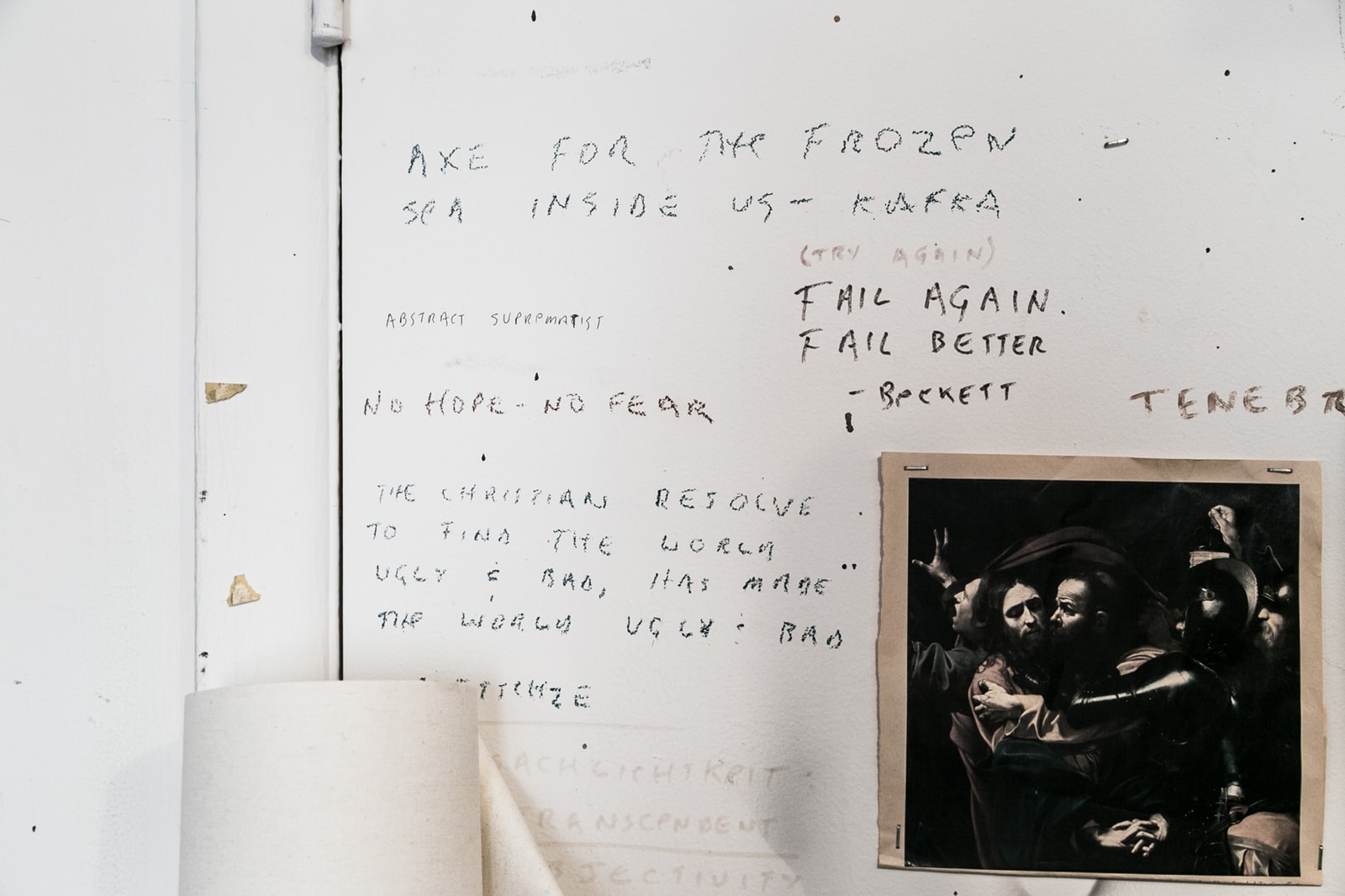 Witz's photorealistic style of painting has roots in the Baroque movement. He wears this influence on his sleeve and his studio is littered with splayed Rizzoli books on Caravaggio and other maestros of chiaroscuro. His subjects? The mosh pits at innumerable local punk shows, many at local Brooklyn dive bars. Nowadays, however, Witz has been dying to paint new scenes — he's been commissioned crowds at the Electric Daisy Carnival and he has personally expressed that he is "dying to go to more rap shows." In fact, A$AP Rocky was photographed in the Dior jackets that incorporated Witz's mosh pit paintings.
With his current exposure in the world of both fashion and music, HYPEBEAST paid Witz's Greenpoint studio a visit to talk shop, punk, and process.
1 of 3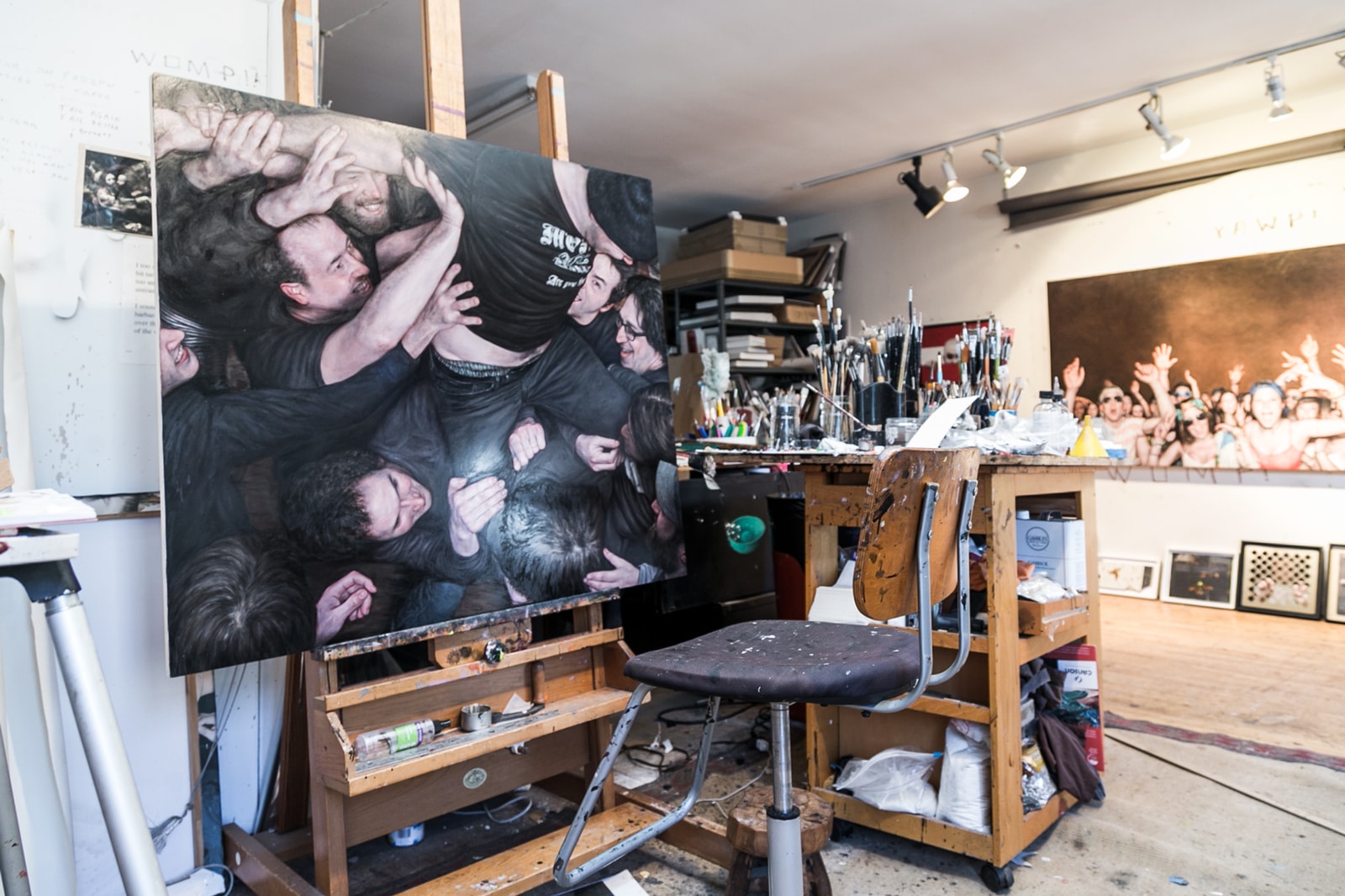 2 of 3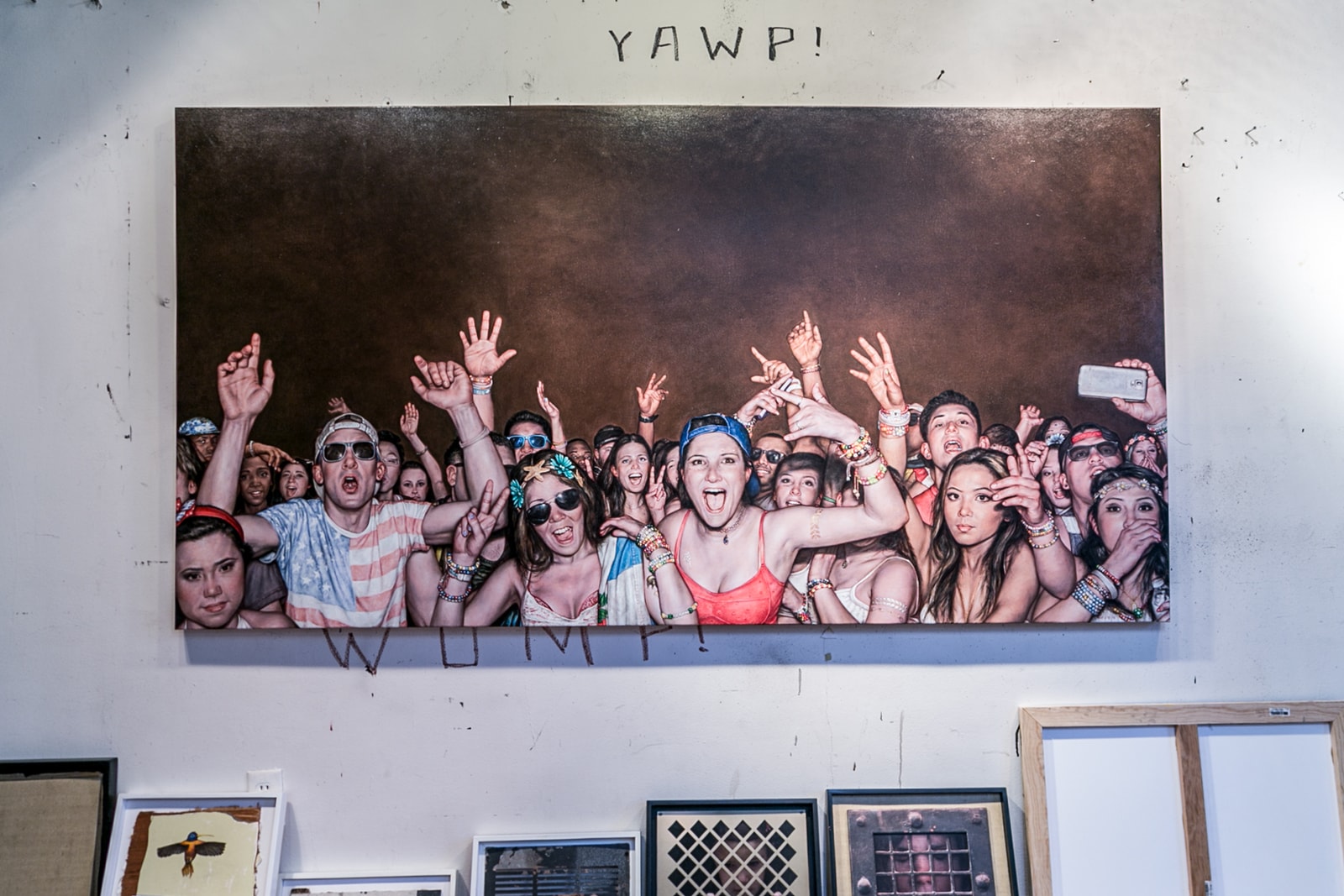 3 of 3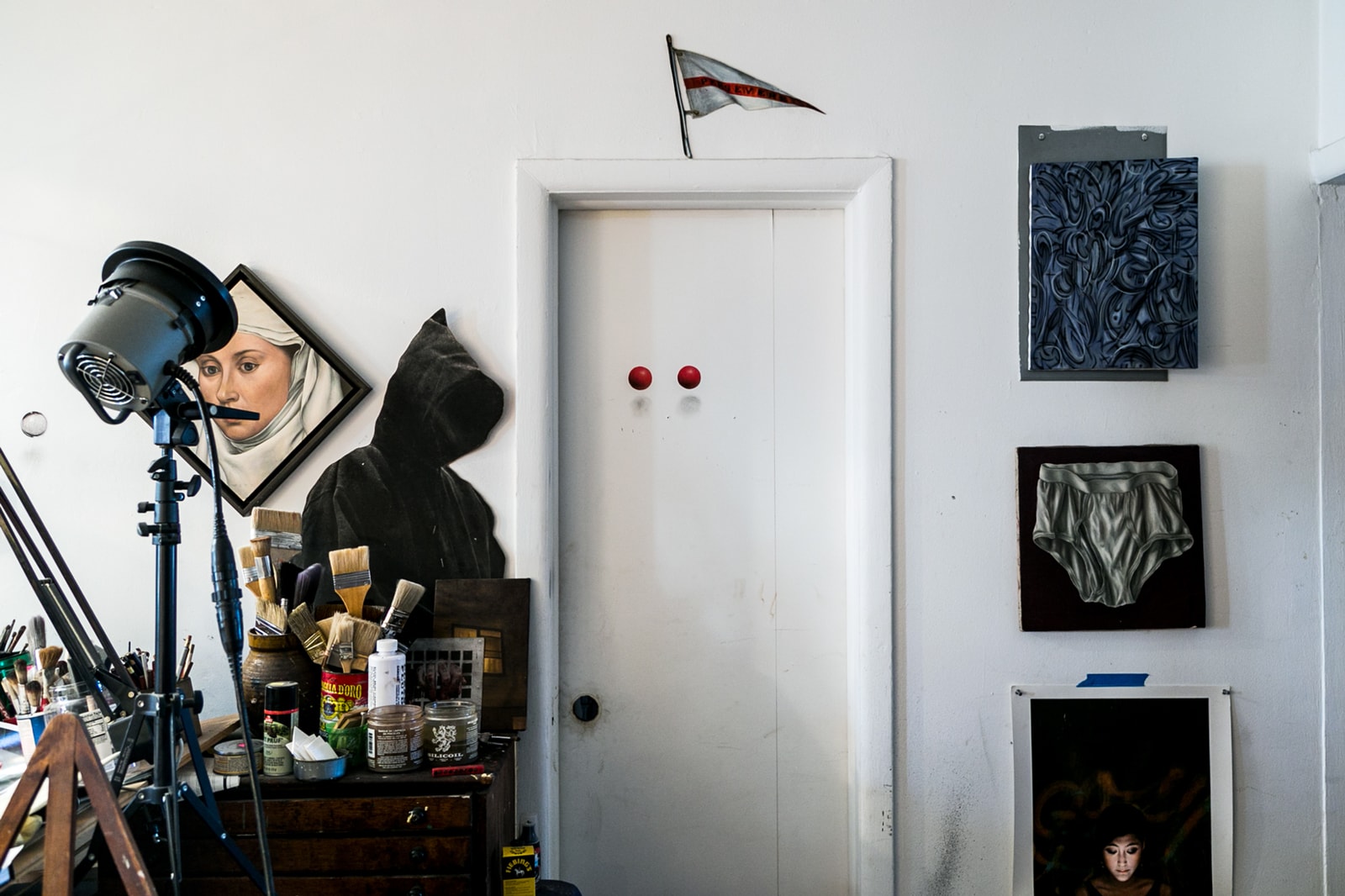 How did this collaboration with Dior come about?
Kris Van Assche, the head designer of Dior Homme, collects my work and was interested in acquiring a mosh pit painting. When I sent images of available pieces, he reached out to me about a collaboration. I was lukewarm to the idea at first but after asking around I heard great things about Dior—then we all met and I saw that they were for real and I became open to it.
What captivates you about crowds? What is it about mosh pits in particular that draw your interest?
After I got out of art school, for most of my twenties I played in post-punk type bands. When I "retired" from music (got too old) and went back to making art full time, I was worried that painting would lack the same excitement as performing—that my life and work would become too safe—or (I know it's a cliché, but back then this is how I thought), I was worried that I'd lose my "edge."
I'd always admired baroque art. Crowds at a concert seemed like an impossible thing to make paintings of so naturally that was what I decided to do. From start to finish the whole process turned out to be ridiculously challenging—which I guess satisfied my need to be living dangerously.
Your work has a tremendous amount of realism to it. What's your painting process like?
After recovering from photographing in the mosh pit I spend weeks or sometimes even months puzzling together the compositions in Photoshop. Having an insomniac and obsessive compulsive nature really comes in handy here. In comparison, the main event, the actual months-long battle with the painting is actually somewhat routine—or at least manageable in a day at a time kind of way. I paint traditionally so each figure takes four or five layers from underpainting to final glazes. Depending on the amount of figures, each canvas takes a minimum of several months to complete.
How was has your perception of art school changed from being a student to being a professor?
When I was a kid, I thought that galleries were bogus, with all their rich people—usually, white men—with shows every two years and nobody was in them. It sucked. Elitist. Ghettoizing art. This was in the late '70s, early '80s, and I realized people were putting graffiti on trains and everyone could see that. You could do that back then. So I just said why don't I do that? So long as I'm not getting paid anyway. Might as well put it out there on the street.
So you refuse the galleries. You did the hummingbirds, the hoodies—that's anti-gallery. "F*ck the gallery, I'll use the street." Do you see people refusing the street and using the Internet instead, now?
Totally. Because our minds are boggled, like "where do you go from there?" But they're thinking about it. They're working on something. Our minds cannot grasp that possibility, just as when I started putting work on the street, people were like "what the f*ck are you doing? How're you gonna make a living? The right people are never gonna see it!" They couldn't grasp that street art had value at all, because it's not run through the curated critical machinery before it's brought to the right people.
1 of 2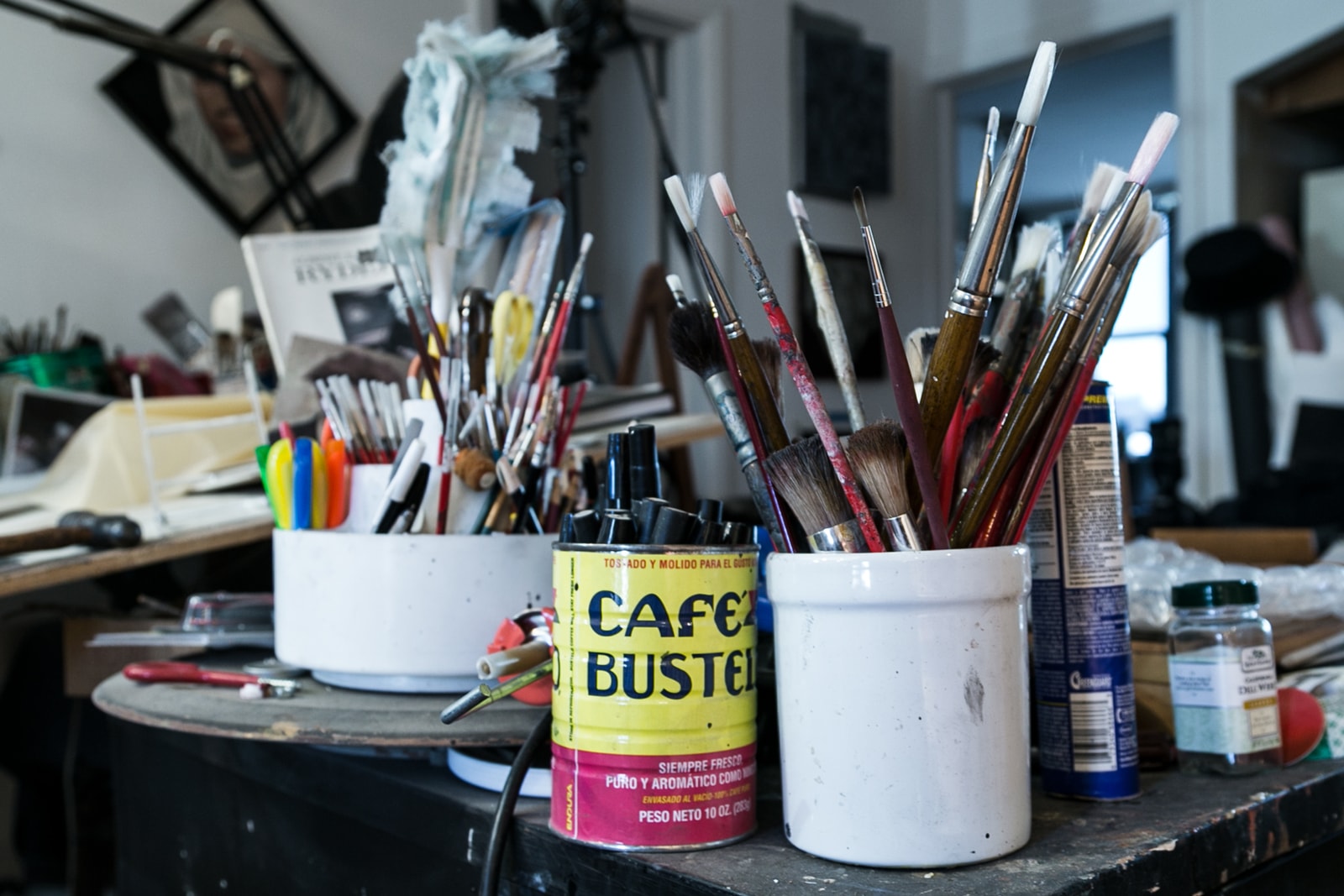 2 of 2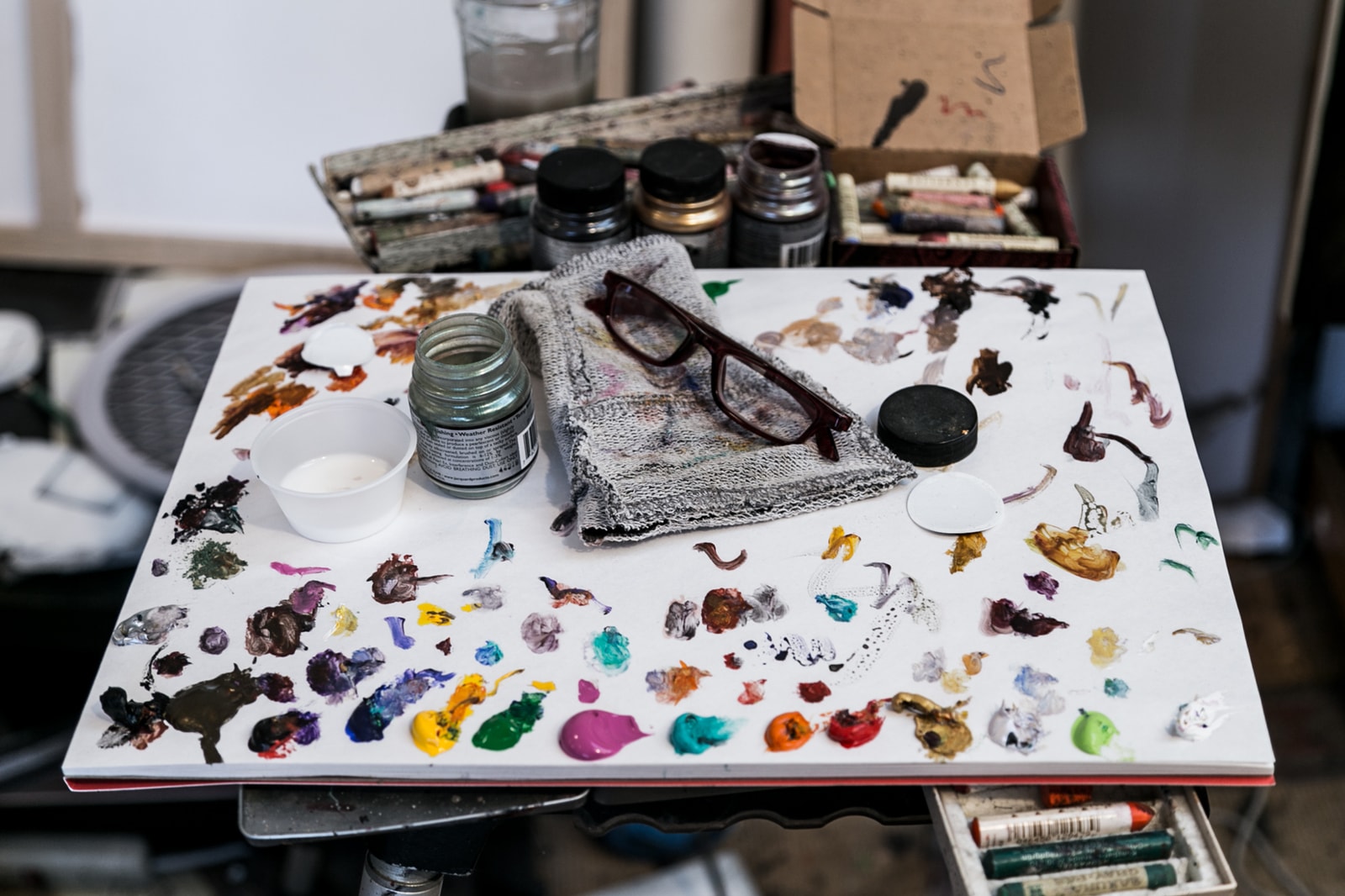 How healthy do you think street art is now relative to when you started?
It's gone through a whole arc. Not a lot of people do what I do, which is just go out there and do things without any sort of permission. To insinuate and inject intervention into the public commons. [Editor's note: earlier, Witz told a story of how he was commissioned by PETA to erect some public street art pieces around Washington, D.C. To sneak past security, Witz dressed up as a service employee tasked with fixing grates and vents.] People started doing that, but now people are doing a lot of commissioned murals and stuff, where they are vetted and given permission as part of a curated system. Street art as I practice it has followed an arc from renegade, guerrilla work to a place where it's accepted and everyone wants to do it. That moved into the muralist movement, which has nothing to do with what I do.
Were you a member of the punk scene?
Like many art students in NYC in the '80s, I played in bands. A lot of us, reacting against the boring gallery art of the time, were drawn to the instant gratification of performing. Our skill level was generally low but we played so loud it didn't matter. The scene I was in, the post-punk noise bands, was short-lived but vibrant; we regularly played at places like the Mudd Club and CBGB's but few of us ever made records. I can't think of anyone besides Sonic Youth who went on to notable careers as musicians.
How does it feel to have your work embraced by the fashion world?
The whole fashion show weekend in Paris was ridiculously surreal, even for my life. Fortunately a few years ago a friend of mine taught me how to have my picture taken: there's actually a very reliable technique that actors use so they don't look foolish—you kind of go neutral and push your head out like a turtle. Knowing that took a lot of the self-consciousness and stress out of the experience. The freakiest part was right before the runway show started. I was out on the floor and the PR people staged a meeting between me and A$AP Rocky—him dressed in a suit made out of my paintings. We met and shook hands and exchanged pleasantries, and all of a sudden we were mobbed, this insane roar surrounded us–cameras were clicking frantically, paparazzi were gesturing, shouting, "M'sieur! M'sieur!" Stunned, I turned towards the rioting strobes and was instantly transfixed. I was spiraling down a tunnel towards a light—a light like I've never seen before, a blinding out of body brightness that I was compelled to stare directly into, and do my trusty little turtle thing, and… well… keep going towards. I've seen the pics and I look normal enough, but between you and me it felt a lot like a near-death experience.
When all was said and done I have to say I was pleasantly surprised at how cool the clothes were. These couture people are artists. All their choices: the draping, the muted color palette, the scale, I totally approved of. Even the sequinned suit worked really well. But yeah, this rates as totally one of the weirdest experiences I've ever had.