Skate Legend Ray Barbee Talks Race, Social Media, Music and All Things Skateboarding
A lot has changed since Barbee helped revolutionize street skating.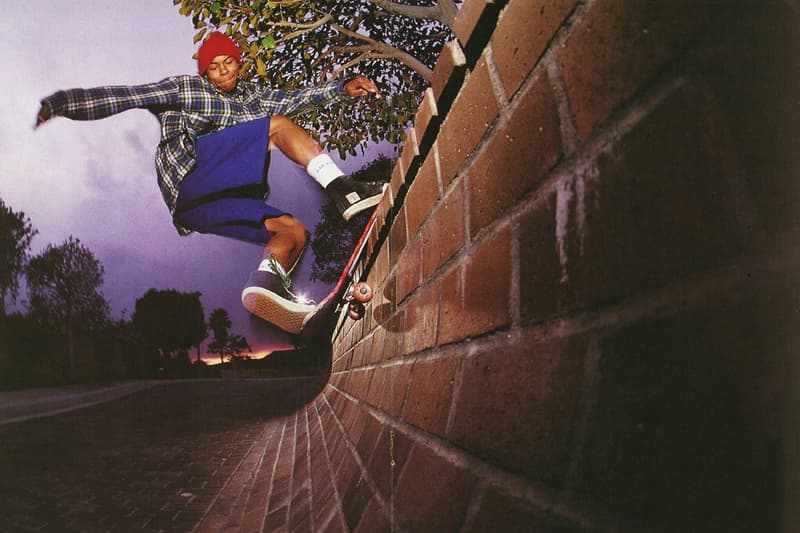 California native Ray Barbee is a skate legend. He was a part of an early crew of skaters that took vert and flatland tricks to the street, thus revolutionizing the sport to what it is now. Now in his 40s, he has since turned to the art world, focusing his creative mind on music, photography, fashion and so much more. Being that a lot has changed since his days of running with the Peralta team, Quartersnacks sat down with Barbee to talk all things skateboarding, from weird fashion and the importance of social media, to being black in a predominately white sport. Check out some excerpts below before heading to Quartersnacks to read the full piece.
Do you think that there is more racial diversity in skateboarding now than when you first started? Like, more people understand and there's less controversy of a black person getting into skateboarding?

Yeah. It's interesting because a lot of why skateboarding was deemed a white activity has to do with accessibility. There were black skaters at the skateparks in the 70s — I wouldn't say there were a lot — but there were quite a few. Insurance premiums for all these skateparks went up, and it didn't make sense to pay these high premiums. They couldn't afford it, and a lot of parks closed down. Then it became more about backyard ramps. But the problem is those are exclusive…you have to know the guy who knows the guy who has the ramp. To have the ramp, your parents would mostly likely have to own their house, or have the financial means to pay for the ramp. So, that excludes a lot of people, you know?

Everything changed when street skating started to grow in the 80s, and when it started to take over in the 90s. You had a lot of different cultures and ethnic groups getting involved. Because now, there's no gatekeeper — you don't have to know the guy who owns the ramp. You can just get a skateboard, walk outside your house, and you're in business. Street skating made it accessible to people who otherwise had no means of getting involved because it wasn't within their reach.
We kind of touched on it earlier but, what is your take on how advanced skateboarding has come since you started?

I think it's phenomenal. Everyone is up to speed with what's going on. I'll never forget the first time I went to Europe in 1987. We were at Southbank doing a demo and feeling like we went back in time few years. We were getting excited about so many different types of tricks, and they were still doing what we grew up looking at in the old videos, which makes sense because that was still their point of reference.

There is no longer a lag or a delay. When you see someone do it, you don't even think "whoa can it be done?" You can maybe even get there a little quicker because you see how they did it. That makes things progress at a really high rate.

How do you feel about social media in skateboarding? Some people focus on putting clips on Instagram. It's less about filming a part and putting all your energy in that.

It's just change. At the end of the day, people are ripping, right? If you dig skateboarding, whether it's in a feature video from a team or somebody posting it up on Instagram — you're still seeing amazing skateboarding. Hopefully, it's inspiring in some way. I think it's a matter of preference: do you get inspired by watching people's tricks on their feed, or do you get inspired by the presentation of a packaged thing from a brand? The only thing that really matters is an emotional connection that will inspire you to chase your dreams. Some people like to drive a Porsche, some people like to drive a VW Bus. The main thing is the destination, you know what I mean?

I'm hyped for kids who are ripping that have a voice now. I always called them step-hops, but more people know them as no complys — those got tied to me because I did them in a video and it was the first time a lot of people witnessed that approach. Me and my buddies would stumble across tricks that we had never seen people do, but I always figured, there's somebody somewhere stumbling across the same ideas — it's just that they don't ride for Powell Peralta. They might be out in middle America figuring that stuff out on a slab on cement in a barn or something, you know? But now there's no more of that. Now, you see that dude in a barn doing that crazy trick. There's something really cool about that. He's a part of the community. A pro can see that and be like, "Hey, let me keep an eye on this guy's feed, oh you know what, let's put him on the team."
Growing up, who were your biggest inspirations? Not only in skating, but music, clothing…

For me, my friend Randy Smith was probably my biggest influence in skateboarding. He lived, and still does live in Sacramento. He was the first guy I saw do a step-hop — especially the straight ones where you hit them off your leg. That whole community in Sacramento really helped me see the potential of street skating. Guys like Ricky Windsor and Randy Smith. Mark Gonzales was a huge influence, Tommy Guerrero, Natas Kaupas. There weren't many pros out there who were only street skaters. They could skate everything but they specialized in skating street. I would say my Mount Rushmore, if you will, would be Randy Smith, Tommy Guerrero, Natas Kaupas and Mark Gonzales.

That inspired you with music too?

Those guys got me really excited about street skating. Early on, street skating was looked at as what you do when you can't skate vert. It was looked at as inferior to vert skating, you know? Those guys played a huge part in making me realize, "Nah this is just as valid. It's just as creative and hard."

Steve Caballero, Lance Mountain, Mark Gonzales and Neil Blender — those guys helped me see that it has nothing to do with sports. Skateboarding is its own thing. You can be an artist, you can be a photographer…these guys were doing their own board graphics because they had that ability. They were shooting their own articles for mags. It was this DIY mentality that showed me art, music and photography are all a part of skateboarding.

It's funny because on Instagram, to me, each person has their own zine. We used to make zines back in the day and that was how we learned about other skate communities. We got an idea of their scene based on what they decided to put in the zine and write about.