Dior Homme's Kris Van Assche Explains Art's Role in Fashion
"I need to constantly get my inspiration from somewhere, whether it's from daily life or people just walking in the street."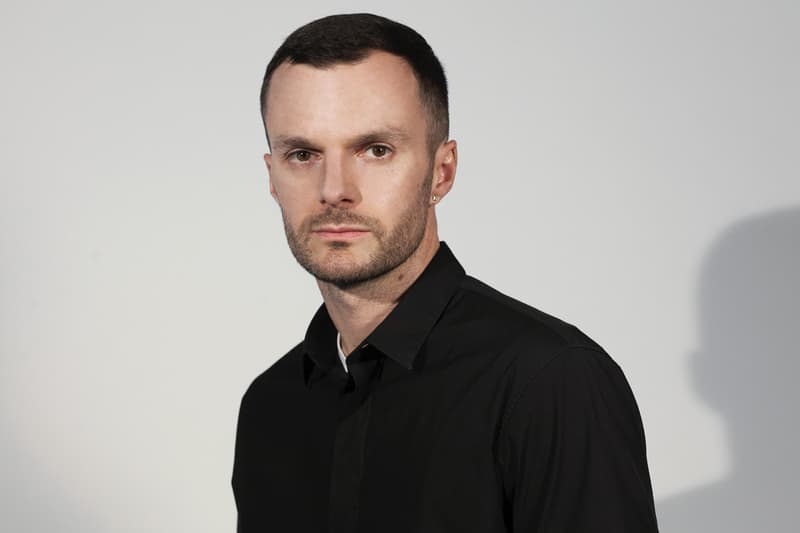 Though originally conceived as a means to promote and sell works by emerging artists, Art Basel has become an event where creative and business minds across multiple fields flock to annually en masse to network, socialize and take part in an endless mashup of day-long partying. Held in Miami Beach, the celebration is more of a meet-and-mingle space than a traditional fair, attracting both the legacy and new wave of industry figureheads in art, music, film and fashion.
Of course art is still an essential component to the whole spectacle, but the fashion industry has somewhat overshadowed Art Basel's initial concept with its glittering soirees, dinners and collaborative merchandise pop-ups. It's not completely unusual, however; after all, the term "art" is overtly subjective – fashion can certainly be considered as such – and designers have always culled references from traditional artists in their creations.
Like many of his Antwerp counterparts, Kris Van Assche is a designer who boasts strong art influences in his designs. During his 10-year tenure at Dior Homme, Assche, who also made this year's HYPEBEAST 100 list, has been celebrated for his fusion of gender-warped tailoring, obscure subcultural narratives and pristine craftsmanship.
Last week, Dior Homme hosted an exclusive event with Paris's Laffanour Galerie Downtown at leading Miami retailer The Webster to launch its Black Carpet collection as well as a light sculpture installation by Japanese-American artist Isamu Noguchi.
We caught up with the designer to find out how he defines "art," the role it plays in his work and how his collaboration with Noguchi came into fruition.
The term "art" is very subjective. How would you define it?
I guess for it to be "art" it needs to touch me and provoke something. I think that's so obvious at Art Basel, where there's so much to absorb and it's impossible to take in everything. So whatever touches me — or appeals to me — that is what interests me, and that is what I'm going to try and discover and learn more about. I guess that is the art I'm interested in. Art Basel is really saturated, so it makes it hard for artwork to stand out, but I guess that is what makes it good.
What role does art play in what you do?
It's very present. I need to constantly get my inspiration from somewhere, whether it's from daily life or people just walking in the street. But art is obviously very much in the process. It's a permanent learning process for me, finding out how other artists work and how they tell their stories.
What relationship do you think the worlds of art and fashion share within contemporary culture?
They are very much related — they feed from each other. I don't think you can separate the two.
How did this collaboration with Isamu Noguchi come to fruition?
I've been a big fan of the gallery in downtown Paris forever. We knew that they would be here for the design part and I would be here to present the Black Carpet collection, so we had this idea of doing a dinner, since we never really get the opportunity to do things like this together.
So [Noguchi] came up with this idea of me personalizing these lamps, which kind of freaked me out because I didn't want to vandalize them. It took me a while to get the right idea and come up with the right approach, but that's how it happened. Basically we've known each other for many, many years but we've never had the chance to do something, so this was the perfect occasion.
Can you provide a little insight into the pieces you helped create?
I personalized six of these lamps; since they are all done in this fragile paper and glued together by hand, I wanted to stay close to that approach. So I took some of my [photos of] flowers [from Instagram] and printed them on a paper similar to the lamps and glued them on top in a very similar way – there is something very urban about it. It's like gluing concert posters in the street but in a very intricate way with very delicate paper. I'm not a photographer, I'm someone who plays around with flowers as moments. It's not art, it's just Instagram moments.
Throughout the years, Art Basel has become an increasingly influential event within the fashion industry. In what ways do you think fashion is showcased differently at Art Basel than Fashion Week?
For me, it's the opportunity to meet new people that I don't always get to meet at traditional fashion events. For example, tonight there will be a lot of collectors, artists and very different people compared to fashion week. But they are also designers, so it's similar in some ways. It's just a great opportunity for me to meet them all.
Be sure to check out our exclusive editorial featuring Dior Homme's Spring 2018 collection and BMX bike.