Travis Scott and Quavo's Collaborative Album Is a Perfect Argument for Migos to Stay Together
An honest review of 'Huncho Jack, Jack Huncho.'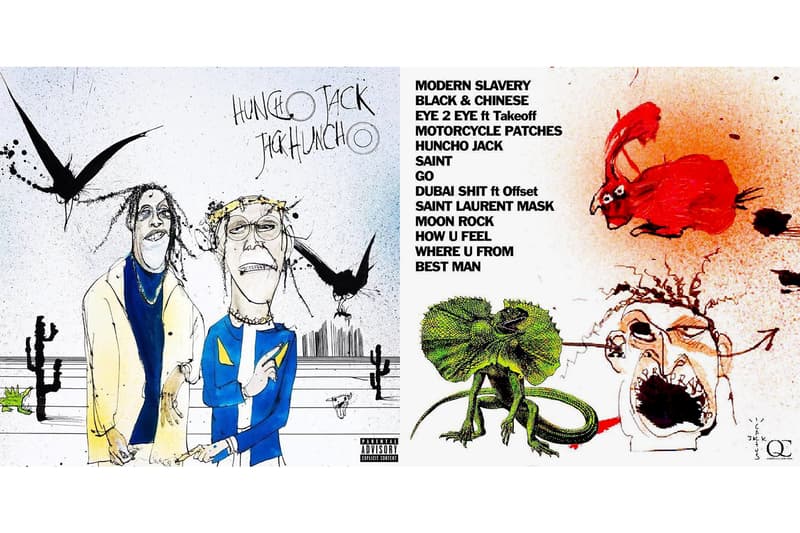 Three years ago, there was a cover story profiling Migos and their management team. The end of the story focused on the group's longevity. Both the Migos and their management team were focused on preserving the cohesiveness of the group as they got more popular. Coach K, the CEO of Quality Control records, weighed in on the inherent challenge they faced. "What's the history of groups? They split up," Coach said bluntly. His worries weren't without merit. The pressure on a group to split up usually comes from one member's talent and solo potential exceeding the potential of the group.
Three years later, the members of Migos are predictably starting to go out on their own. Takeoff, Offset, and Quavo are doing solo features with artists that range from Cousin Stizz to Calvin Harris. Huncho Jack, Jack Huncho, a collaborative 13 track album between Travis Scott and Quavo, is the most extensive of these projects. But Huncho Jack is proof Coach and the Migos need not worry about a particular member's talents exceeding the potential of the group. Migos are never as strong apart as they are together, and Huncho Jack is only the most recent and substantial example. The album's mediocrity is a perfect argument for the Migos to stay together.
The collaboration should have opened the door for more experimentation.
Scott and Quavo are no strangers to each other's music. Scott first featured Migos on his 2014 mixtape Days Before Rodeo. Quavo appeared on Scott's follow up release Rodeo. Scott was featured on Migos's most recent album Culture, and the two collaborated with Young Thug on "Pick Up The Phone," a 2016 release that also appeared on Scott's album from the same year.
At first glance, Quavo and Scott seem like a natural pair. Scott has always pushed a melodic spin on trap music, taking cues from Kanye West and Kid Cudi in ways that his contemporaries take cues from Gucci Mane and Young Jeezy. Quavo has always been the most melodic and charming of the Migos and is responsible for many of the group's best hooks. In the same way that Scott's early appeal was his dark and brooding production, Quavo's appeal is his ability to weave hooks, bridges, and ad libs into a memorable performance while Takeoff and Offset do the lyrical heavy lifting.
So it's surprising that the two meet on Huncho Jack over production that is more on Quavo's home turf. Scott's warped samples, buzzing synth lines, and distorted kicks are almost all gone. What's left are the generic trap drums and Nexus synths of Atlanta hip-hop. Admittedly, it was Migos that helped popularize this sound. You can't fault Huncho Jack too much for indulging in the signature sounds of the two artists that helped popularize melodic trap music. At the same time, the collaboration should have opened the door for more experimentation. Untethered from his two compatriots and with the influence of Scott (whose past vocal performances show he isn't afraid to distort, pitch down, or autotune his voice into oblivion), this should be Quavo's time to break the mold. He does none of this. His verses are a mix of sports references, boasts about money/jewelry/women/cars, and vague images of gang violence. The problem isn't so much that his verses are repetitive, it's that there's no respite from the repetition. The album is 13 songs long and the only features are Takeoff and Offset who get one verse each.
Scott's vocals are equally unimpressive. His imagery is vague and he mostly sticks to rapping about drugs and cars for the majority of the album. He does have a stronger singing voice than his counterpart, and some of the best melodic moments on the album are Scott's hooks. "Moon Rock" has the haunting detuned bells of previous Scott albums and he switches up his vocals from belting the first few lines of his first verse to a brooding monotone within the first minute. This verse is also his most interesting on the album, recalling some of his earlier darker material. He's paranoid, drugged out, and high-strung. "Why I'm startin' to dance, what in the hell did you hand me," he raps as high pitched 808s ping pong in the background.
The album isn't without its bright spots. Scott and Quavo helped popularize melodic trap music and occasionally the two connect in ways that make it clear why they're at the top of their game. "Motorcycle Patches," one of the two tracks on which Scott has a production credit, is an example of the two getting the formula correct. It's more up-tempo, which forces Scott and Quavo to lose some of the codeine soaked moaning they employ on other tracks and actually rap. The opening track "Modern Slavery" has the best hook of the album which is also Scott's best vocal performance. Quavo's line "all these chains on me, modern slavery / but this ain't 1800 so they pay me" is sort of profound if you interpret it charitably.
It's almost as if they could recite each other's verses from different songs and the album would more or less sound the same. It makes for a monotonous listen.
The biggest flaws of the album, its length and lack of interesting lyrics, are hard to overlook and unfortunately play off of each other. Not only is every song about the same thing, but every verse is about the same thing. Quavo and Scott are almost too similar in style for their own good. They complement each other at the cost of any variation between their performances. It's almost as if they could recite each other's verses from different songs and the album would more or less sound the same. It makes for a monotonous listen. Huncho Jack is essentially a 40-minute Quavo song featuring Travis Scott.
At their best, collaborative albums can push the participating artists out of their creative comfort zones and into new territory. They can be greater than the sum of their parts. But recent collaborative/group albums like Drake and Future's What A Time To Be Alive, ASAP Mob's Cozy Tapes series, and Huncho Jack fall flat because they play it safe, the stay firmly planted where the artists are comfortable. Good music has come out of all of these projects, and Huncho Jack has some standout tracks. But none of them innovate past the sound that audiences are already used to from the participating artists. Three years ago Quavo pulled aside Leon Neyfakh, the author of their cover story and asked him "how long? How long you think we gonna last?" The answer for the next three years depends less on whether the Migos stay together and more on how well Quavo, Takeoff, and Offset can stay innovative and avoid the comfortable mediocrity of efforts like Huncho Jack.