Oscar De La Hoya Secretly Training to Do Battle With Conor McGregor
"I'm calling him out. Two rounds, that's all I need."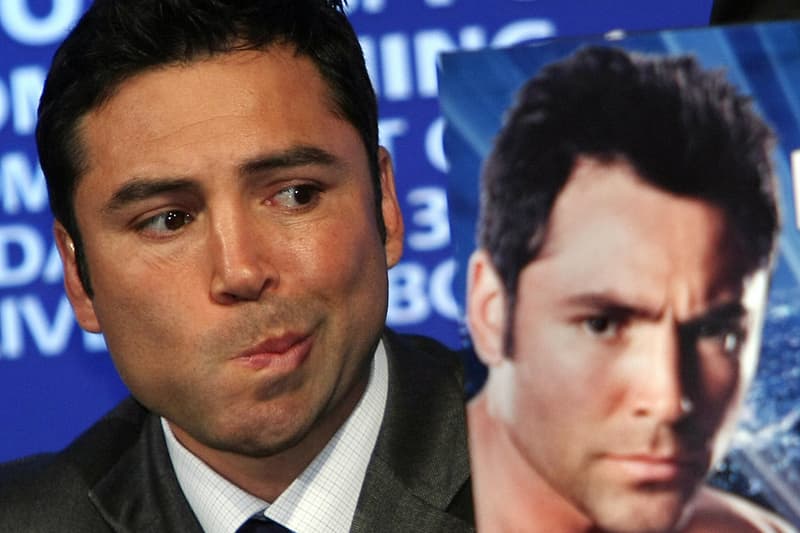 In the lead up to this past summer's super fight between Floyd Mayweather vs. Conor McGregor, Oscar De La Hoya not only publicly announced his distaste for the bout, but even pleaded with his fans to boycott from watching it. However, in a sudden change of heart, the former boxer champ has stated that he has been secretly training for one career comeback fight and would like his opponent to be none other than McGregor.
De La Hoya recently guested on Golden Boy Radio – proclaiming to all that tuned in that if such a fight would ever happen, he would surely make quick work of his opponent.
According to a report by ESPN, when asked specifically about his intentions, The Golden Boy had this to say:
"I still have it in me. I've been secretly training…I'm faster than ever and stronger than ever. I know I can take out Conor McGregor in two rounds. I'll come back for that fight. Two rounds. Just one more [fight]. I'm calling him out. Two rounds, that's all I need. That's all I'm going to say. You heard it on Golden Boy Radio. Two rounds, that's all I need."
Golden Boy on @dash_radio Tattoo & The Crew: ?@OscarDeLaHoya has been secretly training and says he only needs two rounds to knockout @TheNotoriousMMA pic.twitter.com/9J9cGuS2MK

— Golden Boy Boxing (@GoldenBoyBoxing) November 13, 2017
While still speculation for now, be sure to check back for future updates as they surface. In the meantime, check out the video above and have a look for yourself.