De La Hoya Asks for a Boycott of McGregor vs. Mayweather in Open Letter
"Our sport might not ever recover."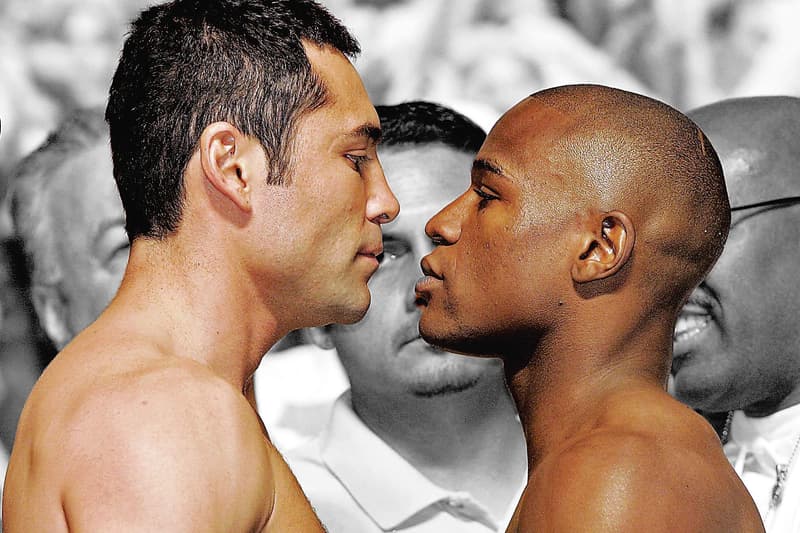 Legendary boxer-turned-promoter Oscar De La Hoya issued a letter to his fans via Facebook earlier today, asking for a boycott of the McGregor vs. Mayweather Jr. mega-fight, should it become a reality. "At this point, only we can shut the circus down by making it clear that we won't pay to see a joke of a fight and telling our casual-fan friends that they shouldn't either," said The Golden Boy in his statement.
De La Hoya's point, a very true point, is that the sport of boxing doesn't need this crossover bout, as it's currently experiencing a very necessary revival.
Boxing is starting to dig out of the hole that Floyd and Manny Pacquiao shoveled by waiting seven years to put on a fight that ended up being as dull as it was anti-climactic.

2017 has started off as a banner year for boxing. Joshua vs. Klitschko; Thurman vs. Garcia; Golovkin vs. Jacobs; Canelo vs. Chavez. All four of these fights – and many more — have brought the fight game back and reinvigorated interest from the ever-elusive casual fan.
The gold medalist argues that "our sport might not ever recover" because "Floyd's and Conor's motivation is clear. It's money." And sure, while both fighters are destined for quite the payday — we're talking big bank here — that doesn't mean it lacks real integrity and competitiveness, meaning both fighters honestly think they can win, and will train accordingly.
For those that find it to be a mockery of the sport they love, boxing, think about what the likely result might mean. Should Floyd win, it may silence the many MMA fighters and fans that think boxing is a cake-walk in comparison.
Or, Oscar could be right, it may just be a total sideshow, distracting us from the great fights we have coming up, including September's Canelo vs. Golovkin title fight, which De La Hoya is putting on, coincidentally enough. But then again, we all have the attention span to follow the happenings around more than one fight, right?
Whatever your stance on McGregor vs. Mayweather, De La Hoya is right about one thing: boxing is exciting again.