Nike Reveals the Untold Story of the Nike Air Max Plus
Designer Sean McDowell explains the shoe's roots.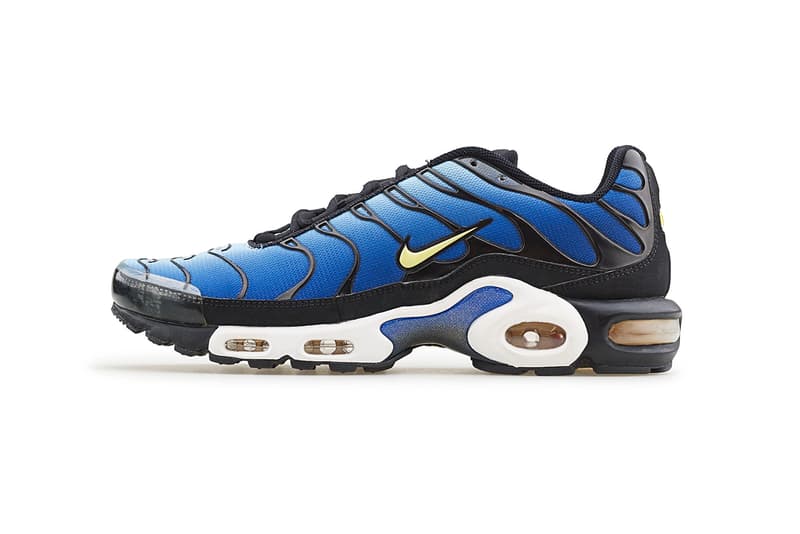 Nike's Air Max Plus is one of its most recognizable silhouettes — the shoe has a silhouette and details like no other and perfectly encapsulates the Swoosh's late-nineties design ethos of pushing progressive running shoe tech. Sean McDowell, the shoe's designer, explained the origin and conception of the sneaker.
On the initial inspiration:
"One evening, it was turning to dusk, so the very blue sky was starting to fade to dark blue, and the palm trees were blowing in the wind. … I sketched that out, and I thought, 'It could make a quarter panel, like you could hold your foot down with those palm trees."
On the design process:
"I did a sunset. I did a blue one. I did a purple one. I tried a couple of different colors and sky versions, some palm trees were a little more tech-y and very geometric, and others were waving. The shank is a modified whale tail … That tail coming out of the water is so iconic. … I wanted to put some emphasis on the top-down view. The palm trees looked good on the medial and lateral sides, but when it came to connecting them on the top it looked weird to have a straight line connecting them, so I thought, 'What else could I do that's a little more interesting?'"
On the shoe's unusual Swoosh:
"No one had given me any guidance because it was my first few days. The shape is a little bit off, and I put the border on the inside, when technically all the brand guidelines say to go outside."
On overcoming challenges:
"I drew the fade and everyone was like, 'You'll never be able to do that, you can't find a material like that.' And I said, 'We'll just sublimate it.' … They were doing it in apparel, so I thought it would be pretty easy. … The first sample was perfect. … I suggested making the whole shoe out of thin welded TPU. … "I was told, 'Fly to Asia, make the samples, and hopefully the meeting goes well. … They told [me] it was too big to weld. It would take too much power and either melt the fabric or wouldn't bond."
On memorable tributes:
"I saw somebody who got their whole foot tattooed in the pattern of the Tuned Air. The bottom of their foot has the outsole. … The stripes and Swoosh on the sides, black all the way up the back with the Tn logo on the back. It's wild."
Read the entire piece on Nike. The storied shoe is due to receive "Triple Black" and "Wheat" colorways.