LeBron James Appoints Himself King of New York, Gets Roasted by Twitter
"King of New York sh*t."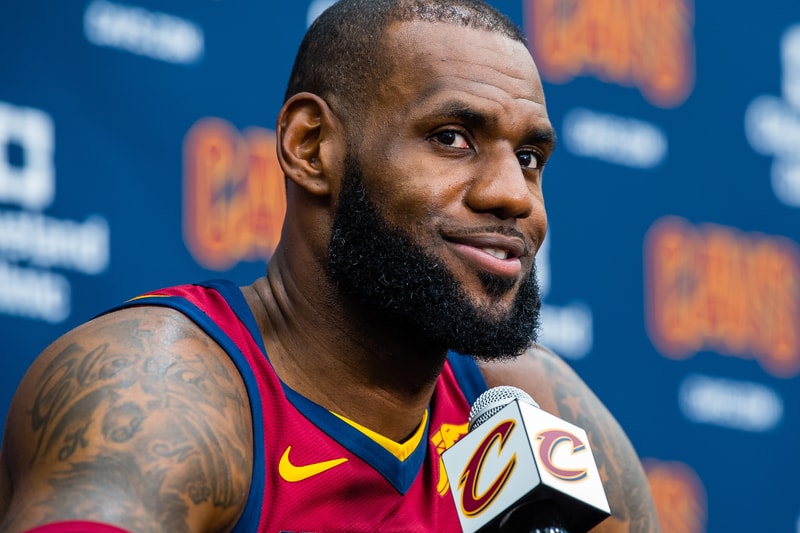 On Tuesday morning, NBA superstar LeBron James posted a photo of himself standing on the Knicks logo with a caption that read, "You're welcome… (Crown emoji) of New York." Though it may have just be a troll, the implication was obvious — James beat the Knicks a night earlier and now he rules the Garden.
However troll or not troll, James's comment managed to peeve off many fans, and those who believe Kristaps Porzingis is already the true King of New York. Check out the roasts below.
Also be sure to check out our recent interview with LeBron James during his stop in Hong Kong and our HYPEBEAST Magazine feature, LeBron James: The New-Age Leader.
King of New York?!?! 😂 Millennials have no idea the performances we old guys watched take place in MSG

— ••€ΘΔCH ΙΞΥΙΞ•• (@issac1823) November 14, 2017
Don't call yourself the King of New York, @KingJames! You've had every opportunity to come play ball here and won't. Big shot last night but you're no king of NY.

— Brian Cherello (@BCherells14) November 14, 2017
LeBron's the King of New York? Uh no thanks. pic.twitter.com/O73nyDDWpM

— Khaleda (@Khaleda_A) November 14, 2017
Lebron called himself the King of New York…… lollllll no.

— Dylan Deputy (@dylan_deputy) November 14, 2017
King of New York sports – Kristaps Porzingis and no one else. https://t.co/pgY1SOtBce

— nicky (@kporz6) November 13, 2017
Enes Kanter on LeBron James' "King of New York" reference on Instagram: "We already have a king. It's Kristaps Porzingis."

— Ian Begley (@IanBegley) November 14, 2017
Bron just posted on IG that he's the king of new York. This man really dont care anymore and I'm here for it

— Daniel Rosario 🇵🇷 (@DRosarioMTE) November 14, 2017
LeBron disrespected their rookie, disrespected their center, disrespected their front office, acted like their subway was a fun little joyride, clamped their best player in the clutch, drilled the gw 3 in their best player's face, & now calls himself the King of New York. Lmao 🐐 pic.twitter.com/HeSM2n9DLq

— Jag (@JagannathMrtn) November 14, 2017
Lebron is immensely better than any player who's ever played for the Knicks and he's torched them many times. He's the King of New York 🤷🏾‍♂️ pic.twitter.com/mPaiCRbadE

— Nebraska Ave – CloutBoyKeke (@Freak_Ke) November 14, 2017
Bruh, There's no wilder way to disrespect NEW YORK than to ride on their trains.. beat their squad.. post a pic saying im the King of New York.. Kobe/Michael should be proud.

— Jamma (Jam) (@freshjam) November 14, 2017
Folks disrespect Lebron every F'in day! Fuck yo feelings haters. King Shit, or should I say "King of New York shit" 👑👑👑💯

— Derrick Lewis (@Derrick_MSU_106) November 14, 2017