Nike Doesn't Back Down From $50 Billion USD Target During Investors Day
However it did move the forecasted date.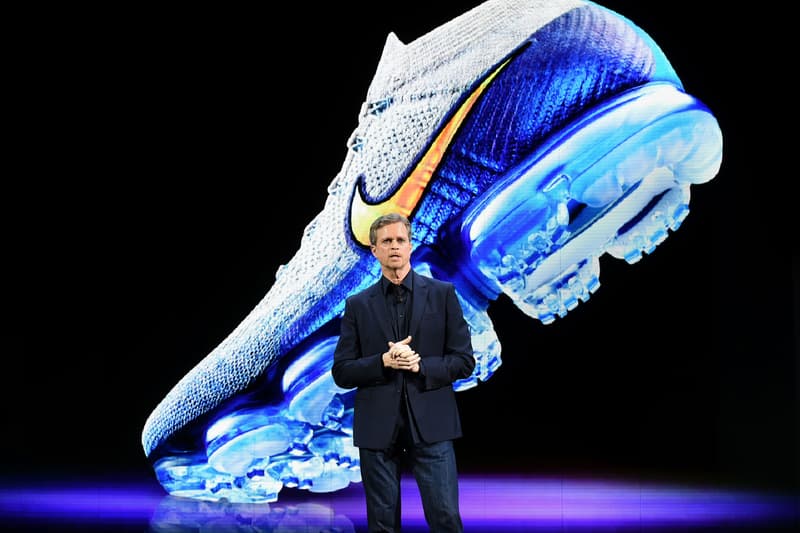 CEO Mark Parker hosted Nike's annual Investors Day in Portland earlier this afternoon, detailing the company's past performance as well as expectations for the next few years. Investors must have liked what they heard because shares for $NKE have jumped more than two percent.
The main question on everyone's mind was whether or not Parker would back down from his 2015 forecast of $50 billion USD by 2020 as a result of weakening markets and surging competitors. Mark didn't address the elephant in the room during the conference, but took to CNBC's "Closing Bell" program later in the day to inform viewers that the benchmark is still very much attainable, however it'll take another two years (2022) to reach it.
Nike cites a shift from "undifferentiated" retail channels to more direct-to-consumer measures, along with focuses on innovation, women's footwear, digital, and global expansion will aide its bullish revenue targets. The sportswear company further stated that it expects earnings-per-share growth in the mid-teens over the next five years, along with revenue growth in the high-single digits over the same period.
Watch Parker's interview with CNBC below, then read a few recap tweets from journalists following Nike's Inverstors Day.
Nike says it will make self-lacing shoe technology available "at a lower, more accessible price point" but no details yet on when / how much

— Sara Germano (@germanotes) October 25, 2017
Nike says starting this January they are putting out 25% fewer styles into the marketplace. $NKE

— Jess (@JGolden5) October 25, 2017
.@Nike will ship 1.3 billion products this fiscal year.

— Matt Townsend (@matt_townsend) October 25, 2017
Nike says it will partner with new online retailers, including Farfetch, and apps like Instagram and WeChat. $NKE

— Sara Germano (@germanotes) October 25, 2017
Mark Parker on Jordan Brand: I don't think it's losing its luster. We are bullish for Jordan going forward.

— Jess (@JGolden5) October 25, 2017
Mark Parker and Kobe tease a new shoe the "Kobe 360."

— Jess (@JGolden5) October 25, 2017
Nike will scale its React platform from basketball to running, training, and sportswear, starting with Epic React, new running shoe.

— Marc Bain (@marcbain_) October 25, 2017