These Are New York City's Michelin-Starred Restaurants for 2018
One major downgrading, seven upgrades.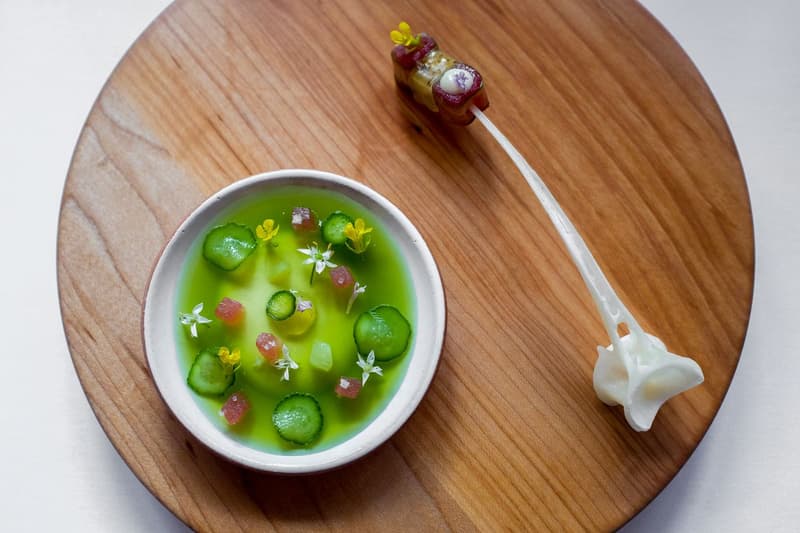 Michelin has revealed its list of New York City's starred restaurants for 2018. Following up last week's look at San Francisco, the Michelin Guide for 2018 NYC eateries awards stars to 72 establishments, including six newcomers.
Most notably, Michelin's latest guide has stripped a star away from Jean-Georges Vongerichten's eponymous Central Park West French restaurant. Having held the top accolade of three stars since 2006, Jean-Georges has now fallen to two stars, making it the first restaurant to be downgraded from three to two stars since Daniel Boulud's Upper East Side spot received the same treatment in 2015.
"Unfortunately, we saw a slow glide downward. It started off with small things . . . and it didn't get any better," Michelin Guide director Michael Ellis explained to Eater.
While New York hasn't racked up a new top tier Michelin spot since 2011, it still boasts more single-starred locations — 56 in total — than any other U.S. region covered by Michelin. On the positive side of the spectrum, Cote, The Clocktower, Bar Uchu, Rouge Tomate, Sushi Ginza Onodera, Satsuki and Sushi Amane have all been brought into the ranks for the first time or received additional stars.
You can check out the full list of New York City's Michelin-starred restaurants below.
Michelin Star Restaurants for 2018 – New York City

Three Stars
Chef's Table at Brooklyn Fare
Eleven Madison Park
Le Bernardin
Masa
Per Se

Two Stars
Aquavit
Aska
Atera
Blanca
Daniel
Jean-Georges (downgraded)
Jungsik
Ko
Marea
The Modern
Ginza Onodera (upgraded)

One Star
Agern
Ai Fiori
Aldea
Aureole
Babbo
Bar Uchu (new)
Batard
Blue Hill
The Breslin
Cafe Boulud
Cafe China
Carbone
Casa Enrique
Casa Mono
Caviar Russe
The Clocktower (new)
Contra
Cote (new)
Del Posto
Delaware and Hudson
Dovetail
Faro
The Finch
Gabriel Kreuther
Gotham Bar and Grill
Gramercy Tavern
Gunter Seeger
Hirohisa
Jewel Bako
Junoon
Kajitsu
Kanoyama
Kyo Ya
L'Appart
La Sirena
La Vara
Meadowsweet
Minetta Tavern
Musket Room
Nix
NoMad
Peter Luger
Rebelle
River Cafe
Rouge Tomate (new)
Satsuki (new)
Sushi Amane (new)
Sushi Inoue
Sushi Yasuda
Sushi Zo
Tempura Matsui
Tori Shin
Uncle Boons
Ushiwakamaru
Wallse
ZZ's Clam Bar