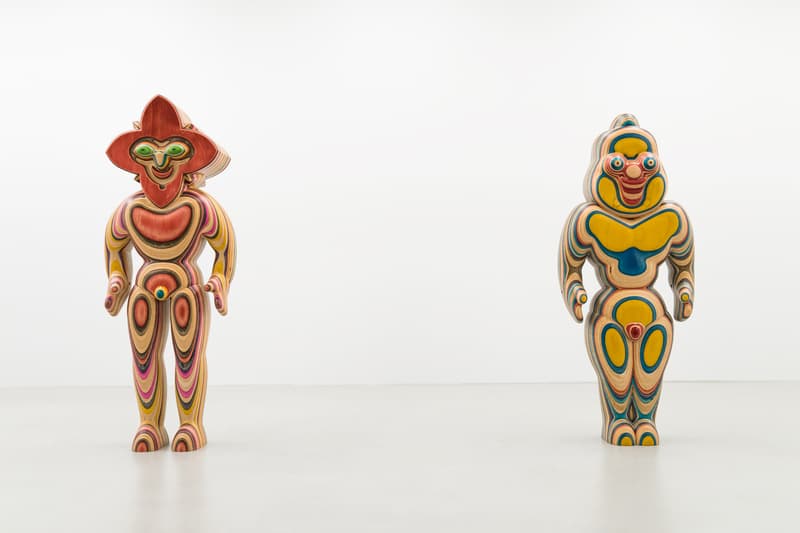 How Haroshi & Meguru Brought Japanese Spirit to New York
An intimate discussion between mentor and protégé.
---
Much in thanks to artist Meguru Yamaguchi, the avant-garde Japanese Gutai movement of the 1950s found a path to Brooklyn, New York. The rising Japanese artist meticulously creates three-dimensional brushstrokes — a new method inspired by the groundbreaking work of Gutai founder Kazuo Shiraga, who propelled unconventional forms of art.
While retaining the Gutai ethos, Yamaguchi evolved his style throughout the years, especially when he touched down in the Big Apple a decade ago. A significant part of his artistic development is due to the advice and mentorship passed on by renowned Japanese artists including skateboard-sculptor Haroshi and contemporary artist, Matzu. In fact, Yamaguchi first met Haroshi seven years ago—a spontaneous encounter that took place in Matzu's studio when Yamaguchi was working as his assistant.
Yamaguchi and Haroshi's relationship became stronger ever since that initial meeting. It was a great pleasure to be in the presence of both artists during Haroshi's solo "GALLERY SHOW" at the new Arsham/Fieg Gallery inside the new KITH store in SoHo, New York. We sat down with the Japanese artists (Haroshi to the left and Yamaguchi to the right as depicted below) to discuss humble beginnings, future projects and how to achieve success as an artist. Read on for key insights and an up-close look at the show, including appearances from KAWS, Daniel Arsham and Ronnie Fieg.
How did your friendship and artistic partnership start?
Meguru Yamaguchi, @meguruyamaguchi We met around seven years ago. Haroshi came to artist Matzu's studio where I used to work at as an artist assistant. That's how I met Haroshi and learned about his works. I immediately became a big fan. Three years later, I made a comment on Haroshi's Instagram and he made a comment back on my Instagram about my works. The relationship grew stronger from there.
Haroshi, @haroshi Hmm, I don't remember when we met. It's been a while. Anyhow, When I visited the [Matzu] studio, I wasn't an artist yet. I was making something, but I didn't define myself as an artist. I remember Matsu was getting angry at Meguru (laughs). To me, Meguru was already in the early stages of being an artist, and I was also about to build a career as an artist. We were similar in that sense. I've been watching Meguru since then.
Describe your mentor-protege relationship. Any important advice and artistic styles that you both share?
@Haroshi He is a very popular artist, so I want to ask him for advice! I want you [Meguru] to teach me! Well, we started from zero, so I'm so happy to see him doing well. If I do very well, I will hook him up with other art people and if he does very well, he will give me a chance to work for art projects. That's how it works in the art world. We help each other. We started from the bottom, that's the real street. We are like Capsella bursa-pastris (it's called Penpen-gusa in Japanese) which grows out of the cracks between concrete blocks.
@MeguruYamaguchi I make something very different from Haroshi. I respect him so much, so I don't feel I'm eligible to be compared. He is more of like a craftsman who can make something very precise and detailed work, but I am not. I was probably inspired by his style; that's why I made this new type of artworks which are somehow between sculpture and painting. I realized this now so I'm not sure though, haha!
I used to work at a butcher's shop, and my colleagues knew about Haroshi—that's pretty rare that normal people know about artists. Of course, renowned artists like Takashi Murakami, Yoshitomo Nara, Kohei Nawa are very influential, but I respect Haroshi who can be a big inspiration for the general public who aren't very familiar with arts.
Haroshi, can you tell us about the new Guzo pieces here at the Arsham/Fieg gallery?
@Haroshi In Japan, we have Dosojin (a road ancestor kami) and Ojizo-san (a Buddhist monk). They are everywhere on the street. People take them for granted and overlook their existence. Those objects are very interesting to me. I question myself what an iconic figure is and thought my ideal figure would be a skateboard. I was wondering how I can create an idol figure like religious leaders such as Buddha and Christ. I realized that every idol figures went through continuous hardships and discipline, then they understood people's suffering. When they reached to that point, people started respecting them as an iconic figure.
For me, skateboarding is also similar to those ideal figures who went through the hardships because skaters step on their decks every day and smash them sometimes. If I use those materials to reproduce the artworks—which are similar to Dosojin appearance—then, I thought I can make something ideal for our modern culture. Making a sculptural idol out of those skateboards can be a good reflection to those traditional iconic figures.