The Five Best Collections from Seoul Fashion Week Spring/Summer 2018
Get these on your radar.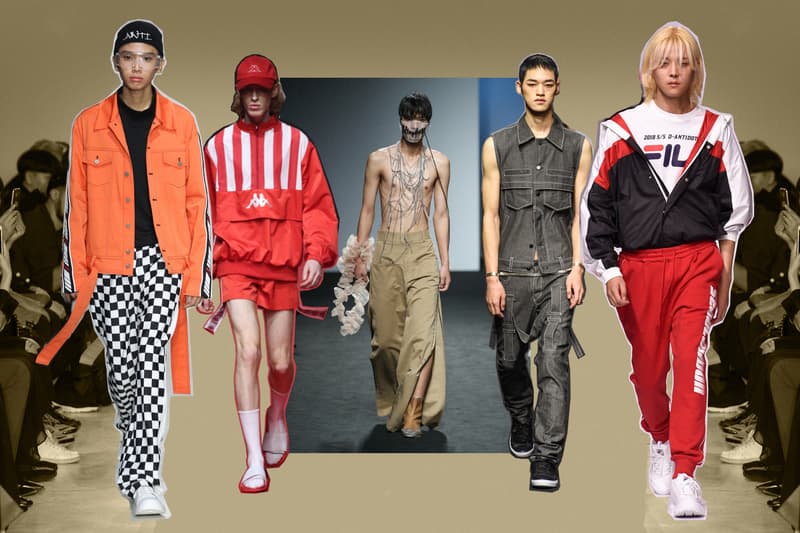 For several seasons now, Seoul's biannual sartorial spectacle has asserted itself as the most popular of all niche fashion weeks falling outside of the more hyped "Big Four" — Paris, Milan, London and New York — circuit. Renowned for its promising design talent, sprawling retail landscape and dazzling street style, the South Korean capital's fledgling fashion industry has become a growing point of interest for international editors, buyers, influencers and photographers.
For its Spring/Summer 2018 showcase, Seoul Fashion Week took over the Zaha Hadid-designed Dongdaemun Design Plaza for five jam-packed days of back-to-back designer presentations. While many shows demonstrated hints of progressive ingenuity, only a handful of designers truly delivered high-quality collections that followed an original and cohesive edit.
From post-Internet streetwear to fetishistic suiting, here are five of the best collections from Seoul Fashion Week Spring/Summer 2018.
Charm's
Every fashion week has that one show that attracts hordes of celebrity guests, resulting in a furor of pushy security guards, shrieking fans and violent strobes from flashing photographers – for Seoul, that show belonged to Charm's. Met with a sizable roster of attendees that included an entire row of dazzling K-pop stars, the 2013-birthed label is one of the city's most popular among youthful fashionistas.
With designer Yohan Kang at its helm, Charm's is, at the core, a streetwear imprint defined by oversized silhouettes, bold logos and vibrant colors, but this season, Kang separated his presentation into two parts; the first half was devoted entirely to tailored ready-to-wear that melded business casual staples with a street-tinged flair, while the latter half debuted a lengthy collaboration with Italian sportswear label Kappa. As a whole, the collection was one of the week's most cohesive and successfully filtered the season's biggest trends through a lens that was entirely unique to Seoul's local aesthetic.
D-Antidote
The second Seoul Fashion Week designer to collaborate with a notable sportswear label, Central Saint Martins alum Park Hwan-sung's D-Antidote imprint debuted a collection in partnership with FILA for Spring/Summer 2018. Taking cues from both his British schooling days and K-pop, the designer churned out a bevy of boldly-colored tracksuits marked by relaxed fits, lightweight fabrics and playful graphics.
While repurposed sportswear has been exhausted in recent seasons, D-Antidote's range provided enough quirky styling touches (fanny packs strapped over bulky blazers), visually-stimulating colorways and unique fabric embellishments (dangling logo straps along sleeves, pant legs and waistlines) to keep things fresh and exciting.
Antimatter
Blanketed under Seoul Fashion Week's emerging designer showcase, Kim Ji-woong's  Antimatter presentation offered some of the week's strongest graphic streetwear. A smattering of neon post-Internet digi-graphics, black and white checkered prints and sporty fabrics, the collection felt very Soundcloud rapper-meets-truant '80s teen mall rat. Sure, this aesthetic isn't particularly new, but Ji-woong's interpretation of modern Instagram-friendly fashion trends steered away from cheap mimicry and instead focused on an original design narrative that actually displayed high production value.
BLINDNESS
Founded in 2013 by design duo KyuYong Shin and JiSun Park, BLINDNESS's growing popularity has reached new heights in recent seasons, especially among the global fashion set – the label made the 2017 LVMH Prize short list and has landed several features on esteemed style outlets such as i-D, DAZED and Vogue.com. Lauded for its gender-annihilating ethos and avant-garde design touchstones, Spring/Summer 2018 was business per usual for the challenging Seoul-based imprint.
Slogans such as "Blind Gender Roles" and "Fuck Gender" were emblazoned on deconstructed T-shirts, feathery nylon raincoats draped along the runway and featured toggle ties throughout the sleeves, pearls were weaved into sheer black face masks and denim trousers were slit and bow-tied together. From a commercial standpoint, BLINDNESS is one of those brands that favors its editorial cred over any kind of mainstream recognition, but that's what has contributed to its success in the first place; not to mention, it's still young enough to experiment and grow its brand identity.
Dozoh
Overshadowed by an abundance of sportswear and casual basics, the real highlights from Dozoh's collection were the tailored options. Sheeny pleated pants were cut long and wide, blazers were bulky and featured fetishistic embellishments such as straps and chains and denim was deconstructed every which way. Tying everything together (literally) were the collaborated jewelry pieces with local designer Mosais, which accessorized select looks with hand cuffs and chokers.
Be sure to check out all of our coverage from Seoul Fashion Week Spring/Summer 2018.