Raf Simons Pre-NYFW Debut Interview Sheds Light on Young Designers, Trump and Tom Ford's Movie
He also comments on the "originality" of Virgil Abloh's OFF-WHITE.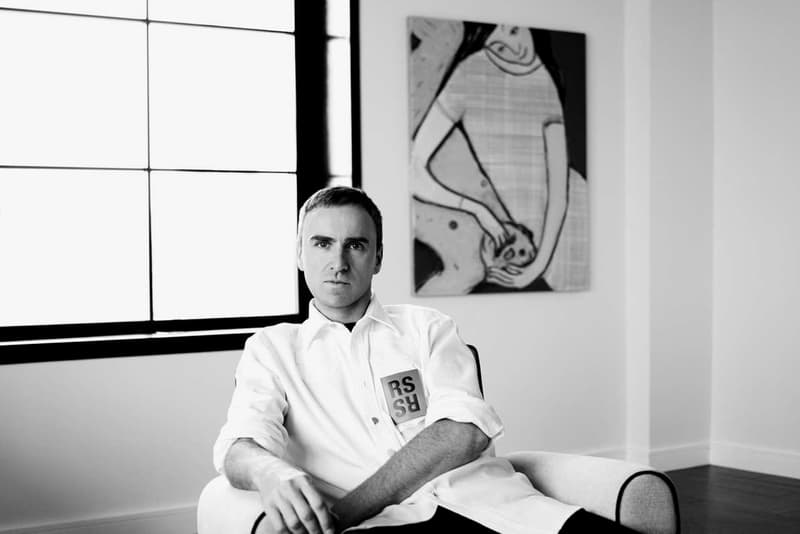 On the eve of New York Fashion Week, GQ Style caught up with designer Raf Simons for a rare, candid interview in his midtown office space. The conversation served as a segue into Simons' NYFW debut as the new chief creative officer for Calvin Klein. In the interview, questions about Donald Trump's presidency and fashion on a grand scale are brought up, while Simons also remarks on the parallels between fashion, youth and rebellion, associations with high fashion and more. Further, Virgil Abloh is also mentioned, where the CK creative director admits he is not excited or inspired by the works of OFF-WHITE.
Read excerpts below, and click here for the full interview.
You've come to New York during a fraught time. Do socio-political situations influence your work?

Yes. But I'm not gonna say—I'm gonna show. It's too fragile to express in words. It's something you have to feel. I've always thought that it's interesting if I can cause a relevant dialog, or a constructive dialog.

Do you think that fashion and design can be a form of rebellion or resistance? With a situation like Donald Trump's presidency, can it be a form of protest to design or to just get dressed in the morning?

Yes, I think it can be a form of resistance. But no more than any other person taking a position or speaking up. I don't think that because it's fashion it's more of a resistance.
It's also difficult to talk about because one thing is that when you come as a European to America, it's already quite something. My whole existence had a very specific foundation in Europe. Belgium, Paris, Milan. My company was established there and is based there still. But I had to rethink the whole thing because the one thing that I said is that, if I step into a new creative director position, I'm not traveling anymore. I came to an age where I found that to be the very annoying part of the job. Because I'm really still challenged by doing these two different things. I always like to do that.

What do you mean when you talk about the new youth of fashion? Do you mean young designers?

No. Spectators. And people that just bring out their opinion. People that have dialog with other people. I'm analyzing and analyzing and analyzing, trying to take it all in. Trying to figure out what it is that changed in fashion so much. And what changed in fashion so much is that it no longer belongs to a bourgeoisie small environment.

It isn't just for the elite anymore.

I was actually someone who was very often saying that fashion keeps thinking that it can serve everybody, that it can be there for everybody, high fashion. I'm sorry, but high fashion was always for a small environment. High fashion by nature used to be extreme. Right now we define a lot of things as high fashion, but they're not high fashion. They're clothes. They're clothes on the runway with a nice little twist of styling and coloration. Everybody thinks it's high fashion. Bullshit. There is very little high fashion.

There are some designers now—and I'm thinking of Virgil Abloh at Off-White, Demna Gvalasia with Vetements, Gosha Rubchinskiy—who are connecting with the youth through fashion in a new way. Are there any young designers today that inspire or excite you?

Yes.

Anyone in particular?

Not Off-White. He's a sweet guy. I like him a lot actually. But I'm inspired by people who bring something that I think has not been seen, that is original. It's not always about being new-new because who is new-new?

Do you think about going beyond collaboration and going into other mediums?

Thinking, yes. But I will not do. Not now.

Because of time? Or that your creative expression is best focused on fashion?

Definitely not because of time. That would not be a reason. It's always horrible, time. If you're convinced about something, you will manage it. It's not that, I think it's more that if I would step into another field it would require full dedication. People have been asking, why would you not want to be an artist, sometimes we think you're an artist. But no, I'm not an artist. I'm a fashion designer. If ever I would do it, there cannot be fashion anymore in my life and I would do art. But how are you going to erase 21 years of fashion?

Helmut Lang did it.

Yeah. He kind of did.

And Tom Ford made a movie.

[Raf does a small bow in his seat] Really. I bow for that one. I find it really mind-blowing. The work that has to be done to get to the point that this movie is coming out, aside from doing the collections. Wow. I find it mind-blowing. I don't know if I could do that similarly. I think that I would just want to, not erase, but try to have a clean slate. I can't even say what it would be. There are a lot of things that inspire me. But I would probably have a fear to do art. Because it is the world that I still kind of idealize probably too much.