These Are Rare BAPE Lifestyle Items That You'll Probably Never Use
Ranging from extremely limited to just plain absurd.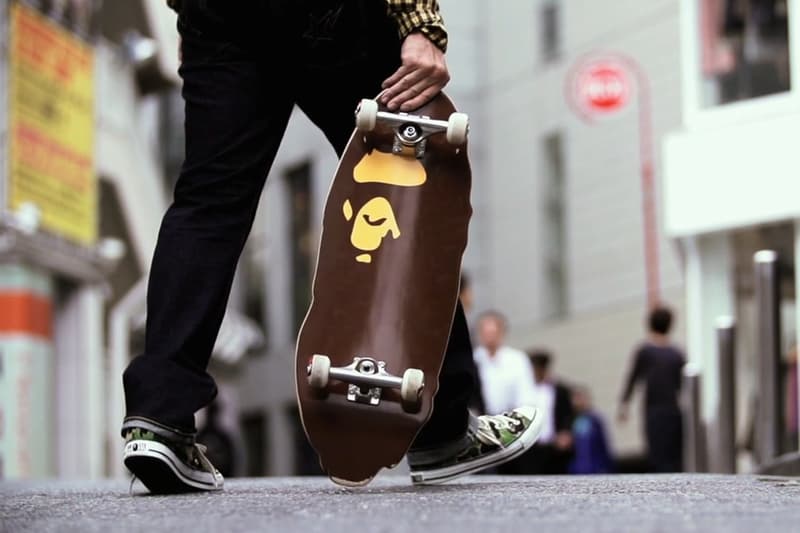 Considered as one of the original streetwear brands, founded by NIGO in 1993, A Bathing Ape is no stranger when it comes to the game of producing items in a limited quantity. Due in large part of the brand's recognizable ape head and signature camouflage patterns, items quickly became the ultimate badge of street cred among the hipsters in the back alleys of Harajuku and eventually making its way to the sidewalks of New York City. By carefully nurturing his label, NIGO has turned A Bathing Ape into a cultural phenomenon by striking a fine balance between exclusivity and mass appeal.
With the ubiquitous ape head appearing on everything from vinyl figures to Pepsi bottles, it's no wonder eager fans are willing to line the blocks to get their hands on these coveted items and buy into the lifestyle that NIGO has put up for sale. Here we've compiled a list of ridiculously awesome, limited edition BAPE products you'll want to own but probably never want to use.
Baby Milo Toilet Paper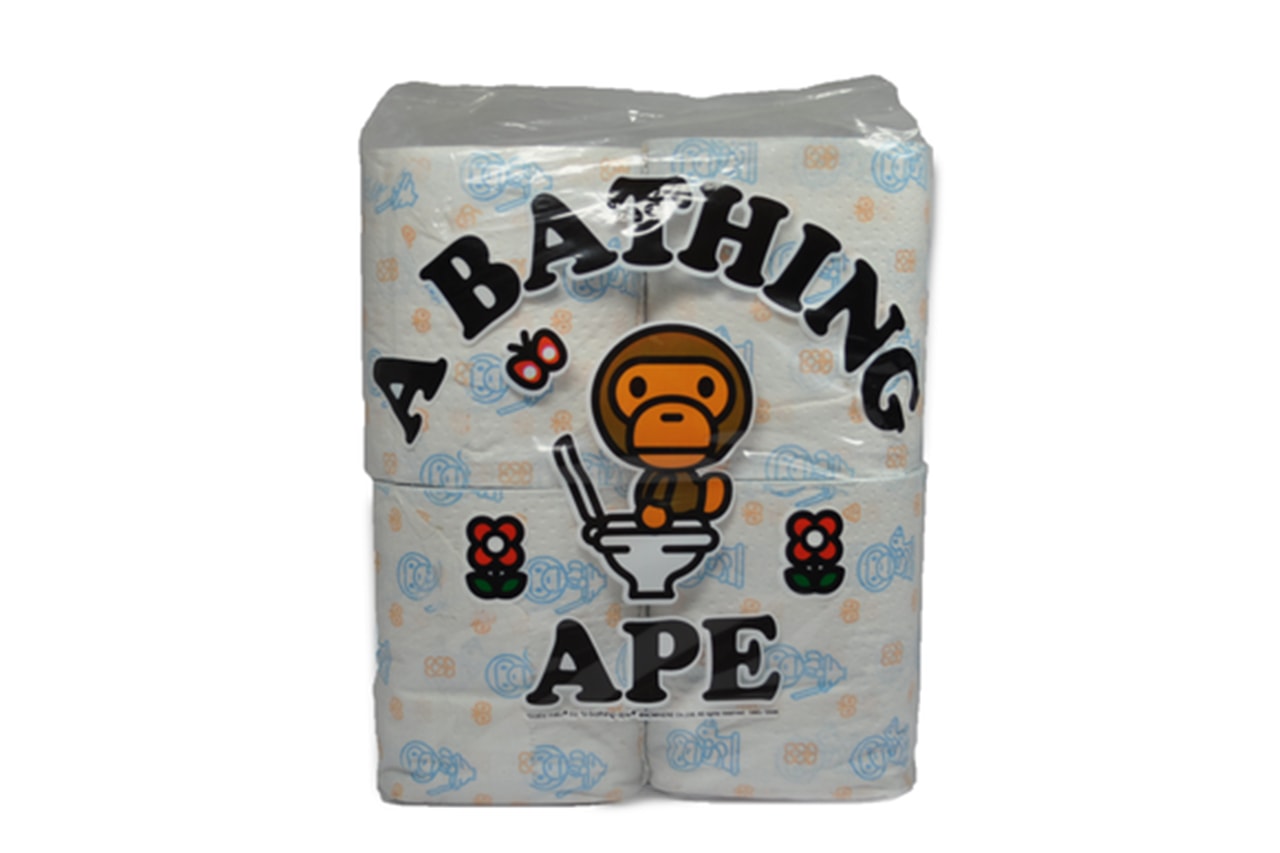 Originally released in 2007, BAPE's cutest mascot, Baby Milo, could be found all over the sheets of toilet paper. Available as a Bape Mania novelty gift for spending a certain amount of money at BAPE STORES, this definitely brings new meaning to "wiping your a** in style." The almost 10-years-old TP can still be found on eBay today fetching upwards to $40 USD per roll.
Baby Milo Toothbrushes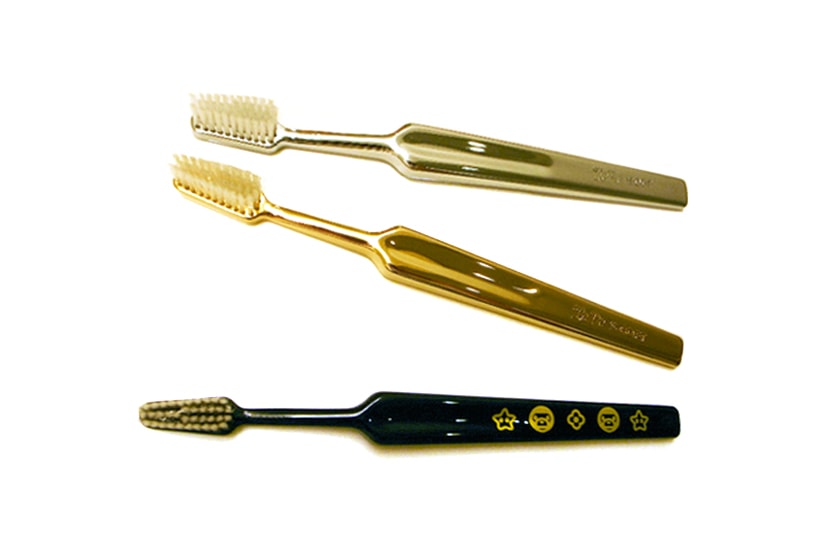 Keeping with the toiletry theme, BAPE teamed up with Swedish brand TePe, back in 2009, to release a set of toothbrushes. The first images appeared on NIGO's own personal blog showcasing the samples. One features Baby Milo and the top two are covered in 24K gold, making sure to keep those gold teeth clean.
"BAPE CAP" Condoms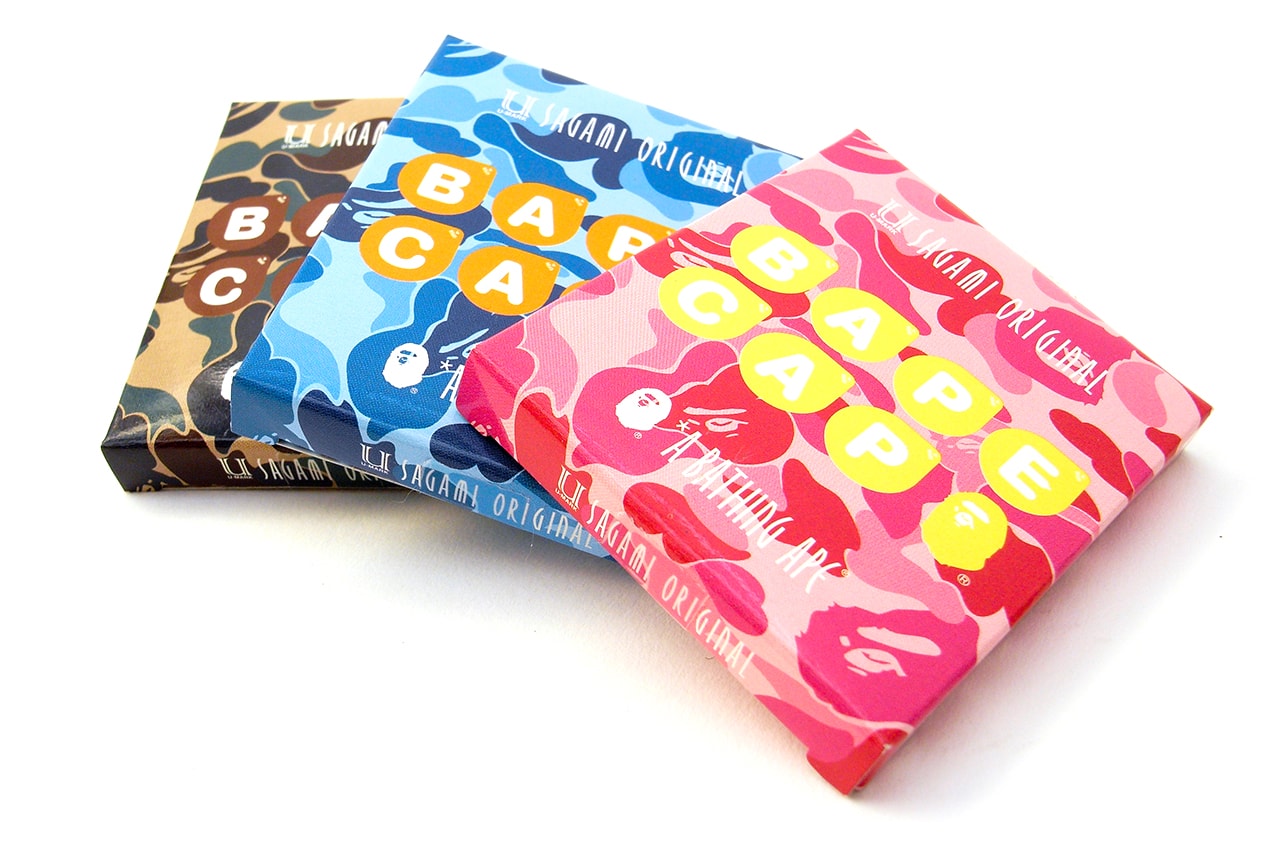 Don't be confused, we're not talking about the AAPE condoms that can be picked up at your local 7-Eleven locations across Asia today; we're talking about the original "BAPE CAP" condoms released back in 2005… which are most likely expired by now. Teaming up with Sagami Rubber Industries, the "caps" were only available at A Bathing Ape "Busy Work Shops" across Japan. For any BAPE fan that can find a girl who equally thinks this is awesome, just hold on tight. Seriously, Hold.On.Tight.
Condom Carrying Case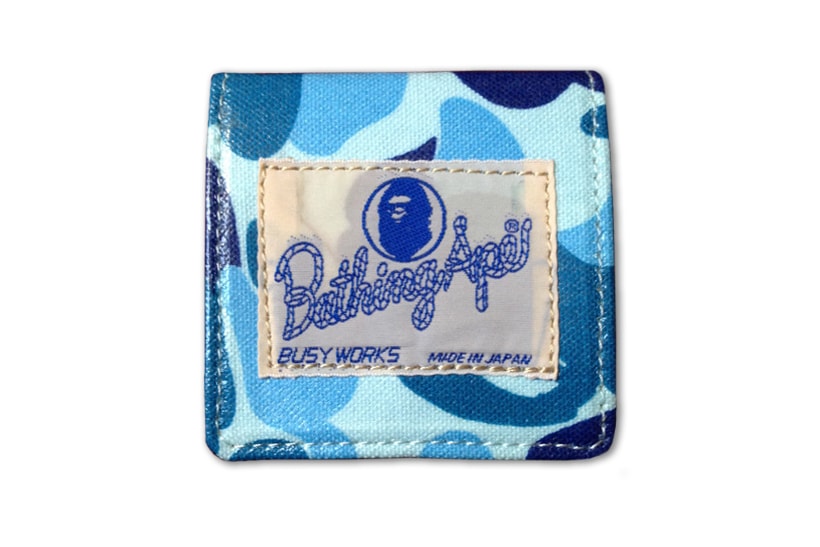 If BAPE condoms weren't enough to impress, you could carry them around in this stylish BAPE condom carrying case. For that added extra flair.
BAPE Lip Conditioner and Blot Film x MAC Cosmetics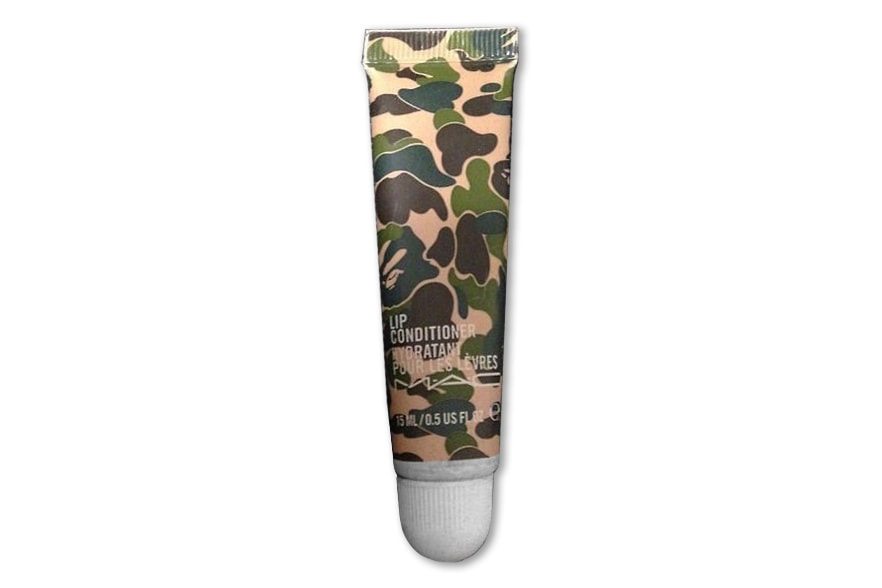 BAPE, synonymous with brilliant marketing, partnered up with MAC during Christmas of 2005 for its own set of cosmetics, which included a lip conditioner and blot film. Featured in the iconic red, blue, grey and green 1st camo as packaging, the line was only made available in Japan for all those BAPE girl fans, or for those male Bapeheads wanting to keep those lips nice and smooth.
Duct Tape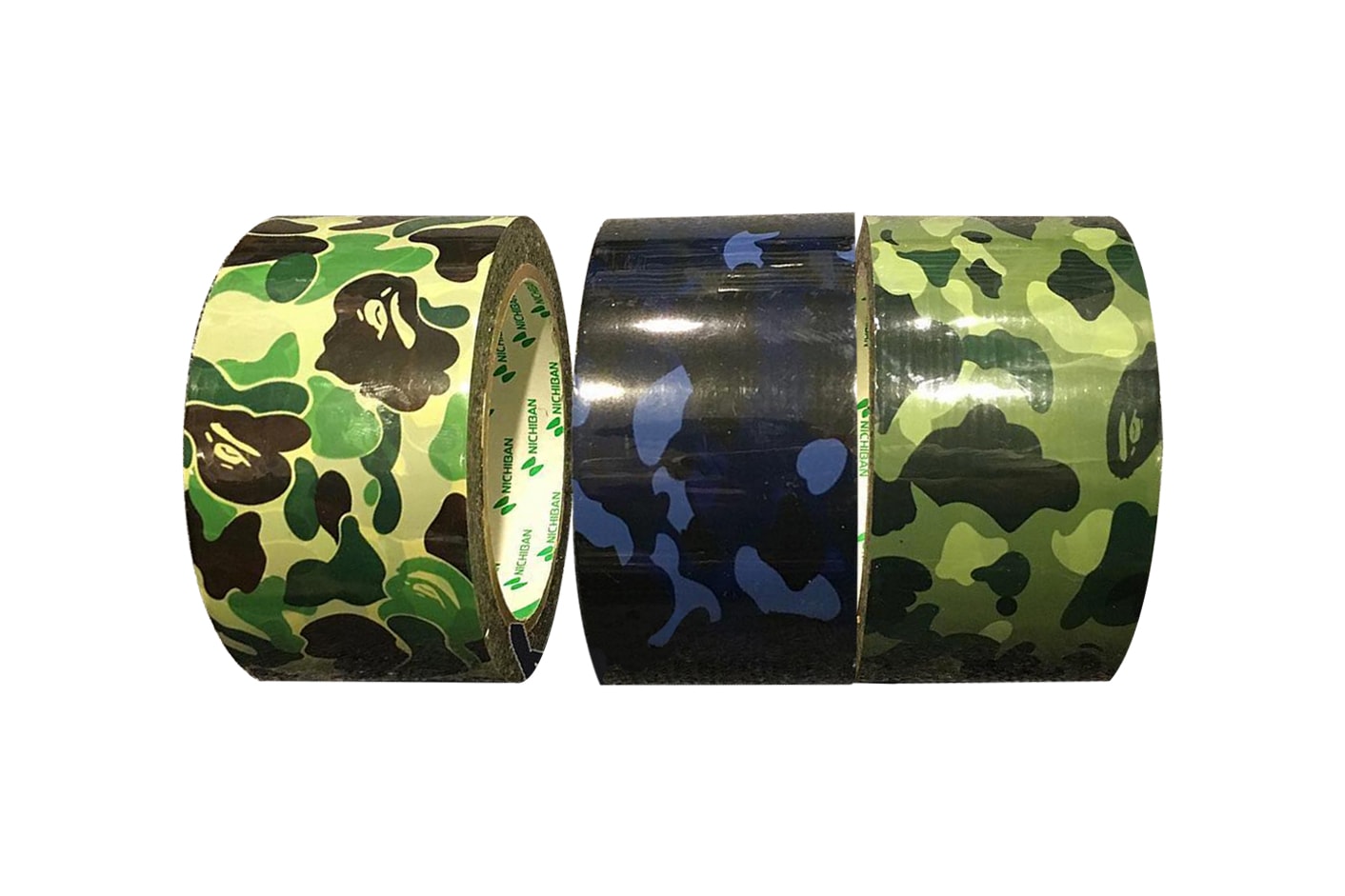 Considering this is the only tool real men use, who wouldn't want the BAPE motif added to their favorite tape? In an interview with MTV back in 2008, American hip-hop duo Clipse even expressed this item as their favorite BAPE piece. I guess the real question is, what would you actually use it for?
BAPE x Daiwa Fishing Lures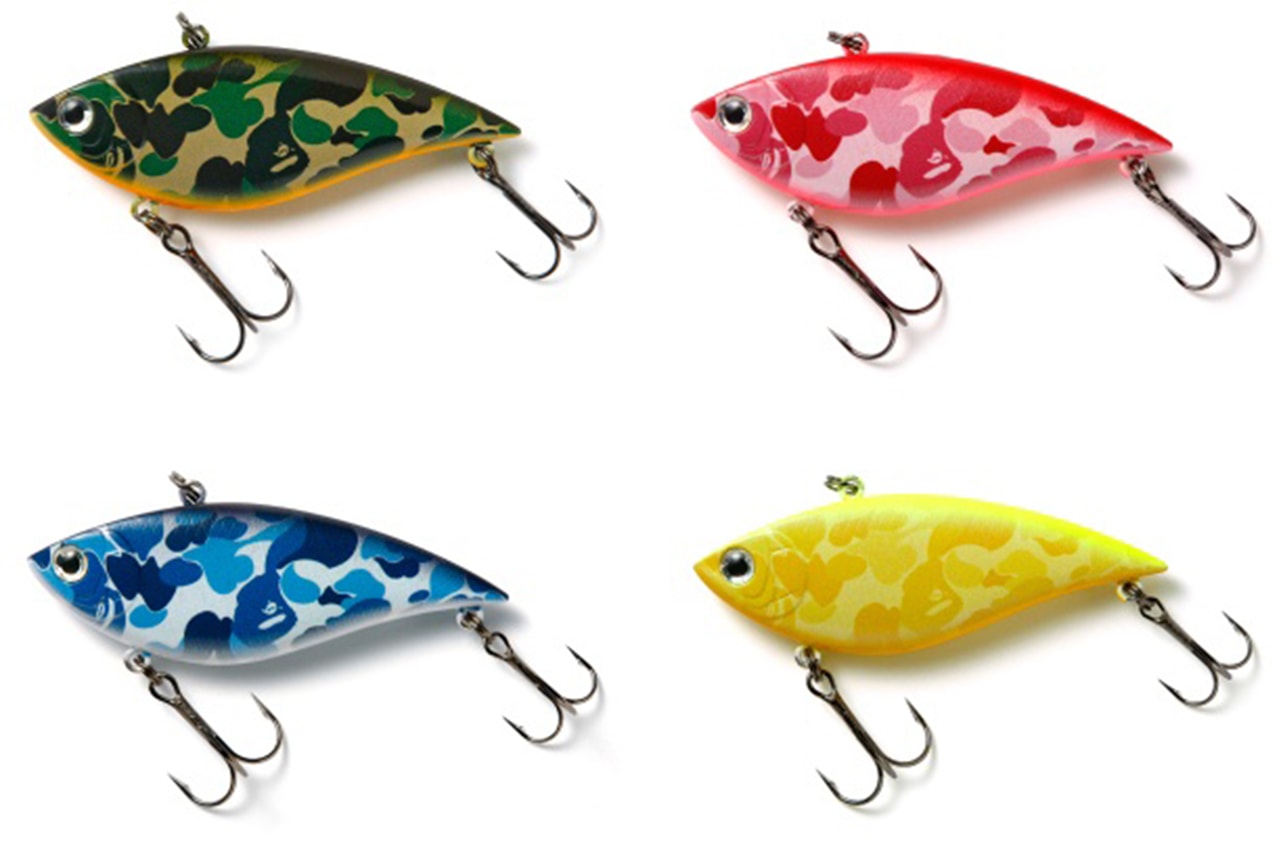 From the streets to the shores, summer of 2010 saw A Bathing Ape collaborate with Japanese fishing gear label Daiwa on the aptly named "A Fishing Ape" line. The collection, which was only available in Japan, included the Vibe 107S and R50LD-F lures both designed in BAPE 1st Camo design in four different colorways. Are the fish going to bite just 'cause it's BAPE? I guess you could take inspiration from Pharrell and wear them as an accessory on an iced out carabiner around your belt.
BAPE x SHIMA Grooming Kit
1 of 2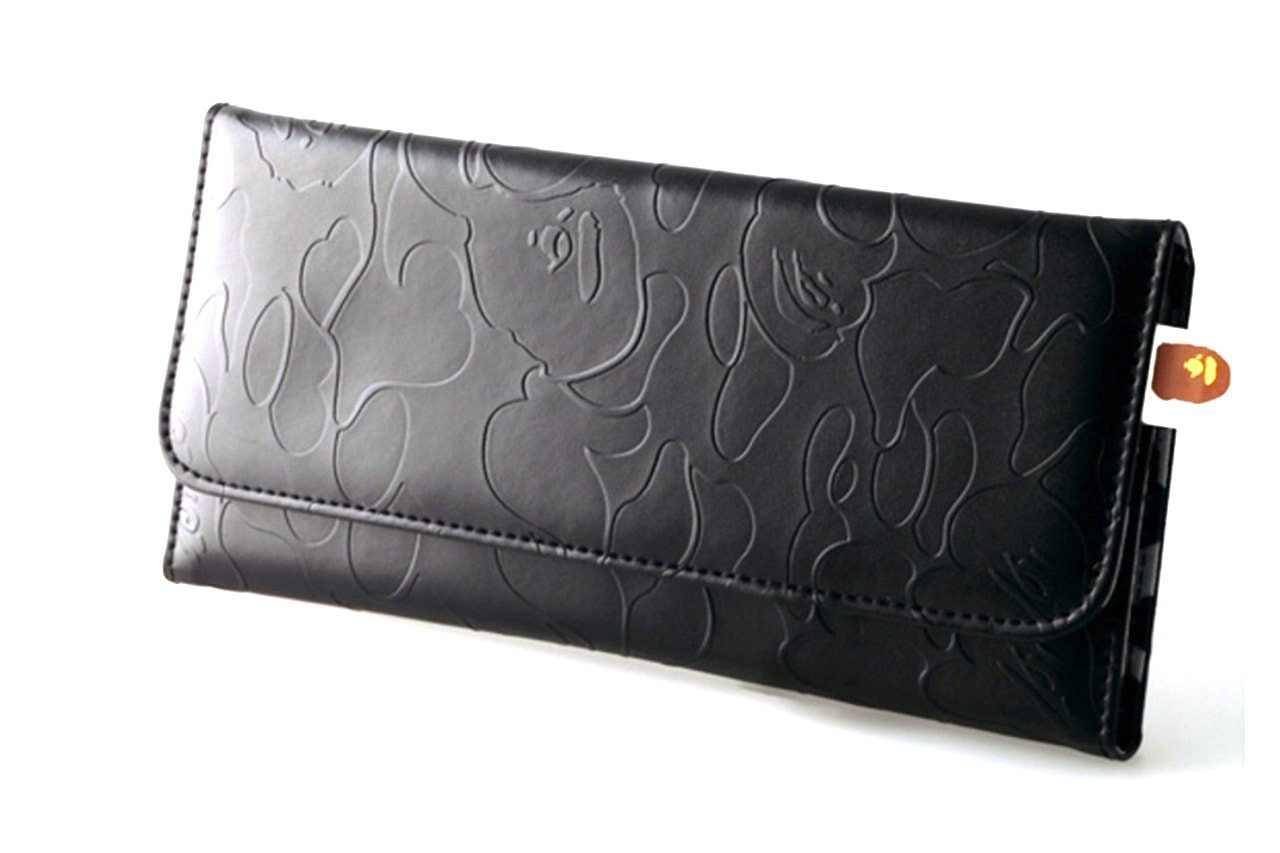 2 of 2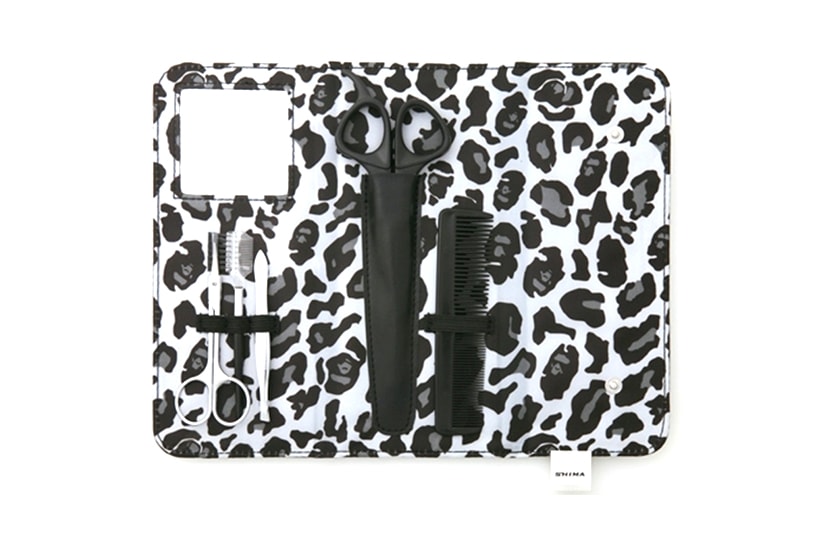 Exclusive to Japan, A Bathing Ape x SHIMA released a grooming kit in conjunction with smart magazine back in 2011. Designed by Hair Stylist Nara Yuya of SHIMA Harajuku, the kit comes packed with a pair of heavy-duty BAPE shear scissors, clipping scissors, mirror, tweezers, and a mini brush and comb for all you high maintenance BAPE heads out there trying to take care of yourself on-the-go.
BAPE Head Paper Weight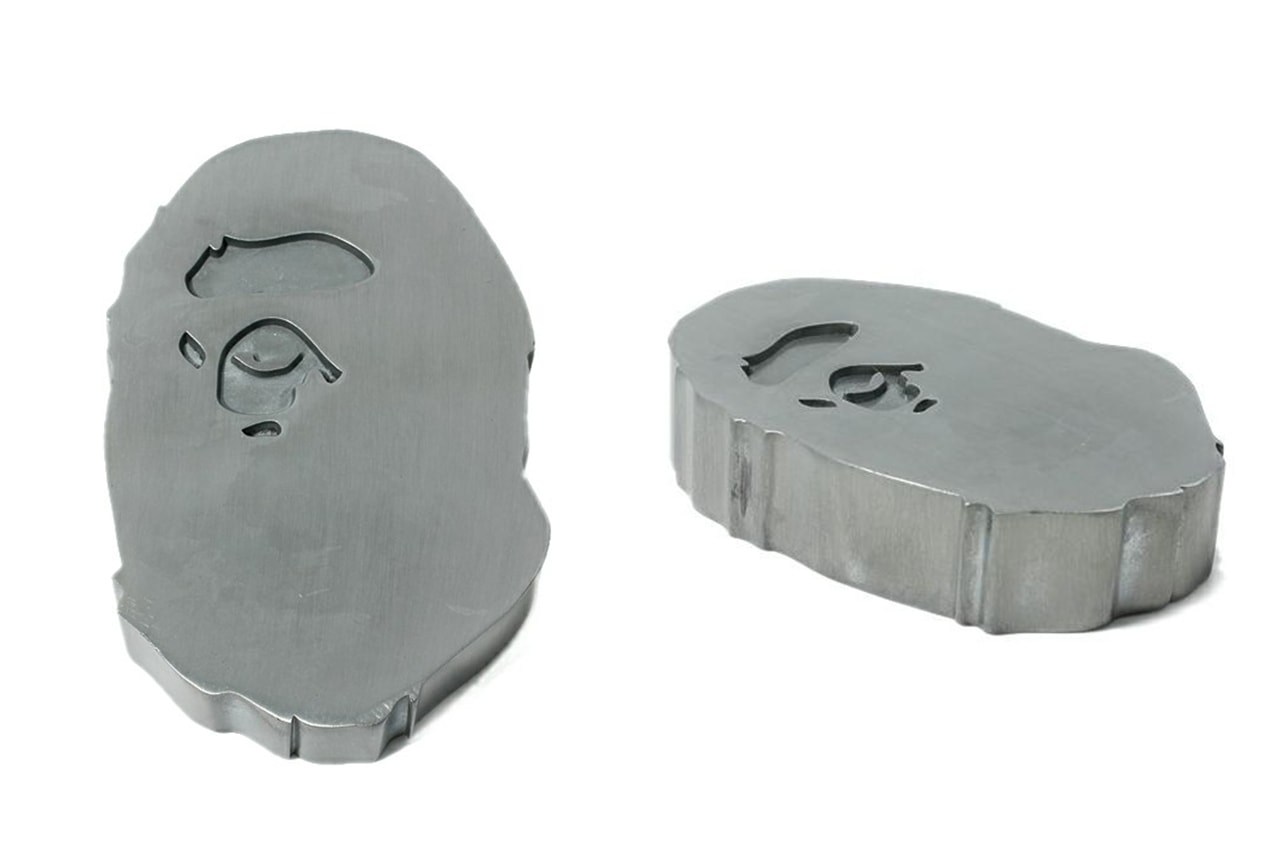 The Ape head brand symbol as a paperweight? Though it helps to keep the workplace organized, do we even need to use a paperweight? I guess if the windows are open and the fans are running, but is there really a reason to buy something that demonstrates the basic concept of gravity? The answer is yes, especially if it's in the shape of an ape head.
BAPESMOKER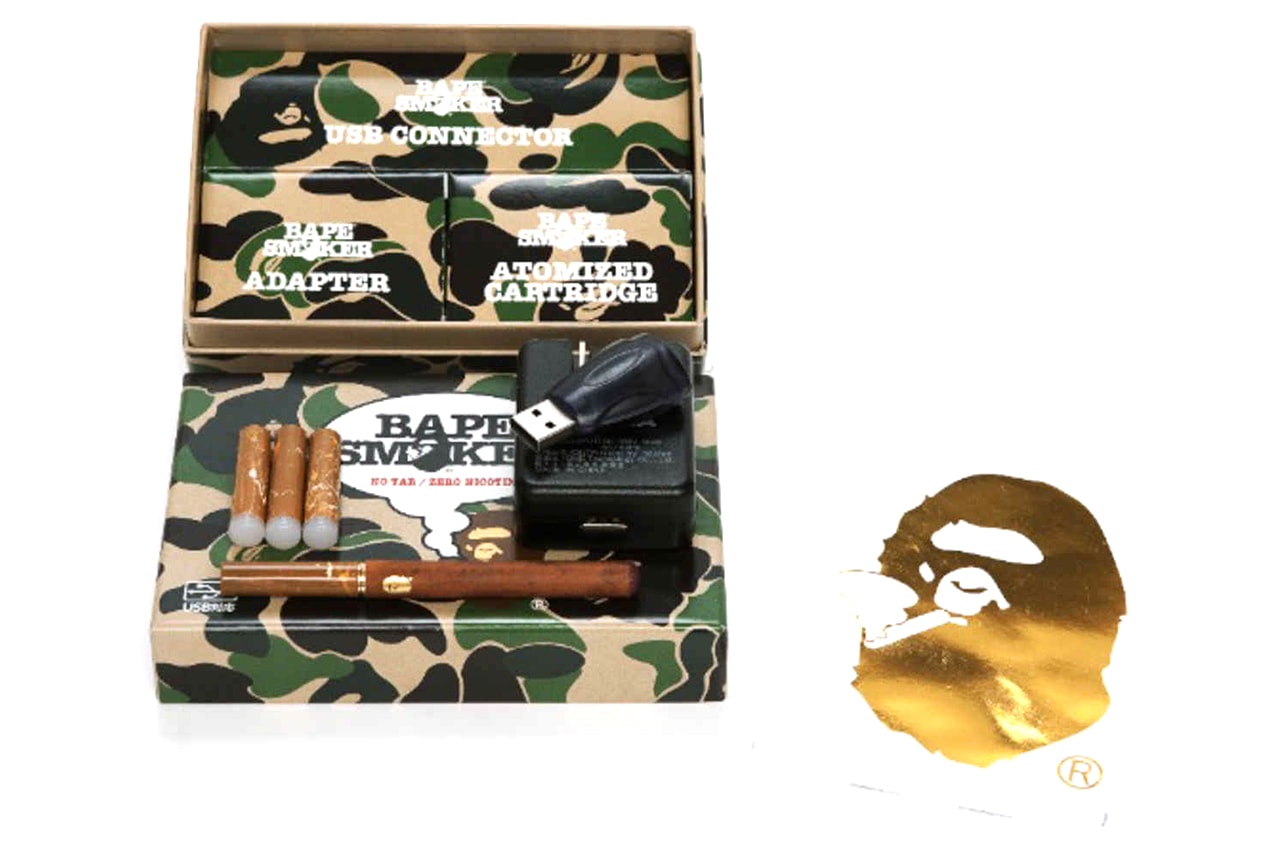 2010 saw NIGO and his crew take things to the next level with the BAPESMOKER E-Cigarette. Packaged in red, blue and green BAPE 1st Camo, the e-cigarette set was limited to 1,000 units, available at Japan locations only for a hefty $240 USD. And don't worry ladies, there was a Baby Milo version to boot.
Cookie Air Freshener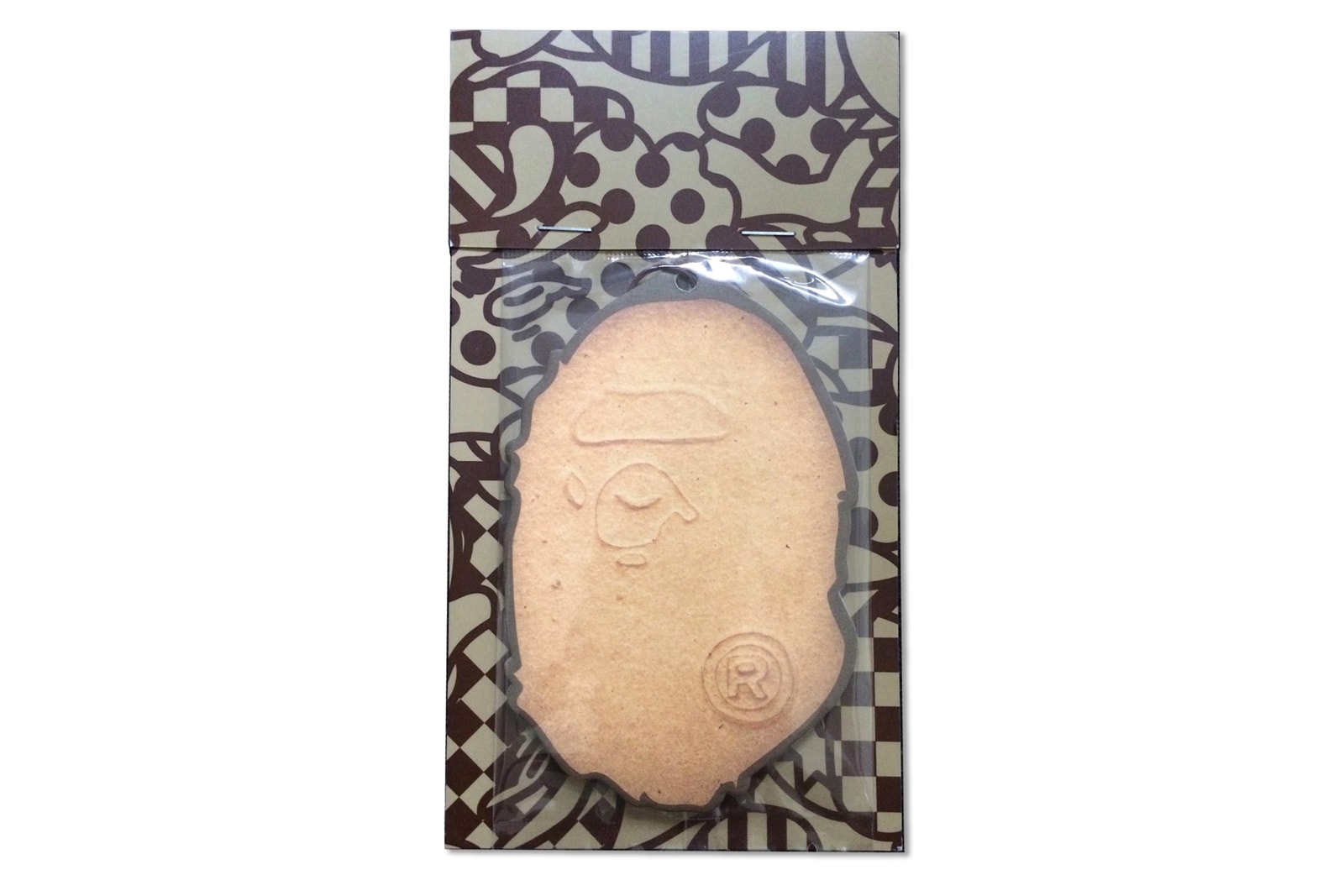 Infused with a fresh baked cookie scent, this rare item was released in 2009 limited to Japan and mailed to Bape Mania Card holders as a season teaser. With printed graphics of a BAPE head cookie on the front and back, it might be the best display for your car… if you're willing to open it. Seen fetching up to $30 USD on eBay, it might not just be any ordinary air freshener.
Chopsticks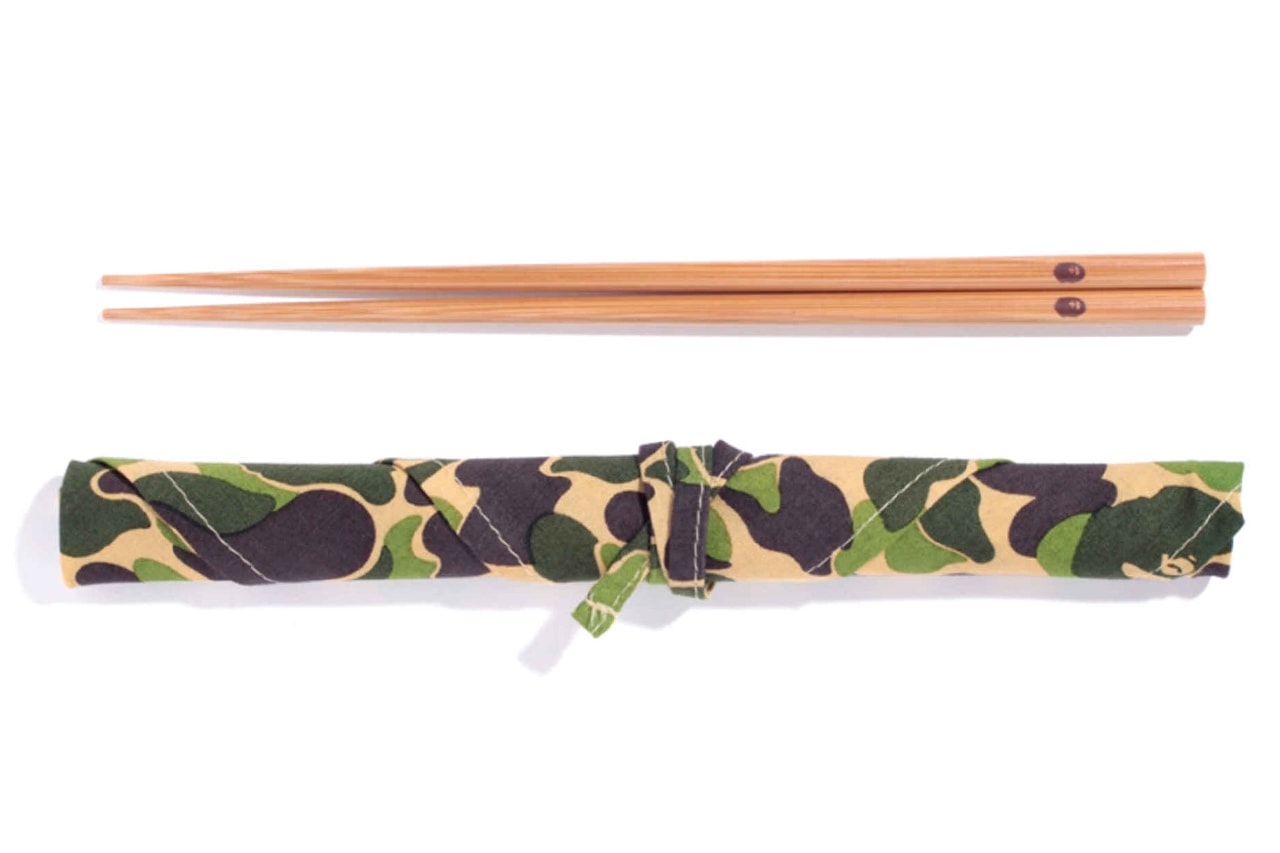 Handmade from natural bamboo and kept safe in BAPE's 1st Camo print fabric, these chopsticks were only made available at BAPEXCLUSIVE Kyoto back in 2010 as part of NIGO's WORKSHOP. You'll definitely be getting extra points on your next sushi date.
Octopus Card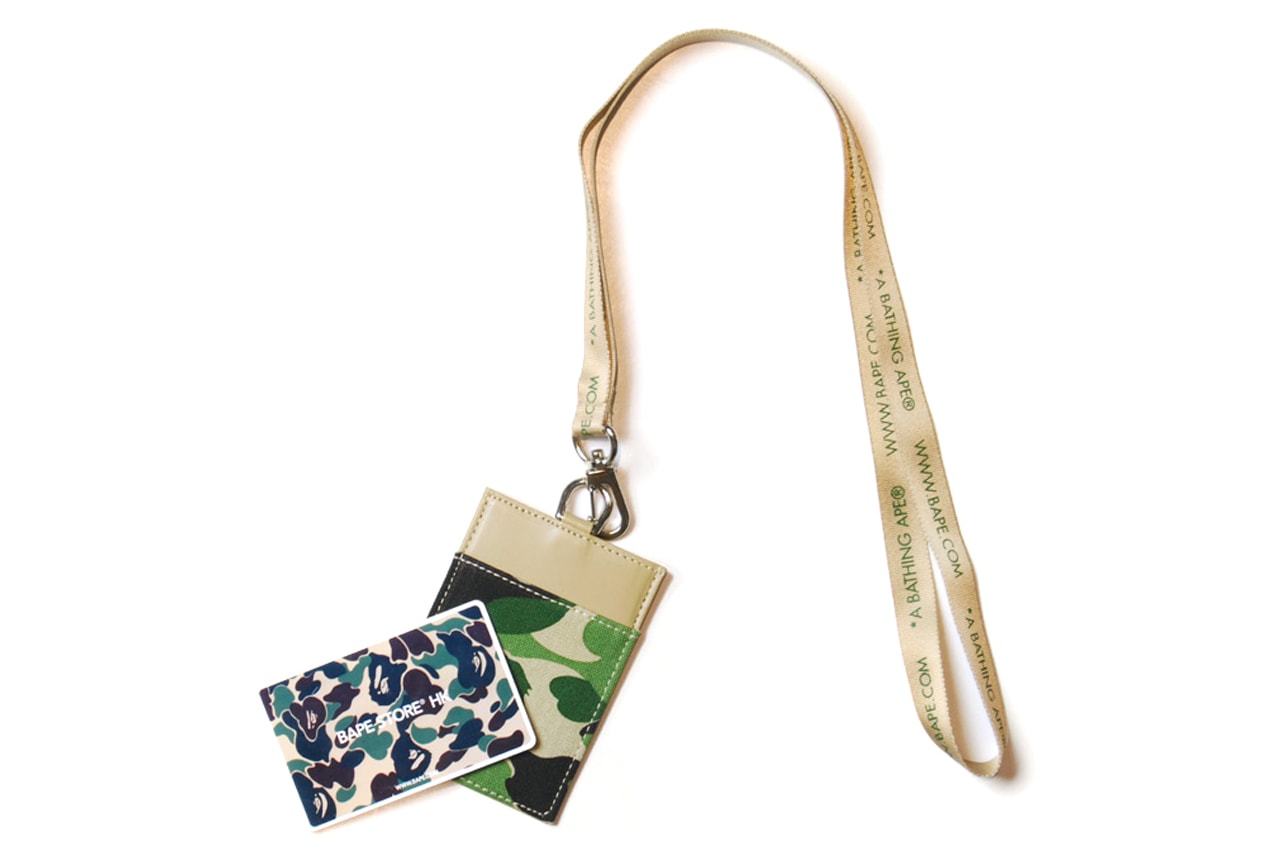 In Hong Kong, there exists a magic pre-paid card which lets you go from purchasing food at McDonald's to buying shampoo at the local health store, to paying for rides on public transit. Known to the locals as an Octopus card, the HK division teamed up with BAPE to create an exclusive, region-specific, all camo'd out card. Though extremely practical, you wouldn't want to risk losing it. Or worse, letting it go through some tough wear and tear.
Impossible Project Camera Pack
1 of 2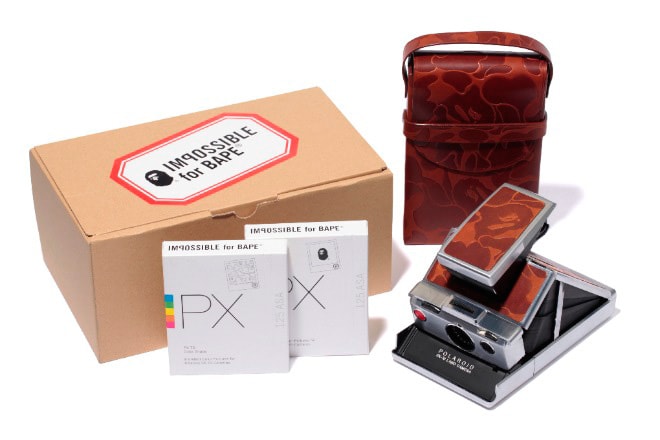 2 of 2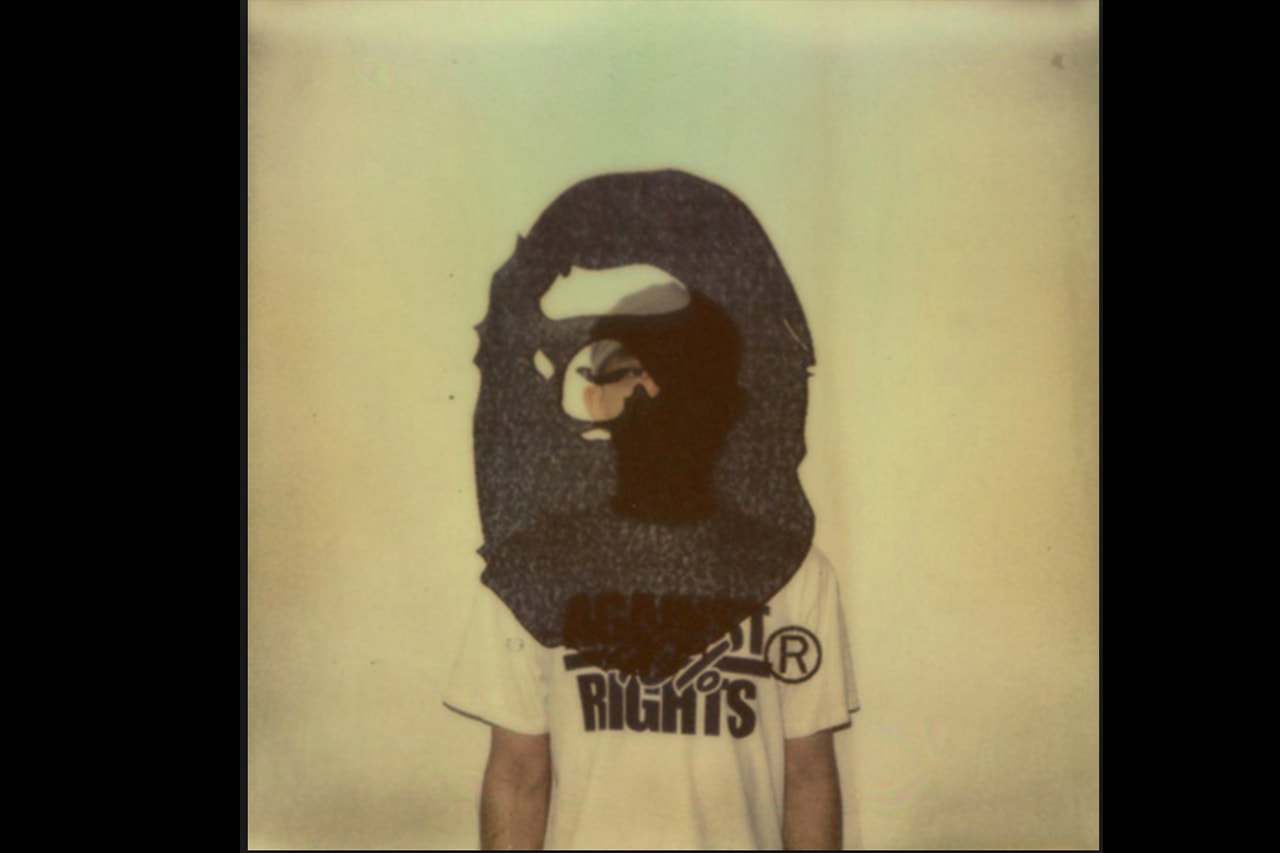 Though this is a more conventional item, BAPE teamed up with film aficionados, The Impossible Project, to produce a VERY limited, 108 pieces only, special edition camera and film pack. Produced in either black or orange camo, the iconic SX-70 Polaroid camera includes a matching leather pouch and special BAPE'd out film. So instead of using a $900 USD phone to take "vintage" photos, you can use a $900 USD BAPE camera to take vintage photos.
BAPE Head Skateboard Deck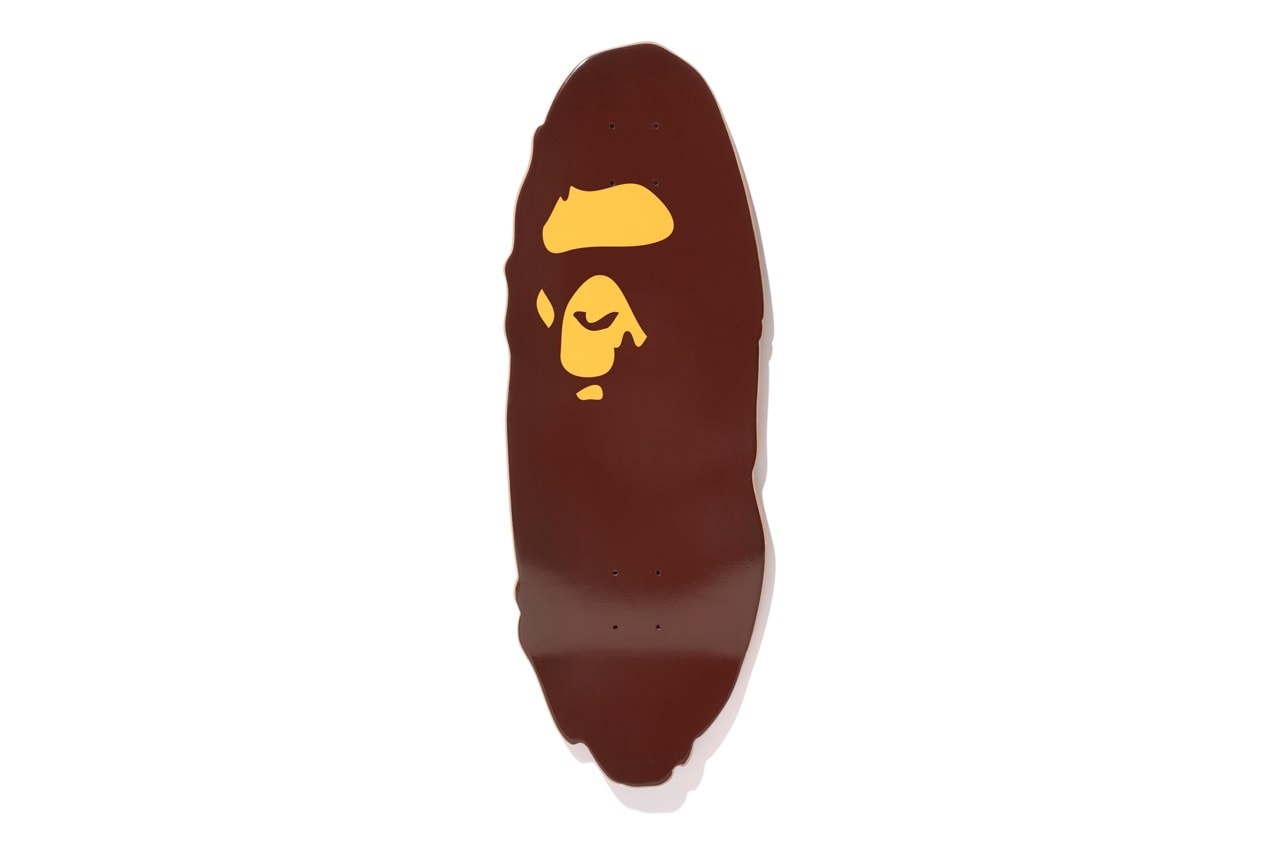 Part of A Bathing Ape's offshoot line, A Skating Ape, this coveted skateboard deck in the shape of the classic BAPE head was part of its inaugural collection in 2013. Designed by longtime BAPE designer SK8THING along with creative input from Japanese skater Yoshifumi Egawa, this is one skate deck that won't be seeing on the streets.
So let us know what BAPE items you wish you owned from the list above… or as long as it contains a BAPE head in 1st Camo, you're sold.