Na-kel Smith & Tyshawn Jones Talk First Impressions, 'Away Days' and the Rise of Independent Skate Brands
A conversation with the newest members of adidas Skateboarding.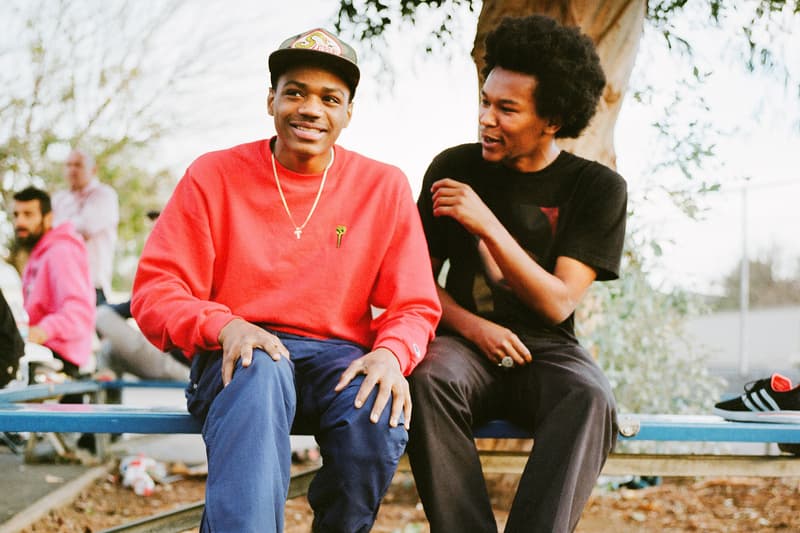 When Cherry was first released back in 2014, it was immediately clear that there was something unique about this particular group of Supreme riders. Whether it was the abundance of talent on the roster or the hype surrounding the fact that the film was Supreme's first ever full-length release, William Strobeck's visual masterpiece quickly gained a cult-like following across the globe with a raw, uncompromising production synonymous with the brand approach to fashion and lifestyle. Seasoned veterans like Alex Olson, Dylan Rieder, Jason Dill and the legendary Mark Gonzalez all brought their prowess and unique flair to the film, but a group of young adolescents shredding, at times, confrontationally, through the streets of Los Angeles and New York introduced a certain youthful, carefree exuberance to the film, one that was becoming increasingly rare in a world where much emphasis was placed on the difficulty and execution of tricks, rather than the simple notion of having fun with your friends. No matter what occupation, gender or age, watching these young kids rip made you want to skate.
Amongst the young guns were Na-kel Smith and Tyshawn Jones, both of whom were propelled to new fame and heights following the release of the film. Now aged 21 and 17 respectively, the pair share a brotherly bond from riding for Supreme, Fucking Awesome! and adidas Skateboarding together, while also venturing out on their own with Hardies Hardware. Over the last year and a half, both of them have been traveling around the world filming their respective parts for the Three Stripes' first full-length skate film Away Days, a project three years in the making with a lengthy lineup that includes the likes of Mark Gonzales, Dennis Busenitz, Lucas Puig and Benny Fairfax. In anticipation of the film's release, we caught up with the two to talk about their first impressions of each other, filming for the video, differences between the East Coast and West Coast, and the rise of independent skate brands.
To start things off how did you two meet and what were your first impressions of each other?
Na-Kel: I first met Tyshawn at Tampa AM. It was after he came to LA and he skating with a few of my friends. I don't know how long he was there for but they all met him and they were pretty hyped. I knew he skated for Supreme because everybody would talk about him and stuff but I was doing some other shit. It's so funny, it was so regular. I was just like "What up, I'm Nakel" and he was like "What up, I'm Tyshawn." And we were just continuing what we were doing, skating that park and shit. But I don't know, first impression? 
Tyshawn: When I first met Nak, I don't know I thought he was weird because he didn't really say nothing. He was in a car and we just went out skating.
N: Wait that's the first time we met? 
T: Oh no I met you at Tampa that's right. Yeah. No no I met you in the car, that's the first time.
N: Which car? Who's car?
T: In LA the day we Nollie Flipped the stairs and you Nollie Heeled it? 
N: That's not the very first time I met you. I swear to god I met you at a contest in Tampa. I was like "What up I'm Na-kel" and you was like "What up I'm Tyshawn."
T: Mmm well maybe that was the first time, yeah I don't know we got the first time messed up but maybe that was the first time. 
N: It wasn't like a crazy situation, it wasn't anything too memorable or crazy or nothing like that. It was real regular. I met TJ and he met me and he was just like "What up?" 
How old were you guys? Do you remember?
T: I was 13
N: I was maybe 18 or something? 
Nakel you're from LA right and Tyshawn you're from NYC right? What do you guys think is the biggest difference between the two cities in terms of skating? 
T: It's easier to skate in New York. 
N: I think we both have the same exact problem, like, Tyshawn will come to LA and we won't really skate much and then I'll go to New York and I won't really skate much either. The only time I ever skated good in New York was when I stayed at Tyshawn's house for two weeks. And when I stayed there I didn't even get crisp till like the last week.  
T: Man when I go to LA nobody really skates like that so we kinda just chill a lot. We don't really skate too much out there, everybody just chillin' cause I guess they can skate whenever they want so. 
N: It be a motivation factor.
T: I like New York more though because I can do whatever I want, I can skate wherever, I don't have to wait for nobody.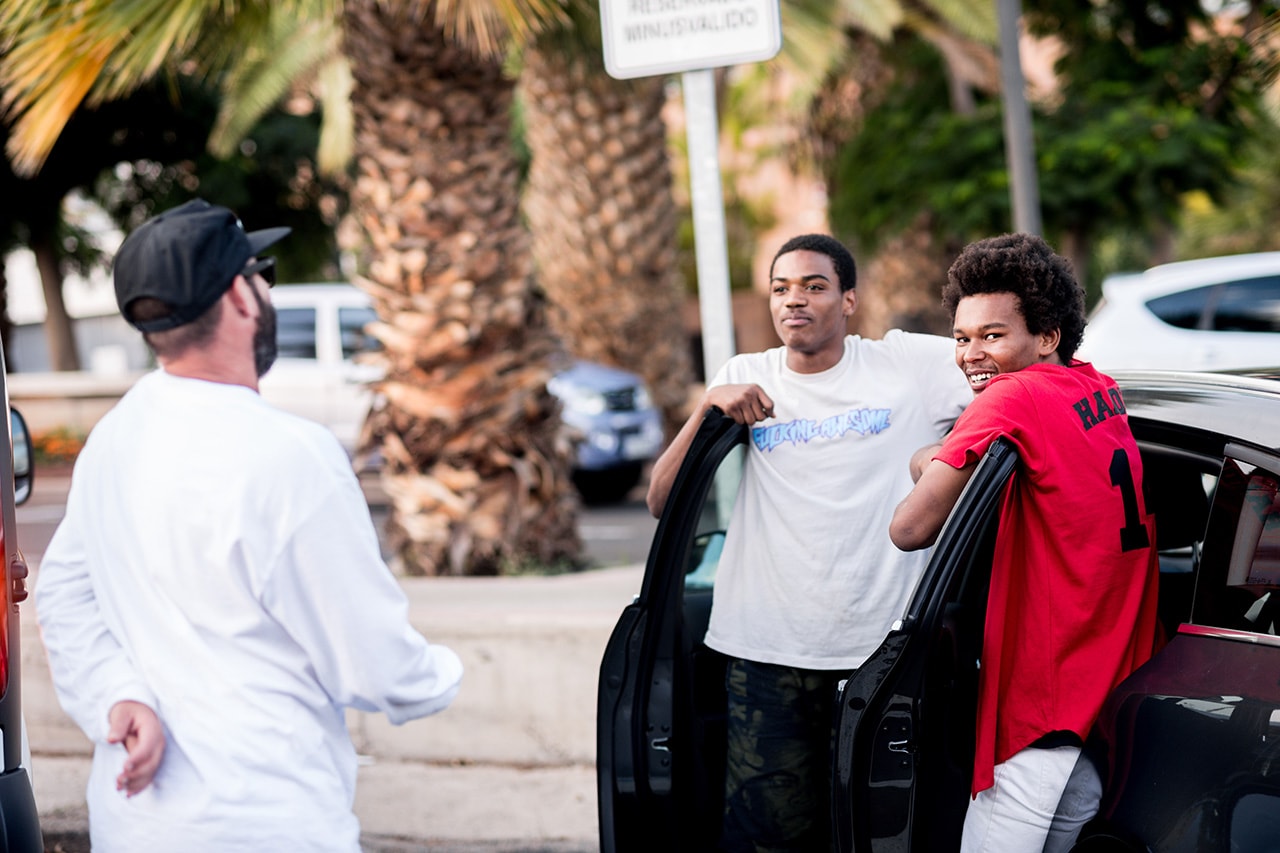 How did you both land a part in 'Cherry'? Was it just a natural progression of skating with Supreme?
T: I don't know I was just on Supreme and they asked me to do the video so I was like "Alright, cool." 
N: 'Cherry' kinda started the whole skate team. First it was like "we wanna start a little skate team" or some shit and they were giving us clothes. Then they told us "we're about to start filming this video" so then I was just skating and what not. And I don't know but yeah.
T: How I remember it was with Bill and Dill, I guess they thought that hit so then they were like "we wanna do a real video" and I was like "fosho." They called me a little bit after and told me they wanted to do a real video and that's how it started. 
adidas has been making a pretty big effort to grow in terms of skateboarding and that's pretty reflective of the big team they've put together with older guys like Mark Gonzales, Dennis Busentitz and you guys obviously…
N: The team was already pretty big. The only new people were like me and TJ, and then Miles. 
Do you guys have any memorable stories skating alongside those guys whilst filming for 'Away Days'? I mean you guys travelled quite a bit.
T: I don't know funny moments? I can't think of nothing right now. I'm trynna get it but I don't know. One time I beat up Jake, that was pretty funny.
N: I think everybody on adidas has beaten up Jake.
'Away Days' was adidas' first full-length skate film. Did you guys feel any pressure in setting a high bar for the video considering you both featured in 'Cherry,' a video which amassed a cult-like following?
T: I don't know I was just skating the same, just do what I been doing. 
N: I felt hella pressure. I was on tour for half of the filming of the video. Then I had gotten hurt. I was like ooh (laughs). I was kinda hurt for a good portion and kept rehurting myself so that was stressing me out. Cause everybody wants to do their best, but if you're not skating your best then it kinda make you sad low-key. 
How long did it take to film 'Away Days?'
T: I feel like two years? I don't know I feel like it was two years for me. People been on for a bit, I'm talking about myself. Everybody else had clips because they were already going on trips and we had to start from the beginning. For me it was a year and some change.
N: Basically same for me. 
What was the best place you were able to visit during the filming?
N: Hell yeah LA (laughs). I really like Atlanta.
T: New York is the best place in the world.
N: Yo, stop making false claims.
T: New York is the best place in the world.
N: LA is the best place in the world. I had fun in Paris, that's actually where I got hurt. 
T: Where'd I go? I can't really remember.
N: You went to like Germany…
T: Barcelona was cool. 
N: I got sick out there so I had to go home early. I had been travelling non-stop for the whole of 2015 cause I went on tour and shit, so when I would go on skate trips and go to do shows it was kinda stressful. Not stressful but that shit it wears your body out. You really feel it. So I got sick in Barcelona and had to leave.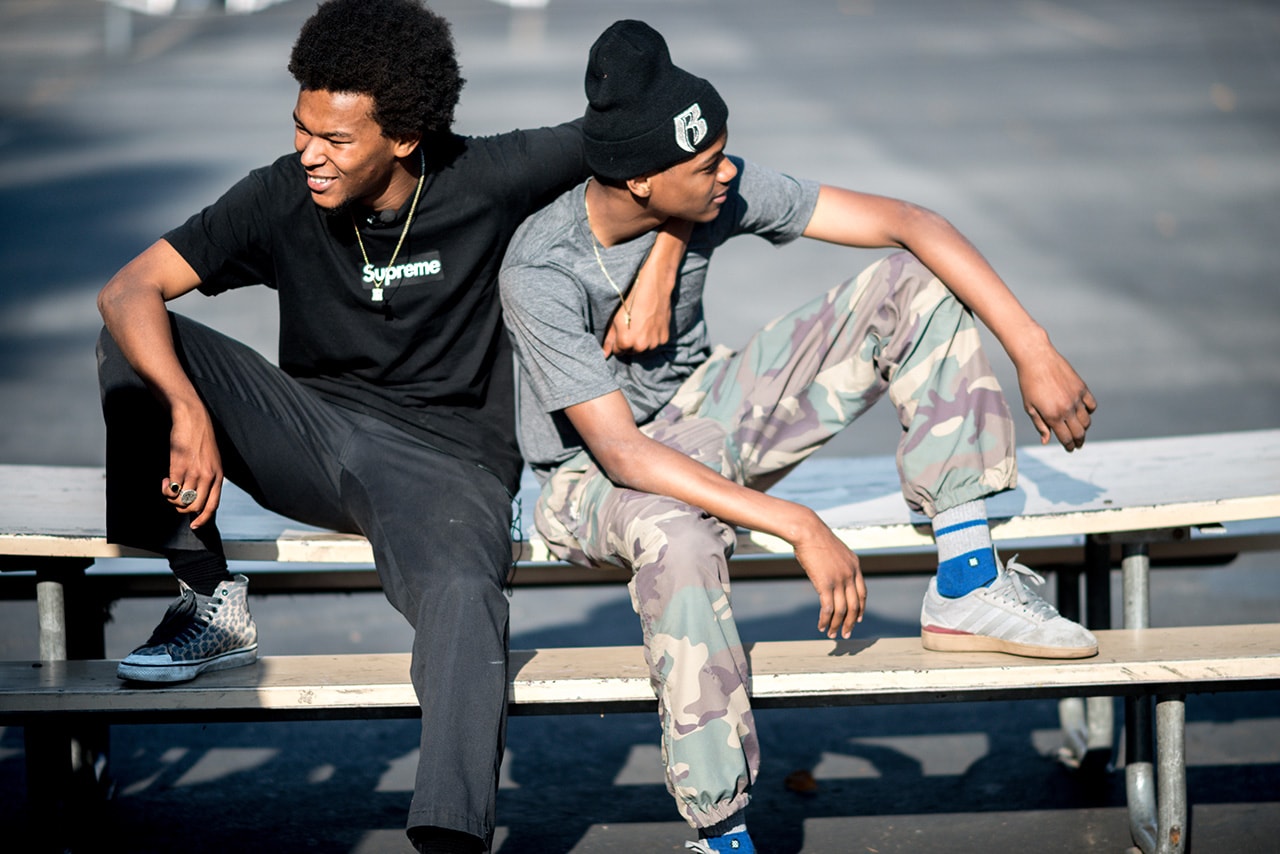 adidas is well-known for its heritage designs, many of which have been revamped for skating. What is your favorite shoe to skate in?
N: Nizzas. I used to buy them on Ebay because they made the Match Court. I bought so many pairs on Ebay. 
T: I like the Stan Smiths though that shit is cool. It's very basic but you can swag in them.
N: You can go to the country club, you can go to a function you feel me? You got the all-black ones you can go to work. You got the all-white ones, anything really. Stan Smith is dope. They made one for skating too.
T: I like the regular ones though, the Vulc is a little chunkier. 
N: The regular ones have way more swag.
Mark Gonzales, who also happens to be on Supreme, rides for adidas as well. With him being such an influential figure in the sport, is there anything you've taken away from being around him in both teams?
T: We don't really go on Supreme trips so…
N: Right now I guess how we are, we're in the streets all the time. We go on all the trips and stuff. Gonz is like a legend, so he pop in when he want to. I've definitely learned that's where I wanna get to. With him its like "Oh you guys are staying at this hotel? Put me at the top floor of this different hotel." Mark is cool. When he comes out to skate he just does him and its fun. He'll skate the most random stuff and its tight because he'll be doing the weirdest but he'll have tricks for other people too. I think more than being around him he'll text me some funny shit, like an animation of me doing a Primo slide down Black Hubba in New York. Gonz is just tight, he'll be thinking a whole bunch of stuff and you can tell. He's a very creative guy. 
The presence of independent brands in skateboarding has arguably never been higher. In what way is this benefitting the sport?
N: I think it hasn't brought anything new to the sport, but it's kinda just like revamping the sport. All these companies had to start somewhere to be the company that they are now.
T: Some of them are cool and some of them are whatever but the ones are cool are tight. I don't think its bad for the sport. 
N: Even if its something that's like not for me, its just not for me. So that's cool. Its people who actually do the sport and people who actually skate taking over and know what they wanna do. You feel me? So we can't knock nobody for doing what they wanna do. 
What motivated both of you to start Hardies Hardware?
T: It was a joke at first. 
N: Yeah it was a joke at first but we were like "fuck it." It was really just a game that TJ and all his homies used to play, and then me and Mikey ended up going over to there one day, and some crazy shit happened. That's when we learned how to play the game. We just played it ever since. 
T: Hardies is a game. We'll make you flinch and say "Hardies" and then punch you two times.
N: Hard though, we really tryna hurt you. We really tryna take your arm off, your shoulder, your knee cap, arm, elbow and everything.
T: No face shots though.
So that's the idea behind the fist?
T: Yeah because we used to punch each other.
N: Its crazy how things go because personally the way I look at it now, everybody is always telling me the Hardies logo is crazy. And I'm like "damn you really fuck with this?" so that's cool. Now I look at it some much different because I've gotten older and I've see something can grow. Just like TJ said it all started as a joke. We were like "Hardies Hardware." It just really came out of nowhere kinda. Then the logo came and it was just like "this is hard, it's hardware but its hard!" I be thinking about it now and every time I see it, and I just think about hard work you feel me? This is our baby. Now that its getting some kind of attention and people actually care about it and Instagram commenting like "yo restock on this, restock on that," its like oh shit, we actually have something in our hands that we could really like do something with. It's going to take a lot of hard work to get it right. You only get what you put in, no matter what is it. Whether its a video part or a company, whether its a painting or a song, you only get what you put in. But yeah I love Hardies.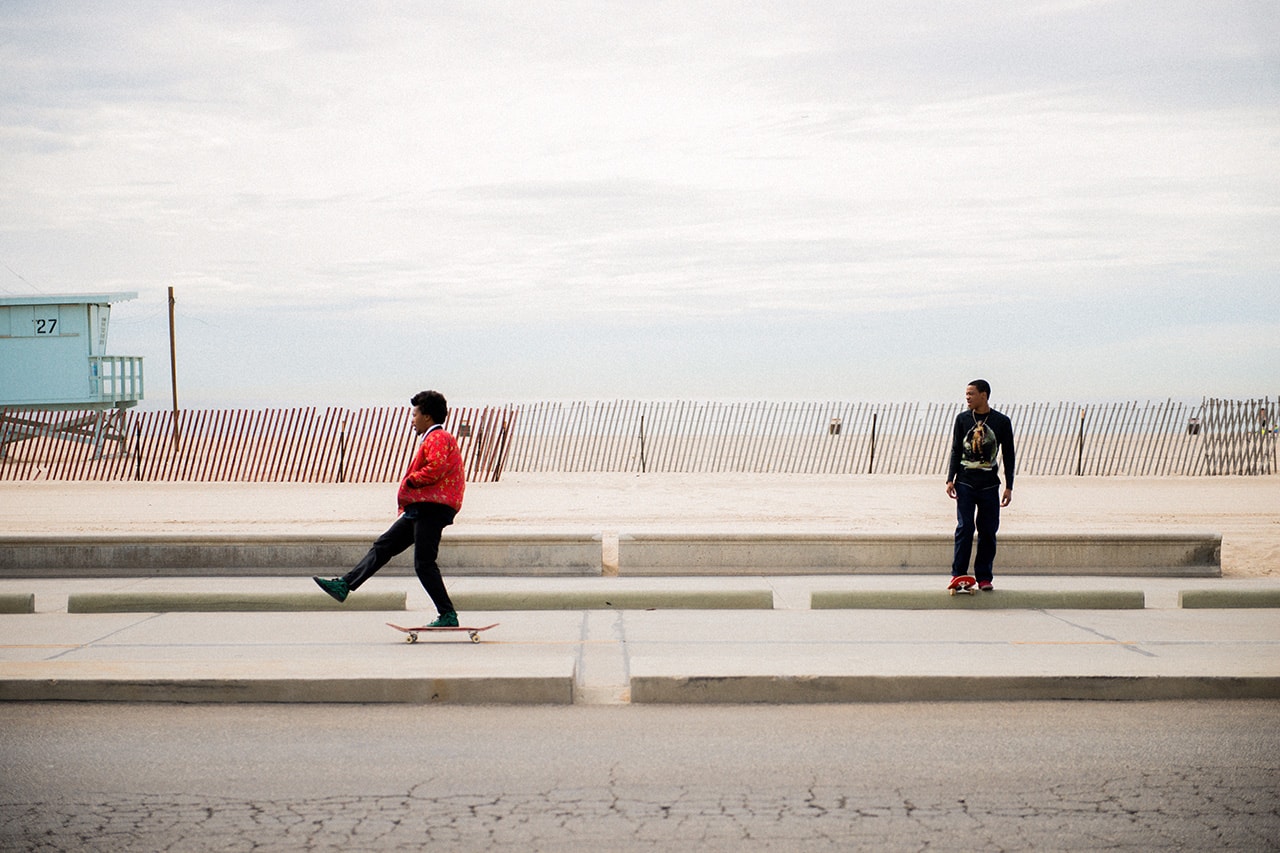 Do you see yourself pursuing other creative interests?
T: I'm already a rapper but yeah.
N: Low-key we're already rappers.
T: I really can't talk too much about it though. I might just skip the tape and drop an album. I already said too much.