Is Stephen Curry Having a Better Season than Michael Jordan Ever Had?
The ball don't lie.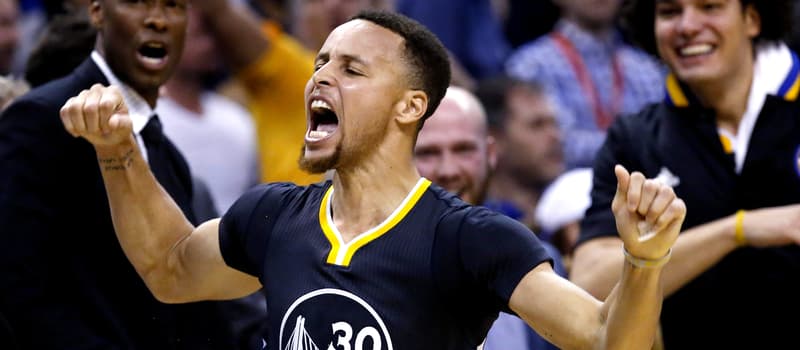 Stephen Curry's gait as he dribbled towards mid-court, Saturday night, with less than four seconds remaining in a tied, overtime game between his Golden State Warriors and the Oklahoma City Thunder, seemed to betray none of the urgency of the actual moment at hand. Unlike the anxious fans in the arena or the millions of viewers watching the nationally televised broadcast with jittery nerves, Curry's movement bore the casualness of someone in full control of not just himself, but of the gravitational atmosphere around him.
With two seconds left, Curry passed half court, stepped into a single, measured dribble, and smoothly pulled up over the outstretched arms, and futile block attempt, of a lunging André Roberson. The ball left Curry's hand and arced beautifully in the air for a second and a half before ricocheting off the back rim and falling through the net, fulfilling its predestined journey into the increasingly crowded annals of the "Stephen Curry Breaks The Internet Vine Collection," if not his future Hall of Fame induction highlight reel.
The game winning 38-footer was the perfect representation of Curry's 2015-16 season not to mention his most potent – yet perhaps, least quantifiable – gift in that it seemed to blur the line between sheer implausibility and utter inevitability.
Nothing about the play, from the gall of the attempt or the splash that followed, was in the least bit surprising. On the contrary, what seemed most shocking about the play was just how unsurprising it was – to Curry's teammates, to his opponents, to the basketball watching public en masse. That Curry would hoist from such an absurd distance was assured. That the ball would go in was fait accompli. It would be less worthy of discussion were it simply a one-off, but Curry has been doing this, whatever this is, for a while now; challenging, if not outright mocking, previously unassailable strictures of how sound basketball is and should be played. It is the ripple effect of this unique ability – the way he influences and distorts the game – that is carrying Curry's season on a wave toward a status just as undeniable: that of the single greatest individual season ever seen in the history of the NBA.
Michael Jordan is probably the greatest basketball player of all time in that his excellence in nearly every facet of the game, coupled with six titles won over 15 seasons, makes the sum impact of his career unlikely to be challenged for as long as people are paid to play basketball. His greatest individual season, however, is trickier to pin down. Some think it was his '87-88 campaign, in which his gaudy traditional statistics (40.4 MPG, 35 PPG, 53.5% FG%, 6 AST, 5.5 RB) converged with his peak efficiency rating (31.7), only to lead to a 2nd round playoff exit. Others believe it was his '90-91 season, in which his traditional numbers (37 MPG, 31.5 PPG, 53.9% FG%, 5.5 AST, 6 RB) and his efficiency rating (31.6) came down just enough to pave the way for the Bulls to win the first of six championships.
Still others of the contrarian variety believe no Jordan season can compare with Wilt Chamberlain's '61-62 season for the Philadelphia Warriors in which he played 48.5 minutes, scored 50.4 points on nearly 51% shooting, while grabbing 25.7 rebounds every night for a season efficiency rating of.. oh who cares about anything before the NBA/ABA merger in 1976?
If, for the purpose of this discussion, Chamberlain's best seasons are "Babe Ruth-ed" — disqualified by virtue of the primitiveness and all-around inferiority of the game and quality of competition at the time — that leaves only Jordan's best individual seasons to compare against Curry's current one. Via traditional statistics, Curry's current numbers (33.9 MPG, 30.7 PPG, 51.5% FG%, 6.6 AST, 5.3 RB) track below Jordan's best overall seasons. However, a look into more in-depth advanced metrics bolsters the case for Curry being in the midst of the greatest season ever.
If greatness is viewed as the expression of superiority within the confines of understood parameters, how do we describe that which shatters and warps those very parameters?
Curry's current player efficiency rating, if it held at its present 32.9, would go down as the highest of all time, surpassing even the disqualified (for this conversation) Wilt Chamberlain, who owns the top two ratings in league history. Curry's PER has been so spectacular this season; he's a full 4 points ahead of 2nd place Russell Westbrook (for context, 4 points also separate Westbrook's PER with Hassan Whiteside's 9th place rating).
Because Curry doesn't have to play as many minutes as Jordan did in his heyday (which is itself a sign of Curry's dominant impact), he will likely never surpass any of Jordan's single season counting stats except for the ones involving 3-point shooting. Curry's "Per 36" stats, however, actually exceed several of Jordan's numbers from the '87-88 AND '90-91 seasons. Per 36 minutes, Curry's on pace to score 32.6 points (better than Jordan's 31.2 in '87-88 and 30.6 in '90-91) and dish 7.1 assists (better than Jordan's 5.3 and 5.8) this season. Curry's current marks also well exceed those of Jordan's from '87-88 and '90-91 in categories such as True Shooting, Effective Field Goal %, Plus/Minus, Value Over Replacement, Assist %, Win Shares Per 48, Offensive Rating, and nearly every other mathematically-inclined measurement created to annoy old-timey Luddites like Charles Barkley.
It feels apropos that the areas in which Curry is currently out-performing peak Jordan are those less familiar to casual fans, because Curry's influence is, itself, more difficult to comprehend. After all, if greatness is viewed as the expression of superiority within the confines of understood parameters, how do we describe that which shatters and warps those very parameters?
Jordan vanquished the foes of his era in a way any observer could understand. His dominance was easy to frame in the context of every other player he played with and against because his game didn't really look all that different from Drexler, Magic or Bird. Jordan simply did everything his opponents did better than them.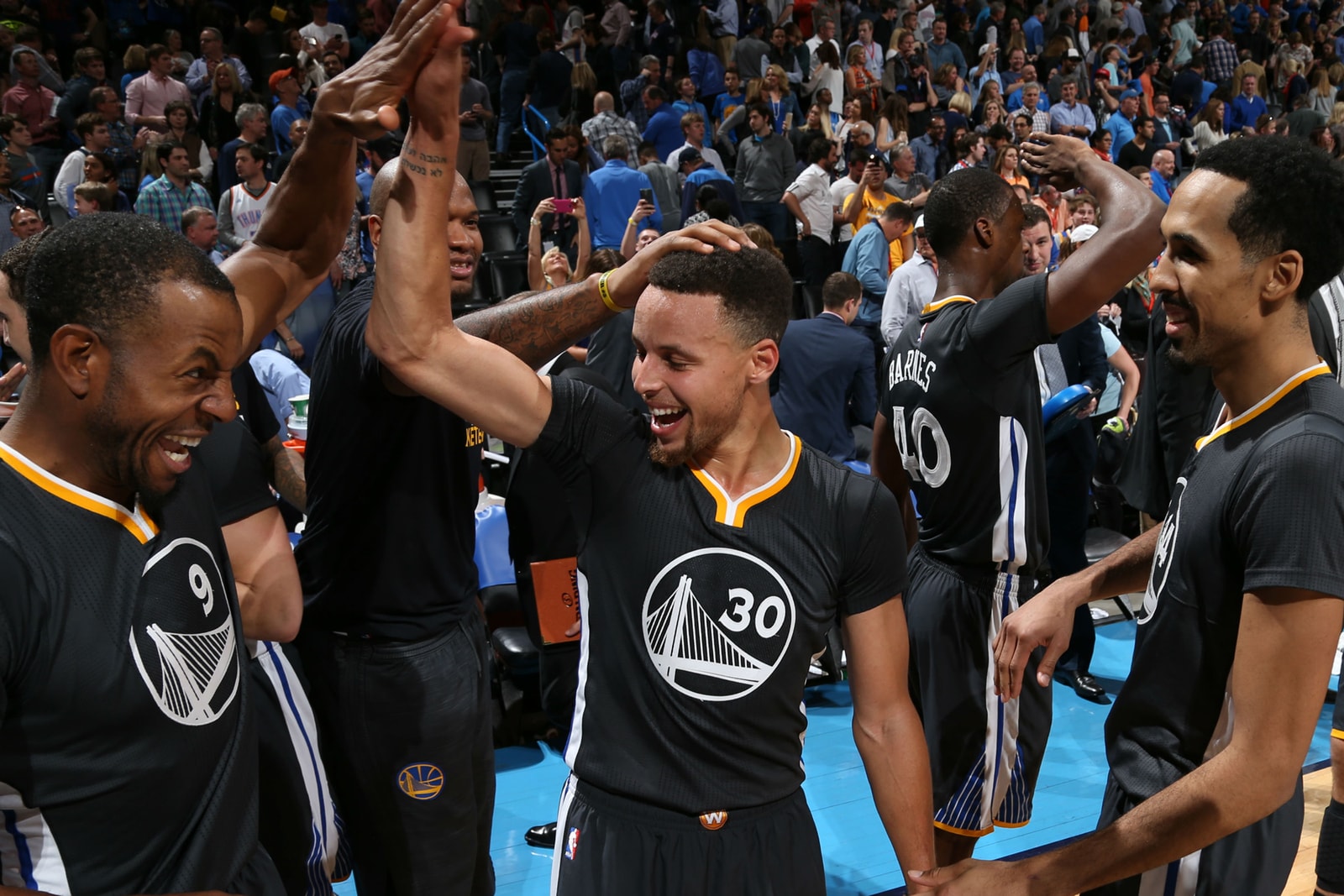 Curry, on the other hand, is unlike literally anybody that has played or is currently playing the game. Our minds collectively melt at the sight of someone casually shooting 50% from 30-plus-feet away off the dribble while simultaneously making 65% of his shots from within 5 feet (a rate rarely seen from guards). We're not used to seeing opposing defenses regularly resort to double and triple teaming someone 5-10 feet behind the 3-point arc, like we've seen with Curry, because they'd prefer to give his teammates 4-on-3 or even more ludicrous 4-on-2 advantages than allow him an open look from deep.
At the very least, if Curry does continue his historic, record-breaking, weapon-of-mass-destruction, pace on the way to back-to-back MVPs (and the Warriors go on to best the '96-'97 Bulls' 72-10 regular season record en route to corresponding back-to-back championships), resistant pundits and cranky old-timers will have less fodder with which to nitpick Curry's growing legend. But regardless of the final outcome, what Curry's doing right now – breaking records and ankles seemingly every night – should be enjoyed and celebrated as something as wholly unique as Curry himself. It's not as if basketball fans will ever truly come to a consensus on a topic as subjective as whose season was the greatest ever anyway. Besides, Curry's season is making us ask ourselves something much more interesting than whether or not it's better than MJ's — it's giving us a chance to question which we want to see more, the "WOW!" or the "WTF!?"
If you haven't already peeped, check out Ken's piece on Durant's quiet, but monstrous season here, as well as a review of the Warrior's beautiful death here.