Nigel Sylvester Pens a Heartfelt Tribute to His Mentor and Friend, Dave Mirra
The NYC rider writes about his first encounter with Mirra and what he meant to BMX.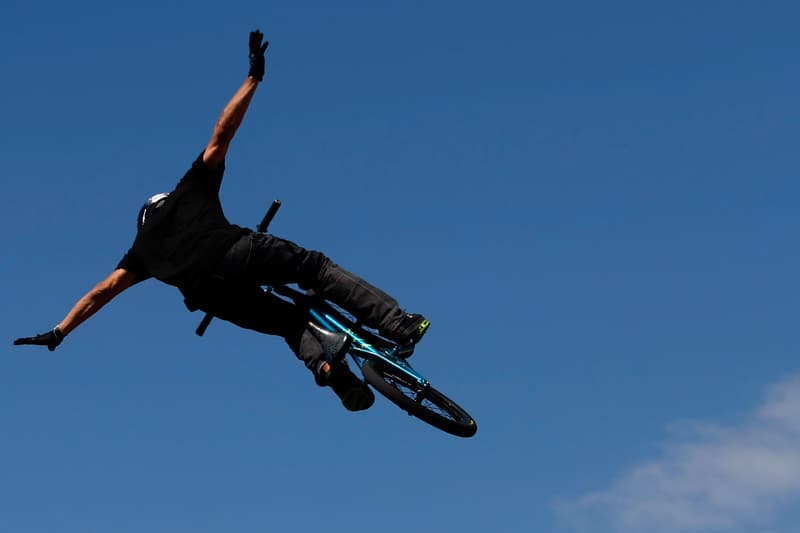 I remember those blazing hot, sunny summer days.
The humidity was almost suffocating, and your sweat was the glue that united your skin and your clothes to one another. The good events would usually play in the evening so I would ride my BMX bike around Laurelton, Queens all day. Jumping over garbage cans, grinding park benches and blasting down Merrick Blvd. but I'd always get home just in time to wrap some vanilla cookies in a paper towel, pour a glass of my mom's sugar juice and place myself on the floor of my parent's living room. I'd religiously sit on the nappy, brown rug that resided right in front of the TV to watch the X-Games from beginning to end. All the sports were amazing to me but my favorite was of course, BMX.
Whether it was flatland, dirt, park or vert, I would tune in until a winner was announced. One athlete in particular captivated me year-after-year … Dave Mirra. The way he commanded attention was second to none, he soared in the air so gracefully and put together trick combos that always reset the bar in BMX and would ultimately progress the sport for years to come. Not only was he incredible on the bike, but his swagger off the two wheeled machine amplified this super human quality that he had. The way he would precisely place his stickers on his full face helmet, the Dave Mirra Freestyle BMX video game that had my Sony Play Station hot as hell after hours of trying to unlock every hidden attribute, the all-gold bike he rode in 2005 to match his gold medals, flexing in the Got Milk? ads with the milk mustache, the gold wrapped 750LI BMW he drove in an early Gumball 3000 rally, and countless other unprecedented stunts that would grow his legend, transcend the sport and legitimize BMX in the eyes of millions across the globe. Not only did Dave Mirra make me want to ride a bike, he inspired me to chase the dream of one day being able to do whatever the fuck I wanted with my life. It was a dream that very few from Jamaica, Queens would dare to express but watching him dominate the action sports industry for years only motivated me to ride harder.
Years later, I would finally get my opportunity to meet my childhood hero, the "Miracle Boy," a name he earned from his unbelievable comebacks and death defying tricks on some of the biggest stages. It was spring and I was just a young ambitious rider on the NYC BMX scene trying to create a name for myself when I got approached by Glenn Milligan who was producing a BMX video called "FLIPSIDE." He asked me to join the video and the trip included traveling down to Greenville, North Carolina to meet and ride with Mirra. I can still recall the nervousness that took over me as we walked into Mirra's private facility where he would train with some of the biggest names in the sport. My heart pounding, mind racing, bike in hand as we entered this massive hanger that included a full skatepark, foam pit and a work station where he was standing, fixing his bike. He greeted us with this warm welcome that surprised me and we proceeded to talk about all things BMX. Later that day, I watched him ride in person for the first time and he literally killed every ramp in sight. I left that day motivated more than ever in pursuit of my dreams.
Not only did Dave Mirra make me want to ride a bike, he inspired me to chase the dream of one day being able to do whatever the fuck I wanted with my life.
Weeks later, I was standing in my mother's driveway when I received a call from an unknown number on my flip phone.
It was Dave.
We spoke, catching up and what not. Midway through the call he told me that he was ready to have me be a part of his new bike company called Mirra Co. and that he wanted to sign me to a deal which would officially make me a Professional BMX rider.
I was 18-years-old and Dave Mirra was my idol. At that very moment, my life changed forever.
Dave Mirra had just brought me closer to a dream that I had been working towards for years and it has since manifested itself into something that has defied my wildest expectations.
Mirra was a wine guy and one of my fondest memories of him happened during a team dinner one year in Vegas. He introduced me to one of his favorite red wines, a Cabernet Sauvignon called Silver Oak. I still drink Silver Oak from time to time and with every glass I think about that night that I sat, sipping with Mirra.
Dave Mirra was more than just a hero and an amazing bike rider. He was more than just the man that helped change my life. What many people don't know is that he impacted a generation of young kids to dream vividly and do the unthinkable. He was a family man, a teacher, a giver, and he will undoubtedly be remembered forever.