Here Is What People Are Seeing Live at Yeezy Season 3
Thank your fellow man.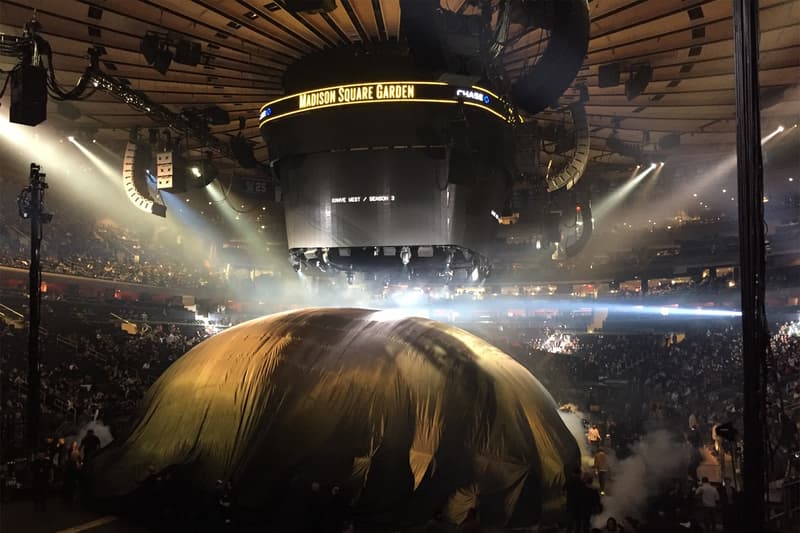 While Yeezy Season 3 is being held at the gigantic Madison Square Garden, not everyone is able to go of course. The TIDAL live stream naturally is one way to experience it, but we wanted to showcase the awesome photography your fellow Yeezy fans are taking, from where ever they may be at the event. Nevertheless, here are the best photos being taken live at Yeezy Season 3. Be sure to like and follow your favorites, and hit up @HYPEBEAST on Twitter for a live tweet session for more details on the event.
#hypebeastlive: merchandise stand for 'THE LIFE OF PABLO' at #YEEZYSeason3. pic.twitter.com/UDtowfNdp8

— HYPEBEAST (@HYPEBEAST) February 11, 2016
The life of Pablo merchandise. pic.twitter.com/XNgG2XMgjt

— Joe Perez (@Joe_R_Perez) February 11, 2016
#TBT YEEZY SEASONS 1 AND 2 https://t.co/xMONLvOIi5 pic.twitter.com/ntfZKRayni

— Kim Kardashian West (@KimKardashian) February 11, 2016
#hypebeastlive: "Freestyle 4" off 'THE LIFE OF PABLO.' pic.twitter.com/Sl1YcBJCsm

— HYPEBEAST (@HYPEBEAST) February 11, 2016
Naomi Campbell for Season 3 #NYFW pic.twitter.com/c0NWcdL8PD

— NICO (@IAMFASHlON) February 11, 2016
#hypebeastlive: pic.twitter.com/HczPIT8ulr

— HYPEBEAST (@HYPEBEAST) February 11, 2016
#hypebeastlive: @youngthug pic.twitter.com/q36QCSU0Aq

— HYPEBEAST (@HYPEBEAST) February 11, 2016
#hypebeastlive: Kanye had a few choice words for Swoosh during YEEZY Season 3 – dropped "FACTS" afterwards. pic.twitter.com/415aV8eHvp

— HYPEBEAST (@HYPEBEAST) February 11, 2016
SQUAD #YeezySeason3 pic.twitter.com/gi6gd98aX6

— TeamKanyeDaily (@TeamKanyeDaily) February 12, 2016
— DONDA (@DondaCreate) February 11, 2016
THE LIFE OF PABLO. pic.twitter.com/5wJkRJQdU3

— DONDA (@DondaCreate) February 11, 2016