HYPEBEAST Studio Visit: Sneakerwolf
Learning more about the man behind Supreme's storefront paintings.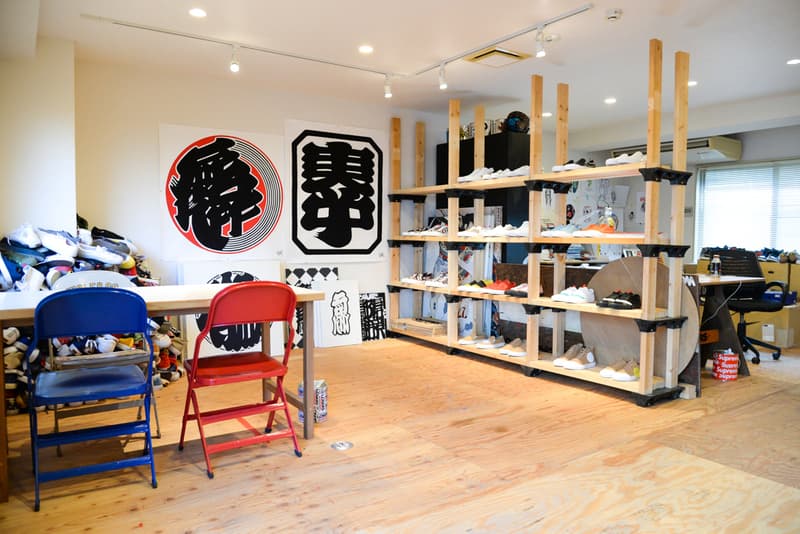 1 of 7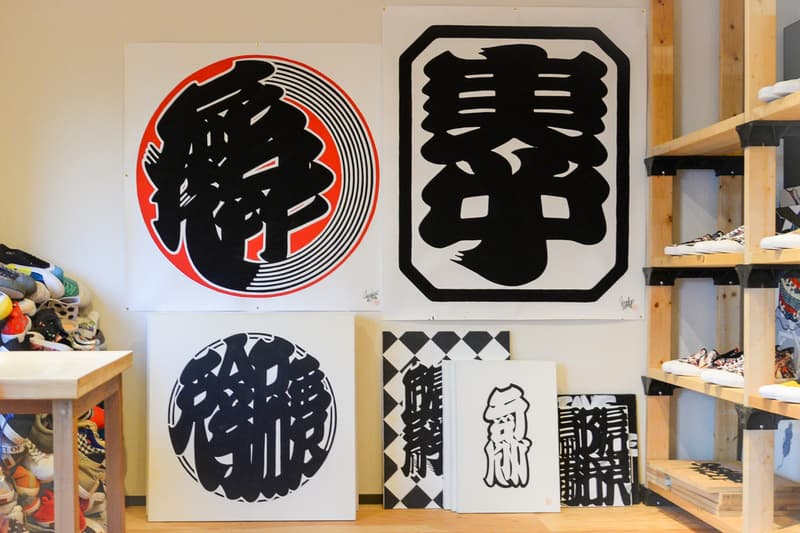 2 of 7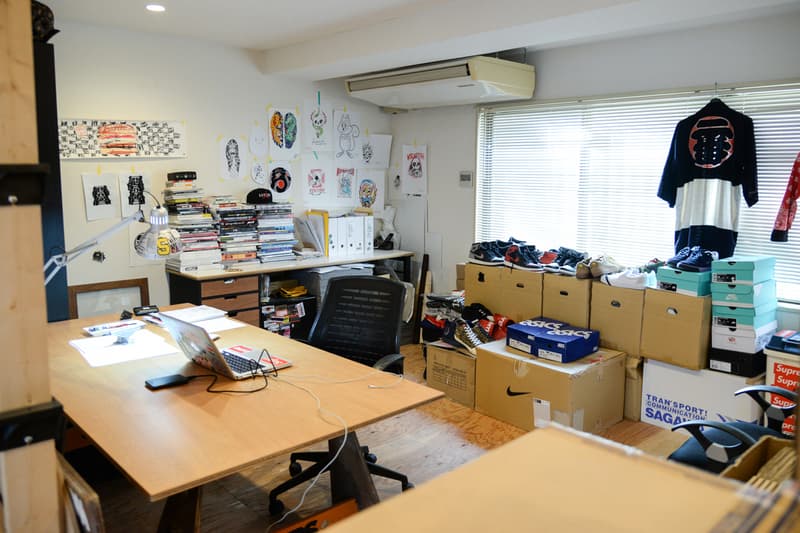 3 of 7
4 of 7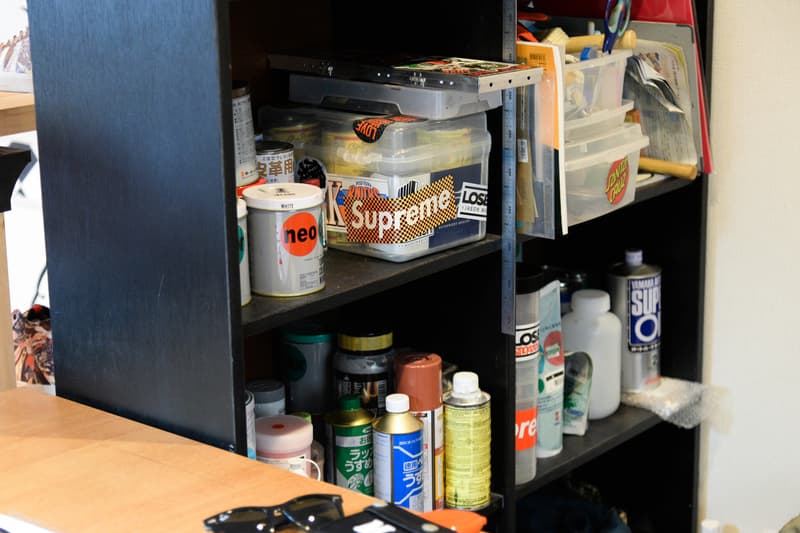 5 of 7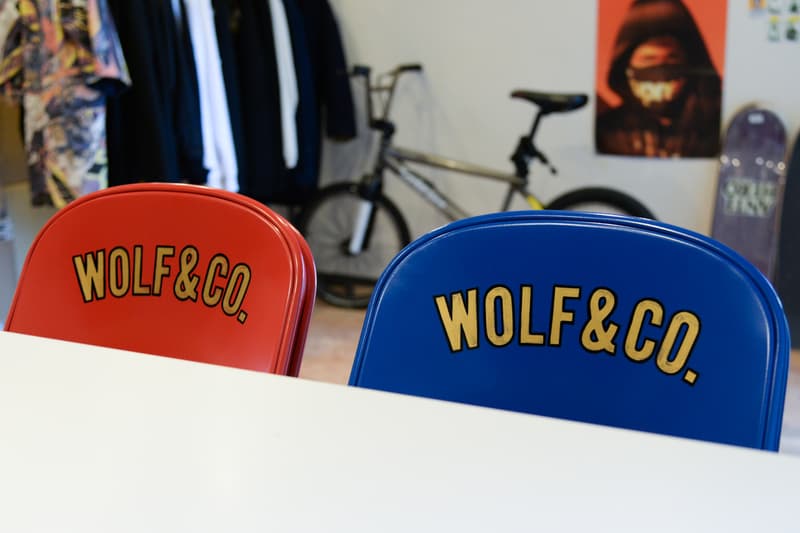 6 of 7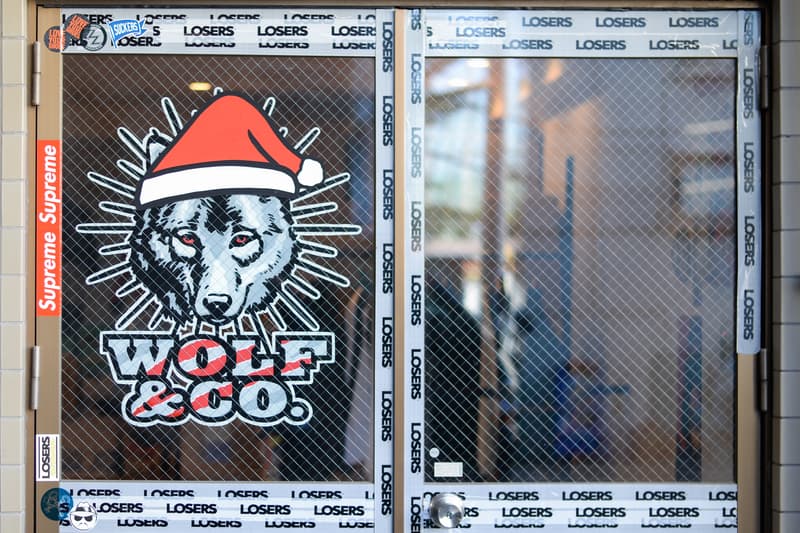 7 of 7
Our latest Studio Visit feature takes us to Tokyo-based artist Sneakerwolf's workplace in Sendagaya. We previously featured the Saitama-born creative's work for Supreme, which saw him add a festive touch to the storefronts of the imprint's Shibuya, Daikanyama, Harajuku, Osaka, Fukuoka and Nagoya outposts. However, after delving into his extensive portfolio it turns out there is far more to Sneakerwolf's story than just his store paintings. The artist has also been involved in various creative endeavors that span from designing exclusive releases with ASICS, KICKSLAB and mita sneakers, to helming his own flourishing footwear label LOSERS which fuses heritage design cues with youth culture influences. What became increasingly clear was that Sneakerwolf had two alternative design "personalities." One of them, as exhibited in his work for Supreme, was a distinctly more lighthearted approach to cartoons, while the other drew from a more conservative notion of Wa, the cultural concept of harmony.
We recently had the opportunity to drop by his workspace (which includes a pile of hundreds of sneaker samples) to get more insight on his diverse influences, his connection with Supreme, and what other projects he has been involved in over the years. Get a glimpse of the cozy studio above and stay tuned for more Studio Visit features in the new year.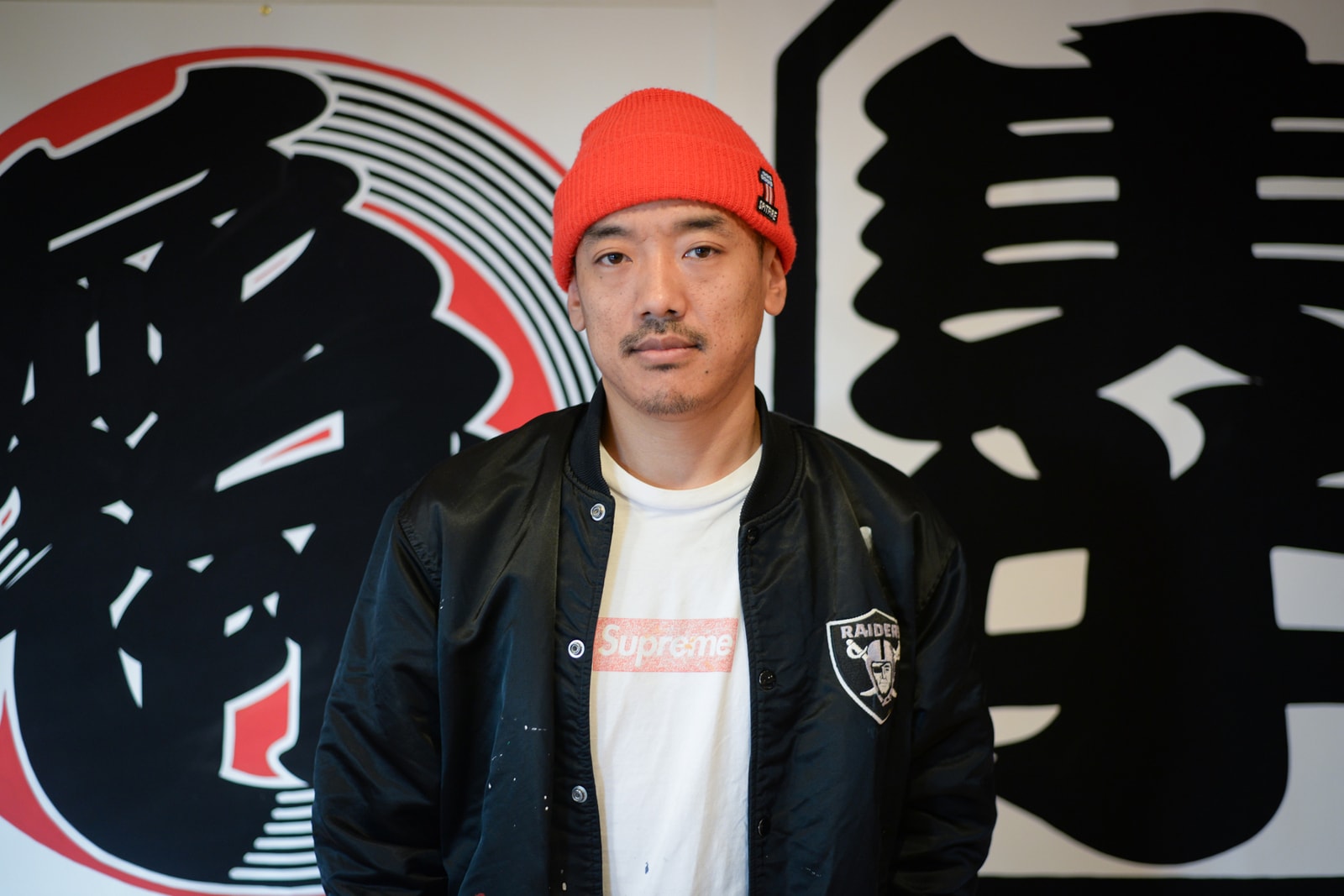 Could you tell us a little bit about yourself and how your interesting in painting and drawing came about?
I loved to draw as a child, particularly manga-related pictures like Kinnikuman and Gundam. I would try to copy them as best as possible. I kind of just grew up with the same passion and when I was in high school there wasn't much to do; I was interested in skateboarding and sneakers but I still wanted to draw. I didn't really get into tagging or attend an art school either, so I was really just trying to find a way to showcase my work. Right around that time there was the big Harajuku boom so I was contemplating on doing graphics for T-shirts. A lot of my friends were doing their own brands so I designed stuff for them here and there. It all gradually started from there. Then I began to get work from bigger clients such as Nike and this is where I am today.
What was your most memorable collaboration to date?
I think the Sakura-themed work that I did for Nike really helped put me on the map, but it was more of a commissioned work than a real collaboration. My first big collaboration under the Sneakerwolf name was with New Balance and mita sneakers.
Some of your paintings exhibit a heavy cartoon influence while others channel more traditional Japanese design cues. Could you break down how two such different styles became part of your work?
The cartoon-style graphics were definitely influenced from my childhood love for manga and cartoons. I used to watch Pink Panther, Woody Woodpecker, and the other foreign cartoons that were on TV. However another style that I use often is "Kanjigraphy," which is all written using letters in the alphabet but styled in a manner that resembles kanji. That side reflects my interest in traditional Japanese art such as Ukiyo-e. In my mind I'm trying to make some sort of a fusion of traditional and graffiti art. I like to think that there's a bit of a balance between those things.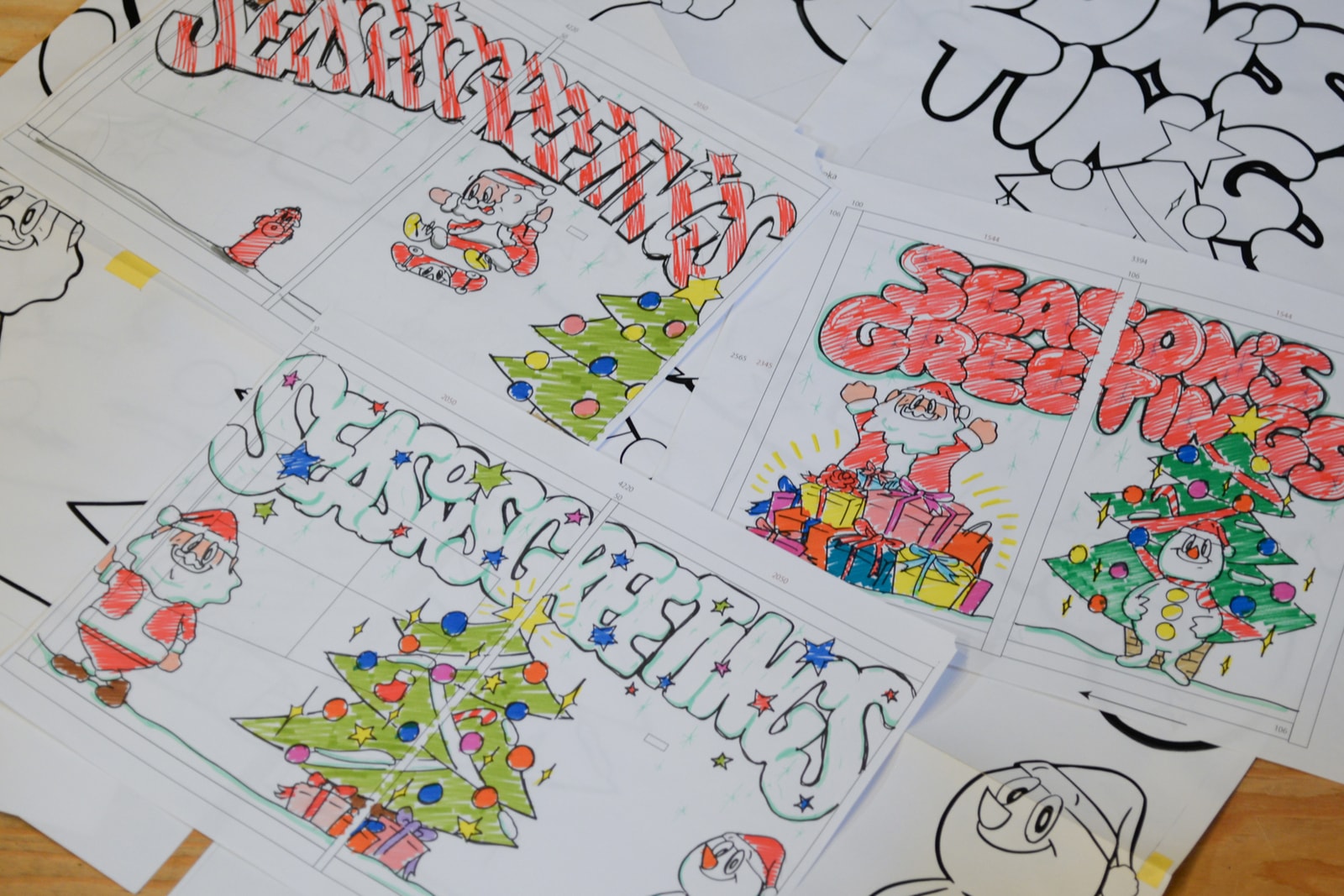 Do you approach both of those styles in the same way?
I approach "Kanjigraphy" more as art where I can express myself in a certain manner. However my approach to the cartoonish designs are more dictated by what a certain clients want, rather than a true form of creative expression so I consider it more as actual work. I have spent most of my time on it as well so far.
Supreme is a very selective brand to work with. How were you introduced to them?
It was really natural. As was the case in many of my previous projects it was through a mutual friend. It wasn't really an official offer or anything but a word of mouth opportunity that became something that I did on a more regular basis. When I did the window paintings I had to finish the works in a single night after the stores closed, so it was a matter of time management and seeing what I was able to do creatively in that time. Occasionally I would think I could add a little more detail or colors, but then I knew I had a limited amount of time to get it done. The only store that I had a little more time was the Harajuku store, where I had two nights instead of one. All the work by hand using a paintbrush.
You also helm your own label LOSERS. What was the reasoning behind starting your own footwear brand?
I enjoyed working on various projects with footwear companies over the years so when I was approached to help with the design aspect of LOSERS, I jumped on board. It's been around five years now since I first started, but two years since I've been heading the project full-time. Our "V" design [along the toe] is inspired by the distinct strap of the Geta sandal which carries a very distinct Japanese aesthetic, but I also try to convey a wide variety of youth culture influences such as skateboarding and hip-hop as well. In a way it's a fusion of those two worlds.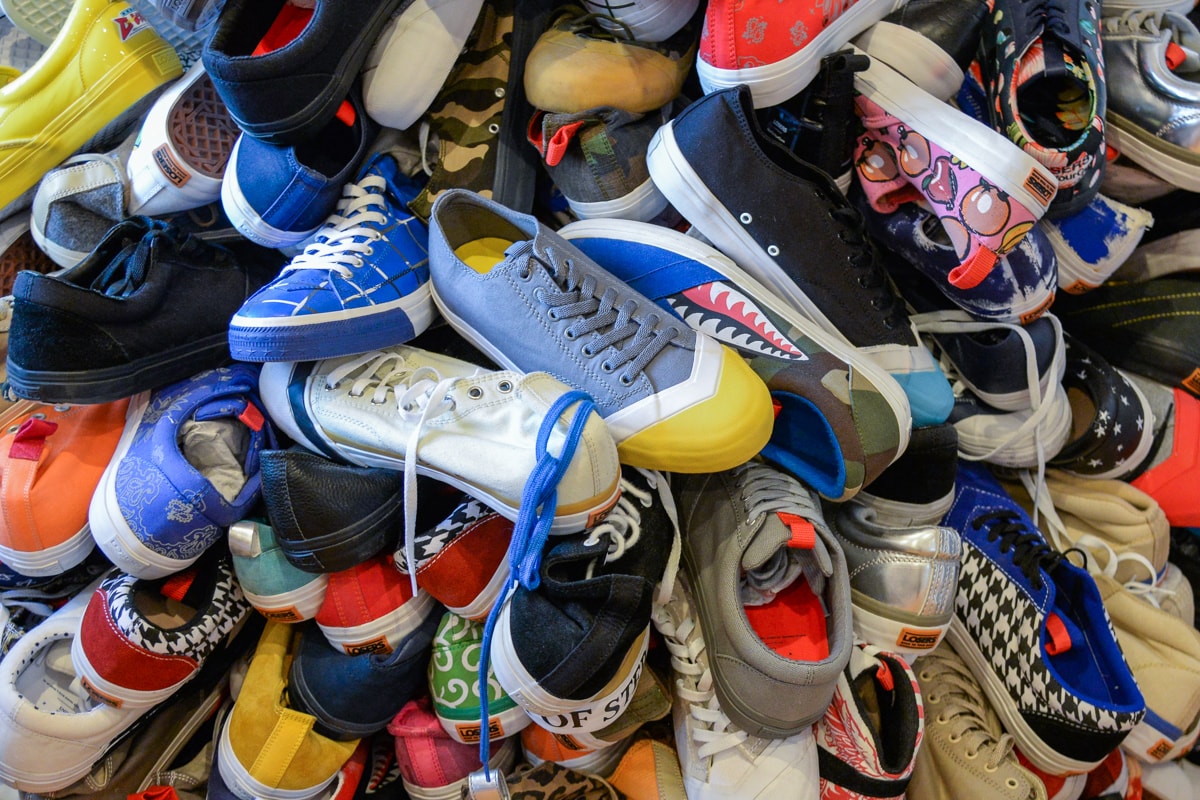 How is your design approach to your sneaker label and artwork different?
For footwear the canvas for expression is quite narrow because there is limited space on each shoe. It's more of a design approach and adapting to what I have to work with. However, for artwork I have more freedom to do whatever I want and feel. I just draw whatever I feel like drawing. Ideally I could make a crazy design work for a shoe but it requires more balance and self-control.
Do you have any collaborations or projects that we can look forward to in the near future?
Early next year I am planning to do a "Kanjigraphy" art exhibition but all the details haven't been sorted out yet. I have never really thought of myself as an "artist" before but more of an art merchant. Maybe after the show I can consider myself some sort of an "artist."