Celebrating Some of 2016's Fallen Heroes
Legends never die.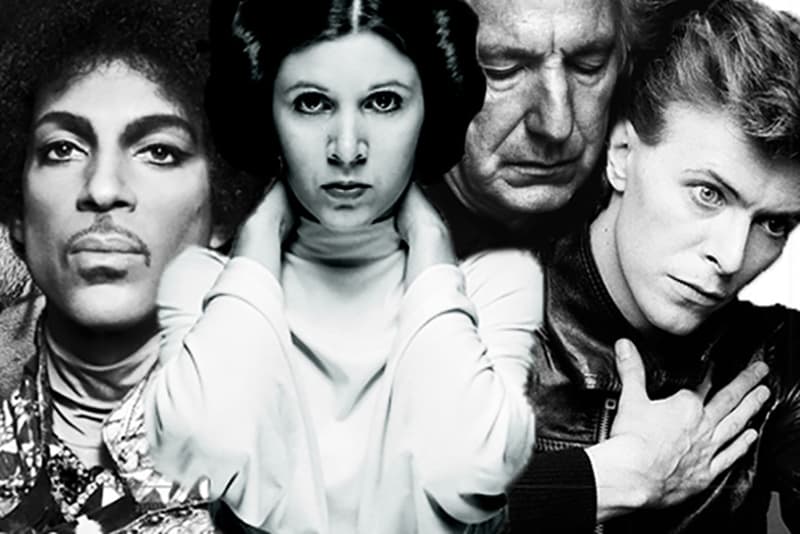 While 2016 experienced its fair share of musical breakthroughs, sporting triumphs and timely fashion releases, this past year to many though, will be summarized as the year of the fallen hero. Difficult to overcome in any instance, especially with icons many of us grew up immortalizing as youngsters. The past twelve months have proven exceedingly difficult with the countless losses we've endured, each as devastating as the other. To close out the year, we thought to construct a post to help commemorate some of the dearly departed.
David Bowie
Inspiring legions of artists in any and every genre, David Bowie passed at the age of 69, succumbing to a hard-fought battle with cancer. Undoubtedly one of the most influential musicians of our time, Bowie went on to release a staggering 25-album body of work, which includes such masterpieces as Let's Dance, Stage, Black Tie White Noise and Heroes, just to name but a few. So much more than just a musical act, Bowie was a cultural force to be reckoned with, as the artist also made inroads in film and fashion.
Dave Mirra
BMX riding legend and decorated MTV Host Dave Mirra lost his life early this year from a horrific self-inflicted gunshot wound. Tremendously gifted on two-wheels, Mirra managed to medal in every X Games from 1995 to 2008. A highly influential extreme sports star, the multi-talented creative played a pivotal role in transcending the X Games and BMX competitions from a once niche sport to a bonafide lifestyle choice.
Phife Dawg
The hip-hop community lost a legend this year in the passing of Phife Dawg. A member of A Tribe Called Quest, Phife's untimely death came at the hands of complications resulting from diabetes — an illness he had been bravely fighting since the early '90s. While an overwhelming outpour of prayers flooded in from his peers, his spirit certainly carried forth, as remaining the members of the iconic group carried forward with the release of We Got It from Here… Thank You 4 Your Service. Fans of the fallen rapper can soon expect his upcoming solo project, which he finished recording prior to tragic death.
Zaha Hadid
The world of architecture suffered an unparalleled loss with the unexpected passing of Zaha Hadid. The acclaimed award-winning artist suffered a fatal heart attack while being treated for bronchitis — eventually claiming her life earlier this spring. Revered far and wide for her eccentric neo-futuristic structures, the Iraqi-born Brit succeeded in influencing troops of aspiring architects, while helping to push the boundaries of artistic design. More recently, Hadid served as a professor at the University of Applied Arts Vienna.
Prince
Another musical legend who's life was cut short this year, was the one and only Prince. Gone too soon at the age of 57 from an apparent opioid overdose, the singer will surely be remembered not only for his diverse catalog of hits, but for his daring fashion demeanor and eccentric individuality. Although evading the public spotlight over the past few years, his presence will surely be felt for generations to come. The iconic artist will forever be remembered for such hits as "Little Red Corvette," "1999," "Purple Rain" and "When Doves Cry."
Muhammad Ali
Hailed by many as the greatest boxer, athlete even, of all time, Muhammad Ali passed away earlier this summer at the age of 74. Born Cassius Marcellus Clay Jr., Ali revolutionized the sport of boxing with his dynamic flair and unrivaled physicality. The three-time heavyweight champion not only excelled at the highest level of sport, he was also praised by many for his laudable humanitarian efforts as an activist. Whether a fan of boxing or not, Ali will forever be synonymous with the term "greatest ever."
Anton Yelchin
Best known for his portrayal of Pavel Chekov in Star Trek, Anton Yelchin died at the tender age of 27 from a rather unfortunate freak car accident. Ever since invading the big screen in the late '90s, the young actor has been praised by the inner acting community for his unwavering professionalism and commitment to his art. Yelchin's impressive portfolio includes such films as Alpha Dog, Terminator Salvation, Charlie Bartlett, The Smurfs, Green Room and Star Trek Into Darkness, amongst others.
Bill Cunningham
Touted by many as the most celebrated street style photographer of all time, Bill Cunningham passed at the age of 87 after having suffered a serious stroke. Known for his vivid The New York Times editorials, the illustrious sharp shooter dedicated his life for the craft he loved dearly, as passerby's would spot Cunningham riding around town en route to cover New York Fashion Week, for instance, or simply the everyday common folk commuting to and from work. The departure of Mr. Cunningham has left an irreplaceable void in both the fashion and photography world.
Jerry Heller
Controversial former N.W.A. manager Jerry Heller also passed away this year at the age of 75 from a reported heart attack. Forever synonymous with the revolutionary rap group, Heller began managing N.W.A in the late '80s, which led to the eventual disbanding, largely due to the ongoing financial disputes with Ice Cube and Dr. Dre. Aside from the Compton-based crew, Heller also had professional ties with such greats as Marvin Gaye, Elton John and Pink Floyd.
Dylan Rieder
Losing his battle with leukemia at the age of 28, professional skateboarder and model Dylan Rieder will be fondly remembered for his tireless contributions to the world of skate culture. Since turning pro at the age of 18, Rieder helped parlay the sport into the cross-cultural phenomena it is today. Making as much of an impact off the board as on, Rieder will forever be honored for his part in DKNY's 2014 Spring ad campaign alongside supermodels Cara Delevingne and Jourdan Dunn.