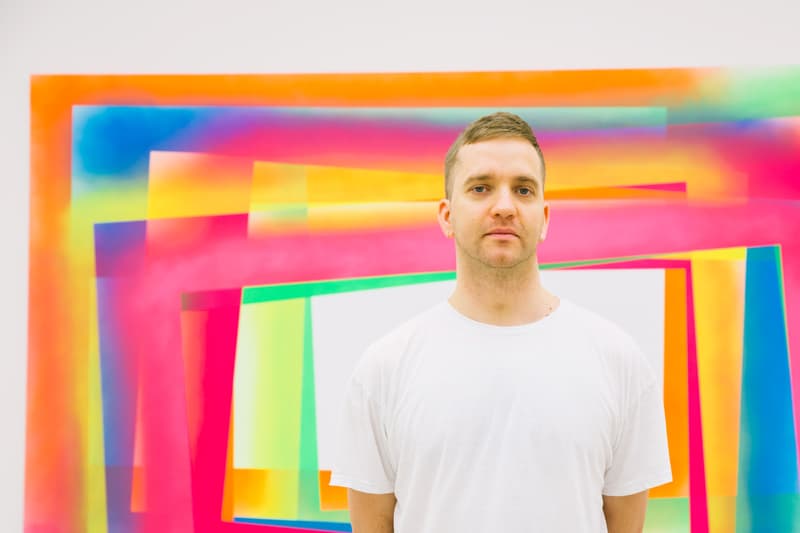 1 of 6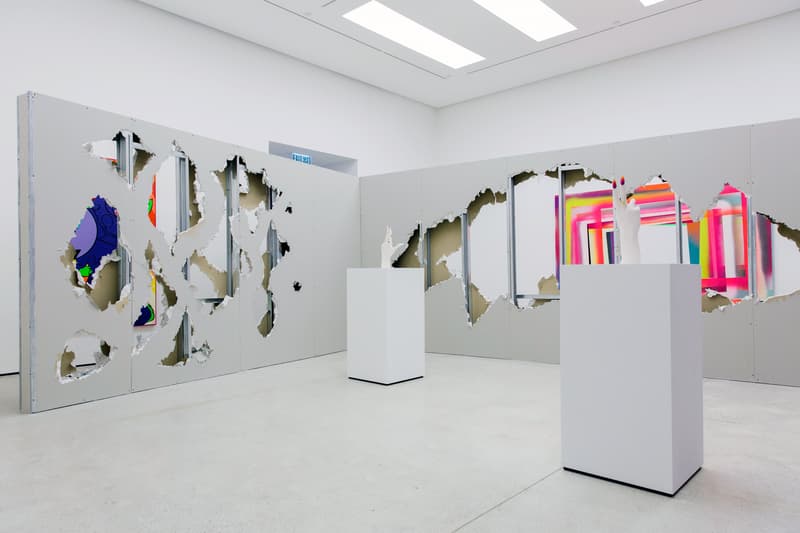 2 of 6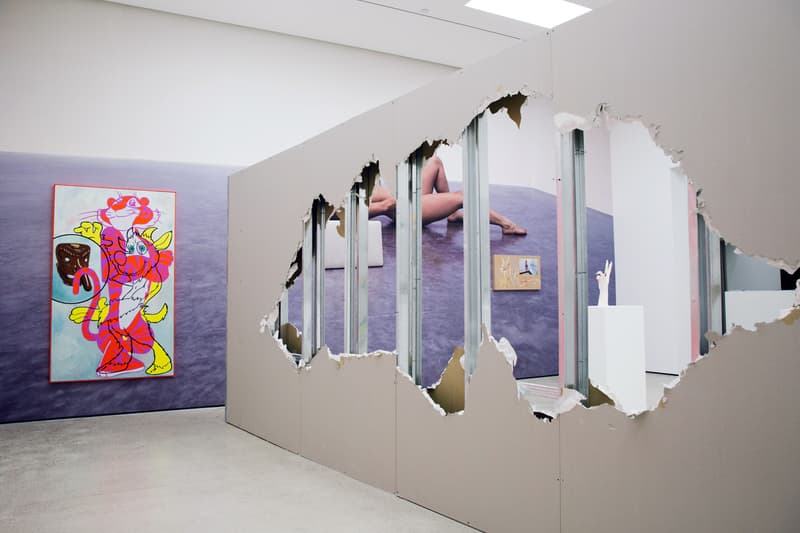 3 of 6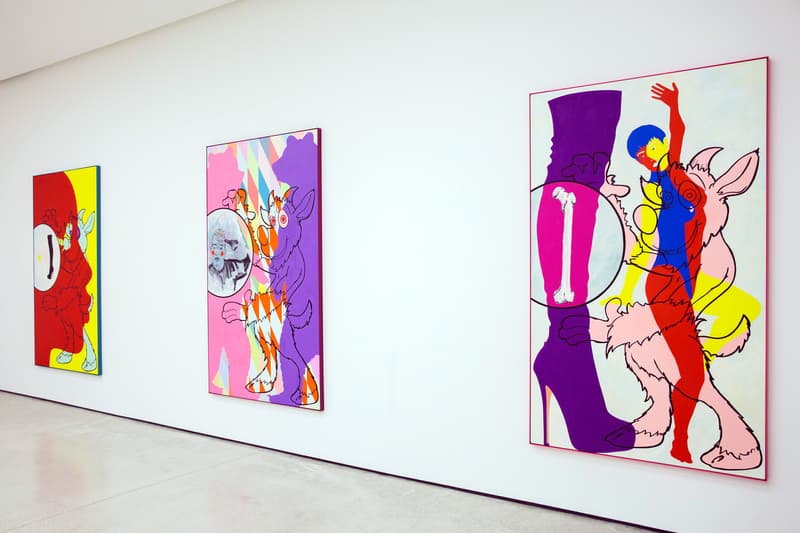 4 of 6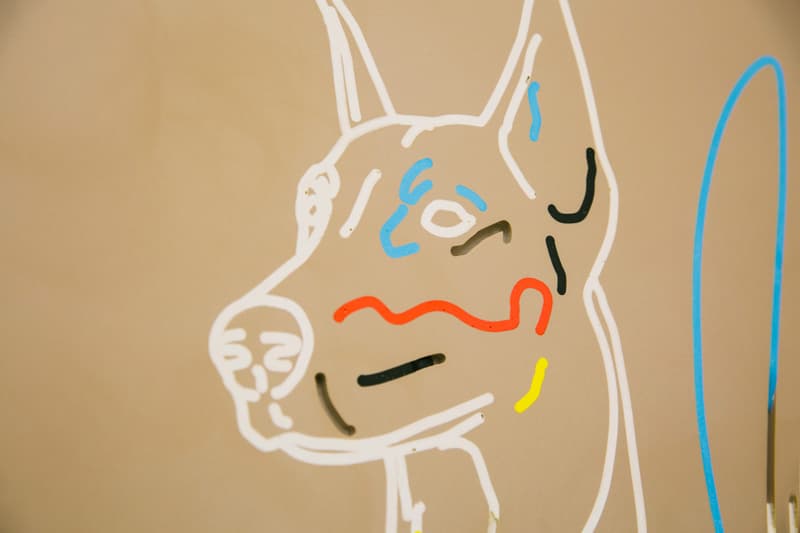 5 of 6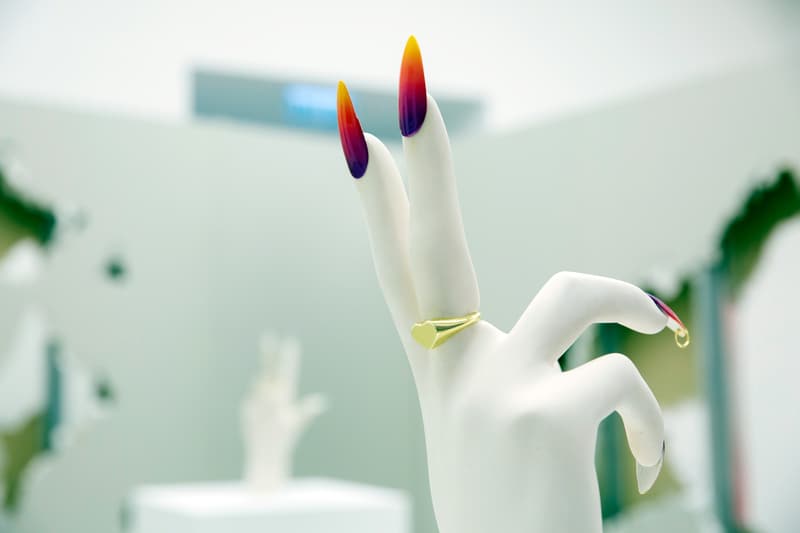 6 of 6
Artist Eddie Peake on Working With Kendrick Lamar and Breaking Down Barriers
As he gears up for his "Where You Belong" exhibition.
---
With his loud visual works of art that speak volumes to our millennial generation, Eddie Peake's fresh take on the artistic realm is something worth following if you haven't done so already. With his varied artistic vocabulary, through combining multiple mediums to covey his message (such as painting, photography, performance, video, sculpture and installation), Peake describes himself as a 'producer' of his multifaceted creations. Peake often finds himself delved deep into the inner workings of his mind, focusing on unconventional materials and using them in unconforming ways. By exposing us to something new and unexpected, Peake hopes to break down the walls of normalcy and to open up new questions and experiences we have never encountered before.
Though at first glance Peake's "Where You Belong" exhibtion is joyous and vibrant, the real entry point is a story of darkness and psychosis, aiming to take you deep within his mind, right at the edge of it all, giving a very visceral impact. His latest offerings are of autobiographical significance; from the fawn, which represents his manic alter ego to the gaudily adorned, oversized female hands, which symbolizes the painful insecurities with expressing oneself. And right through the center of it all, two adjacent smashed walls creating a sense of disclosure; are we heading towards a whimsical dreamland or are we close to the infinite void of death?
Over the years, Peake has honed his skills and perfected his crafts to present meaningful works that are an energetic spectacle, embracing the erotic and sexualized. Peake's work has even garnered the attention of musician Kendrick Lamar. The end product being a harmonious music video for Lamar's "Sing About Me" in which the rapper's haunting lyrics are visually created through Peake's mixed-media installation.
On the eve of "Where You Belong," we got a chance to sit down with Peake to speak about the ideas that drive him, where he hopes to take his art into the future, and how working with Kendrick Lamar came about. Though he doesn't consider himself a "sneakerhead," Peake's affinity for the niche spoke volumes as he entered the gallery with a fresh new pair of Nike Air Max 90 "Infrared" kicks and a laid back grey sweatsuit. But don't be fooled by his casual outfit and nonchalant appearance, Peake is anything but, showcasing an otherwise worldy and well-spoken demeanor as the conversation commenced.
I've noticed that you use different types of mediums and materials in your art work. How is this important for you to convey your message?
I'm not the sort of artist who thinks in paintings, or in sculpture, or in clay, or in video, and those artist do exist. You know there's some painters that are painters before they are artist, and that is not true of me. I don't really think about my work in a singular medium, I think about it in all sorts of different ways. So I have a lot of ideas, and I want to make them all and that's how I think I know if "they are any good or not," by actually making them. So I'm a bit of a nerd when it comes to materials and manufacturing processes. I get all excited when I learn about whatever it is, injection molding, vacuum forming, or whatever. I want to get involved in some way.
I want the work to belong to the age I live in, and a lot of the materials employ that. The methods, a lot of the work I make, employ a lot of the methods and materials that could not have been made a hundred years ago, or 50 years ago, or even 20 years ago. And that's quite important to me, I want my work to belong to at least "now," let alone the future.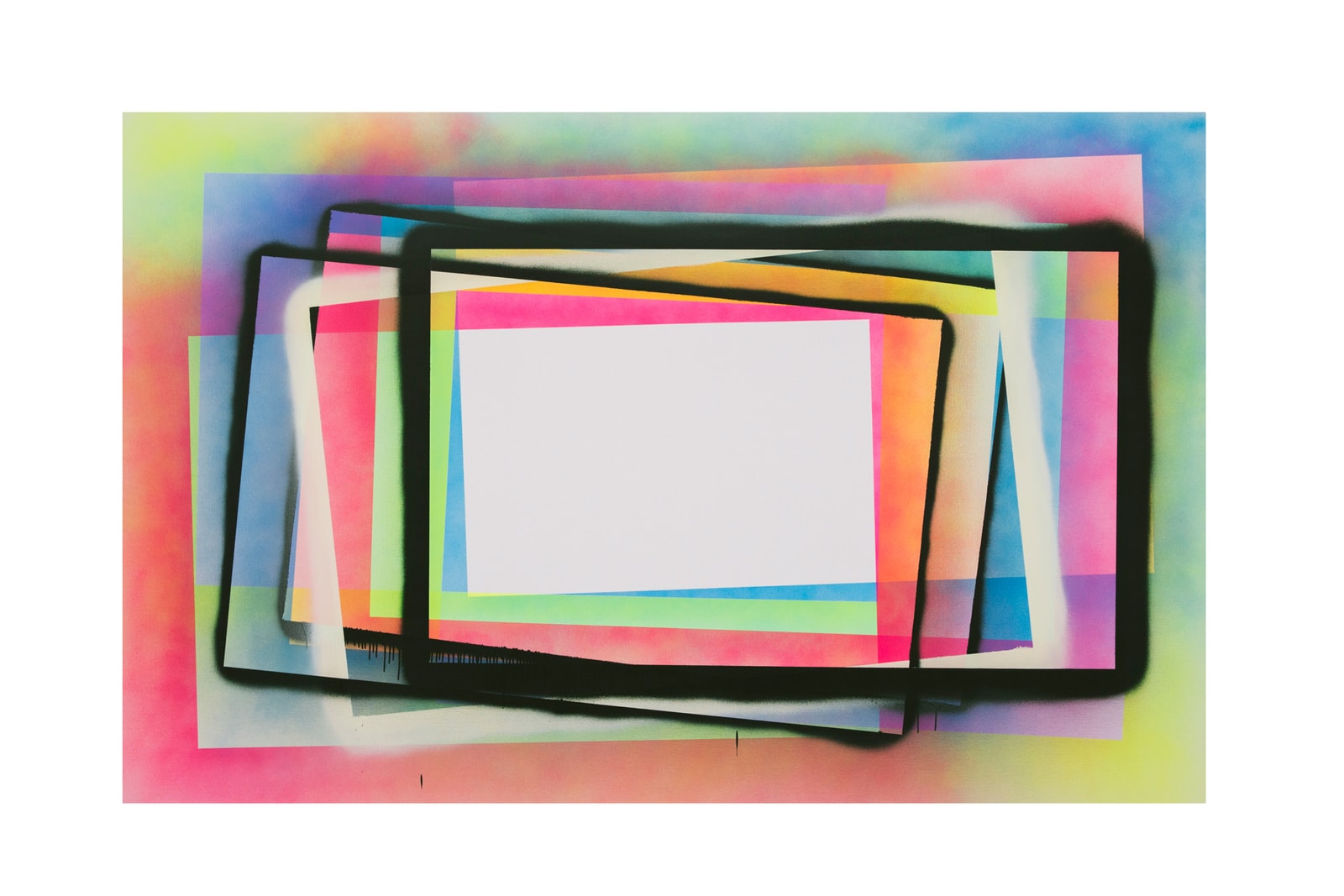 Would you say you want people in the future to be able to look back at your work and know what genre or era it came from?
No, I want people now to look at the work and be discombobulated but its unfamiliarity. That's the thing about some artist's work, it so readily embraces known conventions and traditions and orthodoxies in a really unquestioning way. I suppose I want my work to challenge certain conventions and traditions. I don't know how much this is relevant now that I know you guys are really into trainers. Haha.
For those who are unfamiliar with your work, do you notice if they find it to be too "sexual" or are they desensitized by it all?
Well, I think it varies to a great extent. I mean, I'm personally always surprised when someone is shocked, because I feel like, contemporary life and culture is so heavily saturated with images of nudity, or the body, or sexuality or sex, that in some extent it's better for people to be habituated to that, and to understand that the work is speaking to that. It's certainly not trying to shock. And there's another end to the spectrum, that suggest that they are just enjoying it, that's the response I like the most. When people are engaged with some of the criticality of the work and some of the ideas that I'm trying to throw under the magnifying glass, but they are engaged in a way they are obviously enjoying it.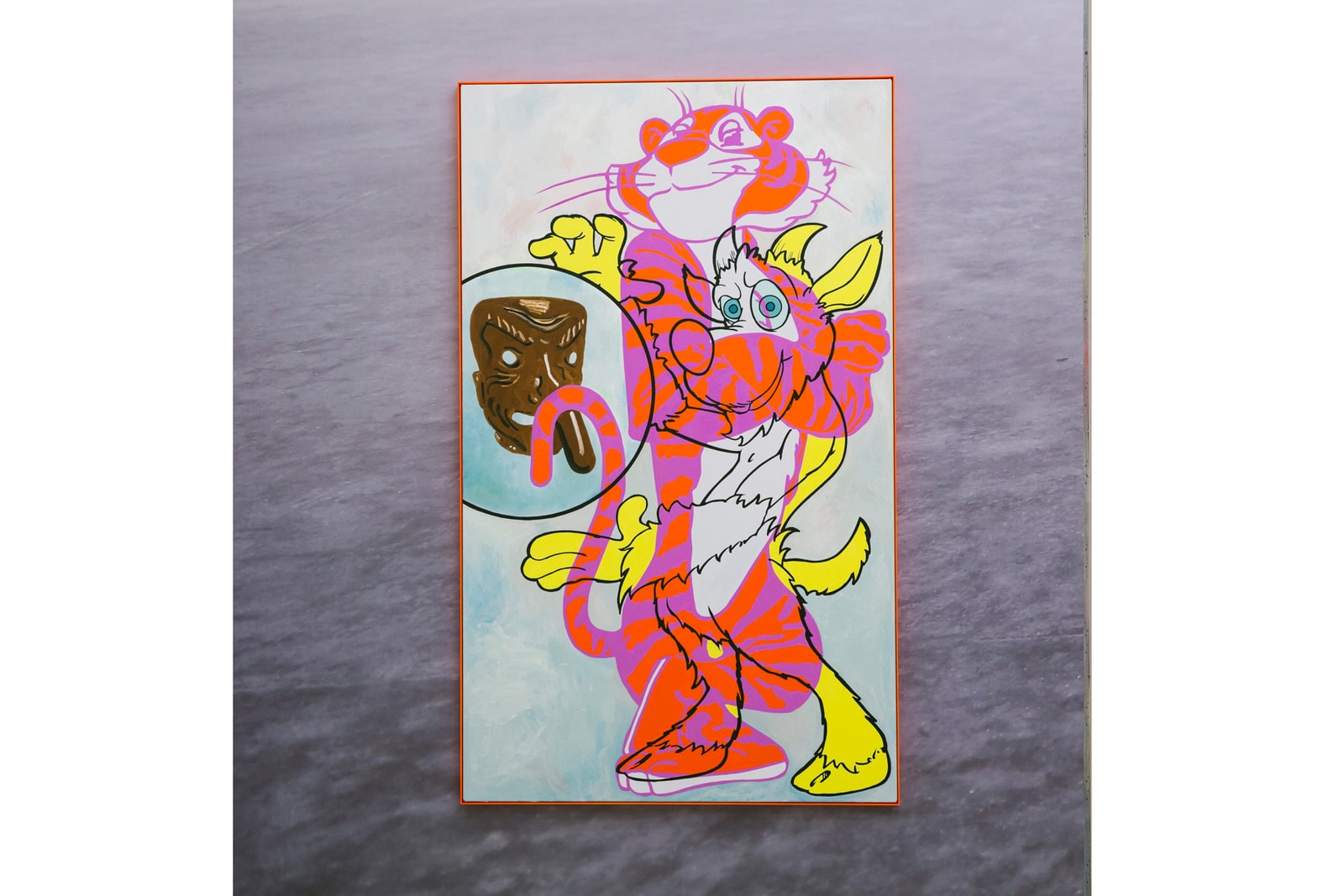 I understand you are not trying to be provocative, you just like using the human body as an art form?
Yes, exactly. It's one of the mediums I'm interested in working with. Like acrylic, like neon, like stainless steal.
So can you tell us about working with Kendrick Lamar? You worked with him a while back on a music video.
Yeah "Sing About Me." It was just a weird thing I was invited to do, and I love weird things. You know a lot of the work, projects that I have been involved in step outside of the esoteric parameters of the art world, and for me that is a good thing. I want to make work that exist in the world, not exclusively in the art world, cause the art world can sometimes be quite closeted away from the realities of being a person in the world, to an extent that I think it's a problem. I want to make work that relates to people's everyday life. And some of these weird projects I've done, like that video with Kendrick Lamar, or for example I made a show in Victoria Beckham's shop in London, these are the kinds of things a lot of people in the art world would be, umm like be "snobbish" about. But I feel like "I don't care about you actually, you're boring to me." That thing that I did with Kendrick lamar, I mean I don't even know if it's any good or not. The thing for me, that's interesting about it, is who encounters it. Most people don't know about that video, cause it isn't his most famous, it's one of his much lesser viewed music videos. I actually never met him though, it was all done separately.

Do you see yourself doing more collaborations with hip-hop artists?
I mean it's not something I've specifically tired to do, or tried not to do for that matter. I love working with music, I've employed them. You've heavily encountered it here. It's an integral part of my performance work in particular, but I also run a small independent record label. On the club night I DJ. And in the performances, every performance has an original composition, so music and sound is really important to me. And I have made a few other music videos for independent parties. So yeah that's something I would love to do more of in the future.
Could you tell us more about your record label? What other collaborations have you done besides music videos?
Yeah, I don't have many things on it, vinyl is the emphasis; I really like vinyl. I'm still one of the idiots that spends money on it, I have actual records. It's a very small market, vinyl, so when we release records, we don't do more than 500. The days of the massive pop stars selling like 10 million actual records, that is a long distant memory that will never occur again. Now that we can click a downloadable link.
White Cube Hong Kong
50 Connaught Road
Central
Hong Kong