adidas Insider Gary Aspden Reveals His Top Five Releases From 2016
You might be surprised.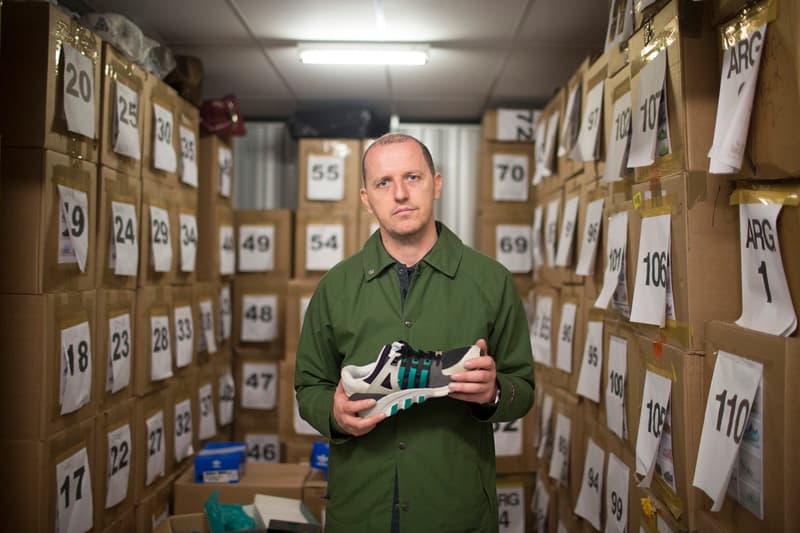 As the man behind the archive-inspired adidas Spezial series, Gary Aspden's journey from fan and collector through to brand consultant has seen him play a major part in the continued success of adidas's heritage product line. From seeding rare pairs in the right places — thanks to Aspden's influential social circle and plugged-in contacts list – to creating his own documentary, Sole Searching In South America, which saw him travel to South America to track down archive pieces, Aspden's passion and knowledge makes him a true expert on all things Three Stripes. Now, as the year comes to an end, we asked the self-confessed sneakerhead for his top releases from 2016.
adidas Lacombe SPZL

"This was a new hybrid shoe that was developed as part of the adidas Spezial SS16 range. The shoe took inspiration from two vintage tennis styles — the adidas Newcombe for the upper and the Rod Laver Vintage for the sole. While the upper retains features like the iconic adidas 'T' toe, the specifications and branding executions are revised to give it a contemporary look and feel. Within the Spezial range we try to create a modern range that pays homage to and echoes a very particular adidas aesthetic. When we set out to create a plain white shoe like this it is a challenge to get it absolutely right. For a plain white tennis shoe like this there is nothing to hide behind design wise so we had to pay a great deal attention to the specs and materials – without wanting to sound over dramatic every millimeter counts."
adidas Futurecraft 3D

"I was involved in the launch and gifting of the first Futurecraft 3D in white and while it was still a work in progress, I knew it had huge potential. They were not available to the public to buy at that point as they had not been through the stringent standard testing that adidas are notorious for. These Futurecraft shoes looked identifiably adidas as that 3D-printed midsole is like a direct descendant of the 1980s Dellinger web (one of my favourite vintage technologies). I sent Ian Brown the first pair of the white colorway, which he tested out on our deadstock hunting trip to Buenos Aires (see Sole Searching in South America Part 2). The arrival of these Futurecraft 3D shoes have further cemented the reputation of adidas as the market leader in athletic technology, as well as having the greatest design archive of any sportswear brand — it's a really strong combination. While I am obsessed by the adidas aesthetic of the 1970s and 1980s, to ignore a shoe that is so pioneering (and has the potential to shape the future of the sportswear industry) for this list would have been a travesty."
adidas Indoor Super SPZL

"While I get excited about creating new hybrid shoes within the Spezial range, we always do some 1:1 reissues, which give context to the new ideas that we present. The design of the Indoor Super is one of the greatest ever from adidas and was a shoe we were determined to rebuild a faithful reissue of. This shoe was super popular when I was a teenager and had been reissued by adidas in 2003 into what was a very different sneaker market. While market conditions were different (no one shopped for trainers on the internet back then) the reissues they released had some flaws in their make up), rectifying these shortcomings was a priority to the team who worked on the Spezial version of these shoes with me. I believe that the Indoor Super is an iconic shoe and my theory is that if a product can be described as a design classic then when it is reissued it needs to be as accurate as possible. Classic design when executed correctly has the potential to excite new audiences without being reliant on nostalgia for its appeal. These are another example of a product from the Spezial range that have a core football casual following that have begun to find a wider audience."
adidas GT Manchester SPZL

"Myself and Mike Chetcuti designed the original adidas Manchester shoes back in 2002, which were a limited edition release to celebrate Manchester hosting the Commonwealth Games. Manchester is in the adidas heartland that is the north of the UK and we believed the passion for adidas in that city should be acknowledged in some way. I was never 100 percent happy with the 2002 shoe and always felt it could be improved upon because in order to deliver them in time for the Commonwealth Games we didn't have the usual sampling timelines to perfect them. The 2002 version were never released in huge numbers so have become very coveted in the years since. It was a challenge to recreate what is essentially the same shoe (with its now iconic colorway) while improving upon it. We looked at a number of OG Handball Spezials in order to find the best way to rework the upper specs and also changed the tongue and footbed and improved the materials. These shoes created an online furor and sold out in minutes on release and the interesting thing about this release was that while the shoe has cult status among British football fans, they somehow crossed over into a much wider audience — with everyone from Giggs to Blondey McCoy from Palace wearing them."
adidas Ultraboost in Triple Black

"It would not be possible to do a top five adidas list for 2016 without including a shoe that uses the BOOST technology and for me these are the best of the bunch. While they are a very pure performance-driven product they have managed to cross over and be adopted as a lifestyle shoe. I always like to see shoes being adopted into something that sits outside of their original purpose — that's a big part of how my love of sportswear originally began. The UltraBOOSTs are born out of the essence of what adidas is — creating the very best products to enhance athletic performance. BOOST technology has already changed the landscape of athletic footwear in a relatively short space of time. As far as I am concerned, it is by far the best technology in the market and many who have worn it will also attest to that. Performance technology like BOOST does not come along very often — it has most definitely set adidas apart from its competitors. If I had to choose from all the UltraBOOSTs that dropped this year, I would have to go with the triple blacks. I managed to secure one pair on release, which I ended up giving to 3D from Massive Attack who was having difficulty getting hold of some. But I will be on the lookout for another pair of triple blacks when they drop again."