Andrew Richardson on Tasteful Vulgarity and Sex in Fashion
"But if you have good taste then you can break that good taste and make something really interesting."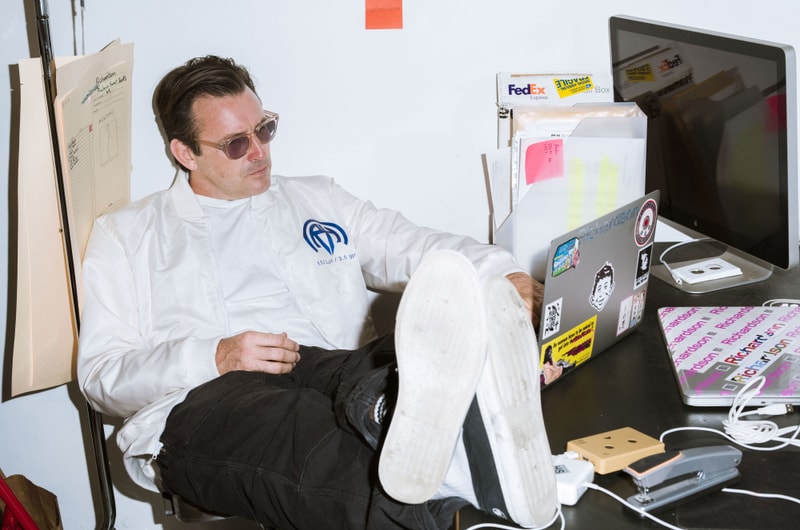 Andrew Richardson is best known for helming the provocative Richardson Magazine — a print that has seen the likes of Blac Chyna on its cover. Having been entrenched within fashion his whole career — Richardson was a stylist working with Calvin Klein and Valentino before going on to work under legendary photographer Steven Meisel — starting his own magazine was a no-brainer. The publication then evolved into a streetwear brand, helped by his friend James Jebbia. 032c's Thom Bettridge picks Richardson's brain for SSENSE's Tête-à-Tête series, read the full interview here.
Are you ever concerned about producing a project that's in poor taste? That moment where it's like, "This is excessive," or, "This is too crass?"

Yes, for sure. My fashion background comes from a tradition of playing around with vulgarity and trying to be thoughtful of how you do it. Helmut Newton was a big fan of vulgar, bad taste, and I think he had a big influence on all of us. I find relentless good taste to be really boring and really stifling. It's really good to assault people with something vulgar.

What did you learn from your time working with Steven Meisel?

Working with Steven on and off for 15 years taught me about being thoughtful about what you do and also optimizing every opportunity to make images. Not being lazy, but also staying open to coincidences and staying flexible within the idea that you're interested in. If you don't have good taste, you can't do vulgar work. But if you have good taste then you can break that good taste and make something really interesting. Some of Steven's best images are ones where he's broken the beauty of the situation in a way that somebody else wouldn't have thought of doing.

So you create this kind of artifice—this very strictly calculated image—and then there's a rupture in that. It's like this moment of…

Pop! Those are the kind of moments when you're like, "Wow, that's an image that will resonate forever." Terry Richardson's always talking about doing something that can be referenced in 15 years time. That was always the goal, rather than just being more wood for the fire. Unfortunately, I feel a lot of fresh imagery today is so controlled by advertisers and editors who are afraid about the financial aspects of a magazine. It's almost like we're going back to a pre-Diana Vreeland idea of fashion magazines, where they're just like catalogs for brands to sell their wares. What happened after her was fashion magazines were the arena of ideas and feelings and became kind of cultural magazines. And I feel that it's less about that now. That's a great sadness.

Part of that is you see a lot less sexuality in fashion photos. There's a sort of neutered quality.

You see a lot of really dumb conventions of sexuality. People feel like they're restricted to expressing themselves using the fashion that they're photographing, and then they'll use some sort of boring erotic motif to make the story "cool." It all seems very lazy and boring.

How do you keep yourself excited?

The magazine is about sex, but it's really about provocation. It's trying to be a thought-provoking magazine based around sexuality and culture. And then the magazine evolved into a fashion brand, so you're thinking about clothes and you're thinking about graphics and you're thinking about translating the ideas that are in the ethos of the magazine into clothing. There's a lot of work to do in the Richardson world. That keeps me pretty busy and pretty satisfied.

What made you decide to start a clothing brand?

I'm friends with James from Supreme. He said, "Oh, we should do some t-shirts with artwork from the magazine." And I had never even thought about it before. We did that, and then I didn't do the magazine for about seven years. When I came back, I thought, "Let's do a few t-shirts!" I have a background in fashion and I've always sort of enjoyed it.

You mentioned that for you the magazine was as much about provocation as it was about sex. What are you provoking us towards? What types of boundaries are you trying to transgress?

We live in a culture of "like" and "shame." And it feels almost like a fascistic culture of intolerance of any kind of dissent or any kind of negativity. There's very little subtle nuance, and there's very little room for any kind of personal truth. We're trying to present freedom of thought, whether it's about politics, sexuality, violence, or whatever. We are trying to present things that if you wear them, you are separating yourself from mainstream culture. And so we're talking about being thoughtful. I was always really impressed with people who were able to accept and communicate and weren't ashamed of their weaknesses and vulnerabilities and who they really were. Some of the ideas we present, you have to be quite into provocation to want to wear them.