Rei Kawakubo Opens up About the History and Business of COMME des GARÇONS
"I've always been against people who told me what to do."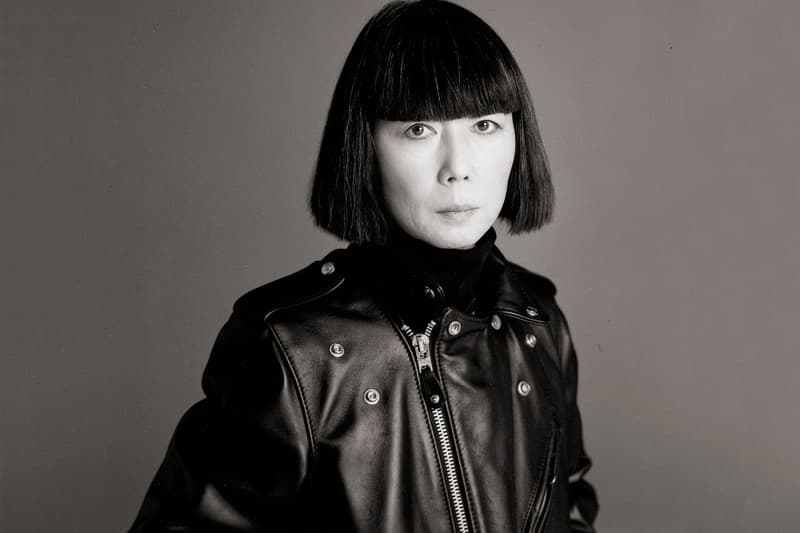 The elusive and private Rei Kawakubo is one of many mysteries; for a person who is rarely photographed, interviewed, so reserved as to not bow after a fashion show, and yet greets buyers for her collections every season, the public tends to shroud her with an aura of secrecy and laced with awe. Since its inception in 1969, COMME des GARÇONS has held a staple position in the world of fashion, with fans globally and of such stature as Karl Lagerfeld, Louis Vuitton creative director Nicolas Ghesquière and Marc Jacobs adoring her collections. Her business mentality rivals that of her creative talents; the Dover Street Market department stores resemble galleries more than shopping malls to which withhold a new standard in presentation and aesthetic, while at the same time making bold statements in her clothing that's "not about dressing for other people. It's not about buying clothes to attract or seduce. It feels like a gift you're giving yourself." Her fashion now stretches from high fashion runways to the trends and norms of urban streetwear through multiple diffusion labels, all of which are greatly respected in metropolises across the globe.
In a rare interview with The Guardian after the wake of New York Fashion Week 2015 here in New York, Rei Kawakubo shares her inner thoughts about retail, feminism, the industry of fashion and even her morality towards finance. Read a few excerpts below and visit the full article here.
Rei Kawakubo's designs have always been personal, driven by a sense of independence. Her father was a university administrator and her mother a teacher. After studying history of aesthetics at Keio University in the 60s, she left home and found work in the advertising department of textile manufacturer Ashai Kasei. The job included looking for props and costumes and eventually she started designing those she couldn't find. She finally went freelance as a stylist and designer in 1967. "The very first thing I wanted to do when I started this was to make a living, be independent and have a job. But I could never find clothes that I wanted to wear, so I decided to make them myself.'

Without any formal fashion training, she launched Comme des Garçons in 1969, with the first boutique opening in Tokyo's Minami-Aoyama district in 1973. From the beginning she had unorthodox ways of working. "I attempted a different approach to the typical clothing storefront, which was usually adorned with mannequins dressed in the latest collections for everyone to see, clothes on view for the masses to lust over. The front display windows of the first boutique in Aoyama were often kept vacant while the clothes remained in the back room of the shop. I would make the clothes, bring them to the boutique and interact with clients daily. There were no mirrors in the boutique to emphasise the notion that one should buy clothes because of how they make you feel, not how they make you look."

Kawakubo has said that she just likes the sound of the words that make her company's name, but the spirit of "like boys" chimed with women's liberation in the 60s and 70s, and her designs have always challenged traditional ideas of femininity. "I've always been against people who told me what to do," she says. She identified with the punk movement in London in the late 70s and visited the city twice in the early 80s. When she first showed in Paris in 1981, fashion was dominated by the high glamour of Gianni Versace and Thierry Mugler. Dynasty and Falcon Crest debuted on American TV that year and Human League was the bestselling band in the UK. This was the world into which Kawakubo sent that first collection of black, shapeless garments with asymmetric hems, odd flaps, laddered knits and shredded fabric. It was a signature style that had earned her fans at home the nickname Karasu – "the crows" – by the Japanese press. "I built my work from within instead of satisfying a demand for sexualised and ostentatious clothing," she says.

But the collection was dismissed by critics as "ragged chic". It was also attacked on a political level, labelled "Hiroshima chic" or "post atomic". Kawakubo says her work was misunderstood. "Although I never went hungry I remember well the extreme poverty and devastation of those times. But this had no bearing on my work whatsoever. These critics had it all wrong. Being born in Japan was an accident. There is no direct correlation to my work. Growing up in postwar Japan has made me the person I am, but it is not why I do the work I do. It is a very personal thing – everything comes from inside."
Photographer

Eiichiro Sakata
Join Our Discussions on Discord
The HYPEBEAST Discord Server is a community where conversations on cultural topics can be taken further.