Essentials: Agi & Sam
An exclusive look at the daily carry of one of contemporary fashion's most colorful duo.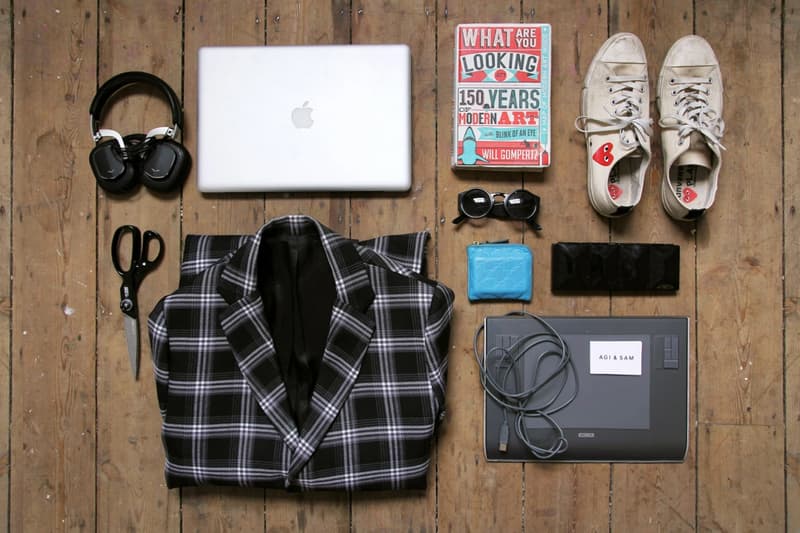 Following foundation a little over five years ago, contemporary print based fashion label Agi & Sam has leaped forward with the win of its latest "Breakthrough Menswear Designer" at WGSN's Global Fashion Awards and lauded 2016 spring/summer offering. Founded by Agape Mdumulla and Sam Cotton, the brand draws both its name and affinity towards playful pattern work from the eclectic pair themselves who seem to seek out the revival of childhood memories with each collection. The latest installment of HYPEBEAST Essentials is a look at what two very untypical creative minds carry with them on a daily basis.
Representing such a digitally rendered take on contemporary clothing, Agi & Sam keep a MacBook Pro and a Wacom Intuos Pen Tablet close with a pair of Vertu headphones to aid in the abstraction of each garment's design. Solidifying the duo's playful edge is a pair of well worn COMMES des GARÇONS Play x Converse Chuck Taylor Lows and a bright blue example from the Japanese label's embossed wallet series from last season. To accompany an insightful copy of a book by Will Gompertz titled "What Are You Looking At? 150 Years of Modern Art in the Blink of an Eye," is a watercolor set from the famed 1832 British fine art supplier Winsor & Newton. Fabric scissors assure the duo's trade with an example of their notch lapel Masai Weave SB Coat outfitted in full check patterning. To complete such a Brit-centric Essentials selection is a pair of JANZ & COOPER Sunglasses along with a stack of beautifully simple business cards.