Essentials: DJ CYBER69
Here are the must-have items from the Toronto-based Russian DJ.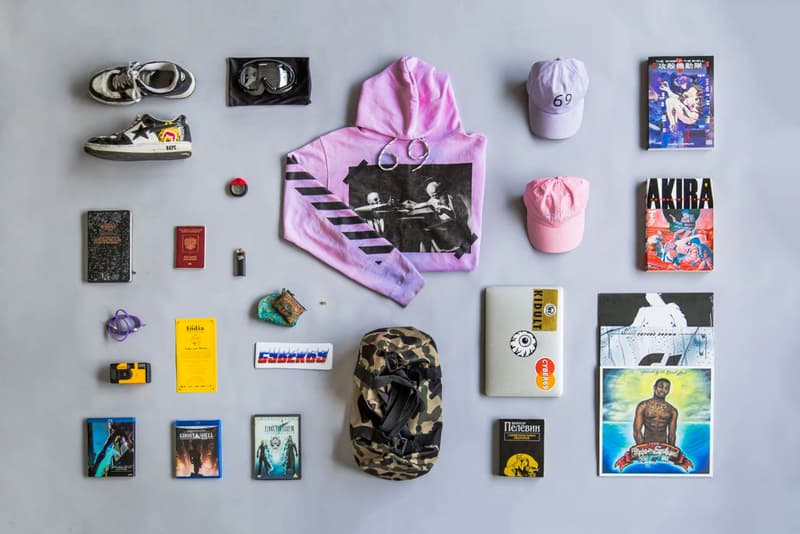 It wasn't that long ago that DJ CYBER69 was a computer-programming graduate living in Vladivostok, the far East Russian city noted for its picturesque views and close proximity to China and North Korea. Fast-forward four years and the mild-mannered, laid-back Russian is catching some different views (from the 6) thanks to a relocation to Toronto, as is becoming noted in Canada's creative capital for his eclectic DJ sets, unique sense of style, and being a part of collective See You Never. Along the way he's even caught the attention of some famous friends, including Virgil Abloh and Heron Preston of OFF-WHITE/Been Trill, whom he was spotted chilling with during Paris Fashion Week earlier this year. We caught up with him for our latest installment of Essentials to take a look at his current must-have items.
Vinyl from the likes of Arca, Future Brown and Lil B showcase his varied music tastes. Outside of music, CYBER is also a big fan of anime and manga, and counts Ghost in the Shell and Evangelion among his favorites; he even has the limited edition Evangelion eye drops. His quirky accessories are one of the trademarks of his personal style, so CYBER includes his Goggles, a BAPE duffel bag and shoes, and a "69" tooth cap in his daily items. His affinity for unique headwear is apparent in two hats — one that features Drake's "6" logo that's been altered to better reflect his personal identity, and another from his friend Heron Preston's brand that reads СТИЛЬ or "style" in Russian on the front. CYBER is often seen sporting OFF-WHITE gear including this custom, one-of-one hoodie. Other everyday items include his coin pouches, disposable camera, his Russian passport, a takeout menu from his favorite Indian restaurant, and "CYBER69" stickers. And lastly, perhaps the greatest essential of all — an aux cord, ensuring he can always bless those around him with his musical selections.
To stay up to date with DJ CYBER69's life and music, follow him on Instagram and SoundCloud.